Trade Wars
Shudders were sent through the market when Trump announced tariff measures against China in an effort to lower the huge trade deficit between the US and China. Concerns around a trade war being ignited were somewhat confirmed when China announced retaliatory measures (tariffs) and Trump continued his threats to retaliate further.
Caught in the middle of this political stoush is the Aussie dollar. The FX market is uncertain of the effect on the Aussie dollar of a trade war between the US and China, with some analysts predicting doom and gloom while some forecast a net positive for Australia (as China substitutes US goods for Australia's, boosting Aussie exports):
(From Citi): Impacts of Sino-US trade dispute on Australia may be limited as its export to the US accounts for 2% of GDP only. As the US imposes tariffs, moderate retaliatory actions against the US by major economies could benefit Australia to the extent these actions provide export opportunities for Australia, which may underpin AUD.
(Source: Citibank Weekly FX Insight)
I believe the effect will be a slight net negative to Australia, which the market has already priced in (and has now oversold the AUD). If a serious trade war broke out (as opposed to the proxy tariffs currently being proposed) including a 10% tariff hike by the US, Citigroup forecasts a Chinese and euro slowdown of 2% GDP after one year, while Australia would only receive a 0.5% hit to GDP, reflecting its lower trade exposure compared to many other countries, particularly in Asia which will face supply chain disruption. However, always remember at this point in time we are currently nowhere near a serious trade war scenario.
Xi made all the right noises when it came to the outlook for Chinese trade policy, helping to calm investor nerves that have been rattled over the past month as trade tensions between the United States and China increased.
Xi told the forum that globalisation is an irreversible trend, adding that China will do its part by taking major measures to open up its economy as soon as possible and widen market access to foreign-funded firms.
(Source: ABC News)
Despite this limited impact, the heightened uncertainty has impacted Australian business sentiment and resulted in business conditions falling by 30 percent (or 6 points) to +14 after conditions had surged to a record high of +21 back in February.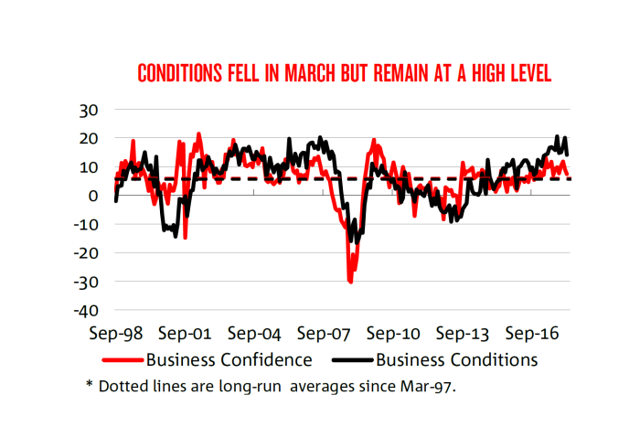 (Source: National Australia Bank)
Despite the steep fall in March, the result is still significantly higher than the historical average of +5.5. Business confidence also dropped by 22 percent (or 2 points) to +7, which is sitting just above its historical average of +6.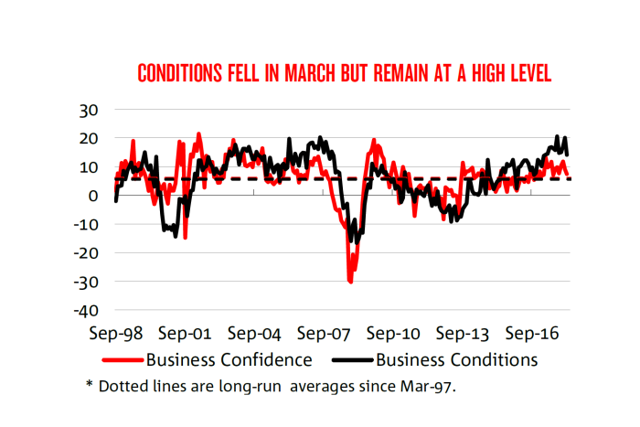 (Source: National Australia Bank)
A more detailed look at Australian PMIs reveals a strong upturn which has been underway since 2015 among both manufacturing and services: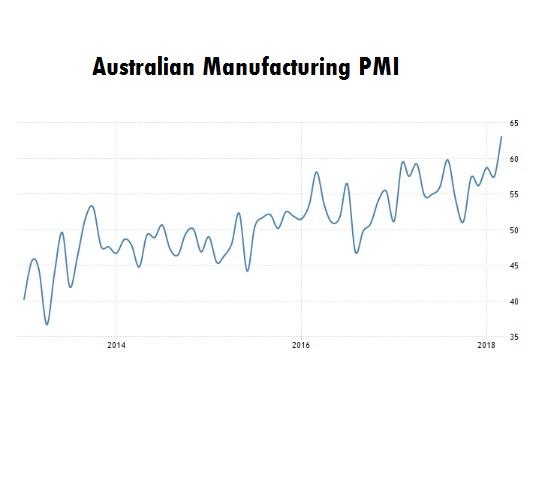 (Source: Trading Economics)
The Australian Manufacturing PMI is at record high levels and is currently experiencing a strong uptrend that has been underway since 2013, reflecting growing underlying strength in the Australian economy. The fact that the health of the manufacturing industry in Australian is generally viewed as a leading indicator for the state of the economy as a whole also presents positive signs for the future of Australian businesses. This positivity is starting to be seen in the services segment, as a strong upturn in the services sector has been underway since mid-2016 after a string of negative results (results <50) throughout 2013-2014.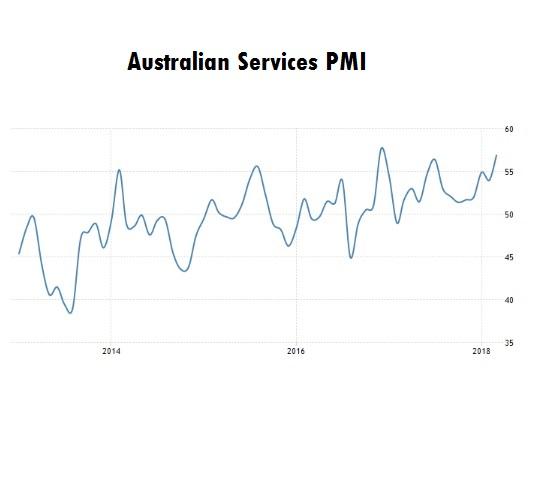 (Source: Trading Economics)
The recent upturn in mining has assisted in improving the previously dismal economic performance of Australia's western states.
Performance in the Australian retail sector is also slowly turning around, recently returning its highest reading in nine months.
RBA to hike rate in late 2018/early 2019
The highlights from the RBA's latest minutes (April) demonstrate a hawkish tilt that would be associated with a medium-term hike:
The board agreed there was not a strong case for near-term move in policy
Given current circumstances, the board agreed with next move in rates likely to be up
Progress on unemployment and inflation likely to be only gradual
Inflation to remain low for some time given retail competition, slow wage growth
The economy "Appeared likely" to grow faster this year than in 2017
An appreciation in the A$ would slow expected acceleration in the economy
Wages expected to pick up gradually as leading indicators pointed to more job gains
Still spare capacity in labor market, underemployment at high levels
High household debt creates uncertainty for consumption outlook
Board noted the rise in US money market rates had flowed through to Australian rates
Risk of escalation in global trade restrictions needed to be monitored closely
Conditions in global economy positive, China debt levels an important risk
(Source: FXStreet.com - RBA Minutes Highlights)
The National Australia Bank (a major Australian bank) is also hawkish on the medium-term outlook for the Australian economy:
"The strength in business conditions and leading indicators are consistent with stronger economic growth in coming quarters.
NAB remains more positive than other banks and expects the RBA will lift the official cash rate from its record low 1.5 percent towards the end of the year, subject to data flow (particularly wages and inflation data).
Among the issues preventing the RBA from raising rates is the record-low level of wage increases across the country: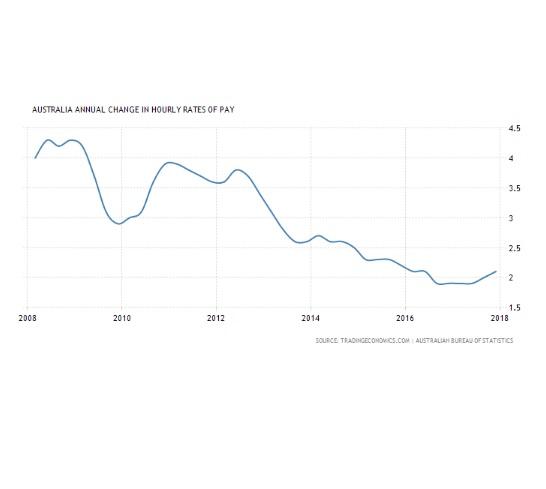 (Source: Trading Economics)
However, this is a temporary issue, with the remaining slack in the labor force being absorbed by high levels of job creation (this would suggest that as more jobs are available to less workers, firms would be forced to increase wages to compete for workers):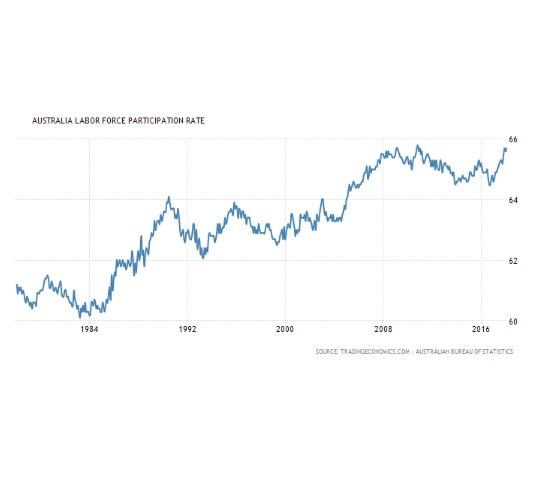 (Source: Trading Economics)
As the labor force participation rate is at record highs, one would assume that there is little slack in the labor force remaining to soak up future job creation. In the medium term, this should force up wage increases, further boosting inflation, and speeding up any RBA action.
Investment Strategy
As the AUD is currently sitting near yearly lows against several currencies, there are several positions you can enter now in preparation for a further hawkish turn in the RBA's communications. I would recommend a long position in the AUD/NZD pair: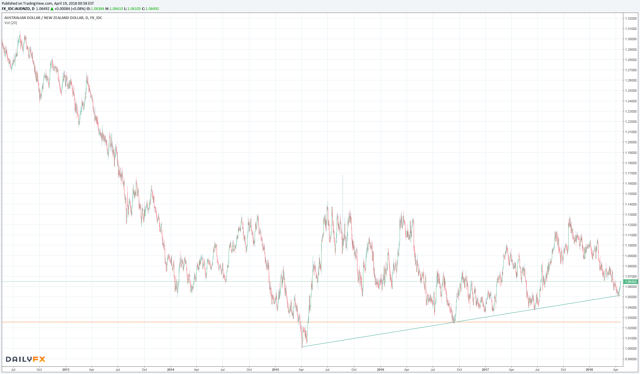 (Source: DailyFX Charting Tools)
For the AUD/NZD pair, we can see the market is clearly heeding the importance of the long-term trendline that has provided multi-year support for the AUD at these lows.
Additionally, the market has vastly overestimated the strength of the economy in New Zealand as well as the RBNZ's appetite for raising rates: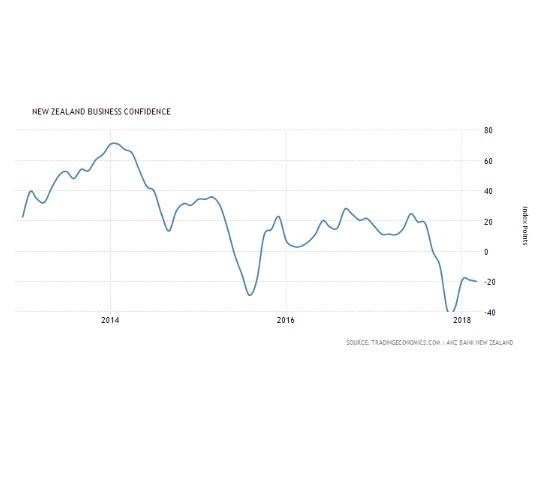 (Source: Trading Economics)
With business confidence both sitting near multi-year lows and in a strong negative territory, this fear will begin to filter through into New Zealand wages and investment data over time. This negative trend is in complete divergence with Australian business confidence's multi-year uptrend/highs. As such, I do not see the AUD falling below parity with the NZD, and if it does, it will not remain there for very long. Conservative investors may wish to wait for the pair to hit parity to enter a position, however, the obvious risk in waiting for parity before entering a position is missing a turnaround altogether. I would recommend holding the pair with a planned timeframe of 12 months (noting the negative carry trade), as in this time, the RBA's hawkish divergence with the RBNZ should become clearer to the market.
Disclosure: I am/we are long FXA. I wrote this article myself, and it expresses my own opinions. I am not receiving compensation for it (other than from Seeking Alpha). I have no business relationship with any company whose stock is mentioned in this article.