Introduction
In a previous article, I introduced the Industrial Minefinder™ Junior Index (IMJI™) that I am currently constructing and hope to complete by the end of Q2 2018. Having completed the Copper, Zinc, and Nickel subsectors, I am now more than two-thirds of the way there.
The following graphic shows what the composition of the complete IMJI™ is currently poised to look like: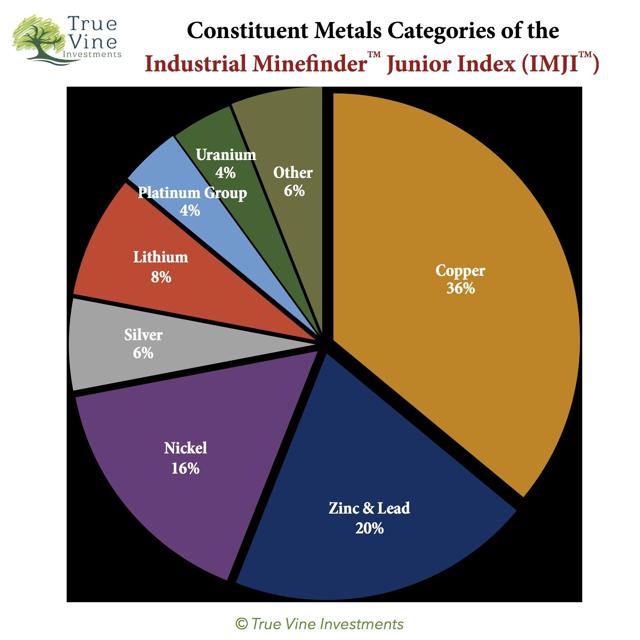 (Note: Lead will be moved to the Other category.)
The criteria for the index and company selection are laid out on the IMJI™ page on my website. To my knowledge, this will be the first index devoted exclusively to industrial metals (ex-gold) junior miners.
Today I am introducing the IMJI™ Nickel subsector index, which will form the third-largest constituent component (16%) of the overall IMJI™.
The IMJI™ Nickel Subsector Index
I am launching the IMJI™ Nickel index with 8 holdings. This reflects the fact that I am targeting 50 holdings for the overall index with the nickel subsector comprising 16% of this (8 holdings).
Here is a table showing the initial 8 holdings:
Company
Market Cap
($USD millions;
as of Jan 2, 2018)
Contained Nickel
in Resource
(tonnes)
Nickel
Grade
Index
Weighting
Australian Mines (OTCQB:AMSLF)
$252
516,200
.58%
23.9%
Ardea Resources (OTCPK:ARRRF)
$174
5,411,000
.70%
16.5%
Panoramic Resources (OTCPK:PANRF)
$166
226,179
1.63%
15.7%
Noront Resources (OTCPK:NOSOF)
$113
285,627
1.42%
10.8%
Jervois Mining (JRV in Australia)
$106
990,020
.59%
10.1%
Horizonte Minerals (HZM in London)
$102
1,536,781
1.28%
9.7%
Sama Resources (OTC:LNZCF)
$73
97,534
.24%
7.0%
RNC Minerals (OTCQX:RNKLF)
$66
5,846,580
.27%
6.3%
TOTALS
$1,052
14,909,920
.44%
100%
These 8 junior miners focused primarily on nickel had a combined market capitalization of $1.05 billion at the beginning of 2018. Their combined resource estimates contain 14.9 million tonnes of nickel at an average grade of .44%. To put this in perspective, annual nickel mine production is currently running about 2 million tonnes, so this is about enough nickel to supply the world for 7.5 years. In reality, though, the huge capital hurdles for the very large, low-grade mines mean that only smaller high-grade portions of these resources will likely be mined first.
The higher grade resources in the list tend to represent sulfide deposits that will eventually be mined underground, whereas the lower grade resources tend to represent laterite deposits that will eventually be mined through open-pit operations. The latter are mostly found in Australia. The lower grade Canadian resources tend to represent sulfide deposits. Higher grade sulfide deposits with any kind of size to them are becoming increasingly scarce. These could demand a significant premium in the near future, especially if the demand for class 1 nickel for electric vehicle batteries accelerates. This is one reason why I recently wrote about Panoramic Resources (OTCPK:PANRF) as an acquisition candidate.
As I have explained in the comments section of previous subsector index articles, I have a "bench" for each metal which consists of potential replacements. I was surprised by how deep the nickel bench ended up becoming (17 in all). The following companies were also close contenders for index inclusion:
Investors shopping for nickel juniors may also want to take a look at these companies.
Performance
Through April 20th of this year, the IMJI™ Nickel index is down 11.9%. The following chart shows this: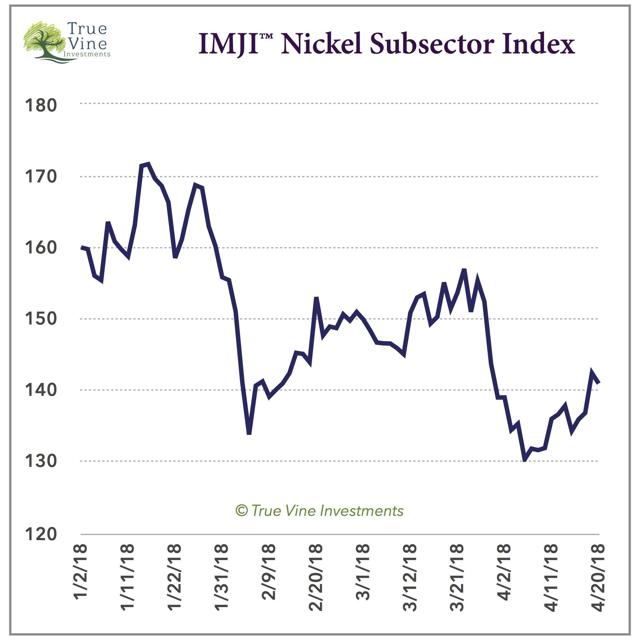 With the completion of the Nickel index, I now have completed the subsector indexes for the main three base metals: copper, zinc, and nickel. Here is a chart showing how these combined subsectors performed over the first quarter of 2018: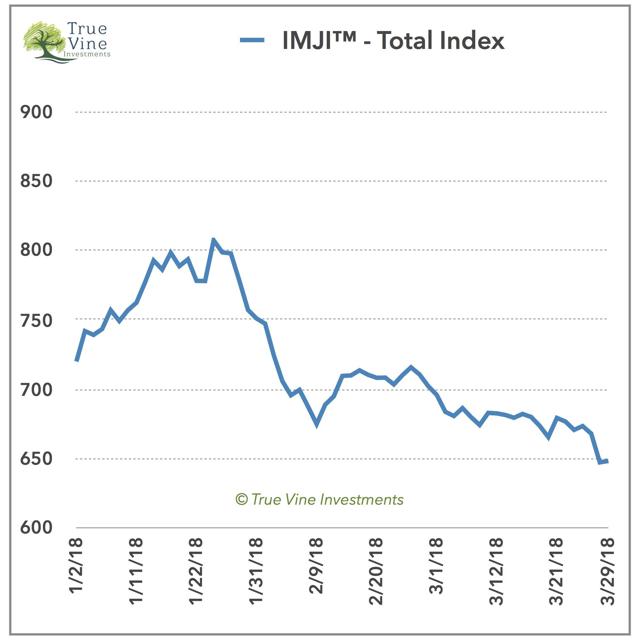 (Note: although the title says "Total Index" it is actually on 72% completed.)
This base metals junior index was down 10% during the first quarter. This was roughly triple the decline of the iShares MSCI Global Metals & Mining Producers ETF (PICK) as shown here: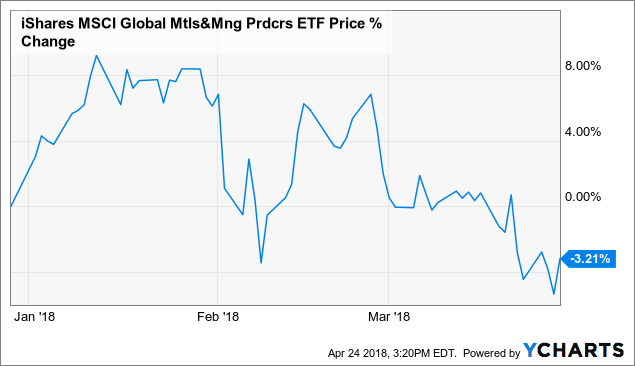 In my previous IMJI™ article on the Copper subsector index, we saw how the copper juniors were also down about 3 times as much as the Global X Copper Miners ETF (COPX). As I accumulate more price data going forward, it will be interesting to see if the industrial metals juniors continue to trade for +/- 3x the Majors. It would be nice to be able to quantify the relationship more concretely for investors looking to include juniors as part of their broader mining exposure.
Conclusion
The IMJI™ Nickel subsector index provides a quality list of nickel juniors for investors to consider.
I will continue to post updates on the IMJI™ and its underlying subsector indexes on Seeking Alpha and my True Vine Letter blog. I am excited about this opportunity to present the junior industrial miners to a broader set of investors. I welcome your comments below.
Disclosure
I am an investment adviser and owner of True Vine Investments, a Registered Investment Advisor in the State of Pennsylvania (U.S.A.). I screen electronic communications from prospective clients in other states to ensure that I do not communicate directly with any prospect in another state where I have not met the registration requirements or do not have an applicable exemption.
Any investment advice or recommendations involving securities referenced in this article is general in nature and geared towards a readership of sophisticated investors. This article does not involve an attempt to effect transactions in a specific security nor constitute specific investment advice to any particular individual. It does not take into the account the specific financial situation, investment objectives, or particular needs of any specific person who may read this article. Individual investors are encouraged to independently evaluate specific investments and consult a licensed professional before making any investment decisions.
All data presented by the author is regarded as factual, however, its accuracy is not guaranteed. Investors are encouraged to conduct their own comprehensive analysis.
Positive comments made regarding this article should not be construed by readers to be an endorsement of my abilities to act as an investment adviser.
My clients always come first. I reserve the right to buy or sell any security at any time, often for reasons not related to my articles, in order to properly manage their portfolios.
Industrial Minefinder™
Industrial Minefinder™ is my Seeking Alpha Marketplace service focused on providing investors with what I think are the best opportunities in the industrial metals mining sector—juniors, intermediates, and majors.
I have been developing the Industrial Minefinder™ Junior Index (IMJI™) to soon start providing subscribers with significant insight on how, when, and where to invest in the junior sector. Interested subscribers can sample my work by reading my "author's picks" accessible from my Seeking Alpha profile. Do not hesitate to direct message me with any questions you may have.
Disclosure: I/we have no positions in any stocks mentioned, and no plans to initiate any positions within the next 72 hours.
I wrote this article myself, and it expresses my own opinions. I am not receiving compensation for it (other than from Seeking Alpha). I have no business relationship with any company whose stock is mentioned in this article.
Editor's Note: This article covers one or more microcap stocks. Please be aware of the risks associated with these stocks.