Introduction
In terms of increased political and interest rate risk, we chose 6 short-term baby bonds (with a maturity date in less than 6 years) to protect your portfolio.
The six baby bonds we have chosen are introduced in the chart below:
By type, they are divided as well:
3 Baby Bonds issued by a BDC
2 Baby Bonds issued by a Shipping company
and 1 Baby Bond issued by an insurer.
Ex-dividend dates, dividend accrued and 1-month change
Years-to-Maturity, Yield-to-Maturity, and Yield-to-Call
1. Saratoga Investment Corp 6.75% Notes due 12/30/2023 (SAB)
The only outstanding baby bond of the company (SAR).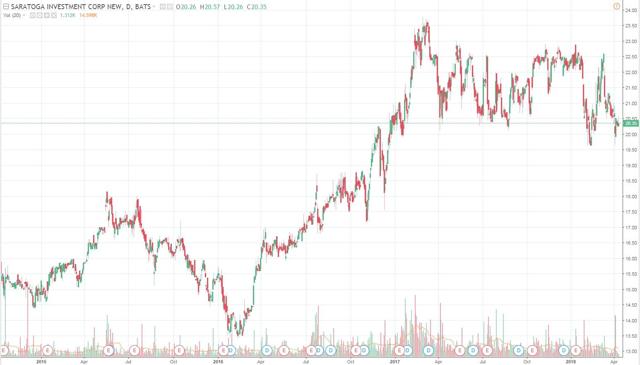 Source: Tradingview.com
The common stock has performed well enough for the past two years. There is not much more we can add in terms of value as to whether the company is priced correctly in the market and such, and it is completely outside our area of expertise. Therefore we will let the following chart speak for itself and focus on the places where we can contribute in terms of knowledge.
Let us take a look at how the market has been treating the baby bond: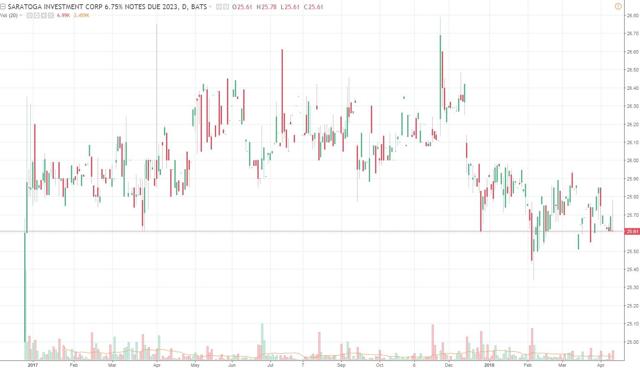 Source: Tradingview.com
Since the inception at the beginning of 2017, we are seeing a stable flat trend between $25.50 and $26.00 with a few spikes over $26. The most important thing here is the asset coverage ratio. As every BDC, SAR is permitted, under specified conditions, to issue multiple classes of indebtedness and one class of shares of stock senior to their common stock if their asset coverage, as defined in the 1940 Act, is at least equal to 200% immediately after each such issuance.
2. MVC Capital 6.25% Senior Notes due 11/30/2022 (MVCD)
There are a lot of similarities between MVCD and the already examined SAB. Like SAB, MVCD is the only outstanding baby bond of the company (MVC).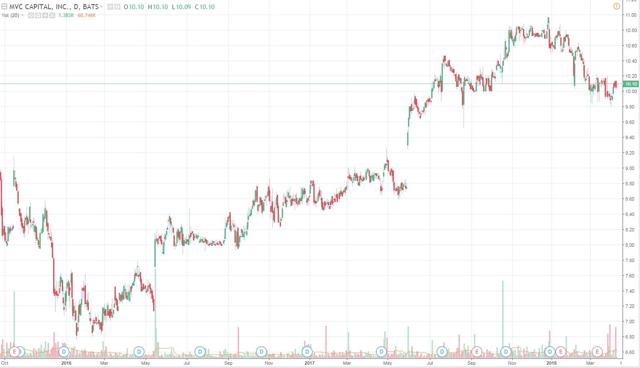 Source: Tradingview.com
There is nothing more to be added for MVC. Over the past 2 years, MVC is enjoying a good uptrend and according to the market participants, there are no warnings signals.
Here is also the price chart of the baby bond: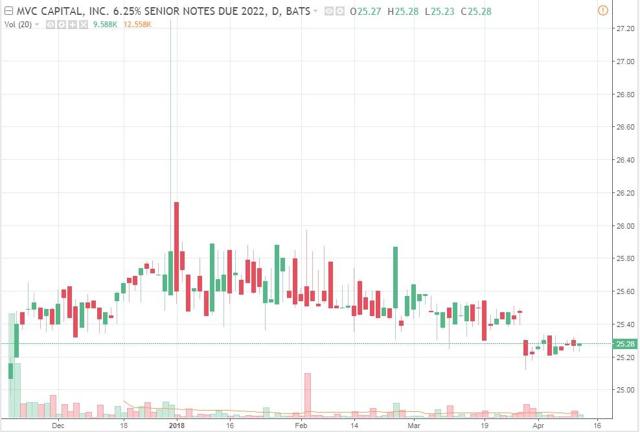 Source: Tradingview.com
From the short history of this issue, we can see that the most common price we can see is between $25.50 and $25.80. As a business development company, MVC is also entitled to issue senior securities in the form of stock or senior securities representing indebtedness, including debt securities and preferred stock, as long as each class of senior security has an asset coverage ratio of at least 200% immediately after each such issuance.
3. Capitala Finance Corp 6.00% Notes Due 5/31/2022 (CPTAL)
The third BDC's baby bond from the group. Currently, the common stock (CPTA) is struggling with its performance on the market. CPTA is trading at its all-time lows, while its NAV is being at its highs.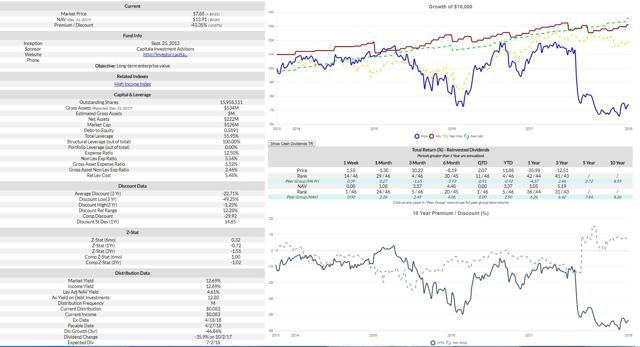 Source: Cefdata.com
And the market opinion of CPTAL: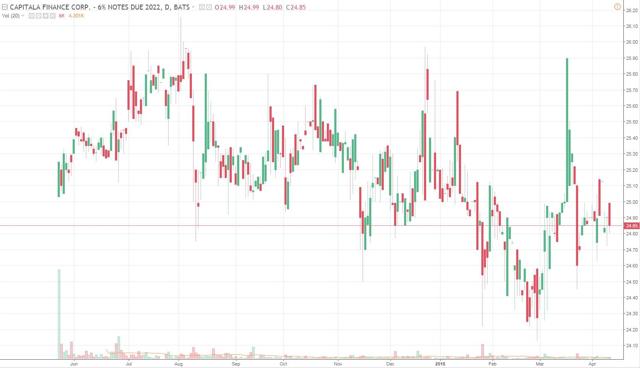 Source: Tradingview.com
Despite the company's price downtrend, CPTAL is trading close to its par value. Furthermore, if we compare CPTAL with the rest CEF-Equity term securities and adding the obligation of the company to maintain the 200% asset coverage ratio, we may state that this security gives good yields for the risk you are taking.
4. Atlas Financial Holdings 6.625% Senior Unsecured Notes Due 4/26/2022 (AFHBL)

Atlas Financial Holdings, Inc. (AFH) primary business is commercial automobile insurance in the United States, with a niche market orientation and focus on insurance for the light commercial automobile sector including taxi cabs, non-emergency paratransit, limousine/livery and business auto. The business of Atlas is carried on through its insurance subsidiaries which have decades of experience with a commitment to always being an industry leader in these specialized areas of insurance.
Source: Quantumonline.com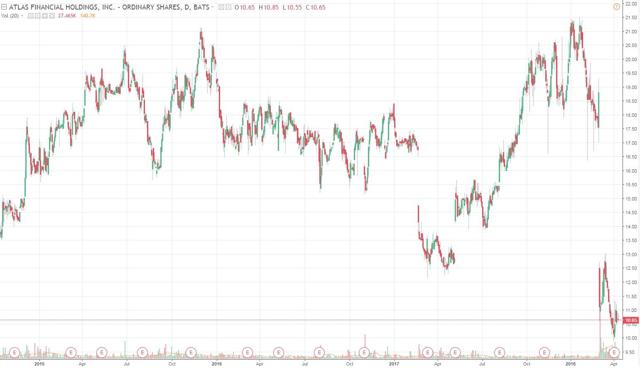 Source: Tradingview.com
On March 2, 2018, AFH suffered a loss of 41% on an announcement by the company, that it needs to strengthen the reserves after an internal audit and actuarial assessment. The reason we are choosing this baby bond is the fact it is the only debt of the company (the company's debt to equity ratio is 0.26) and that it was not affected by the bad news.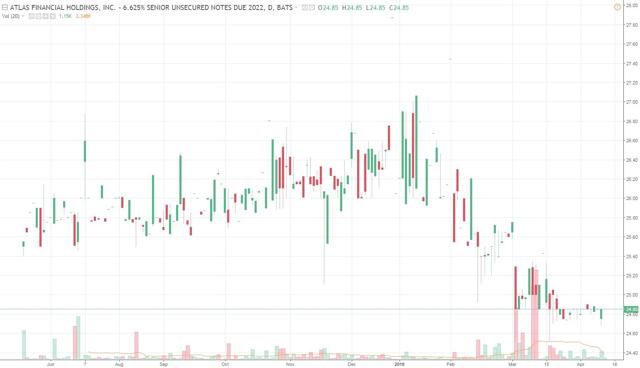 Source: Tradingview.com
AFHBL is trading close to its par value and even continued to trade flat after its ex-dividend date.
5. Seaspan Corp 6.375% Senior Notes due 4/30/2019 (SSWN)

There will be a separate article for SSWN only; that's why we will review this issue briefly.
As per Reuters' description of Seaspan Corporation (SSW):
Seaspan Corporation, incorporated on May 3, 2005, is an independent charter owner and manager of containerships. The Company charters pursuant to long-term, fixed-rate time charters with various container liner companies. As of February 20, 2017, it had operated a fleet of 88 containerships and had entered into contracts for the purchase of an additional eight new building containerships.

...

The Company is engaged in the operation and management of vessel, including maintaining the vessel, periodic dry-docking, cleaning and painting and performing work required by regulations. The Company also provides limited ship management services to Dennis R. Washington's personal vessel owning companies, and ship management and construction supervision services to Greater China Intermodal Investments LLC.
Source: Reuters.com - Seaspan Corporation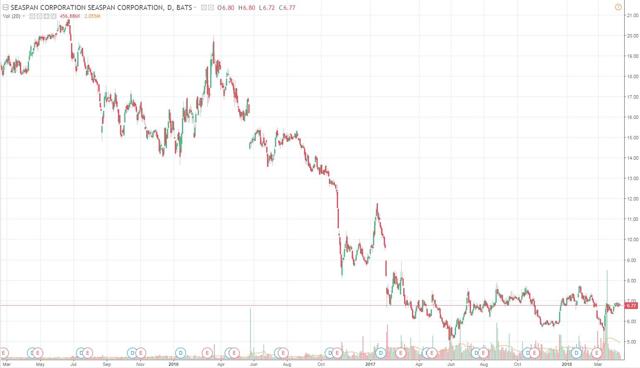 Source: Tradingview.com
Market participants familiar with everything the sector went through, and Seaspan Corporation, in particular, are definitely not entirely surprised by the chart, I suppose. Although, nothing major over the last year in terms of market price development - the common stock seems to be stuck in a relatively tight range.
The baby bond: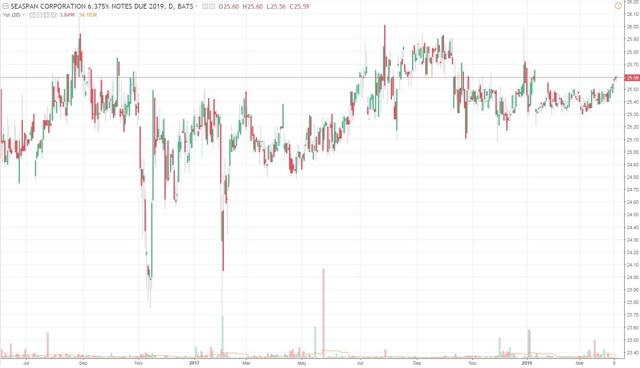 Source: Tradingview.com
The peer group:
The company is still paying a $66.8M common stock yearly dividend, plus over $40M preferred stocks yearly dividend. We should take note of the approaching maturity date here. The bond will be gone next year and with the flattening yield curve, some may consider it the best value from the company. In fact, I personally like the 5% yield in one year and I'm leveraging it as well to boost my returns.
6. Scorpio Tankers 8.25% Senior Notes due 6/1/2019 (OTC:SBBC)

Here the situation is similar to SSWN, as SBBC's is also a shipping baby bond and its maturity date comes in a year.
Scorpio Tankers Inc. (STNG) is a provider of marine transportation of petroleum products worldwide. Scorpio Tankers Inc. currently owns 79 product tankers (23 LR2, 14 Handymax, and 42 MR tankers) with an average age of 2.3 years and time or bareboat charters-in 19 product tankers (one LR2, one LR1, eight MR and nine Handymax tankers). The Company also has contracted for eight newbuilding MR product tankers which are expected to be delivered throughout the remainder of 2017 and the first quarter of 2018.
Source: Quantumonline.com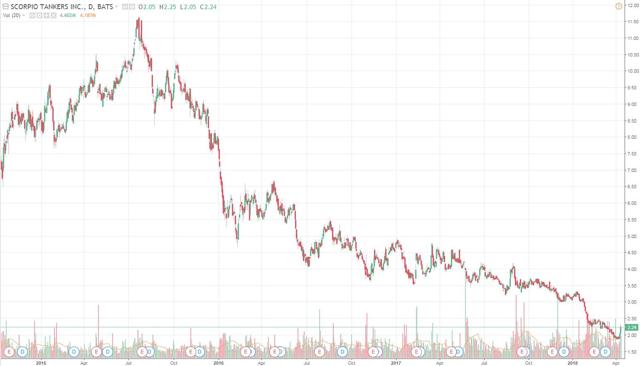 Source: Tradingview.com
Currently, the common stock is struggling with its performance on the market. The company lost 80% of its market capitalization for the past 3 years. The things are even worse as the company reduced its common stock dividend by 92% in February 2017. Currently, STNG is paying around a $13.3M yearly dividend. That's why this is our most risky proposal.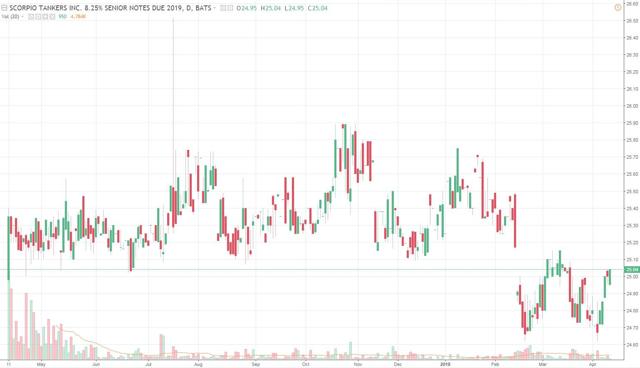 Source: Tradingview.com
At this point, SBBC is trading mostly between $25.00 and $25.50, which presents a fairly calm behavior of the market participants. Although, with a market capitalization of $700M it is the third biggest Monaco shipping company. Plus the approaching maturity date, the almost 10% Yield-to-Maturity looks quite appetizing for the risk-loving investors.
Articles to follow:
6 Short-Term Baby Bonds To Protect You From Interest Rate Risk
6 REIT Preferred Stocks For Your IRA, Dividend Capture, Trading Or Investment Portfolio
SSWN - Seaspan Corporation Trading Opportunity In Baby Bond
Note: This article was originally published for our subscribers on 4/12/2018 and some figures and charts may not be entirely up to date.
Trade With Beta
Do you want to be ahead of the curve and have real-time access to ideas like this one? Then feel invited to join my team and the great community we have formed at 'Trade With Beta.'
Disclosure: I/we have no positions in any stocks mentioned, and no plans to initiate any positions within the next 72 hours.
I wrote this article myself, and it expresses my own opinions. I am not receiving compensation for it (other than from Seeking Alpha). I have no business relationship with any company whose stock is mentioned in this article.