Real yields in emerging markets (EM) have remained at compelling levels over the past few years even as they continued to decline in developed markets, and even as nominal yield levels declined in some EM countries. All else equal, currencies associated with higher real yields are generally expected to perform better than those with relatively lower real yields. And as the chart below shows, the real yield pictured in emerging markets is as attractive as it has been in five years.
Real 10-Year Local Interest Rate, %
As of March 31, 2018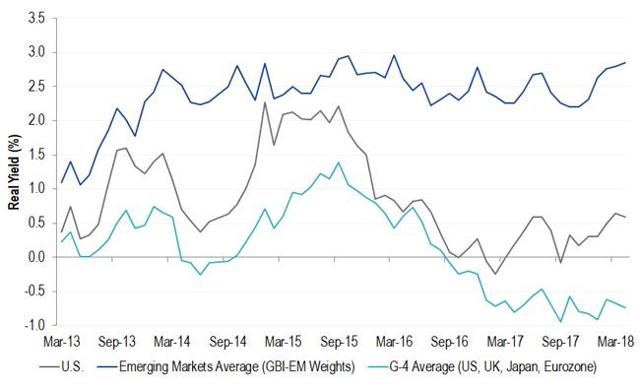 Source: VanEck and Bloomberg LP. Data as of March 31, 2018. Local 10-year nominal yields in the US, G4 (US, Eurozone, UK, and Japan), and 18 EMs adjusted for trailing year-on-year headline inflation. GBI-EM Broad Diversified weights applied to EM rates to construct the aggregate EM rate. Past performance is no guarantee of future results. For information purposes only.
Last summer we examined why real yields matter to emerging markets bond investors. Given the persistence of the real yield advantage, we believe it is worth revisiting why investors should focus on real yields.
Real yields are nominal yields adjusted for inflation, which is often one of the greatest contributors to the nominal yield levels of emerging markets local currency bonds. These higher nominal yields provide compensation for the risk posed by local inflation, which can be associated with negative currency returns. Controlled inflation can provide support to local currencies, and when combined with relatively high nominal yields (therefore resulting in positive real yields), fixed income assets may be particularly attractive.
From a policy perspective, positive real yields provide central banks the ability to ease monetary policy to spur growth, a policy tool that is not currently available in most developed markets. Overall, positive real yields can therefore be a better indication of fundamental value versus nominal yields.
Relative to developed markets, emerging markets' local rates appear attractive in both nominal and real terms, despite rising real yields in the United States. As of March 31, 2018, the weighted average 10-year yield on the J.P. Morgan GBI-EM Global Diversified Index was 6.26%, versus the 10-year U.S. Treasury yield of 2.74%. In real terms, EM were yielding 2.85% above inflation, which was 2.26% more than U.S. Treasuries and 3.60% more than the G-4 (U.S., United Kingdom, Japan and Eurozone) average, which actually remains well into negative territory.
IMPORTANT DISCLOSURE
J.P. Morgan GBI-EM Global Diversified Index tracks local currency denominated EM government debt. The index weighting methodology limits the weight of countries with larger debt stocks.
Indices are unmanaged and are not securities in which an investment can be made.
The information herein represents the opinion of the author(s), but not necessarily those of VanEck, and these opinions may change at any time and from time to time. Non-VanEck proprietary information contained herein has been obtained from sources believed to be reliable, but not guaranteed. Not intended to be a forecast of future events, a guarantee of future results or investment advice. Historical performance is not indicative of future results. Current data may differ from data quoted. Any graphs shown herein are for illustrative purposes only.
This content is published in the United States for residents of specified countries. Investors are subject to securities and tax regulations within their applicable jurisdictions that are not addressed in this content. Nothing in this content should be considered a solicitation to buy or an offer to sell shares of any investment in any jurisdiction where the offer or solicitation would be unlawful under the securities laws of such jurisdiction, nor is it intended as investment, tax, financial, or legal advice. Investors should seek such professional advice for their particular situation and jurisdiction.
Please note that Van Eck Associates Corporation serves as investment advisor to investment products that invest in the asset class(es) included in this commentary.
Diversification does not assure a profit or protect against a loss. Debt securities carry interest rate and credit risk. Interest rate risk refers to the risk that bond prices generally fall as interest rates rise and vice versa. Credit risk is the risk of loss on an investment due to the deterioration of an issuer's financial health. Securities may be subject to call risk, which may result in having to reinvest the proceeds at lower interest rates, resulting in a decline in income. International investing involves additional risks which include greater market volatility, the availability of less reliable financial information, higher transactional and custody costs, taxation by foreign governments, decreased market liquidity and political instability. Changes in currency exchange rates may negatively impact a fund's return. Investments in emerging markets securities are subject to elevated risks which include, among others, expropriation, confiscatory taxation, issues with repatriation of investment income, limitations of foreign ownership, political instability, armed conflict and social instability.
Investing involves risk, including possible loss of principal. Bonds and bond funds will decrease in value as interest rates rise. An investor should consider investment objectives, risks, charges and expenses of any investment strategy carefully before investing. No part of this material may be reproduced in any form, or referred to in any other publication, without express written permission of Van Eck Securities Corporation.