Here is fine-tuning the asset markets: One more downtick in Gold to circa 1310, and a corresponding last rally in US Dollar TWI. Equity markets should retrace some of the sharp losses in the past week (33% claw-back will not surprise us). That brings us to a pivotal situation thereafter, where equities fall sharply, the US Dollar follows suit to the downside, Gold and Silver rise smartly, and the 10yr-yield falls. The situation stabilizes in late April-early May, after which the next upside phase in equities begin.
The 10-yr yield as prime mover of this volatility
The prime mover of all this volatility is the 10-yr yield, which is heading for an important peak during the first half of May, and should decline sharply thereafter (see graph below).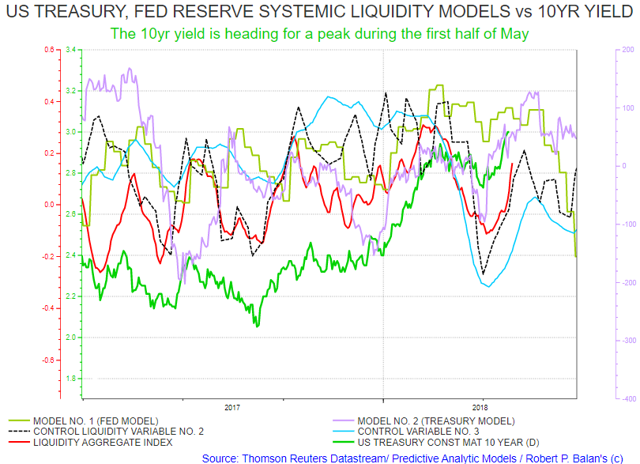 Outlook over the next few weeks
After that, Gold is set to make new highs within a few weeks (by late April-H1 May), as the US Dollar plunges one last time, in concert with falling equities as we predicted in a recent Predictive Analytic Models (PAM) article (here). The cadence that we expected in that April 20 article was of immediate fall in equities, correspondingly followed by a decline in the US Dollar TWI; inversely, we expected a rise in the 10-yr bond yield, and a new rally in gold to a new high over the next few weeks. The market is following the script faithfully, so far.
The next inflection points of these assets will probably be in late April-early May: equities should, at that time, make a sub-cycle trough and resume the bull phase; the US Dollar bottoms, and won't look back until late Q3. Inversely, the 10-yr bond yield declines, Gold peaks and should fall until late Q3. Silver will probably make its last high (in the triangle) during late April-early May and then decline over the next 5 to 6 months (see two graphs below).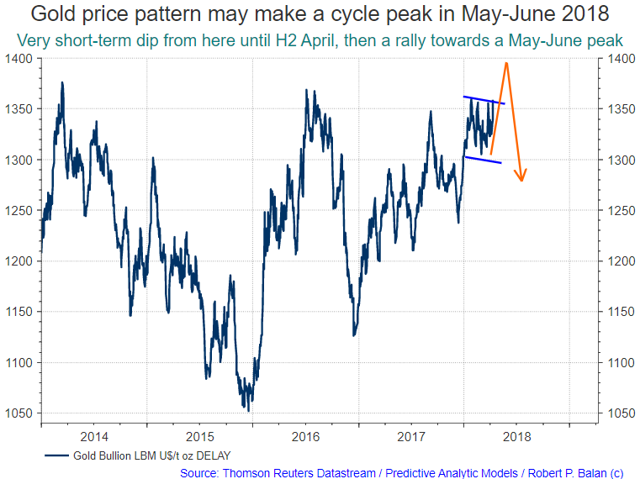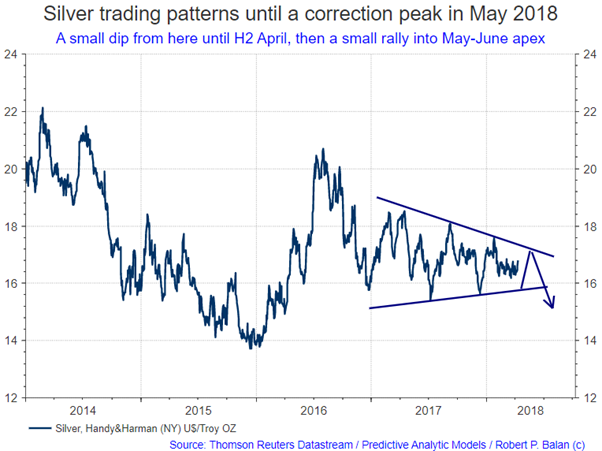 We lean towards the third week of April as the optimal period when the next reversal happens. But we are making allowances for the event to extend to early May as the confluence of the effect of several major liquidity inflows calls for a wider time bracket than usual, this time around (see graph below).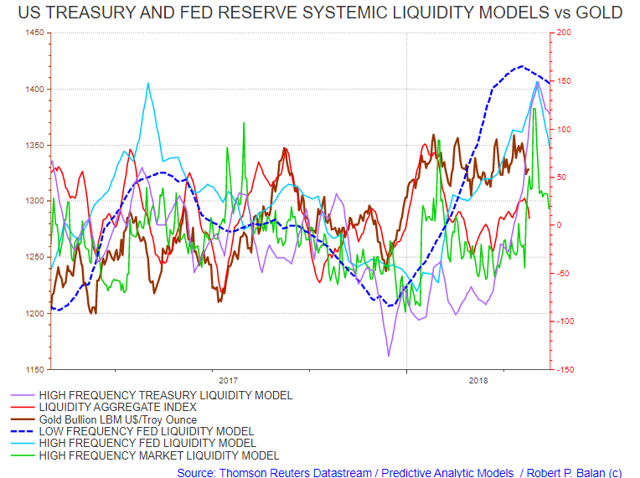 The general conditions that would bring these movements about were discussed in this article (here).
Gold is a safe haven destination
The most popular attribute of Gold from the point of view of investors is that it can be a safe haven destination. That is essentially the reason why we should see a move to new highs over the next few weeks. We expect is a knee-jerk reaction to falling equities, and more to the point: the US Dollar declines over the next few weeks as well, which should provide a lift for gold, silver, and miners' equities.
We have seen other examples when precious metals outperformed as safe haven destination. In the not too distant history, gold had responded to geopolitical events out of the Korean Peninsula and had rallied as the rhetoric between US president Mr. Donald Trump and Korean dictator Kim Jong-un heated up. Conversely, the price of Gold deflated when the rhetoric calmed down.
Gold is sensitive to changes in real money balances
Our recent research also showed that systemic market liquidity has a huge impact on the valuation of Gold. Over the longer term, it is highly sensitive to the changes in fiscal and monetary policy.
More importantly, Gold responds very well to the high-frequency, periodic issuance and claw-back of system liquidity by the Fed and Us Treasury (see the chart below).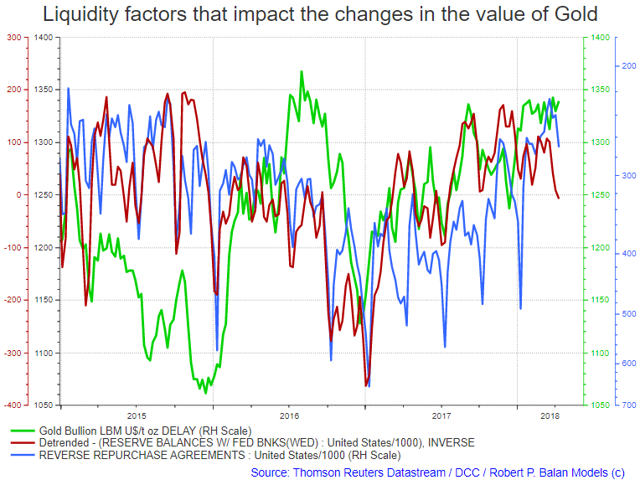 The likely transmission link of those monetary initiatives is through the US Dollar, which is very sensitive to the rise and fall of systemic levels. It seems that increasing amounts of liquidity infusions support higher valuations of the yellow metal (see graph above). That makes sense, as tighter supply of systemic "money" tends to support the US Dollar (via the Quantity Theory of Money) which has an inverse impact on Gold.
Term market rates as leading indicator of gold prices
One way to confirm that is to make a comparison between Gold and term market rates via a regression process. We find out that increasing bank reserves at the Fed (the most money-like of all financial instruments) tend to push up Gold prices, while Reverse Repo Rates (which the Fed use to contract real money balances) have negative impact on the changes in Gold price (see graph above). If you believe that the bank reserves at, and the balance sheet of, the Fed will be reduced over time, that should be a long-term negative factor for Gold.
Using those liquidity-themed relationships, it is straightforward to make a combined model of the US Dollar and Gold. Using VAR extensions, we use term (money) market rates to project the likely movements in Gold and US Dollar several weeks ahead. This model is telling us that a large US Dollar rally is due after a quick dip, and conversely, Gold is slated for a significant fall after a moderate uptick (see graph below).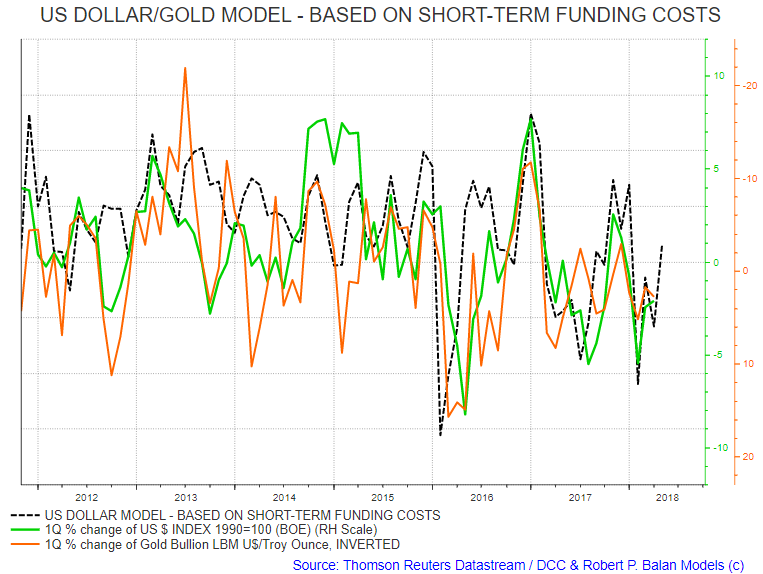 Summary
Gold should make new highs from here as the equity markets and the US Dollar TWI fall one last time, until late April-early May. Gold's ascent will be accompanied by a rise in 10-yr yield. The situation will be reversed by late April-early May: a new equity bull phase and a major trough in the US Dollar TWI could see Gold and Silver (especially, Silver) declining and underperforming over the next 5 to 6 months.
Disclosure: I am/we are long U:EOG, U:XOM, U:CLR. I wrote this article myself, and it expresses my own opinions. I am not receiving compensation for it (other than from Seeking Alpha). I have no business relationship with any company whose stock is mentioned in this article.
Additional disclosure: We intend to go short of Precious Metals by late April-H1 May 2018.