Value investing and technical trading are very different philosophies, but the two can work together sometimes. I primarily screen for value but will occasionally take advantage of technical trading strategies to time a purchase.
I have recently been looking to expand my exposure to international stocks, particularly of dividend-paying companies. One of the funds that came up on my radar was the Global X MSCI SuperDividend® Emerging Markets ETF (NYSEARCA:SDEM). It tracks the MSCI Emerging Markets Top 50 Dividend Index.
SDEM is not the most attractive fund out there. Morningstar only rates it 2 stars, it only has $15.2 million in assets, it has a turnover rate over 100%, and it has exposure to some countries facing political instability. That being said, the companies in this fund are undervalued in a market where cheap stocks are hard to find, and it has a monthly distribution yielding nearly 5%.
Value Opportunity
SDEM has a portfolio of 61 dividend-paying companies from emerging market countries.
SDEM's portfolio has a P/E ratio of only 10.11 and a P/B ratio of only 1.25. These stocks are primarily out of favor because they are in politically volatile countries like South Africa, Russia, and Brazil.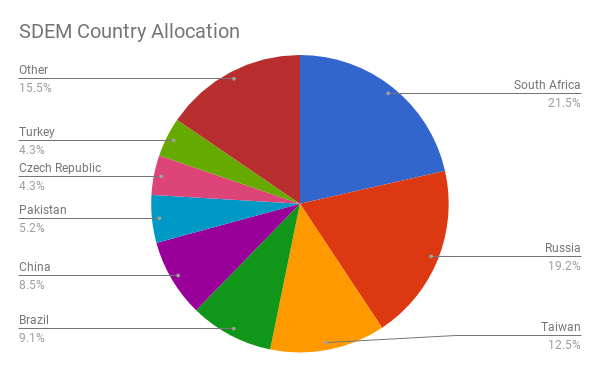 SDEM's stocks are also struggling with growth. Sales growth is less than 1%. Cash flow growth is -19%.
This is not your grandmother's super safe dividend income fund; it is an interesting opportunity to invest in unique but volatile dividend income sources in developing markets. It chases a high return by taking risks in some economies with large growth potential but tricky political situations.
Technical Opportunity
SDEM's price has climbed substantially since 2016 but has experienced a pullback since the beginning of 2018.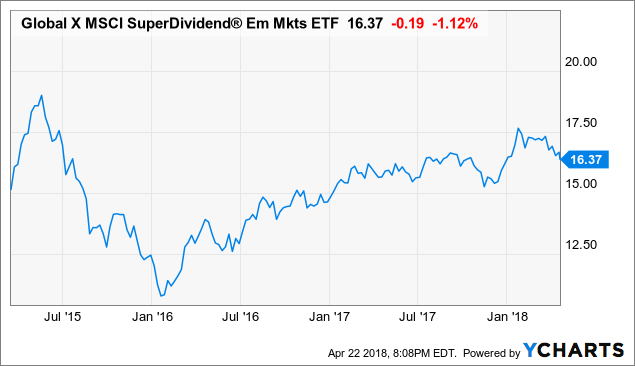 Year-to-date, SDEM has formed a falling wedge, a technical pattern that has a bullish bias.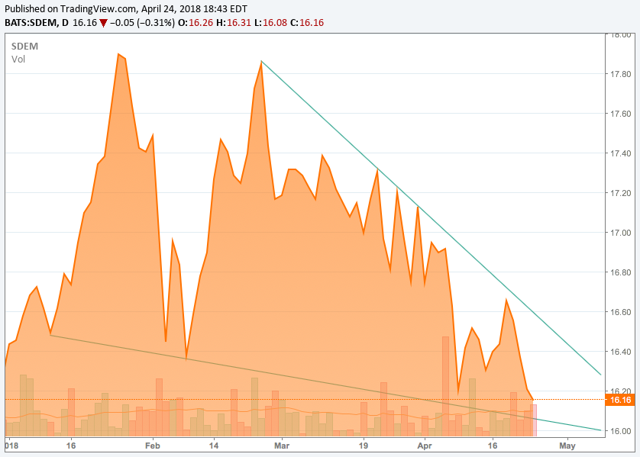 An increase in trade volume followed by a breakout from the lines indicated above would confirm the pattern and indicate a coming rise in the stock price.
Long-Term Outlook
The MSCI Emerging Markets Top 50 Dividend Index tracks the 50 highest dividend-yielding stocks in emerging markets. The index is equally weighted and rebalanced annually.
SDEM's biggest holding is the Barclays Africa Group (OTCPK:AGRPF), which separated from Barclays PLC (BCS) going into 2017. South Africa makes up 21.5% of SDEM's country allocation, with 4.09% invested in Barclays Africa. Barclays been negatively affected by political events in South Africa in 2017, but they have handled it well. The turmoil has been costly to the company and its stock price, at least in the short term. Despite this, Barclays Africa maintained positive EPS of $1.34 in 2017. It was down 4.6% from 2016 but exceeded expectations.
With a commitment to accountability and a diverse board that is 29% women and 33% Black South African, Barclays Africa is well positioned to maneuver through a tumultuous, changing political and economic environment in South Africa, perhaps even more so than it was as a division of BCS.
The same confidence could be given to other companies in SDEM's. Vedanta Ltd. (VEDL) is India's leading producer of zinc-lead and the 2nd largest in the world. It also produces silver, iron ore, copper, aluminum, wind power, and 26% of India's oil. Vedanta is a well-established company with a substantial market share, just like you would expect from a solid dividend payer.
Here is a look at SDEM's top ten holdings:
| | | | | |
| --- | --- | --- | --- | --- |
| Company | Sector | Country | P/E | Div. Yield |
| Barclays Africa Group (OTCPK:AGRPF) | Financials | S. Africa | 9.96 | 5.94% |
| Truworths Intl. (TRU) | Consumer Discretionary | S. Africa | 4,156 | 4.26% |
| Liberty Holdings (JSE:LBH) | Financials | S. Africa | 18.53 | 5.37% |
| Vedanta Holdings (VEDL) | Materials | India | 14.97 | 7.25% |
| Centrais Eletricas Brasilieras (EBR) | Utilities | Brazil | ? | ? |
| Lukoil (OTC:LUKOY) | Energy | Russia | 8.20 | 5.48% |
| Novolupetsk Steel (MCX:NLMK) | Materials | Russia | 11.34 | ? |
| Growthpoint Properties (JSE:GRT) | Real Estate | S. Africa | 10.92 | 6.89% |
| Itausa Investimentos (BVMF:ITSA4) | Financials | Brazil | 11.76 | 5.40% |
| Petkim Petrokimya Holdings (IST:PETKM) | Materials | Turkey | 8.21 | 5.22% |
The fund is heavily weighted toward the financial services sector (29%), as one might expect for dividend-paying stocks in emerging markets. It is also about 15% real estate, 13% materials, 11% utilities, and 11% technology.
One thing that makes it stand out from other emerging market dividend funds is that its equal weighted index makes it 54% mid-sized companies. Large cap companies make up 37%, and small cap and giant cap companies make up the remaining 10%.
While political instability may create volatility for the stocks in this fund, it is a portfolio that offers much potential for growth while providing steady dividend income.
Action
SDEM is a transaction-free ETF for E*trade customers, so I will be able to buy (and sell) small allocations in my Roth IRA with no transaction fees. I plan to make a small early entry followed by other small purchases to ease my way in if the pattern continues to look bullish. A similar strategy could be applied in other transaction-free settings like Robinhood, but be aware of how the fund's high turnover rate might affect taxable accounts.
I am not only interested in this fund because of the technical opportunity. The technical opportunity will allow me to hopefully pick it up at a low price before the price rises. I then plan to enjoy the fund's growth and dividend income for a long time.