Fellow Seeking Alpha contributor James Picerno wrote an article earlier this week that highlighted GDP forecasts that suggested slower growth was to be expected for 1st quarter GDP.
He provided this chart from his blog: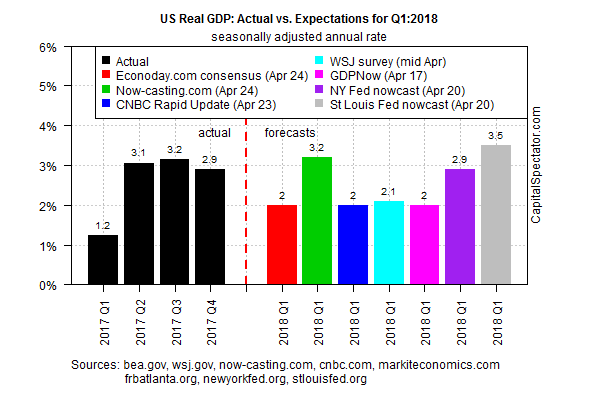 This is a little surprising to me to see the low forecasts Vs. what I'm seeing. I believe that the 1st quarter GDP estimate will be more likely to beat than meet or miss.
First and foremost, I have a simple measurement for helping predict GDP growth. It's multiplying these three factors and getting the year over year % change:
All Employees
Average Weekly hours total Private Sector
Output per hour
This gives me a figure of the total hours worked in the US economy and the rate of output per hour that pretty much matches up with real GDP.
This is what the chart showing the comparison has looked like in the past 10 years: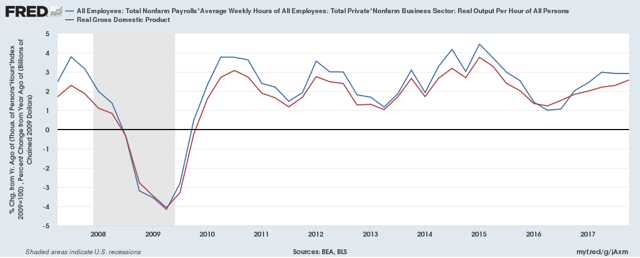 What we always have to work with is the employment data for the 3 months prior to the GDP report. The only thing we're missing is the productivity figure which we'd have to guesstimate.
Employment
Employment for the first quarter was the strongest yet under President Trump and it seems as if it was not reported as such.
Just looking at All Employees X Average Weekly hours, the year over year percent change was the highest this past March we've seen since the Trump Presidency: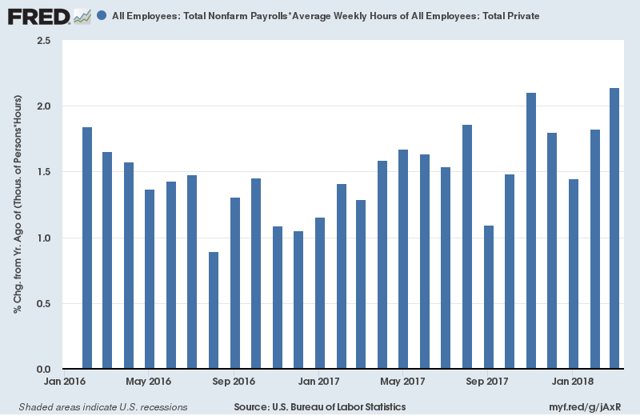 If we look at this from a quarterly basis, we can see that for the quarter, it too we saw the strongest growth in hours worked under Trump: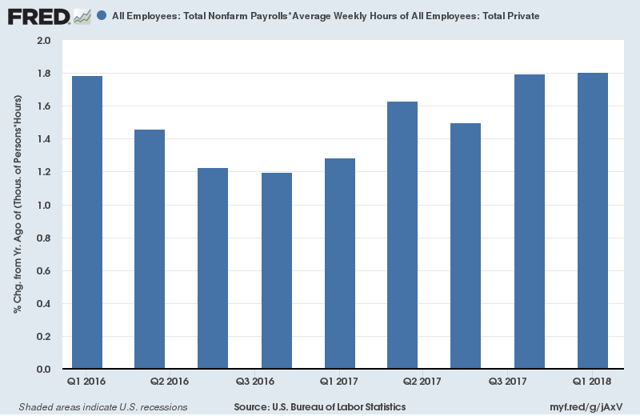 I'm specifically referring to the period under Trump because it was part of his entire campaign, which was to get the economy growing stronger. So far, so good.
From the standpoint of looking at the economy in terms of work, the growth rate for the 1st quarter is just above the growth rate of the 4th quarter of last year.
This alone suggests we should see a good GDP print. The only caveat is if these hours worked were proved to be less productive this year Vs. last year.
Productivity is a huge factor in economic growth. We won't know the productivity number until later.
Industrial Production
Industrial production is tearing it up growing 3.88% in the 1st quarter over the previous year.
Oil Demand
US oil demand surged in the 1st quarter of 2018. As of the most recent data, for the week ending April 13th, the 4-wk average of total oil supplied was up 5.7% over a year ago.
Here is a 1 year weekly chart showing the 4-wk average year over year % change in oil supplied: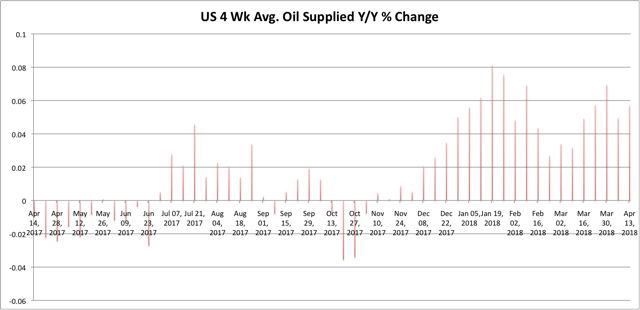 It was in the 1st quarter of 2018 when we saw demand really starting to pick up.
Record Spring Break Air Travel
This is my last economic data point to show that this 1st quarter should prove to be a strong quarter.
It was estimated that spring break air travel, which runs from March 15th - April 15th, saw 5% more volume than in the previous year. This highlights again the strength of the economy in the 1st quarter.
Conclusion
My bias is that we'll see a decent GDP print on Friday morning at 8:30 a.m. when the GDP numbers are released.
I'm having a hard time though as to how the markets would respond to a better than expected print.
Both the dollar and the 10 year treasury yield are playing a bigger role in the markets movement these days. So watching how the dollar and the 10 year treasury respond to a stronger GDP print may help investors in stocks gauge how to trade a better than expected GDP print.
In the longer term, strong economic growth should prove bullish for stocks.
Disclosure: I/we have no positions in any stocks mentioned, and no plans to initiate any positions within the next 72 hours. I wrote this article myself, and it expresses my own opinions. I am not receiving compensation for it (other than from Seeking Alpha). I have no business relationship with any company whose stock is mentioned in this article.