Actinium Pharmaceuticals: Neglected Assets In Niche Oncology
Summary
Significant hires, partnership activity, and an important data readout later this year point towards an inflection point in ATNM.
We believe that the company's drug candidates benefit from significant differentiation and virtually non-existant competition in an otherwise crowded space.
We believe that Iomab-B enrollment is picking up steam, and the drug is likely to be approved, due to lack of viable alternatives.
Following a recent offering, the company is financially de-risked through important milestones.
Opportunity
The best opportunities for outsized gains in biotech tend to be found in companies that are left-for-dead and/or misunderstood by market participants. However, due to the market's propensity for self-reinforcing dynamics, it can be challenging for contrarian investors to catch a stock's 'bottom' with accuracy.
We believe that we have identified significant dynamics pointing to a near-term reversal in an oncology micro-cap suffering from a bad reputation.
A quick glance at the 5-year chart of Actinium Pharmaceuticals (NYSE:ATNM) reveals that ATNM has been a remarkably value-destructive holding for long-term investors.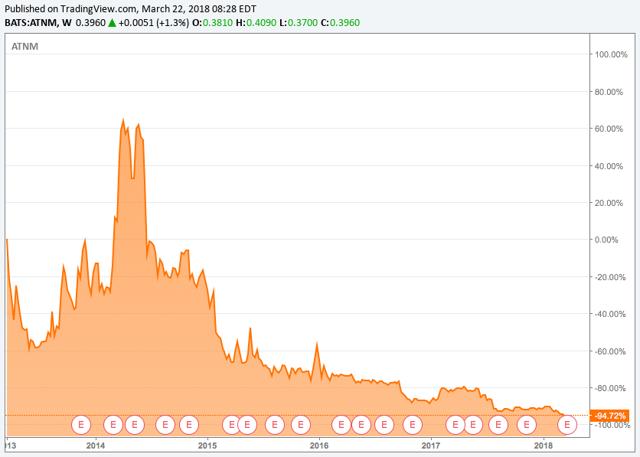 Figure 1: ATNM shares have given up practically all of their value over the past 5 years.
The proximate explanation for the stock's ongoing slide is:
serial enrollment delays for the company's lead drug, Iomab-B
several stints at stock promotion, the most recent dating back to March 2017 according to stockpromoters.com
repeat secondaries on unfavorable terms
Additionally, we believe that significant momentum in 'hot' areas of cancer therapy, especially immuno-oncology ('IO') in all its flavors, has contributed to investor indifference to Actinium's approach.
However, we believe that Actinium's targeted radiotherapy approach will in fact succeed in niches which are off limits to both classical chemotherapy and emerging IO treatments. We also believe that the inflow of sector-specific talent bolsters the credibility of the company's approach while facilitating all-important engagement with the medical community.
These qualitative observations, combined with our financial modeling of the stock's intrinsic value, point towards an asymmetric risk/reward profile.
Introduction and financial snapshot
Mcap: $40m
Cash: $17.4m by EOY 2017; another $15m raised since
2017 annual net loss/cash burn: $26.6m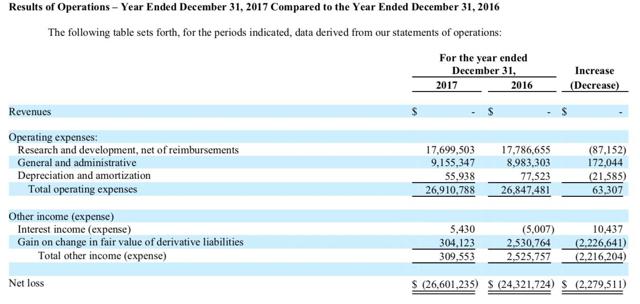 Figure 2: Encouragingly, the bulk of ATNM's expenses are tied to R&D. Source: ATNM annual report
Actinium is a niche oncology player specializing in ADCs, antibody-drug conjugates, and more precisely, antibody-radioisotope conjugates (henceforth 'ARCs'). In other words, the company's expertise lies with developing antibodies primed with short-acting radioactive particles meant to kill cancer cells through targeted irradiation.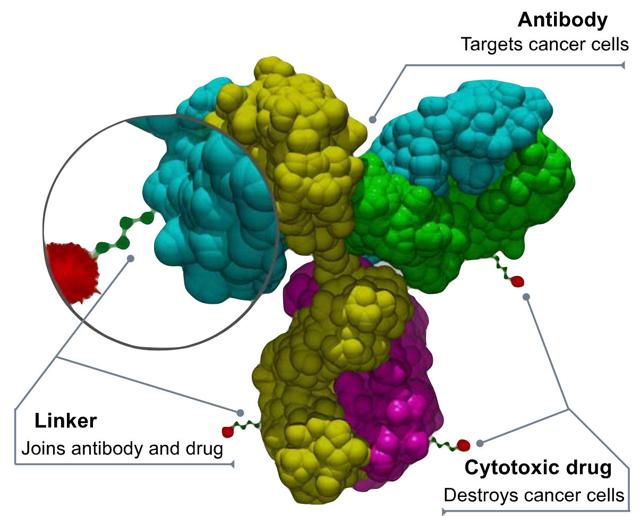 Figure 3: Illustration of an ADC. In the case of ATNM's ARCs, the payload is a radioisotope instead of a cytotoxic drug. Source
The idea of using ARCs in the treatment of cancer is not entirely new, and there exists a cautionary precedent in this category, in the form of a drug called Bexxar. Fellow contributor Erik Neelsen in 2015 provided an account of Bexxar's shortcomings, at the same time explaining why Actinium's lead drug candidate is unlikely to suffer the same fate.
Evolution of radiotherapy
The use of radiation with the goal of killing cancer cells has quite a bit of history. We may differentiate between the following approaches to radiotherapy:
Total body irradiation
External beam radiotherapy ('EBRT')
Selective internal radiation therapy ('SIRT')
Antibody-radioisotope conjugates ('ARC')
In essence, we have witnessed a trend towards ever more targeted radiotherapy.
Total body irradiation is self-explanatory. This is a non-specific procedure which is mainly employed as part of the conditioning process for bone marrow transplants. External beam radiotherapy is a procedure pioneered in the middle of the 20th century by Dr. Henry Kaplan, in which guided beams of radiation traverse the patient's healthy tissue and are focused on cancer cells.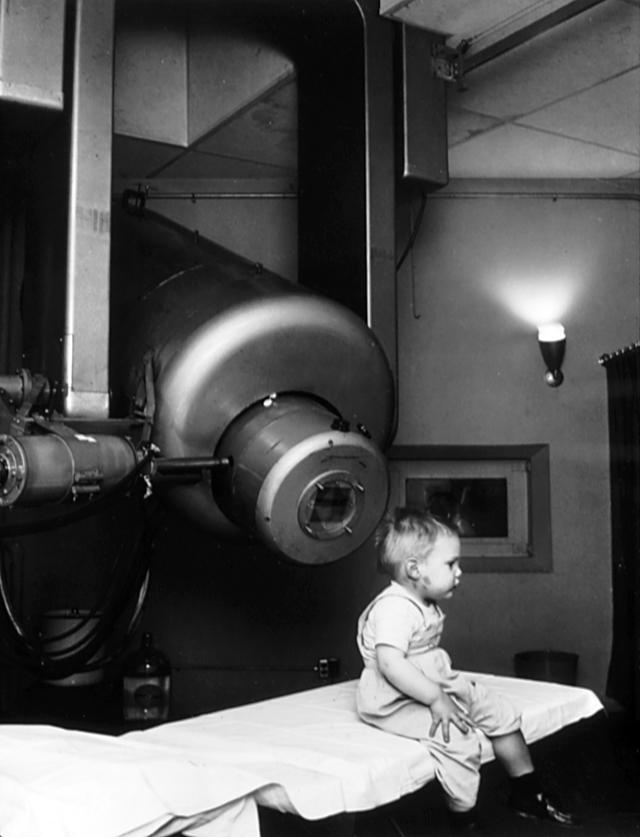 Figure 4: Gordon Isaacs, the first patient treated with linear accelerator radiation therapy (in this case an electron beam) for retinoblastoma in 1957. Source
Moving away from the application of external beams, approaches to delivering radioactive 'payloads' to tumors have been developed. The first is known as selective internal radiation therapy or SIRT: in it, radiologists administer microspheres, made of resin, glass or a biodegradable plastic which encapsulate radionucleotides, directly to the site of the tumor. Last but not least, the most precisely targeted flavor of radiotherapy is the use of antibodies primed with radioactive payloads; the radioactive equivalent to antibody drug conjugates as illustrated in figure 2. This is ATNM's field of predilection.
The observation that the majority of leukemias and lymphomas were exquisitely radiosensitive and that higher doses of external beam TBI substantially reduced the risk of relapse in early studies of allogeneic HCT but resulted in increased toxicity due to radiation-induced damage to normal organs led to the hypothesis that targeted radiotherapy using radiolabeled monoclonal antibodies would be superior to external beam TBI in achieving disease control without imposing excessive toxicity. These approaches aim to deliver higher doses of radiation to the tumor site while relatively sparing normal organs from exposure to TBI. To achieve a favorable biodistribution of a radiolabeled monoclonal antibody, an ideal antigen would be expressed homogeneously on the tumor cell surface and would lack expression on normal cells. Lacking such an antigen, methods to target lineage-specific hematopoietic antigens, such as CD20, CD33, and CD45, have been successfully developed in the autologous and allogeneic HCT setting.
While radiotherapy has become ever more precisely targeted, there are certain physiological limitations to the precision with which radiation can be applied in a medical context, and ARCs will be difficult to beat in that regard.
ARC precedent and Iomab-B's advantage
The precedent in ARCs is very limited, consisting of only 2 approved drugs: Bexxar and Zevalin.
In a nutshell, Bexxar suffered from a massive 4-year delay until approval, during which a more conventional drug combination established dominance in refractory non-Hodgkin's lymphoma.
The only other precedent in the field of ARCs, preceding even Bexxar, is a drug originally developed by Idec, now part of Biogen (BIIB): Zevalin. Zevalin has changed hands multiple times and sales have been modest. In my opinion, this can be attributed to the relative abundance of treatment options for Zevalin's target indications, first and foremost non-Hodgkin's lymphoma, as shown in figures 7 & 8. In that regard, the Bexxar and Zevalin stories are quite similar.
This comes down to a point which is dear to me: cool science does not necessarily significant sales make! Bexxar and Zevalin were very innovative drugs when approved in the early 2000s, however, their clinical benefit was not significant or differentiated enough to warrant their complex logistics and resulting high cost - a point we will revisit later on.
Iomab-B's key differentiating factor is its lack of viable competition in a very specific niche: induction and conditioning of elderly patients with refractory AML prior to a bone marrow transplant ('BMT'). Iomab-B has been designated an orphan drug for this indication.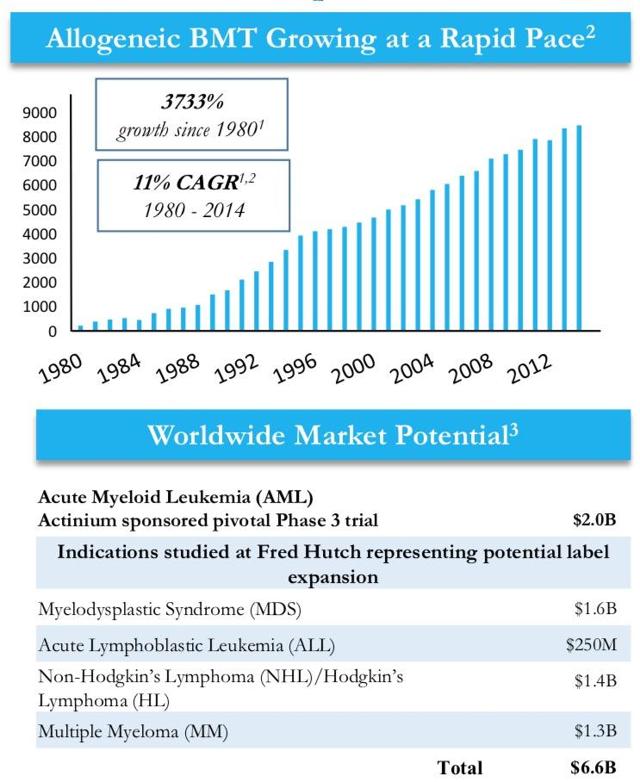 Figure 5: as outlined by ATNM, the growth in bone marrow transplants has been spectacular. Beyond AML, significant additional opportunities exist in MDS and MM. Source: ATNM corporate presentation
If we look at the above figure, it is evident that the company is engaging in a bit of window-dressing. The $2bn figure listed as worldwide commercial opportunity in AML is a 'company estimate' that is not substantiated any further. Let's get some granularity.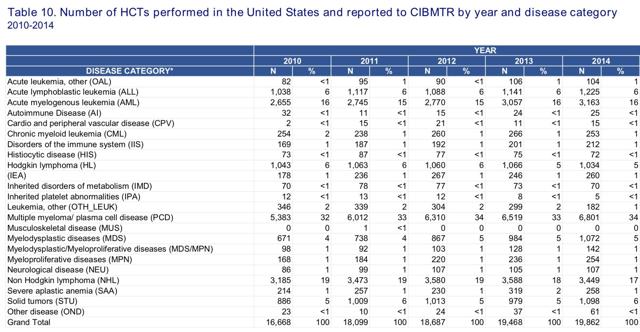 Figure 6: data collated by the Center for International Blood and Marrow Transplant Research on BMTs conducted in the U.S. Source
The latest comprehensive number we have for AML-related BMTs dates back to 2014 and is right around 3,000 cases. This will inform our financial modelling further down.
Let's first consider the context in which Iomab-B would be used:
Iomab-B is targeting a patient population that has failed previous treatment regimens and whose only chance for remission is a BMT.
These patients are frail, and their cancer is aggressive. Even with a successful BMT, survival 2 years following treatment is near 0.
The harshness of heavy chemotherapy is a significant factor contributing to the near-complete lack of long-term survival in this elderly population. Iomab-B appears to provide a safer yet more effective approach to preparing these patients for their BMT.
Due to the aging demographics in developed countries, demand for these procedures is set to increase substantially.
This represents an unmet need, and one with a significant moat surrounding it. Whenever we consider investing in a company that develops drugs for the inpatient setting, we ask ourselves this simple question: "Will doctors be excited about using this drug in their practice?". When a drug has the potential to provide a dramatic survival benefit while offering a superior safety profile over existing regiments, it makes answering the above question relatively straightforward. Also, the more dramatic the benefit provided and the deeper the moat surrounding the product, the less significant pricing pressure becomes.
ATNM benefits from pursuing a unique approach to the treatment of refractory AML, and they are well into late-stage development at this point. Their PhIII 'Sierra' trial, initiated mid-2016, requires the support of a restricted number of clinical centers and key physicians, which is not a trivial effort for would-be competitors to replicate. On the other hand, if/when approved, Iomab-B will be well-known and appreciated by the key BMT centres who collaborated in the PhIII trial.
Iomab-B's claim to fame is an investigator-led study published in the blood journal at the Fred Hutchinson Cancer Research Center in 2010. In this PhII trial, 58 patients over the age of 50 (median age: 63 years) with either advanced AML (n=47) or high-risk MDL (n=11) were treated with what we today know as Iomab-B in combination with fludarabine, a standard chemotherapy agent in blood cancers, and low-dose total body irradiation before receiving a BMT. In essence, overall survival 1 and 2 years following treatment (around 30% and 20%) with Iomab-B was far superior to what one would expect in this patient population (10% and 0% respectively). Both toxicity and efficacy considerations contribute to outcomes in this elderly and frail population, and Iomab-B appears to at least match heavy chemotherapy in terms of efficacy while beating it in terms of safety.
Dating back as far as 1999, a PhI trial with an Iomab-B precursor concluded that "substantial supplemental doses of radiation can be delivered to bone marrow and spleen by 131I-anti-CD45 antibody when combined with CY and 12 GY TBI, with acceptable toxicity." Overall, "most regimen-related toxicities were typical for conventional marrow transplant regimens. All patients developed at least grade II mucositis (i.e., requiring narcotic therapy)."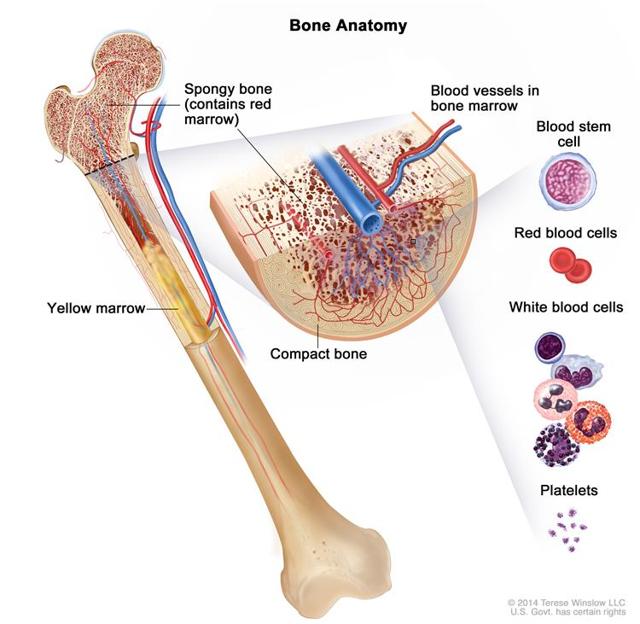 Figure 7: Bone anatomy, source: National Cancer Institute
Actinium licensed the technology from Fred Hutchinson and is currently exploring Iomab-B in a pivotal PhIII study, which looks to enroll 150 patients in leading BMT centers across the U.S.. Of note, this PhIII trial closely mirrors the design of the previously mentioned PhII trial at Fred Hutch. The study arm with Iomab-B plus fludarabine, followed by BMT, is compared to an arm with 'physician choice of best salvage chemotherapy', which entails significant variability and discretion by the treating physician. Needless to say, these are completely different treatment modalities, and seeing how the study targets patients above the age of 55 with relapsed or refractory AML, no miracles can be expected from 'salvage chemotherapy' alone. That is precisely why a BMT is called for, and the results of the previous PhII trial, along with other findings in the academic literature, make me confident that the Iomab-B arm will beat the salvage chemotherapy arm. It is important to note that the primary endpoint of this PhIII trial is durable complete response at day 180, which can be considered a surrogate endpoint for overall survival, with a view on accelerated approval. Its use in leukemia trials is in keeping with FDA guidance as illustrated below.

Figure 8: complete response is a classical endpoint in leukemia trials. Source: FDA, 2007 guidance document on oncology trials.
While it may seem difficult to extrapolate from the drug's investigator-led PhII trial and its 1- and 2-year endpoints, we believe - based on patient and disease characteristics and the drug's underlying MOA - that Iomab-B will yield statistically significant benefit in durable complete response at day 180. Treating physicians have substantial insight into optimal dosing of the drug, abetted both by the outcomes of previous PhI and PhII trials and by the ability to track biodistribution by means of radio-imaging, which should lead to optimized myeloablation. Combined with low-dose TBI and fludarabine taking care of any leukemic 'leftovers', we predict that the Iomab-B arm will readily achieve durable complete response.
We also believe that the complete lack of viable alternatives (as is reflected in the wild variability of 'salvage chemotherapy' and dismal survival rates at 1 and 2 years following treatment) in this orphan indication will lead to a favorable inclination of the FDA towards approval of the drug. Investors might see a signal of this friendly posture if the FDA grants breakthrough therapy designation following the publication of top-line results next year.
According to the company's current guidance, we should see this PhIII trial finish enrolling by EOY, with a top-line readout scheduled for H2 2019. There is a chance for early study termination if the data safety monitoring board ('DSMB') decides in favor of Iomab-B following an interim analysis in H2 2018.
A few words about AML
Acute Myeloid Leukemia, or AML for short, is a blood cancer that starts out in the bone marrow. Median age at diagnosis is 63 years and prognosis is relatively poor.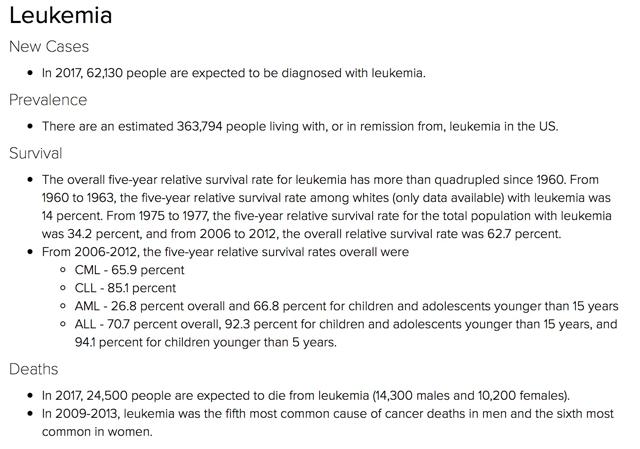 Figure 9: 5-year survival in the overall AML population is a mere 27%, dramatically lower than in other types of leukemia which have benefited from significant improvements in survival rates. Source: Leukemia & Lymphoma Society
If complete remission is not achieved by means of an initial course of chemotherapy or radiation, patients are dealing with refractory AML. BMT following intensive chemotherapy conditioning remains the standard of care, and essentially the only chance at a cure, in this setting. However, refractory AML in the elderly is essentially a death sentence, as discussed earlier.
There is a lack of investment in refractory AML from recently acquired Car-T behemoths Juno Therapeutics (JUNO) and Kite Pharma (KITE), as shown below.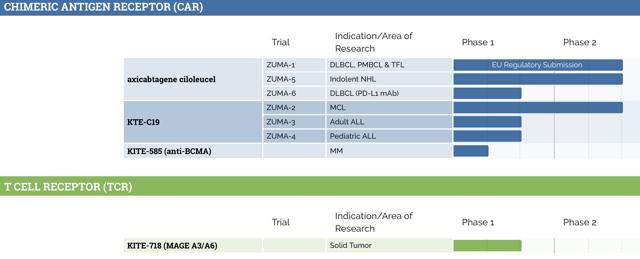 Figure 10: Kite does not have any treatments for AML in development. Source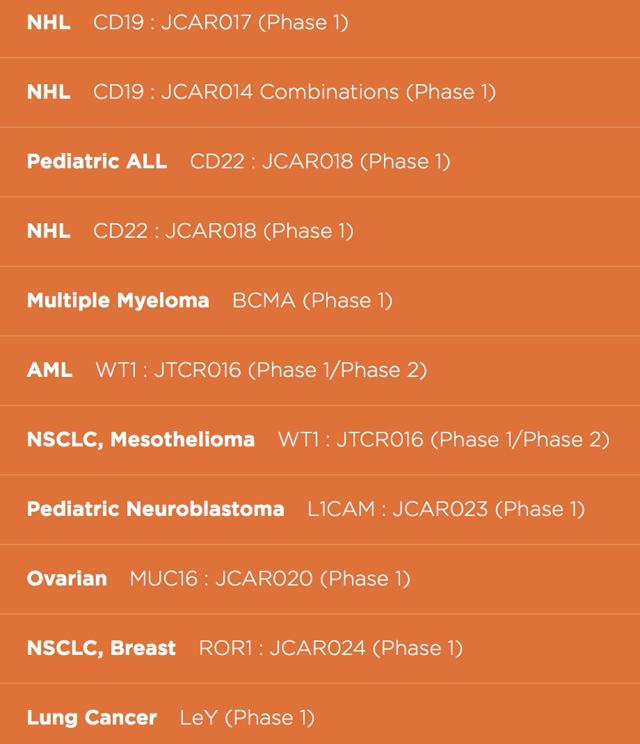 Figure 11: Juno's only candidate in AML, JTCR016, focuses on patients with relapsed AML following a bone marrow transplant. Source
Kite is not advancing any drug candidates in AML, whereas Juno has a single program, JTCR016, in refractory AML following BMT. Even if successful, this program will not compete with ATNM's Iomab-B which is intended to prepare elderly patients for a BMT.
The same is true for two small molecule drugs which were recently approved for AML patients with specific gene mutations, Idhifa and Rydapt. While these approvals represent substantial advances for patients with specific mutations, they don't remove the need for BMT in refractory patients. Neither do they provide an alternative to heavy chemotherapy conditioning prior to BMT, which is Iomab-B's exclusive domain.
Looking at existing treatments, recent drug approvals for AML subtypes and the lack of investigational drugs that could compete with Iomab-B in its niche, we believe that a positive PhIII readout will poise the drug for commercial success. Logistical hurdles are real and will be discussed further down, but we believe that the company, over the past few years, has made significant strides towards achieving commercial readiness.
Other pipeline assets
While ATNM has a singular focus on blood cancers and ARCs, the company is not a one-trick pony. Let's briefly consider the rest of the pipeline.
| | | | | |
| --- | --- | --- | --- | --- |
| Name | Development stage | Antigen target | Antibody | Radioisotope |
| Iomab-B | PhIII | CD45 | Apamistamab | Iodine-131 |
| Actimab-A/M/MDS | PhI/II | CD33 | Lintuzumab | Actinium-225 |
| N/A | Preclinical | CD38 | Daratumumab | Actinium-225 |
So, the company really has two clinical assets, one being the CD45-targeted apamistamab conjugated with iodine-131, the other being the CD33-targeted lintuzumab coupled with actinium-225.
It's important to understand the properties of both antibodies/antigen targets and their coupled radioisotopes before we continue.
CD45-targeted therapy
CD45 is an antigen expressed on all human white blood cells as well as on a majority of bone marrow tissue. Thus, targeting it makes most sense in the context of an anticipated BMT where you want to create a 'clean slate' prior to the transplant. Coupling a CD45-targeted antibody with iodine-131 makes sense in the context of this procedure for a couple of reasons. First, iodine-131 has a long history as a radio-imaging agent, allowing physicians to monitor distribution of the radioisotope in the patient's body which in turn helps inform dosing. Second, its beta particle emissions feature a relatively long path length of 0.8mm, compared to the alpha radiation of actinium-225 which is effective in a range of less than 100 micrometers, or a few cell diameters. This helps achieve myeloablation, the process of removing bone marrow, by destroying both cancer cells and healthy cells in the patient's bone marrow. It also means that even bone marrow cells which do not feature the antigen CD45 are susceptible to the radiation emitted by ARCs bound to cells within a 0.8mm radius.
"Experts have postulated that the longer path length of beta radionuclides may be more appropriate for bulky diseases such as lymphoma, while shorter path length alpha agents may be more appropriate when disease is limited to isolated tumor cells and cases of minimal residual disease. Leukemia is a scenario where malignant blasts could be targeted by alpha emitters with minimized cytotoxic effects on distant uninvolved tissues. Alpha radionuclides can deliver high energy over a very short distance (∼50-80 µm) and when combined with their high linear transfer energy characteristics, they have the potential for highly effective tumor cell kill and decreased risk of relapse for patients with leukemia."
CD33-targeted therapies
By contrast, the alpha-particle emitter Actinium-225 (Actimab) has the advantage of not requiring the same stringent handling precautions as Iodine-131. Its alpha particle emissions, while extremely short-acting, are also extremely potent. The result is highly localized and effective cytotoxicity. This makes sense in all kinds of blood cancers, hence ATNM exploring multiple indications. The antibody lintuzumab binds to CD33, an important and well-explored biomarker. Let's discuss CD33 before moving on to ATNM's current programs with Actimab.
CD33 is expressed in almost all AML patients, and there is 20 years of precedent with CD33-targeted therapies. In this context, I find it highly encouraging that ATNM's CMO, Dr. Mark Berger, was strongly involved with the development of Mylotarg, a CD33-targeted ADC approved in 2000 and withdrawn from the market in 2010. The major issue with Mylotarg is veno-occlusive disease ('VOD'). Importantly, VOD was not observed with the naked antibody lintuzumab, indicating that targeting CD33 on its own is a safe approach and the issues with Mylotarg were likely attributable to the cytotoxic conjugation.
What other CD33-targeted drugs, currently in development, could pose a commercial challenge to the Actimab franchise?
Pfizer (PFE) is in fact seeking Mylotarg reapproval in conjunction with chemotherapy, which together, with the known safety issues, will hamper its viability in the elderly.
Seattle Genetics (SGEN) has been pursuing an ADC targeting CD33, dubbed SGN-CD33A. All clinical trials in AML were placed on hold by the FDA due to VOD and hepatotoxicity. Its PhIII trial was discontinued last year due to increased patient deaths, caused by fatal infections among other things. For the time being, SGEN's CD33 ADC efforts can be ignored.
Immunogen (IMGN) has a similar ADC, IMGN779, in early development.
Boehringer has a naked antibody, BI836858, in PhI/PhII.
Amgen (AMGN) has a bispecific, AMG330, in PhI. A major drawback here is that this drug requires continuous infusion from 14 to 28 days.
The only CD33-targeted compound nearing (re)approval is, ironically, the decades-old Mylotarg. We believe that naked antibodies like BI836858 will fail to provide substantial benefit. Amgen's bispecific is potentially interesting but cannot be evaluated at present. All things considered, I believe that Actimab has best-in-class potential in a number of hematological indications.
The first meaningful Actimab readout will come from the Actimab-A program in patients over 60 with newly diagnosed AML. As opposed to Iomab-B, the goal here is to avoid the need for BMT. An ongoing PhII study, with primary endpoint of complete remission at day 45, is set to read out by mid-2018 or early H2 2018.
We believe that a successful outcome of this study should lead to substantial appreciation of ATNM as it would increase the chance of the company gaining a strong foothold in both the treatment of both newly diagnosed and refractory patients with AML. A positive readout would also increase the POS of other Actimab programs.
ATNM are exploring Actimab in a growing number of indications, which is reflective of investigator interest. Without going into details, we are particularly keen on the drug's exploration in refractory multiple myeloma, given that MM cells are known to be highly sensitive to radiation. The program is currently in PhI, but given the mechanistic fit, we are willing to assign some value to it.
We have also become aware of a stealth change to ATNM's website, which now features additional planned programs for Actimab in colon, prostate and brain cancer: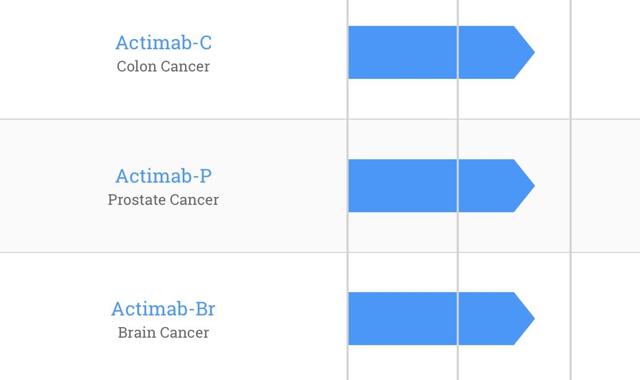 Figure 12: additional planned Actimab programs. Source: ATNM website
With no further details to go on, we nevertheless believe that this indicates strong investigator interest in exploring ATNM's ARCs in diverse settings, which bodes well for the future of these drugs.
Radio-enhanced daratumumab and the promise of partnerships
The recent collaboration agreement with Astellas Pharma, while featuring a modest 'seven figure' upfront payment, is definitely a step in the right direction for ATNM. It represents a 'quick win' for the company's recently launched 'AWE' platform, and it provides external validation and evidence of Big Pharma interest in ARCs.
There is reason to believe that Astellas won't be the only major pharma player to team up with ATNM in the pursuit of next-generation compounds.
ATNM has posted very exciting results obtained both in in-vitro and recently in-vivo in a mouse model of MM by conjugating Genmab's blockbuster antibody daratumumab with Ac225. Daratumumab is commercialized by Johnson & Johnson (JNJ) under their exclusive partnership agreement with the Danish biotech Genmab, which we touched upon in our article on Zymeworks (ZYME), and it is impressive that dara's sales ramped up more than $1bn only a few years following approval. Dara works by recruiting the patient's innate immune system. Impressively, Ac225-labeled daratumumab appeared to retain immunogenicity all the while dramatically increasing cell lysis (killing).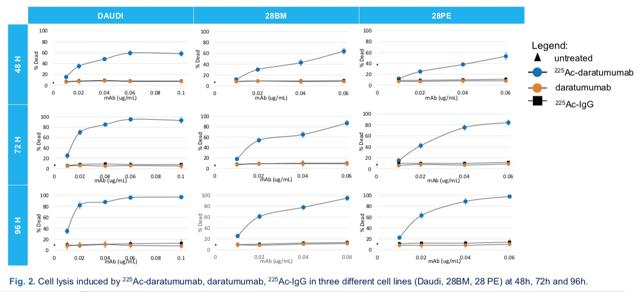 Figure 13: dramatically increased cancer cell killing activity observed with Ac225-labeled daratumumab vs naked antibody, across different cell lines. Source
Given that dara is a cash cow for JNJ, there is little doubt that these preclinical data have piqued the interest of the consumer products & pharma giant. Whether they are in a hurry to seal a partnership, and on which terms, is of course an entirely different considerations.
Here are the key findings from ATNM's recent abstract (n. 760) at the American Association for Cancer Research ('AARC')'s annual meeting:
"Previously we have established that labeling daratumumab with 225 Ac increased more than 10-fold its ability to kill MM cell lines in vitro (ASH 2017, Poster Number 4427). [...] Tumor growth was similar between mice treated with 400 nCi/0.3 μg of 225 Ac-daratumumab and mice treated with 10 μg of unlabeled daratumumab. In conclusion, this study shows that labeling daratumumab with 225 Ac increases its antitumor activity ~30-fold."
In our eyes, this enables the use of radio-labeled dara as monotherapy rather than in combination with chemotherapy as is currently the case, which in turn would open up new patient segments and potential for additional combination trials.
Understandably, the ATNM 'fan base' of retail investors is keen on seeing a partnership with JNJ materialize and we believe that this is not an unrealistic prospect. By creating a 'dara 2.0', the company could significantly extend the commercial viability of this franchise. The low 'price of entry' established by the Astellas partnership should translate into an equally 'cheap ticket' for JNJ.
As a result, while we don't expect a massive upfront payment, any partnership with JNJ would add significantly to ATNM's credibility and visibility.
Key hires
Several key hires over the past 1 ½ years corroborate our thesis that ATNM is at a significant inflection point. Below we have listed our top three.
| | | | |
| --- | --- | --- | --- |
| Name | Position | Expertise | Date of appointment |
| Dr. Mark Berger | CMO | | Jan. 18, 2017 |
| Jehan Rowlands, Pharm.D. | VP, Head of Regulatory Affairs | Development and approval of Namenda (AGN) and Naptara (SHPG) | March 14, 2018 |
| Dr. Vijay Reddy | VP, Clinical Development | Development of Ibrutinib (Pharmacyclics) | April 18, 2018 |
Dr. Berger's unique expertise with Mylotarg, along with his sway in the medical community as a KOL, bodes well for the future of Iomab-B.
The appointment of Dr. Rowlands points towards the company's confidence in Iomab-B and the Actimab's path forward in terms of regulatory approval.
Most recently, we were impressed to learn that Dr. Reddy was joining ATNM coming from Pharmacyclics. In addition to his contributions to ibrutinib's approval in several indications, Dr. Reddy is himself a transplant physician. As with Dr. Berger, I am confident in Dr. Reddy's ability to deem ATNM's ARCs worthy of further investigation.
While personnel is far from being the only consideration when evaluating small-cap biotechs, we always see it as a huge plus when seasoned personnel with relevant expertise join an overtly left-for-dead concern. If one were to visualize it as a graph, the inflow of talent into ATNM would be diametrically opposed to the stock's downward trajectory.
Technical and logistical hurdles
As mentioned earlier, creating and delivering ARCs involves a degree of technical and logistical complexity which helps explain skepticism towards ATNM's efforts in this arena. This complexity helps explain why Zevalin is the most expensive single-injection antibody on the market, although we believe that this record will be supplanted by ATNM's own ARCs if/when eventually approved.
The procurement of the underlying antibodies for Iomab and Actimab being relatively straightforward, we see two main difficulties in successfully commercializing either product:
Efficient radiolabeling
Securing adequate and reliable supplies of iodine-131 and actinium-225
Significant strides have been made with regards to the first issue, radiolabeling, or put simply 'sticking the radioactive particles to the antibodies'. For instance, with actinium-225, improvements in labeling yield from the 5-10% range to around 40% were reported in 2008:
This report describes the synthesis of 2 new BCAs that allow markedly improved yields for the labeling of antibodies with 225Ac. Using the newly synthesized BCAs, chelation yields of 95 to >99% and labeling yields of up to 40% were routinely observed. This result constitutes a dramatic improvement compared to the typical yields using the isothiocyanate-functionalized macrochelator DOTA-NCS 2, which average 5 to 10% (19).
Significant additional progress was reported in 2014:
The 1-step procedure allows radiochemical yields of up to 80% to be achieved, which is much higher than our former isolated yields of 6%-12% (6).
As a result, I consider this issue to be in essence, resolved.
With regards to securing supply of the required radioisotopes, we have for the time being no choice but to trust in ATNM management's assertion that significant progress has been made in identifying and securing reliable sources. While it could be argued that this is 'a high quality problem to have' following approval, we are incorporating it into our rNPV in the form of a 25% 'supply chain risk' discount.
Valuation
With Iomab-B in PhIII, it is reasonable to center our valuation of ATNM around this late-stage asset all the while including some of the earlier stage programs in the model, with significant risk adjustment.
I also believe it is prudent to apply an across-the-board risk adjustment on all programs involving Ac225 due to supply chain uncertainties.
Here are some of the key assumptions for our rNPV model:
An addressable AML bone-marrow-transplant market of 3,500 cases as of 2018 with 8% CAGR going forward.
$100k price for one course of Iomab-B therapy with annualized price increases of 5% for the first 2 years and 8% for the following 5 years
65% probability of success for Iomab-B, which is in-line with aggregate PhIII biologics success rates in oncology (Source: Pharmagellan)
Potential addressable market for Actimab across indications: roughly 10k patients.
Slightly lower pricing for Actimab due to removal of the need for radio-isolation: $50k per course. Similar price evolution.
30% probability of success for Actimab.
25% 'supply chain risk' applied to the Actimab franchise.
Future share count of 250m vs +/- 110m currently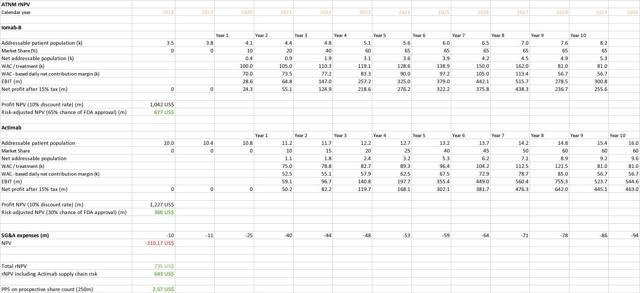 This yields a fair value around $2.57/share for ATNM, representing a 635% premium over current share price.
Investors may go one step further and remove the Actimab component of our rNPV altogether which would yield fair value around $1.5/share or a 320% premium over current share price, with potential for significant appreciation on a positive Actimab-A readout in H2 2018.
As a result, our price target range for ATNM is $1.5 to $2.5, representing roughly 300-600% upside from current levels.
Downside risk
As usual in R&D orientated biotech, setbacks in clinical trials constitute the most significant downside risk for ATNM. A negative readout of Actimab-A in mid-2018/H2 2018 could lead to additional downward pressure, as it could call other Actimab trials into question, although we would see a selloff leading to prices significantly (-25%, -50%) below current share price as massive buying opportunities on the prospects for Iomab-B alone.
Poorly executed secondaries also present downside risk. However, given that the most recent secondary concluded on March 5 and current cash reserves ought to allow for another 12 months of operations, we see no immediate downside risk from unfavorable dilution.
An unexpected termination of the Astellas partnership appears unlikely so soon after its announcement, but could constitute a risk further out.
The departure of key talent such as the company's CMO constitutes an ever-present risk.
All in all, keeping in mind that risk is also a function of price, we believe that ATNM shares are fundamentally de-risked at this point in time.
Discussion
We believe that an adequate allegory for the investment context in oncology is that of a gardener who spoils some plants while neglecting others. JUNO, KITE and other players in the IO space are akin to plants that have been over-tended, over-fertilized and over-watered. They have genuine merit but beyond a certain point, we are likely to see declining marginal returns on investment.
On the other hand, ATNM's radio-ongological approach is like a sprout that has been discarded, left to wither in the dark but which could blossom on the slightest progress in clinical trial execution and on the partnership front.
Based on all the above, we believe that the coming 6-12 months will be pivotal for the company and that the stock presents an asymmetric risk/reward ratio at present. As a result, we have recently initiated a position in the stock.
Editor's Note: This article covers one or more microcap stocks. Please be aware of the risks associated with these stocks.
This idea was first discussed on Second-Level Investing.
This article was written by
I used to provide equity research focused on the biotech & pharma sector on SeekingAlpha before joining a financial industry association. None of the content I have provided through SeekingAlpha reflects the views of my past or present employers.
Analyst's Disclosure: I am/we are long ATNM. I wrote this article myself, and it expresses my own opinions. I am not receiving compensation for it (other than from Seeking Alpha). I have no business relationship with any company whose stock is mentioned in this article.
Seeking Alpha's Disclosure: Past performance is no guarantee of future results. No recommendation or advice is being given as to whether any investment is suitable for a particular investor. Any views or opinions expressed above may not reflect those of Seeking Alpha as a whole. Seeking Alpha is not a licensed securities dealer, broker or US investment adviser or investment bank. Our analysts are third party authors that include both professional investors and individual investors who may not be licensed or certified by any institute or regulatory body.