Since the middle of 1990, the Fed and other central banks have approached inflation targeting with a specific inflation indicator that prevents economies from unpredictable price spikes that are economically disruptive.
Central banks in developed and emerging markets have different inflation targets because of their different political and economic structures, such as:
The ECB has target of "inflation rate below, but close to, 2%".

The People's Bank of China's inflation target is around 3 per cent.

The Bank of England has a 2 per cent inflation target.

The Fed has a 2 per cent inflation target.

The Bank of Japan's inflation target is 2 per cent.

The Reserve Bank of India's inflation target is 4 per cent +/- 2 per cent.
(All the above data can easily be found on the official web sites of the respective banks.)
Under this approach to inflation targeting, central banks expect businesses to become more disciplined in pricing decisions and employees more predictable in wage demands. Gradual price rises allow companies to grow their revenues even if the production and services output is stable.
Reaching central bank inflation targets means that the economy operates under balanced conditions in which:
Business earnings grow

Employment increases

Workers earn more

The overall standard of living increases

Government tax revenues rise

Economies are prevented from overheating
Central banks seek to hit their target inflation by raising and lowering borrowing costs, though mistakes in this approach can cause recession.
In cases where the indicator points to low inflation (<1), the risk of devaluation appears. This is harmful for the economy because falling prices create a threat for business revenues. Even if company output is increasing, falling prices will push nominal sales down, and this eventually leads to lower GDP growth. A good example of this is the deflationary period in the EU, after which the ECB launched its QE program in order to achieve "inflation rates below, but close to, 2%", a level which can help boost the economy.

As for inflation that is several times higher than the central bank's target, sharp price increases lead to aggressive actions from central banks to stop extreme rises in prices that could lead to harmful effects, such as hyperinflation and currency devaluation. In cases of excessively high inflation, central banks should increase interest rates to make borrowing costs more expensive, which would lead to an increase in yields on the debt markets. In this scenario, corporate income would be under pressure because of the higher cost of credit facilities, which leads to shrinking demand for the facilities and requires higher debt maintenance expenses. All of this decreases corporate income and increases the risk of default. High borrowing costs also constrain credit consumption from households, leading to lower product demand and, eventually, a reduction in corporate income. Increases in interest rates lead to national currency strengthening and usually cause a reduction in income from exports. This, in combination with high borrowing costs, leads to an unfavorable corporate operational environment.
It is believed that target inflation indicators create a balance under which economies are prevented from overheating but maintain robust demand for borrowing, leading to further economic expansion.
Inflation in the U.S.
After a period of decline in Core CPI, this indicator is now moving towards a 2 per cent annual rate.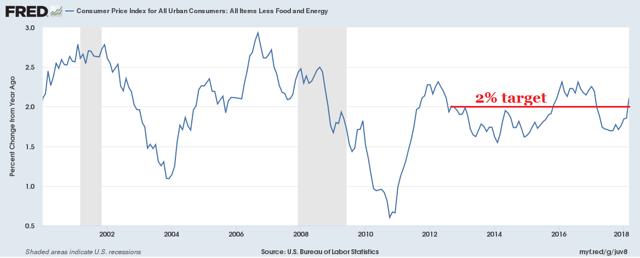 (Source: FRED - Consumer Price Index for All Urban Consumers: All Items Less Food and Energy)
While the Fed's preferred core PCE is still lower than target, expectations are that the price inflation rate "will be running at 2.0 percent by the June report, if not sooner," said John Ryding, chief economist at RDQ Economics in New York.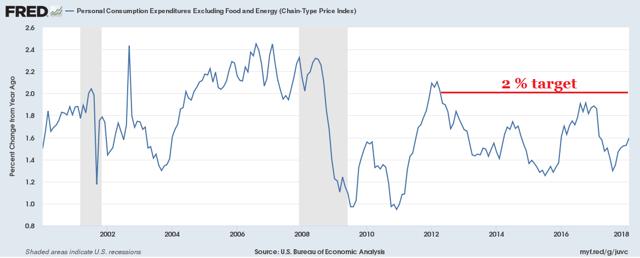 (Source: FRED - Personal Consumption Expenditures Excluding Food and Energy (Chain-Type Price Index))
What does it mean for the markets and economy in general?
In cases where inflation is gradually rising, the Fed can conduct predictable monetary policy that keeps supply and demand in balance in the economy amid a tight labor market, without lifting borrowing costs so quickly that the economy stalls.
| | | | |
| --- | --- | --- | --- |
| Year | Number of Interest rate hikes (estimated) | Federal Funds Rate (Median estimated) | Fed Inflation target (Core PCE) |
| 2018 | 3 | 2.125% | 1.9% |
| 2019 | 3 | 2.9% | 2.1% |
| 2020 | 2 | 3.4% | 2.1% |
(Chart created by author using data from Minutes of the Federal Open Market Committee January 30–31, 2018 and Bloomberg)
Regardless of the latest rise in borrowing costs, companies can still attract capital with lower prices compared to previous decades. Yields of companies with an AAA credit rating from the S&P 500 index are 3.45%, while the Bank Prime Loan Rate is 4.58%. This indicates lower borrowing costs compared to the previous decade.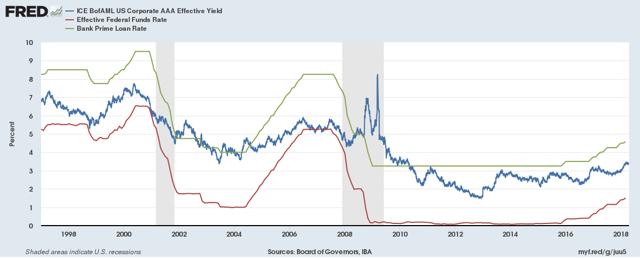 (Source: FRED - ICE BofAML US Corporate AAA Effective Yield, Bank Prime Loan Rate, Effective Federal Funds Rate)
Under these conditions, the corporate sector doesn't face challenges with debt maintenance. This allows companies to use credit facilities without worry.
The rise in Net Leverage indicates that firms have taken advantage of accommodative Fed monetary policy by increasing their borrowings in an environment of zero interest rates.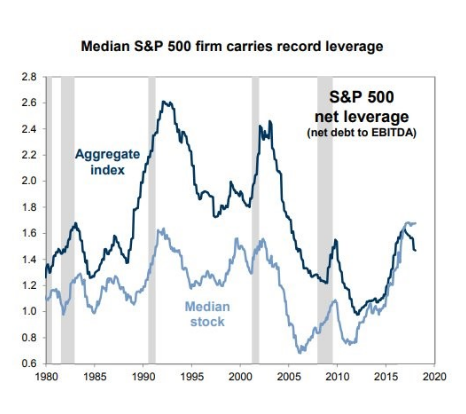 (Source: Goldman Sachs)
Regardless of significant borrowing activity, the interest coverage 8x gauge depicts that companies' EBITDA is 8 times higher than their Annual Interest expenses. Such a coverage level indicates healthy corporate conditions in the area of debt maintenance.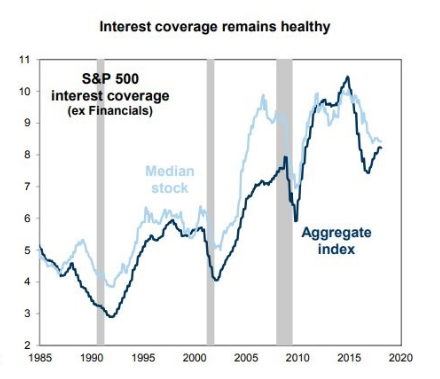 (Source: Goldman Sachs)
With the current improvements in U.S. fiscal policy regarding tax reform, companies are expecting robust Net Income growth for the 2018 fiscal year.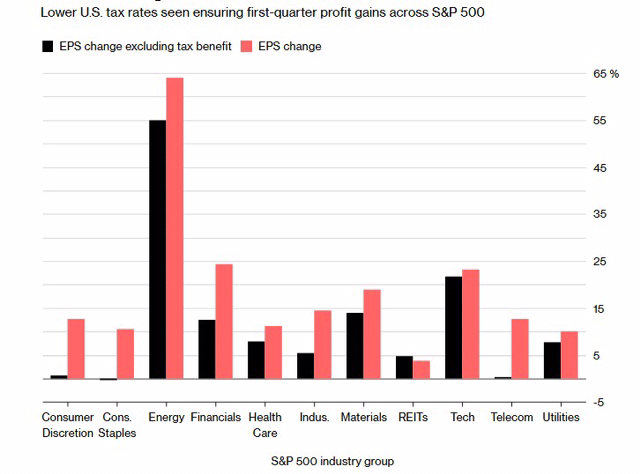 (Source: Bloomberg)
Macro environments have a direct positive impact on company income, so they can be demonstrated on a Company Income Statement. This is illustrated on the following Example Corporation Income Statement.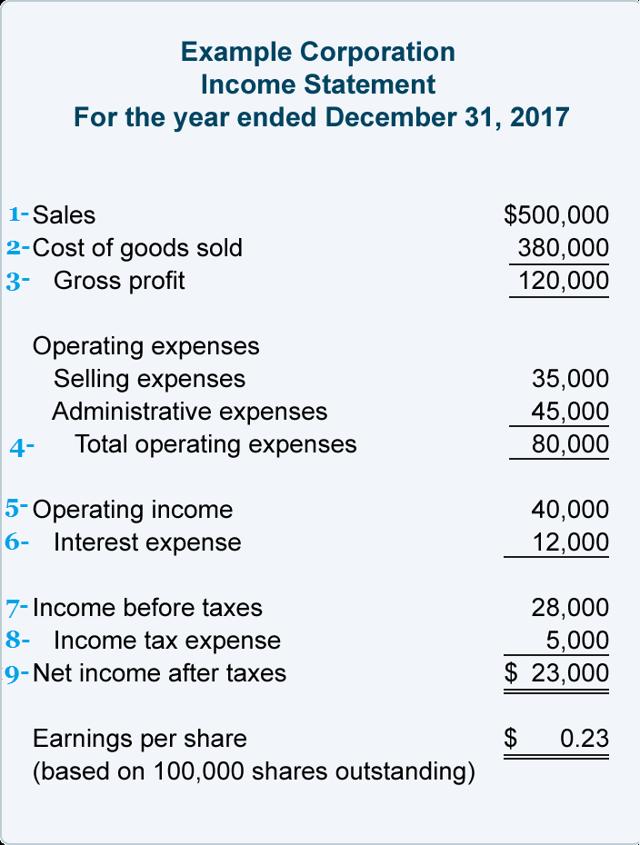 Even under stable output, inflation will cause retail prices to rise, boosting company revenues.
COGS are expected to gradually rise, mainly due to the higher cost of oil and raw materials.
Retail prices are expected to grow at a higher rate compared to COGS, so gross profits will rise due to a higher margin.
A tight labor market and low unemployment will lead to a rise in SG&A expenses.
Operating income is expected to have moderate growth compared to previous periods due to the increase in wages.
Interest expenses are expected to be stable or indicate a gradual rise due to tightening Fed monetary policy.
Pre-tax income is expected to have little change compared to the previous period.
Income tax expense is expected to be significantly reduced due to the tax reform.
Company Net Income and EPS are expected to be higher than the previous period by double digits, providing higher ROE for investors
Under these conditions, companies will receive additional cash, which they intend to spend on CAPEX, buybacks and dividends. According to the plans of S&P 500 companies for 2018, the most visible annual growth is expected in these three areas.
The 17% rise in dividend spending will lift the S&P 500 Dividend Yield to 2.19% by the end of 2018 (from current S&P 500 Index prices), and that is in line with current 1-year US Treasury YTM.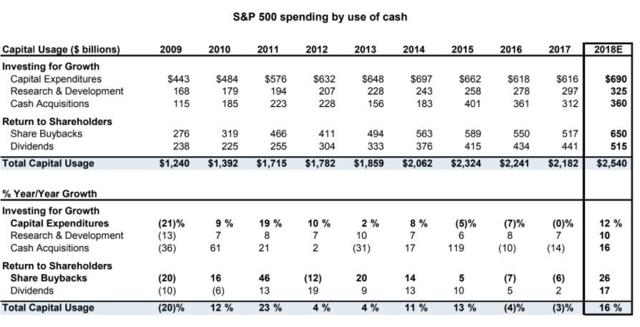 (Source: Goldman Sachs)
The confirmation of these intentions can be seen in the previous month. Buybacks surged during the last correction as enterprises took the opportunity to buy their stocks at the dip. The recent slowdown was caused by regulatory measures that restrict companies from buying their stocks from about 5 weeks before the earnings report to 48 hours afterwards.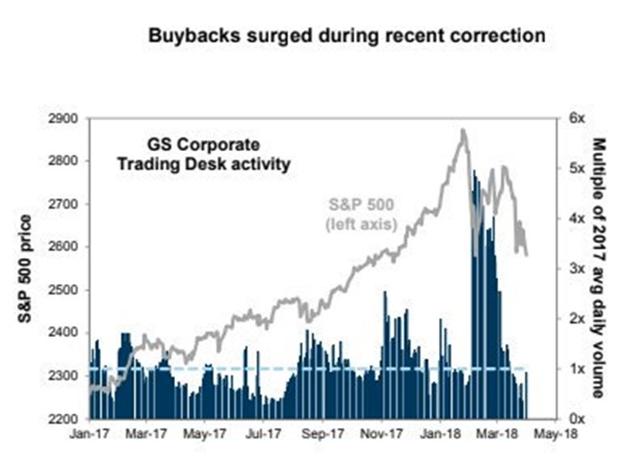 (Source: Goldman Sachs)
The chart depicts that companies which constantly increase their dividend and buyback expenses are highly rewarded by investors, compared to companies which invest in M&A.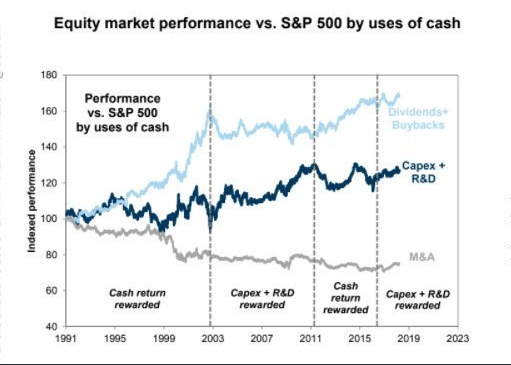 (Source: Goldman Sachs)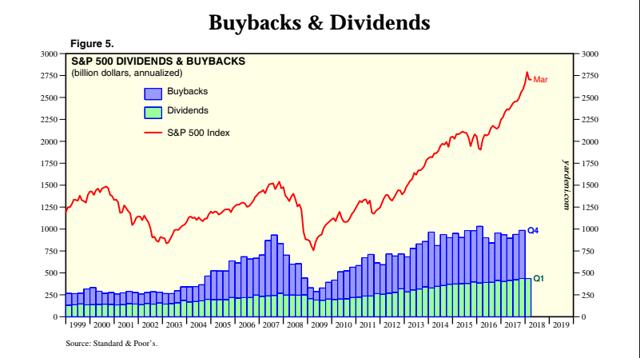 (Source: Standard & Poor's)
Conclusion
Under effective management, gradually rising inflation is likely an opportunity rather than a threat. It can help to support already robust economic growth and make corporate incomes more sustainable.
The current policy of raising interest rates will provide the Fed with additional options in the next period of economic slowdown. The potential decreasing of borrowing costs will be more effective from the Fed Federal Funds Target Level 3.4%, which is the goal for 2020.
The rise in Net Debt/EBITDA leverage indicates that companies took advantage of zero interest rates by significantly increasing their long-term debts to invest in business development. Despite the recent ratio increase to 1.5x, it is still much lower than the standard allowable 3x ratio. Currently, companies do not face any problems with debt maintenance, even after periods of interest rate hikes. The Company Interest coverage 8x gauge indicates that firms are well-prepared for future interest rate increases and boosts in debt maintenance expenses due to the rise in the LIBOR rate. An 8x ratio provides a comfortable discount to the standard allowed 3x ratio.
Latest buyback activity in the period of market turmoil indicates that companies have big expectations toward their own business prosperity. Businesses are expected to achieve higher incomes, mainly due to the recent changes in U.S. fiscal policy and the continuation of economic growth. After the earnings season, which will end regulatory restrictions for companies, it's fair to expect that firms will continue their buyback activity, providing additional demand in the market.
A combination of gradual inflation growth, steady Fed monetary policy, income tax cuts, significant rises in buybacks and dividend spending provides the background for U.S. equity markets to be a better place for investment than U.S. fixed-income assets.
Regarding the information above, I expect the total return (Dividends + Investment income) from U.S. equities will likely outperform U.S. fixed-income asset returns in 2018.
Disclosure: I am/we are long SPY.
I wrote this article myself, and it expresses my own opinions. I am not receiving compensation for it (other than from Seeking Alpha). I have no business relationship with any company whose stock is mentioned in this article.