Sharp Downturns Offer Buying Opportunities
If the history of stock market crashes, financial crises, and speculative booms and busts has taught us anything, it is that the market is not efficient or rational in the short term. Prices tend to overshoot both to the upside and the downside.
In the words of the father of value investing, Benjamin Graham:
In the short run, the market is a voting machine but in the long run, it is a weighing machine.
Three US stocks have performed especially poorly over the past year, and while there is no guarantee of a rebound, all three offer strong risk-reward profiles due to cheap valuation and excessively bearish sentiment.
Clearwater Paper Corp. (CLW)
Clearwater Paper Corporation is a small-cap pulp and paper manufacturer headquartered in Spokane, Washington. They are the dominant producer of store-brand paper towels, napkins, bathroom tissue and facial tissue in the United States and are currently a member of the S&P SmallCap 600.
The industry is cyclical, and the company is currently facing margin pressure due to higher input and transportation costs. The company consists of two segments: Consumer Products, and Pulp and Paperboard. While the tissue market continues to face uncertainty, most industry watchers agree that the paperboard market is improving.
After a recent earnings miss, the stock lost 1/3 of its value on Friday and then lost nearly 1/10 of its remaining value on Monday. Following the sell-off, the stock has an extremely low price-to-book ratio of 0.7, compared to a price-to-book ratio of approximately 3.0 for the US market. Removing the $244m in goodwill and $31m in intangible assets from the equation still provides us with a very reasonable price-to-tangible-book ratio of 1.3.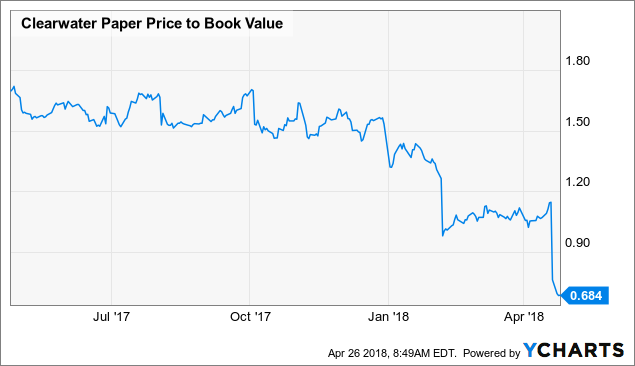 High debt is an issue, but cash flow remains strong. The credit rating agencies maintain a stable rating for the company, and their next tranche of debt is not due until 2023, allowing time for industry conditions to improve.
The CEO is making good strategic moves, investing in ultra-premium tissue and concentrating on reducing costs. With such a low relative valuation compared to its peers, its index, and its own historical average, further downside risks seem to be limited while improving industry conditions could propel the stock much higher.
GameStop Corp. (GME)
GameStop is a mid-cap video game retailer headquartered in Grapevine, Texas. In addition to their primary business of selling new and pre-owned video games and hardware, they also operate a retail cell phone business and an online business selling gaming collectibles and novelties. They are a member of the S&P MidCap 400.
Investors are excessively bearish about GameStop, with recent short interest of 39%. Commentary on the company frequently includes comparisons to Blockbuster, with the idea being that direct digital downloads will make physical video games obsolete just as streaming movie rentals destroyed the business model of video rental stores.
While the company continues to defy the critics by remaining profitable, carrying low debt levels, and paying a large dividend, the stock price has grinded lower. It has lost nearly half of its value from its 52-week high of 25.31 made on 5/11/17. After the terrible year for its investors, it now trades at an astounding forward P/E ratio of 4.4. It may be the cheapest company in the US stock market today. Meanwhile, its dividend yield is 11.3%, although the dividend is not safe by any stretch of the imagination.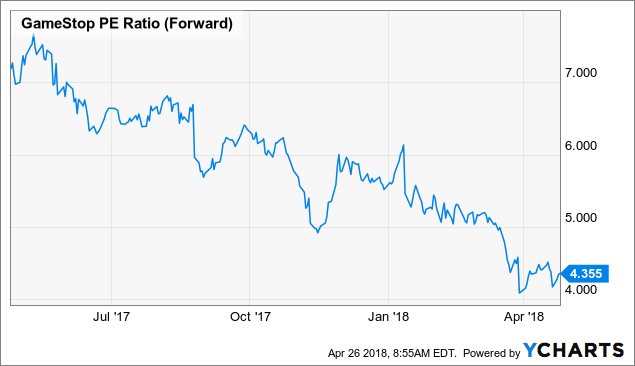 There is no question that retail generally, and video game retail specifically is in decline. The question is whether the decline will be quick or slow. GameStop still offers a value proposition for consumers, as digital downloads of new games are not any cheaper than the physical version, but pre-owned games are cheaper than both and older physical games can be exchanged for store credit towards new purchases.
With the low debt and the incredibly low valuation, this stock also offers a value proposition for investors. The company is executing well and the fears of a quick decline in its retail business appear to be overblown. With the extreme short interest in this company, and the rock-bottom expectations, it would not take much good news for this company to rebound sharply. Even without a short squeeze, GameStop could remain profitable and continue returning capital to shareholders for some time to come.
General Electric (GE)
General Electric is a large-cap, industrial conglomerate headquartered in Boston, Massachusetts. The stock really needs no introduction, as a long-time member of the Dow Jones Industrial Average (although that membership is rumored to be in danger) and member of the S&P 500.
My interest in General Electric is not so much about valuation, although its valuation is more reasonable now than it has been in a long time. It is about market sentiment. When GE was trading at over $30 in late 2016 and early 2017, the majority of analysts had a buy rating on the stock. At this time, the stock was richly valued and the CEO Jeff Immelt had spent years making poor strategic decisions, not least of which was winding down financial services assets after a crash in that sector and overpaying for fossil fuel assets at the height of the energy cycle.
Fast forward to today. With a new CEO who is coming clean about the problems that the company faces and slimming down the conglomerate, with a share price below $15 and a much cheaper valuation, analysts have now turned bearish on the stock. According to the latest data by Thomson Reuters, only 5 of 13 analysts have a buy or strong buy rating on the stock, which is actually a slight improvement over a month ago. It is a classic case of looking in the rear-view mirror instead of looking forward.
Analyst ratings are often contrary indicators of future stock performance. This fact gets little attention from Wall Street, but a recent article by Bespoke Investment Group makes reference to it and original research by Kurtis Hemmerling from last year demonstrates that stocks with average ratings of Buy or Strong Buy have underperformed the market.
It turns out that if everyone is bullish about a stock, it becomes much harder to find the next marginal buyer and there is little room for upgrades. Similarly, the more people who are bearish about a stock, the more likely it is that those who are prone to sell the stock have already done so and the greater the opportunity for future upgrades.
There is no question that long-time shareholders of GE have taken it on the chin over the past year. The new CEO, John Flannery, seems to be making the right moves, however. He is clearing up accounting messes, while slimming down the business and raising capital.
It would be hard to argue that the bad news isn't priced into the stock price at this point. With a new CEO at the helm, a recovery in oil prices, and continued global economic growth, I believe the risk is to the upside with GE.
Three Diverse Companies Undervalued By The Market
At any given time, I hold a portfolio of 12 to 18 stocks that span domestic and international markets, small-cap to large-cap, healthcare to financial sectors. If you don't own an energy stock, you missed out on the recent outperformance of the energy sector. Conversely, if you put all your eggs in the technology basket, you were hurt especially bad by the recent tech sector pullback.
In any given year, the US market might outperform or underperform compared to international markets, and small caps might beat large caps or vice versa. A diverse portfolio is essential from a risk management perspective, but this can be accomplished with as few as 10 stocks if an eye is kept on sectors, capitalization, and countries.
These three beaten down stocks have strong risk-reward profiles, have different market capitalizations, and come from three different sectors. If the "death of retail" storyline turns out to be overblown, GameStop is likely to be the beneficiary. If small-cap stocks outperform as a result of the new tax reform, Clearwater Paper could bounce along with it. If trade war fears turn out to be overstated, then a global industrial company like General Electric might exceed expectations. These stocks are not without risk, but it seems likely that the recent selling is overdone.
I recently purchased shares in all three of these stocks as part of a concentrated, yet diverse stock portfolio. I recommend taking a closer look at each of them.
Disclosure: I am/we are long CLW, GE, GME. I wrote this article myself, and it expresses my own opinions. I am not receiving compensation for it (other than from Seeking Alpha). I have no business relationship with any company whose stock is mentioned in this article.