If one trend has been consistent over the last 30 days, it has been this: Cannabis is becoming much more mainstream. Here are key events that have had their impact within numerous markets and this impact may not be more clearly seen than in the alcohol market:
March 26th: McConnell brings up bill (S2667) to legalize industrial hemp.
April 16th: Announcement that the same hemp bill will be fast tracked through the Senate will be fast tracked through the Senate.
April 13th: President Trump and Sen. Gardner make headlines when the president promised the Republican senator that he would support efforts by Congress to protect states that have marijuana laws in place to legalize the substance.
April 20th: Democratic Senate Minority Leader Chuck Schumer introduces legislation to decriminalize marijuana on the federal level.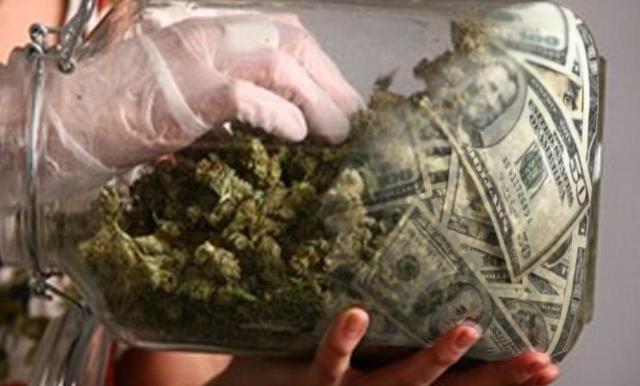 On the surface, this could be great news for states and for public companies taking advantage of the potential within the US. It also stands to reason that it adds more fuel to the fire when Canada nationally legalizes recreational marijuana later this year. While the industry (still somewhat on the fringe) begins to grab the spotlight, I couldn't help but notice that another, much older and longer-standing industry could be starting to suffer: alcohol.
This includes all types: Beer, wine and spirits. Just take a look at some of the companies in the market that began to stumble. Much of this happened as soon as news started breaking that was related to a new "Vice" industry that could quickly be coming to the mainstream market and out of its own era of prohibition:
Diageo (DEO)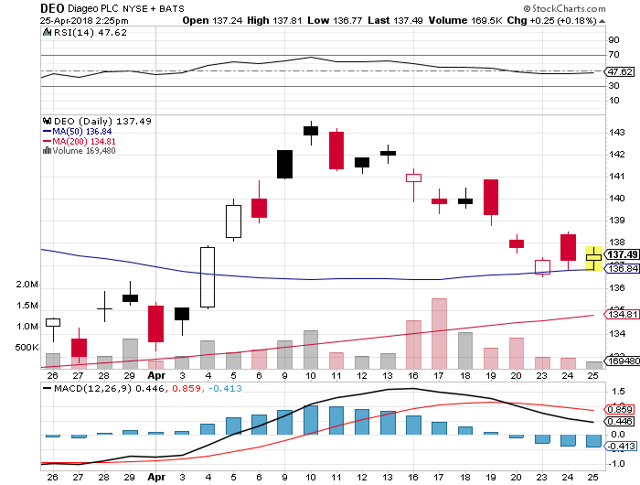 The first half of the month was going well for Diageo and leading up to April 13th, shares were actually up almost 7% but coincidence or not, shares of the alcohol distributor have tumbled by roughly 3.5%. Lower wine production numbers certainly do not help the cause and though the company's stock wasn't necessarily affected by McConnell's hemp-related news, the news on the President's favor of state's rights may have.
Compania Cervecerias Unidas S.A (CCU)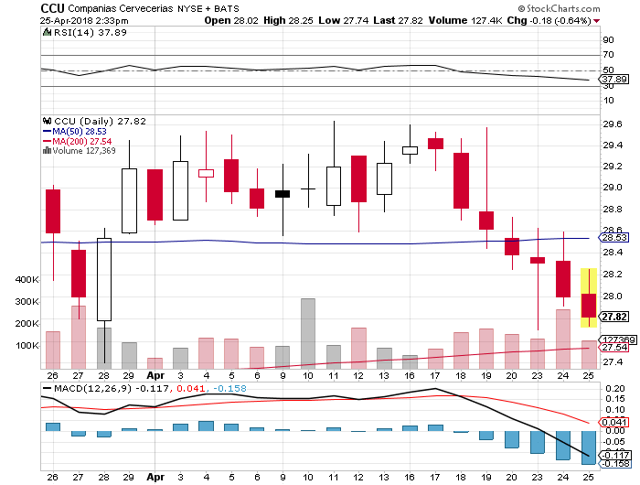 This retailer of alcoholic and non-alcoholic beer, cider, spirits, and wines may have suffered from slower and lower revenue results but the timing of it all came at the same point that much of the legal cannabis excitement was happening in the US. The decline in share price began right after the news that the President would support states' rights to legal marijuana and right before Senator Schumer dropped his bombshell regarding changes on the federal level. Share prices of Compania Cervecerias Unidas have sputtered during the second half of the month and are down 6.5% since April 17th.
Sam Adams (SAM)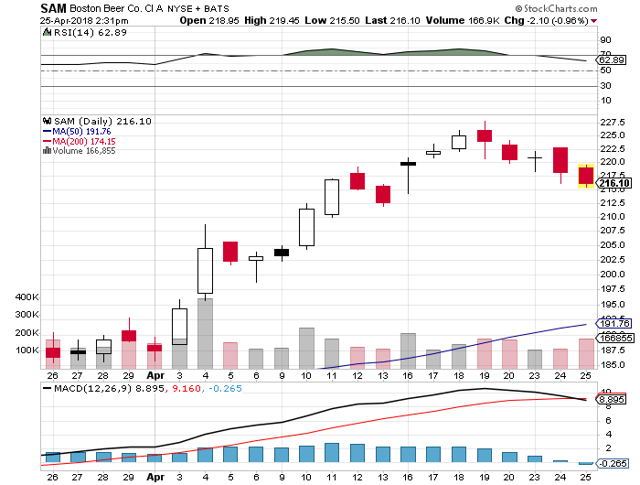 The producer of Sam Adams beer has performed very well since March 1st but just as the previous companies mentioned, share prices have faltered during the last few weeks. Similar to Compania Cervecerias Unidas, shares of The Boston Beer Company began wavering during both the April 16 and April 20th announcements with the downtrend continuing well after.
Declining growth in Boston Lager and overall decline in total beer have been an issue for the beer company but diversification has helped spur other areas of competition in the market. Despite the fact that Twisted Tea and Angry Orchard are seeing better performance, shares have slid over the last few weeks. Since April 19th, shares slid by as much as 5.3%, which may or may not continue doing so in the long term as the company reported strong first quarter earnings but a relatively uncertain outlook for the remaining 2018.
Molson Coors Brewing (TAP)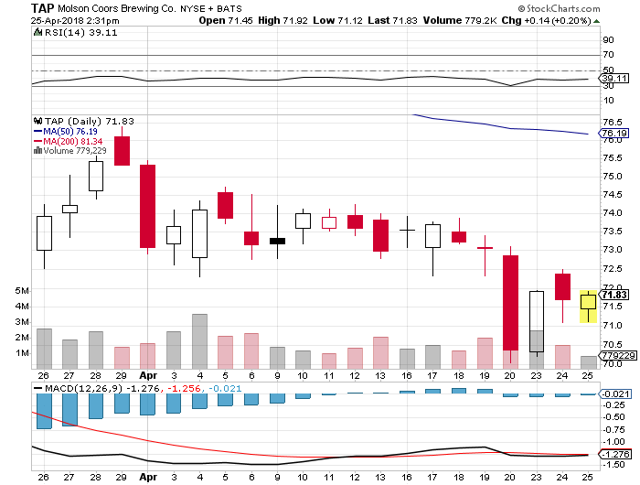 Molson Coors may have actually experienced the full brunt of the push toward cannabis legalization efforts. Ever since the McConnell announcement, shares have been falling; as much as 8.3% since March 29th. Considering that many consumer staples related stocks have been getting pummeled, that could factor into this debate. However, leading up to the March 29th date, shares of Molson were actually sharply up during the beginning of that week. As of March 31st, several major institutions have also decreased their stake in the company. These include:
Fidelity Management & Research: (4.62M)
Millennium Management LLC: (1.13M)
Goldman Sachs Asset Management: (0.653M)
Anheuser-Busch InBev (BUD)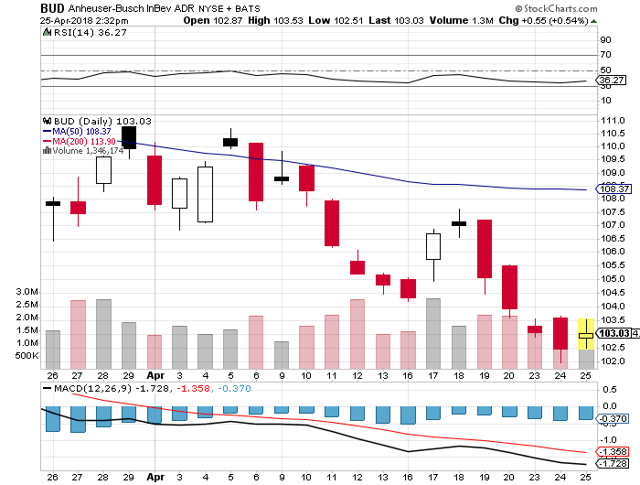 Similar to Molson, Anheuser-Busch InBev has maintained a downtrend on its chart since late March and throughout the period of major cannabis industry announcements favoring legalization at different levels. After an attempt to recover losses from the week prior, shares of the beer manufacturer jumped by as much as 4%. However, since the time that was right around the initial announcement that Senator McConnell would be pushing for legalized industrial hemp (which can be used for CBD infused products like beverages), shares have been sliding. Overall, Anheuser-Bush stock prices have fallen by as much as 7%.
Craft Brewers Alliance (BREW)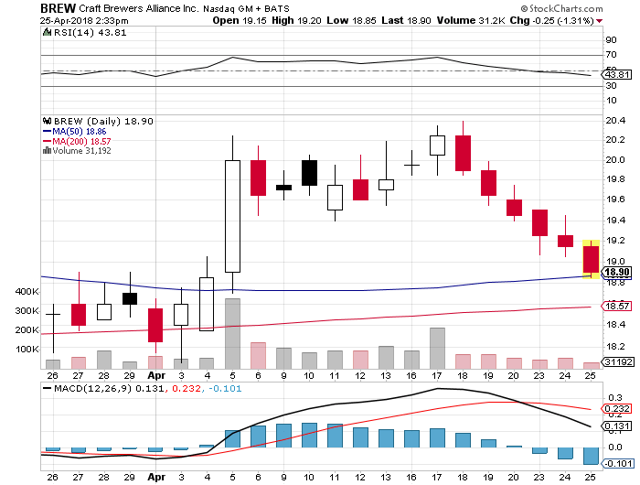 Craft Brewers shares dropped by as much as 7.6% since President Trump and Senator Gardner began seeing things eye to eye on the topic of states' rights for legalizing cannabis. This beat down came after a multi-week uptrend that saw shares of the stock rise by as much as 13% from April 3 to April 18. This trend echoes the fact that the U.S. beer industry is witnessing a decline in domestic beer sales due to the changing preferences of consumers.
What could be part of these "preferences"? My guess would be a different type of vice or obtaining from it in general. Many CBD based product give users a relaxed feeling without giving them a hangover the next day and with the US government essentially opening some big doors for legalizing different forms of cannabis (hemp included), this could give a reason for companies to begin producing healthier alternatives like CBD infused food & beverage items.
Constellation Brands (STZ)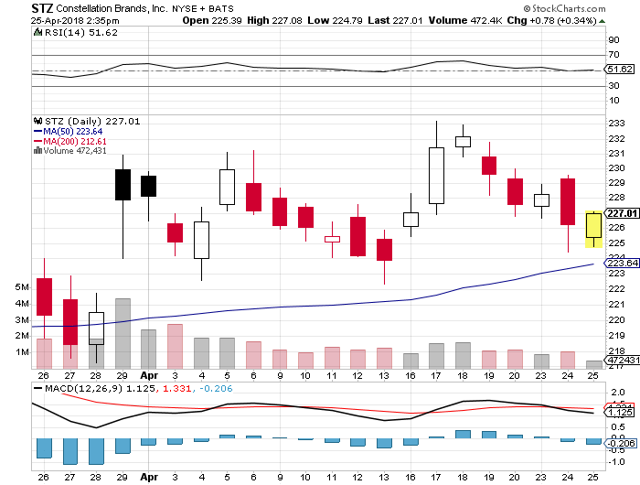 One "vice stock" that seems to have simple upheld its trend is Constellation Brands. I mention Constellation not among the losers or the leaders during this March 26 to April 25 period but simply to show that not all alcohol companies are down. However, the company has remained diversified and has even gone as far as making an investment into Canadian cannabis company Canopy Growth (TWMJF), which equates to roughly 20% of the company with equity and options. It isn't uncommon to see "STZ" mentioned alongside several marijuana stocks these days and just as Scotts Miracle Grow (NYSE:SMG) has been added to several "marijuana stock watch lists," it wouldn't be a surprise to see Constellation being added to the same lists more recently.
In fact, CNBC's Jim Cramer interviewed CEO Rob Sands citing the company has been one of the only to show consistent growth within the sector. In response, Mr. Sands identified its play on cannabis as a tremendous investment attributing to growth. "We invested in it for strategic reasons to ultimately develop beverage brands for markets where cannabis becomes recreationally legal…the investment itself has been a tremendous investment."
As far as the company is concerned, they may be combating any major potential down turn right now with anticipation for the Cinco de Mayo holiday coming up next week. Corona, Modelo, and Pacifico brands are sure to be a mainstay across a number of regional markets
Marijuana Stocks On The Rise During The Last 30 Days
I wrote an article highlighting a trend in several marijuana stocks that positively reacted to the numerous announcements over the last few weeks:
The U.S. Government Has Made Marijuana Stocks A Top Priority For Investors
But a wider look at this time frame also shows that in stark comparison to many of the leading alcohol companies, a number of marijuana stocks have been climbing. These upswings have also been triggered around these dates from March 26 to April 20:
Americann Inc. (OTCQB:ACAN)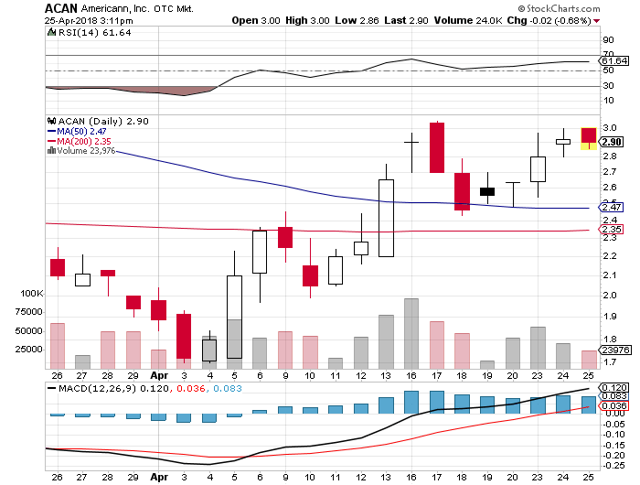 Shares of the company's stock have seen an increase in price by as much as 79% this month. The agriculture technology company focuses on medical cannabis cultivation. Americann President and CEO Tim Keogh recently commented that, "We are encouraged by these assurances from President Trump and the bipartisan efforts of Senator Gardner and others…The multi-billion dollar cannabis industry is poised to expand significantly should federal obstacles be removed."
The company's development of its Massachusetts property encompasses a site plan for a 52-acre property and already has an existing cannabis licensee with established operations in Fairhaven as the initial building in the project.
CV Sciences (OTCQB:CVSI)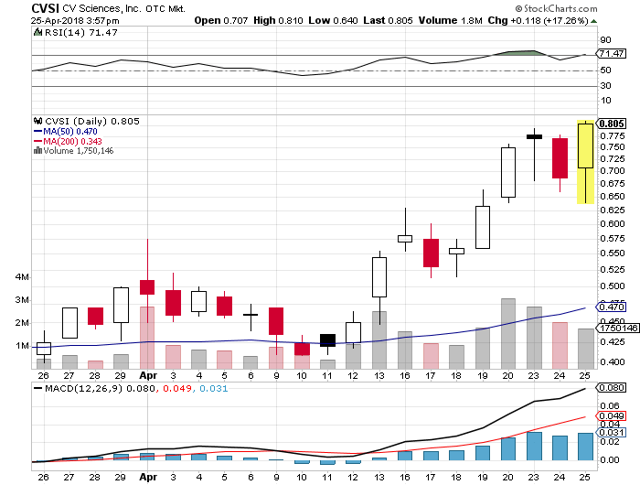 CV Sciences is coming off of a banner 2017 year. Fourth quarter sales increased by 126% compared to 2016's Q4 and full year's sales jumped by almost 90%. Furthermore, gross margins were boosted by nearly 190% as well. The company is targeting the CBD space that includes natural retail products like PlusCBD Oil, a hemp derived CBD oil. The opportunity has become clearer following Senator McConnell's announcement for fast-tracking his hemp bill through the Senate. Shares of CV have increased by over 100% since March 26.
Hemp Inc. (OTCPK:HEMP)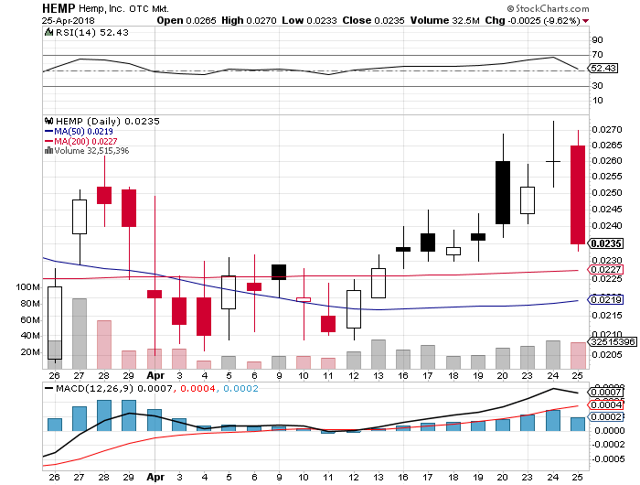 I would have expected a higher move but nonetheless, shares of Hemp Inc. jumped as much as 34% since March 26. The company has been featured by numerous news outlets and even gave CBS North Carolina a look at the company's industrial hemp processing facility. With this latest move by Senator McConnell, Hemp Inc. could be a direct benefactor of this move. The company is aiming to plant upward of 25,000 acres of hemp. Further, as Tony Finch, a farmer at Hemp explained, "We're just making a handful of products here out of hemp. There are over 25,000 products that can be made from hemp."
I think we could see companies like Altria (MO) and Phillip Morris (PM) start looking into this arena for opportunity amid slowing sales figures. Processors like Hemp could be ones to benefit from such a move. Legalization would help push this along.
GW Pharmaceuticals (GWPH)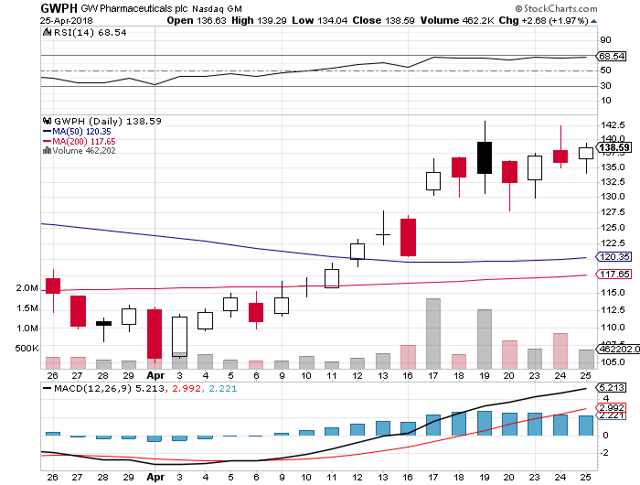 Spurred by the attention on the cannabis industry but also boosted by the unanimous recommendation from the US FDA for the approval of its drug, Epidiolex, which contains CBD. This approval would give the drug leading status among all other cannabis-related drugs in clinical stages. Since the end of March/beginning of April, shares of GW have moved up by as much as 36%.
A Reason For Alcohol Companies To Start Paying Close Attention To Cannabis
Whether it has been coincidence or not, during this period from March 26 through April 25, many alcohol related stocks have declined and a number of cannabis related stock have increased. Michele Baggio and Sungoh Kwon at the University of Connecticut and Alberto Chong at Georgia State University, found that alcohol sales have dropped during the rise of medical and recreational marijuana being legalized.
"Counties located in MML states reduced monthly alcohol sales by 13 percent, which is a consistent finding across several empirical specifications. In particular, we find that counties with MMLs have lower monthly aggregate alcohol sales of 20 percent, with comparable results for beer and wine."
This data may also support the idea that yes, things like domestic beer sales may be declining based on "changing taste," but that new taste may be a direct result of over half of the US having access to some form of legal cannabis.
Takeaway for Investors
Though the beverage industry isn't going anywhere anytime soon as it is still a multi-hundred billion-dollar market. However, nationally and possibly across North America it is evident that "something" is taking a toll on things like beer sales. Additionally, reports from sources mentioned also sight "changing tastes" of consumers that are pushing them away from certain alcoholic beverages.
The recent trend for alcohol producers compared to cannabis-related companies during a time where serious talks are being had about ending cannabis prohibition, has been an uptrend. It doesn't mean that there isn't risk as certainly things like financial reporting, thinly traded markets, and the relative volatility play for stocks in the marijuana sector.
However, this continued optimism as both the US and Canada are experiencing a dramatic shift in support for cannabis should be an indicator for investors to start taking a more serious approach to an industry that was once thought as a bubble only a few years ago.
Disclosure: I/we have no positions in any stocks mentioned, and no plans to initiate any positions within the next 72 hours. I wrote this article myself, and it expresses my own opinions. I am not receiving compensation for it (other than from Seeking Alpha). I have no business relationship with any company whose stock is mentioned in this article.
Editor's Note: This article covers one or more microcap stocks. Please be aware of the risks associated with these stocks.