Welcome to the April 2018 edition of the lithium miner news. This past month saw most lithium stock prices start to recover after the severe falls of the first quarter.
Lithium spot and contract price news
During April, 99.5% lithium carbonate China spot prices were down 4.44%. Global Lithium Carbonate Equivalent [LCE] contract prices are in the range of USD 13-16,000/tonne, and, in most cases, up about 20% on 2017 prices.
Lithium China Spot prices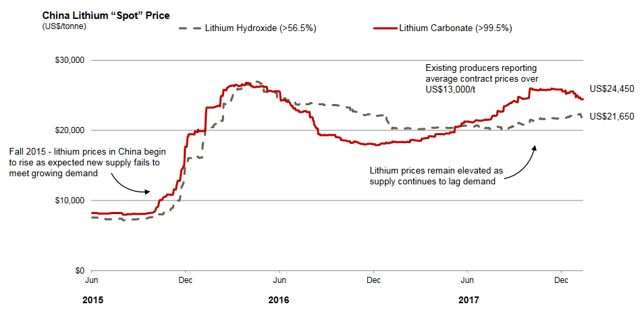 Source: Lithium Americas January 2018 company presentation
Lithium demand versus supply outlook
Roskill lithium demand forecast - 1mtpa by 2026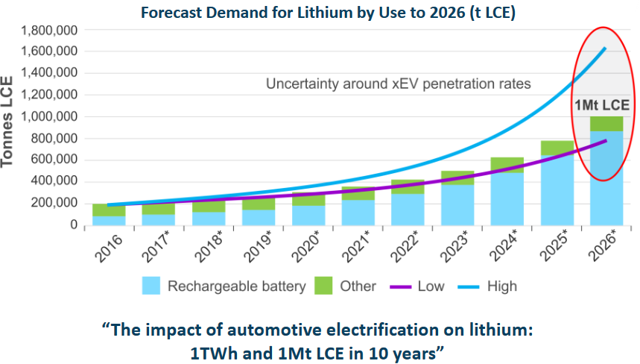 Source: Robert Baylis, Roskill, 9th Lithium Supply and Markets Conference, 31st May 2017
Note: My updated model forecasts LCE demand by end 2025 is ~1.15mtpa based on an electric car penetration rate of 15%.
The chart below brings out an important point that not all planned lithium production materializes. Joe Lowry (the world's leading lithium expert) has also repeatedly said this.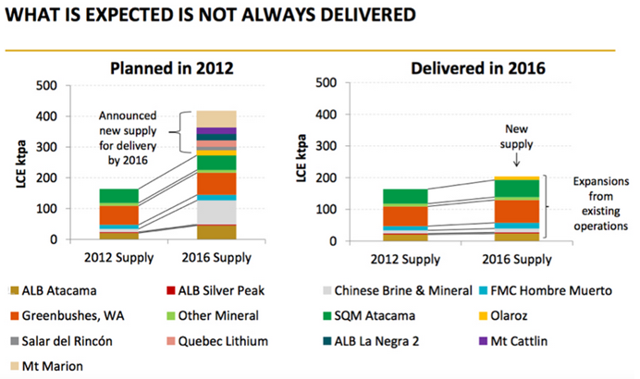 On April 9 Bloomberg reported:
"Lithium glut fears tempered by optimism over surging demand. While there's an oversupply of mined product which will grow in 2018 and next year, refined products remain relatively tight considering all the variants produced and consumed, according to Roskill Information Services Ltd. Roskill sees double-digit expansion in lithium demand given the momentum in electric vehicles, with batteries accounting for more than 50 percent of consumption in 2018 or 2019 and rising to more than 90 percent by the mid-2020s. The global lithium market could expand 20 percent this year, according to Sociedad Quimica y Minera de Chile SA. Last year, demand grew about 17 percent, it said in its annual report." Source
On April 18 Reuters reported,
"Chile's SQM says lithium industry needs at least $10 bln investment over 10 yrs. Demand to grow by 600-800kt of lithium carbonate equivalent. Automakers have 'legitimate concern' over supply. SQM to boost annual lithium carbonate capacity to 100kt in 2019."
On April 24 an interesting article by ePressi stated,
"Global electric vehicle and plug-in hybrid penetration would need to reach 12% in order to comply with international climate targets by 2025. This would mean that the proportion of electric vehicles and plug-in hybrids would be ten times higher than currently. At the same time, the demand for raw materials for electric cars is expected to grow strongly."
Lithium battery and market news
Some older news (2017) I came across this month which is still very relevant - "VW says it needs '40 gigafactories' for electric-car batteries by 2025."
On March 28, The Wall St Journal reported, "Saudis, SoftBank announce massive solar power project. Development to start this year with $1 billion investment from Saudi-SoftBank Vision Fund." Later in the article they mention that they will use "batteries" to store the energy.
Battery manufacturers - Tesla/Panasonic and CATL to dominate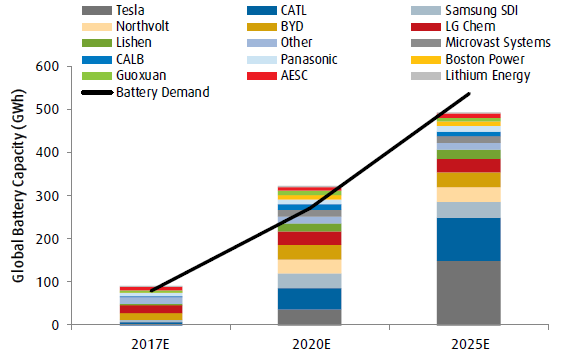 Source: No link available
On April 23 Investing News reported,
"Bolivia to join forces with ACI Systems in billion-dollar lithium deal. Bolivia has outlined plans to produce and market lithium-ion batteries together with Germany's ACI Systems, which is set to invest US$1.3 billion in the project. He said the joint-venture deal will be inked as soon as possible so that operations can begin in about 18 months. According to some analysts, foreign companies have so far turned down the opportunity to operate in Bolivia due to fears of potential problems and the risk that they might need to be nationalized. In addition, some concerns on whether Bolivian resources could be extracted economically have also pushed international companies away from the country."
On April 23 PR News Wire reported:
"Chinese lithium acquisition spree shifts from Chile to Argentina. While one recent major Chinese lithium acquisition was being aggressively hindered in Chile, another was being approved in neighboring Argentina-an all-cash deal worth $265 million. Recent efforts by Chilean government agency Corfo to block Chinese firm Tianqi Lithium from acquiring a 32% stake in lithium giant Sociedad Quimica y Minera de Chile seem to be sending an alarming message to foreign firms who originally sought investment in Chile, and are now perhaps changing their target region to neighboring Argentina."
On April 24 NBD press reported:
"Competition in China's EV battery domain intensifies. According to statistics from RealLi Research, a new-energy industry research institute, in March this year, 57 automakers pushed lithium-ion battery sales to 2.19 GWh. Contemporary Amperex Technology Co Ltd (CATL) led the ranking of battery suppliers in terms of installed capacity, followed by BYD Auto and Guoxuan High-tech in turn. The capacity of CATL increased over three-fold to 1.1 GWh in March 2018 from 258.48 MWh a year ago, accounting for more than half of the entire lithium-ion battery sales. BYD Auto and Guoxuan High-tech sold 411.90 MWh and 193.64 MWh, respectively, in the month. Among all types of batteries, lithium nickel manganese cobalt (Li-NMC) batteries dominated the market. The EV battery capacity sold in the first quarter of 2018 registered 4.54 GWh, with a year-on-year rise of 182.67 percent."
Lithium miner news
Albemarle (NYSE:ALB)
On April 3 Albemarle announced,
"Albemarle completes sale of portion of Performance Catalysts Solutions to W. R. Grace & Co."
On April 16 Albemarle announced,
"Albemarle Corporation announces appointment of Dr. Glen Merfeld, Chief Technology Officer for Lithium business. "The efforts of Glen and his team will help chart the future for Albemarle's Lithium business and allow us to create innovative solutions for the evolving needs of our customers in the energy storage market."
Subscribers of Trend Investing can view an interview I did with CEO Luke Kissam here.
Sociedad Quimica y Minera S.A. (NYSE:SQM)
On April 5 SQM announced,
"announced today a stock market placement of Series P bonds for the total amount of UF 3,000,000 (approximately US$135illion) (the "Bonds") in Chile. The Bonds issued today have the following terms:(i) maturity date of January 15, 2028; (ii) will accrue interest at the rate of 3.25% per annum on the unpaid capital, expressed in UF (unidades de fomento), from January 15, 2018; and (iii) an early redemption option from April 5, 2018."

Investors can read the company's latest presentation here.
FMC Corp. (NYSE:FMC)
On April 24 4-traders reported,
"FMC Corporation announced today that its Board of Directors declared a regular quarterly dividend of 16.5 cents per share, payable on July 19, 2018, to shareholders of record at the close of business on June 29, 2018."
Note: FMC plans a $500 million IPO of lithium business on NYSE in the fall.
(Chengdu) Tianqi Lithium Industries Inc. [SHE:002466]
On April 4 4-traders reported,
"China miner Tianqi meets with Chilean anti-trust prosecutor on SQM. Representatives of Chinese lithium giant Tianqi Lithium met with Chile's top anti-trust prosecutor less than a month after Chilean authorities moved to block the miner from buying a coveted stake in Chile's SQM, Chile's lobbyist transparency website showed on Tuesday."
Construction is ongoing at their Kwinana lithium hydroxide plant in Western Australia, and is expected to be finished in late 2018.
Jiangxi Ganfeng Lithium [SHE:002460], Mineral Resources [ASX:MIN], Neometals (OTC:RRSSF) (RDRUY) [ASX:NMT], International Lithium Corp. [TSXV:ILC] (OTCPK:ILHMF)
Some news I missed from March 23 International Lithium announced:
"International Lithium provides corporate update. Following the announcement on March 16, 2018 that John Wisbey has replaced Kirill Klip as Chairman and Chief Executive Officer of the Company."
On April 9 International Lithium announced,
"Mavis Lake Lithium Project assays confirm wide spodumene-bearing pegmatite intersections. The program, targeting the Fairservice Pegmatite 6 Prospect, consisted of nine diamond core holes for a total of 1,591 metres, and delivered multiple intersections of spodumene-bearing pegmatite in all nine holes."
On April 17 Neometals announced:
"Updated Barrambie mineral resource estimate." Highlights include:

"Total Indicated and Inferred Mineral Resource estimated to be 280.1 million tonnes at 9.18% TiO2 and 0.44% V2O5 to 80m vertical depth.
Contained Titanium Dioxide (TiO2) in Total Mineral Resource estimate exceeds 25 million tonnes.
Contained Vanadium Pentoxide (V2O5) in Total Mineral Resource estimate exceeds 1.2 million tonnes.
High Grade Titanium subset of Total Mineral Resource estimate of 53.6 million tonnes at 21.17% TiO2 and 0.63% V2O5.
High Grade Vanadium subset of Total Mineral Resource estimate of 64.9 million tonnes at 0.82% V2O5 and 16.90% TiO2."
CEO Chris Reed stated
"Barrambie is globally significant in both size and grade, and offers significant optionality in terms of timing, scale and commodity focus for optimal development."
On April 19 Neometals announced:
"Neometals Ltd is pleased to announce details of the nickel Mineral Resources at the Mt Edwards tenement holding. As announced on 15 March 2018, Neometals has executed binding agreements to acquire a package of tenure and mineral rights including lithium and nickel rights comprising the Mt Edwards Project. The tenement package is located 40km south of the Mt Marion Lithium Project. Mt Edwards nickel Mineral Resources estimated at 3.05 million tonnes at 1.6% Ni for 48,200t of contained nickel."
Investors can read Neometals recent quarterly activities report here. The company is certainly very busy and doing very well.
Regarding Neometals investors can read my recent article "Neometals Offers Four Great Opportunities For The Price Of One", and my CEO interview here.
Investors can also read my article on International Lithium here, and former CEO interview here.
Orocobre [ASX:ORE] [TSX:ORL] (OTCPK:OROCF)
No significant news for the month; however investors can read a recent interview with CEO Richard Seville here.
You can read the latest investor presentation here. You can read more on my article on Orocobre here, and subscribers of Trend Investing can view an interview I did with CEO Richard Seville here. Morgan Stanley recently increased their target for Orocobre from AUD 8.17 to AUD 8.44.
Galaxy Resources [ASX:GXY] (OTCPK:GALXF)
On April 20 Galaxy announced,
"TKL - Mt Cattlin Nth JV - drill results & exploration update on Traka's [ASX:TKL] 20% free carried joint venture tenements. Galaxy have re-affirmed the commitment to an accelerating program of exploration work to build on the resource base feeding the Mt Cattlin Mine."
On April 23 Galaxy released their Quarterly Report - March 2018. Highlights included:
"Mt Cattlin - Production of 43,852 dry metric tonnes ("dmt") of lithium concentrate. Average production cash costs (excluding royalties and marketing fees) of US$415 per dmt produced."
Sal de Vida Project - Earthworks commenced in preparation for new drilling campaign to start in Q2 2018. Small heavy vehicle fleet purchased to commence construction of test evaporation ponds.
James Bay Project - Work advancing on Feasibility Study."
Galaxy also advised "that as at 31 March 2018 it had a cash balance of US$60.8 million and no debt."
Upcoming catalysts include:
2018 - Mt Cattlin resource upside. James Bay Feasibility Study. Sal De Vida (SDV) project financing evaluation and off-take discussions.
North American Lithium (private) (alliance with CATL)
No news for the month.
Note: China's CATL has a large controlling stake in their lithium project in Quebec.
Note: Not be confused with American Lithium [TSXV:LI].
Alliance Mineral Assets Limited ("AMAL") [SP:AMS]/Tawana Resources (subsidiary Lithco) [ASX:TAW] (OTCPK:TWNAF)
On April 26, The West Australian reported:
"First Bald Hill lithium concentrate on its way to Esperance Port. Joint venture partners Tawana Resources and Alliance Mineral Assets Limited said Tuesday that the first shipment of 3250 tonnes was due to leave Esperance on May 2. A second, larger shipment of concentrate is expected later in May."
Investors can read the Tawana company presentation here, or a CEO interview here. Tawana/Alliance has a binding five-year off-take agreement with Burwill Commodity Limited.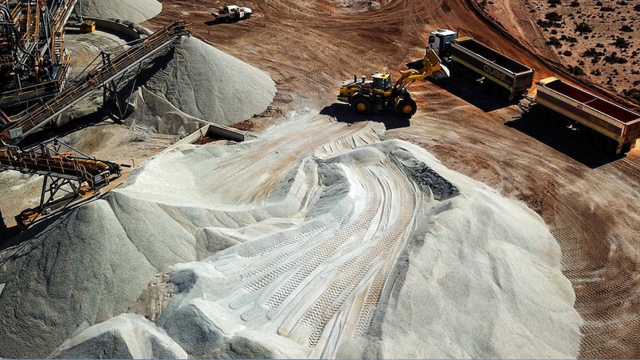 Altura Mining [ASX:AJM] (ALTAF)
On April 26 Altura released their quarterly activities report - March 2018. Highlights include:
"First lithium concentrate sales remains on target for Q2 2018.
Definitive Feasibility Study for Stage 2 expansion of the Project is being finalised.
Drilling to commence at the Utara Prospect, which adjoins Pilbara Minerals' Monster Deposit.
Altura added to the list of companies that comprise the S&P/ASX 300 Index."
Investors can read my article "Lithium Miner Altura Mining Is A Bargain" (back at AUD 0.15). Investors can also read a company presentation here.
Upcoming catalysts:
End Q2 2018 - Production is forecast to commence.
Mid 2018 - Phase 2 (450ktpa spodumene) expansion study results to be released.
Pilbara Minerals [ASX:PLS] (OTC:PILBF)
On April 27 Pilbara Minerals announced their quarterly activities report. Highlights include:
"Excellent construction and mine development progress puts Pilbara Minerals on track for Q2 production at Pilgangoora; landmark deal with POSCO underpins long-term growth runway.
Mining well underway for both the Stage 1 and DSO operations. First DSO mine gate sales expected in Q2.
Pre-Feasibility Study ("PFS") on the Stage 2 5Mtpa Expansion delivers exceptional financial outcomes and robust economics, demonstrating a compelling case for the expansion to proceed once initial Stage 1 production is achieved.
Definitive Feasibility Study ("DFS") on the Stage 2 Expansion on track for completion by mid-2018, paving the way for Stage 2 funding and a Final Investment Decision in Q3 2018.
The POSCO agreements include a $79.6M direct equity investment and a binding Stage 2 off-take agreement for 80ktpa of chemical grade spodumene concentrate, increasing to 240ktpa upon establishment of Pilbara's joint venture participation in a proposed downstream lithium chemicals conversion plant in South Korea."
You can read my articles:
The last article was back when the stock was trading at AUD 0.355 for Trend Investing subscribers. You can view the company's latest presentation here; subscribers of Trend Investing can view a recent interview I did with CEO Ken Brinsden here.
Upcoming catalysts:
End Q2 2018 - Commence lithium production.
Mid 2018 - DFS for Phase 2 (800ktpa spodumene) expansion study results to be released.
Pilbara Minerals Pilgangoora project almost completed - April 2018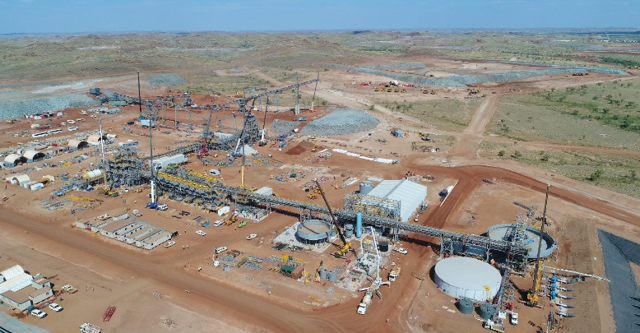 AMG Advanced Metallurgical Group NV [NA:AMG] [GR:ADG] (OTCPK:AMVMF)
On April 10 AMG announced,
"AMG and Criterion announce negotiations to form spent-catalyst recycling partnership."
Upcoming catalysts:
June 2018 - Production to begin at the Mibra mine in Brazil (initially 90ktpa).
End 2019 - Stage 2 production (additional 90ktpa) to begin.
Lithium Americas [TSX:LAC] (OTCQX:LACDF) (NYSE:LAC) (LACDF)
On April 5 Lithium Americas announced,
"Lithium Americas provides updated resource estimate for the Lithium Nevada Project. Increases Measured and Indicated resource by approximately 80% from the 2016 resource estimate establishing Lithium Nevada as the largest and highest-grade known claystone lithium resource in the United States. Updates the Measured and Indicated resource to 6.0 million tonnes of lithium carbonate equivalent [LCE] at 2,917 ppm Li and the Inferred resource to 2.3 million tonnes of LCE at 2,932 ppm Li. Successfully completed process test work to confirm the production of high-value lithium products using acid leaching on lithium-bearing claystone. On track to release results of NI 43-101 Preliminary Feasibility Study [PFS] by the end of Q2 2018."
Note: In Argentina, Minera Exar is a 50/50 joint venture between Lithium Americas and Sociedad Quimica y Minera de Chile S.A ("SQM") and holds a 100% interest in Cauchari-Olaroz.
Investors can read my article "Lithium Americas Is Looking Good And Is Now Significantly De-Risked" (back at CAD 0.96 (adjusted CAD 4.80). Investors can read their January company presentation here.
Upcoming catalysts:
Mid 2018 - PFS for Lithium Nevada. Pond construction and filling (Q3 2018) at Cauchari-Olaroz.
2019 - Cauchari-Olaroz plant construction.
2020 - Stage 1 Cauchari-Olaroz lithium production of 25ktpa.
NB: LAC previously sold 50% of the Cauchari-Olaroz project to SQM.
Lithium X [TSXV:LIX] (ROCEF) (OTCQB:LIXXF)
Last month I reported that the takeover of Lithium X by China's NextView New Energy is now complete.
Next lithium projects (not updated)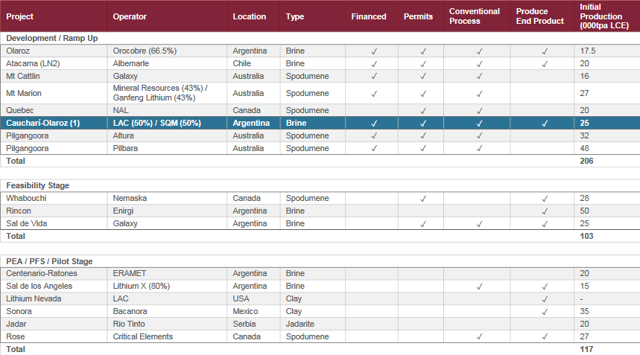 Source: Lithium Americas September 2017 presentation
Promising lithium juniors
Other juniors include Advantage Lithium (OTCQB:AVLIF) [TSXV:AAL], AIS Resources [TSXV:AIS] (OTCQB:AISSF), American Lithium Corp. [TSX-V: LI] (OTCQB:LIACF), Argentina Lithium and Energy Corp. [TSXV:LIT] (OTCQB:PNXLF), Argosy Minerals [ASX:AGY] (OTC:ARYMF), AVZ Minerals [ASX:AVZ] (OTC:AZZVF), Bacanora Minerals [TSXV:BCN] [AIM:BCN] [GR:1BQ] (OTC:BCRMF), Birimian Ltd [ASX:BGS] (OTC:EEYMF), Critical Elements [TSXV:CRE] [GR:F12] (OTCQX:CRECF), Dajin Resources [TSXV:DJI] (OTCPK:DJIFF), Enigri (private), Eramet (EN Paris:ERA) (OTCPK:ERMAY), European Metals Holdings [ASX:EMH] [AIM:EMH] [GR:E861] (OTC:ERPNF), Far Resources [CSE:FAT] (OTCPK:FRRSF), Force Commodities [ASX:4CE], Kidman Resources [ASX:KDR] [GR:6KR], Latin Resources Ltd [ASX: LRS] (OTC:LAXXF), Lithium Australia [ASX:LIT] (OTC:LMMFF), Lithium Power International [ASX:LPI] (OTC:LTHHF), LSC Lithium [TSXV:LSC] (OTC:LSSCF), MetalsTech [ASX:MTC], MGX Minerals [CSE:XMG] (MGXMF), Millennial Lithium Corp. [TSXV:ML] (OTCQB:MLNLF), Neo Lithium [TSXV:NLC] (OTC:NTTHF), NRG Metals Inc. [TSXV:NGZ] (OTCQB:NRGMF), Nemaska Lithium [TSX:NMX] [GR:NOT] (OTCQX:NMKEF), North American Lithium (private), Piedmont Lithium [ASX:PLL] (OTC:PLLLY), Prospect Resources [ASX:PSC], Sayona Mining [ASX:SYA] (OTCPK:DMNXF), Savannah Resources [LSE:SAV], Standard Lithium [TSXV:SLL] (OTC:STLHF), and Wealth Minerals [TSXV:WML] (OTCQB:WMLLF).
Global X Lithium & Battery Tech ETF (LIT) - Price = US$33.00
The LIT fund moved sideways for the month of April. The current PE is 19.60.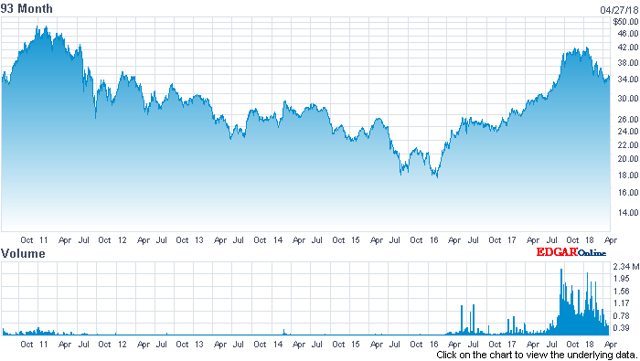 (Source: Nasdaq)
Lithium & electric metals fund (ISIN DE000LS9L822) - Access via the Stuttgart stock exchange or wikifolio.com
The portfolio gives investors broad exposure across the EV metals miners covering lithium, cobalt, nickel, rare earths, and graphite. I am the portfolio manager. The certificate is endless (open fund) and listed on the Stuttgart Stock Exchange so it can be bought via a broker that carries the ISIN or via Wikifolio. The ticker is DE000LS9L822 listed on the Stuttgart stock exchange and accessible from any German exchange.
The performance since creation on March 31, 2017, is +12.2%, and the management fee is 0.95%pa.
Investors can view the portfolio holdings and learn more by accessing here.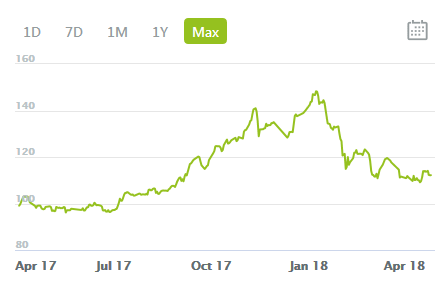 Disclosure: I may receive 50% of the profit from the above fund.
Conclusion
Lithium spot prices were slightly lower in April 2018 with China spot prices remaining elevated above USD 20/tonne, and lithium contract prices rising 20% in 2018 heading towards USD 16,000/tonne.
My highlights for April were:
SQM says "the global lithium market could expand 20 percent this year", and "automakers have 'legitimate concern' over supply."
EV battery capacity sold in the first quarter of 2018 registered 4.54 GWh, with a year-on-year rise of 182.67 percent.
Neometals updated their Barrambie mineral resource estimate with good grades. Total contained Titanium Dioxide (TiO2) exceeds 25m tonnes and total contained Vanadium Pentoxide (V2O5) exceeds 1.2m tonnes.
A solid resource announcement from Lithium Americas for their Lithium Nevada project, with an inferred resource of 2.3 million tonnes of LCE at 2,932 ppm Li.
Tawana about to ship first spodumene. Altura Mining and Pilbara Minerals nearing production.
It appears the large price correction in the lithium stocks has now finished with some recovery taking place. The next 2 months (May and June) should see 3 new lithium miners (Altura Mining, Pilbara Minerals, and AMG) become producers. Additionally, around mid-year, we should expect a large amount of positive news flow which should also help the sector.
As usual, all comments are welcome.
Disclaimer: The information in this article is general in nature and should not be relied upon as personal financial advice.
Disclosure: I am/we are long NYSE:ALB, NYSE:SQM, ASX:ORE, ASX:GXY, ASX:PLS, TSX:LAC, ASX:AJM, ASX:EMH, TSXV:ILC, ASX:AVZ, ASX:LPI, ASX:PLL, ASX:SYA., TSXV:AIS, TSXV:WML.
I wrote this article myself, and it expresses my own opinions. I am not receiving compensation for it (other than from Seeking Alpha). I have no business relationship with any company whose stock is mentioned in this article.
Editor's Note: This article covers one or more stocks trading at less than $1 per share and/or with less than a $100 million market cap. Please be aware of the risks associated with these stocks.