This article outlines a current methodology that I use to swing trade various commodities in a total portfolio. My swing trading portfolio includes the S&P index, precious metals, crude oil, natural gas, bond funds, grains and the EUR/USD currency pair.
This morning, I went long EUR/USD with an in-the-money covered call. The covered call reduces my exposure, and also pays me for the expected volatility. I also added an out-of-the money call to gain from potential upside. This trade has a one-week time horizon, focusing on option expiration next Friday, May 4th.
From a portfolio perspective, being long EUR/USD is a good diversification from holding cash in USDs.
In addition, there were three key signals that gave me confirmation to go long here:
The OPEX Magnet was positively divergent;
The Money Flow Index (as I measure it) is over-sold; and
The Volume Profile on the front-month contract suggests that mean-reversion could take place.
OPEX Price Magnet
The OPEX Price magnet for next Friday is 1.234, much higher than the current value, and the Price Magnet rose yesterday while the value of EUR/USD futures fell.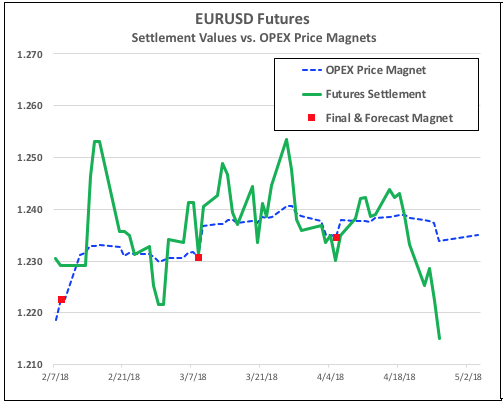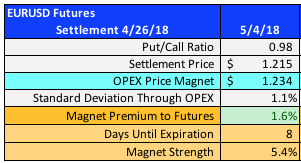 Source: Viking Analytics
The OPEX Price Magnet is a tool that I created last year. To learn more about this tool, please follow this link.
Volume Profile and Money Flow Index
The money flow index (lower indicator) is near over-sold. The volume profile (right side indicator) shows that this contract is trading in a brand new range. There should be areas of repair above this price level.
The Point of Control for this front-month contract is near 1.24.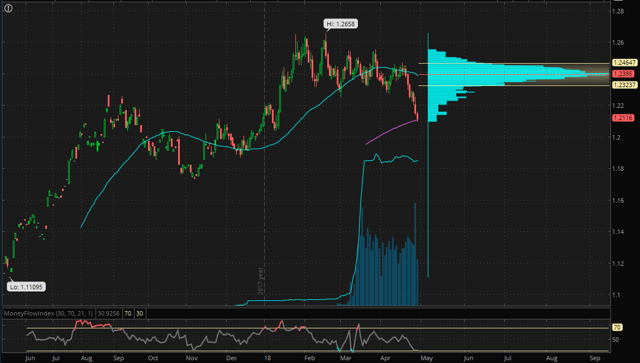 Source: Think or Swim
Current trade
Long EUR/USD futures with an in-the-money covered call at 1.21
Long one call at 1.22
If EUR/USD settles on the May 4th option expiration date above 1.21 and below 1.22, then I will make $230.
If EUR/USD futures settle below 1.21 on option expiration day, then I take the risk of the EUR/USD futures beyond that time frame. On the other hand, I had been holding over 50% cash in USD, so I was comfortable diversifying my portfolio in this way.
If EUR/USD futures settle above 1.22, then I make upside on the call. If it closes at 1.23, then I would make an additional $1,250.
A simpler trade in this case would have been to just buy the out-of-the money calls. Nevertheless, since I had cash to allocate, I was willing to put more capital at risk.
Key Risk of Trade
While the front-month contract has a point of control of 1.24, the continuous contract has a point of control near 1.19. Technically, EUR/USD has broken prior support and it could head back to trade in the lower range.
In addition, while the May option expiration is this coming Friday, the futures contract on which it is based will not expire until June.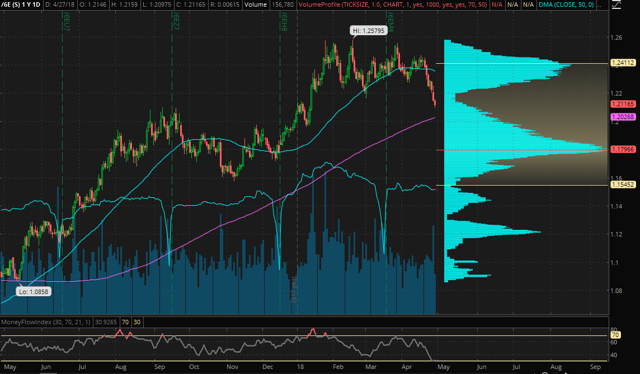 Source: Think or Swim
Disclaimer: This article was written for informational purposes only and is not a recommendation to buy or sell any securities. The calculations that provide the basis for this report are based on data and information that is assumed to be reliable. For a full disclaimer, please view the Viking Analytics Disclaimer.
Commodity Conquest
In my Commodity Conquest service, I publish a daily OPEX Price Magnet report and update my subscribers with my daily trades and adjustments. I also provide in-depth coverage of many commodity firms, which I have successfully traded for many years.
My verifiable trading record from on my covered firms from June 2017 to the present has resulted in a win rate of over 80%, with an average return of about 10% on a holding period that averages about a month.

Subscription rates for Commodity Conquest will be rising to $59 per month on May 1st. If you subscribe prior to that, your subscription rate will be locked in at the lower rate as long as you remain a subscriber.
Disclosure: I/we have no positions in any stocks mentioned, and no plans to initiate any positions within the next 72 hours.
I wrote this article myself, and it expresses my own opinions. I am not receiving compensation for it (other than from Seeking Alpha). I have no business relationship with any company whose stock is mentioned in this article.
Additional disclosure: I am long EUR/USD futures as outlined above.