The global economy seems to be screeching to a halt, as the first two trading days of the week marked some of the toughest on the year. While major benchmarks have been surging for the majority of 2012, they are slated to report a loss this week, as investors continually worry over the safety of Greece and the policy decisions surrounding its future. But despite Greece taking up the headlines, there is still a fair amount of economic data slated to hit the markets this week that will also be major drivers of trading and commentary on individual countries [see also Doomsday Special: 7 Hard Asset Investments You Can Hold in Your Hand].
Today, Japan is set to report their fourth quarter GDP from 2011. Analysts are calling for this report to fall in a -0.3% on a quarter over quarter basis while annual GDP is slated to hit -0.6%. Gross domestic product is arguably the most significant economic indicator for a single country and with Japan's economy stuck in a rut for quite sometime, this report will have a particularly heavy impact on the surrounding economy. It is important to note, however, that the guidance and outlook given for future GDP can often be more important than the result itself [see also 3 ETF Trades For The Next Euro Zone Debt Crisis].
Due to a weak economy in recent years, Japan has been under a watchful eye from a number of credit rating agencies. According to Standard and Poors' report last month, Japan is currently sitting with a rating of AA-, but that could all change depending on this data. "Standard & Poor's is likely to downgrade Japan's credit rating if its medium-term view of per capita real gross domestic product growth falls below its current estimate of 1.2%" writes Natasha Brereton-Fukui. A further downgrade would spell disaster for this sputtering economy as well as the securities that track it.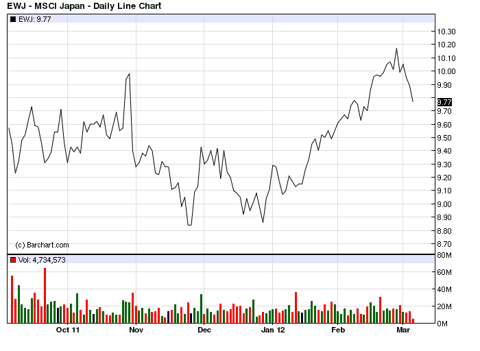 With this major announcement on tap, today's ETF to watch will be the MSCI Japan Index Fund (NYSEARCA:EWJ). This fund, which offers exposure to the Japanese equity market, has struggled in the trailing 52 week period, losing more than 11% despite gains of 8% in 2012. EWJ focuses on large cap companies domiciled in Japan, giving firms like Toyota, Honda, and Mitsubishi a fair amount of weighting in the fund. If today's report comes in negative, or guidance points to a rocky future look for EWJ to take a hit. A surprise report, on the other hand, could give EWJ some much-needed relief [see also ETF Insider: Did Wall Street Forget About Greece?].
Disclosure: No positions at time of writing.
Disclaimer: ETF Database is not an investment advisor, and any content published by ETF Database does not constitute individual investment advice. The opinions offered herein are not personalized recommendations to buy, sell or hold securities. From time to time, issuers of exchange-traded products mentioned herein may place paid advertisements with ETF Database. All content on ETF Database is produced independently of any advertising relationships.