Rethink Technology business briefs for April 27, 2018.
Seasonally negative coverage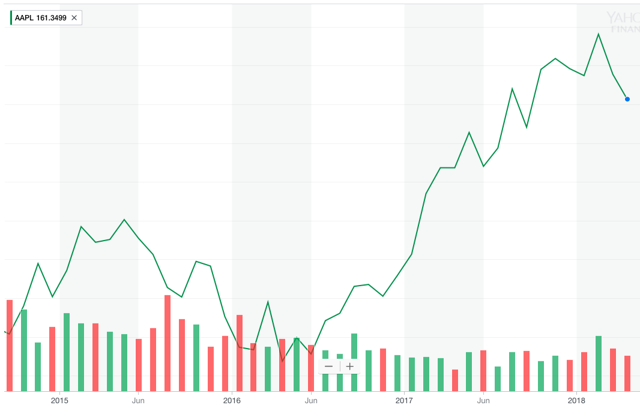 Source: Yahoo Finance
Over the past few years, I've become accustomed to a seasonal downturn in Apple's (NASDAQ:AAPL) share price that roughly correlates with the seasonal downturn in iPhone sales. The weakest period for iPhone sales typically is in the April-September time frame. As can be seen in the chart above, Apple's share price often suffers sharp declines in the same period.
My opinion, and it's only an opinion, is that this is driven by negative coverage of Apple, and especially about iPhone, during the same time frame. Coming off the December quarter iPhone sales peak, there's a tendency in the media to play up the sequential decline as being more meaningful than it really is. This continues into calendar Q3 as consumers understandably start to hold back making new iPhone purchases in the runup to the September iPhone launch.
It's during this time that the noise level of media coverage reaches its peak. Speculation becomes rife in the absence of facts regarding the new iPhone models. Invariably, the speculation is negative. For instance, in 2016, media speculation claimed that iPhone 7 would be a non-innovative flop.
This year, the coverage has turned negative once again, but with some subtle differences. The attacks on Apple have become more oblique but seemingly more effective. As I write, Apple is in a steep sell-off that started last week, when ASML Holding (ASML) reported earnings. ASML is a supplier of lithography equipment for chip manufacturers, and the first seriously negative report of the season concerned ASML, Apple, and Apple's semiconductor manufacturer, TSMC (TSM).
Why Barron's was wrong about ASML and Apple
ASML has developed a new generation of lithography machines for semiconductors called Extreme Ultra Violet (EUV). Current generation lithography machines use deep ultraviolet (DUV) light at a wavelength of 193 nm to create the patterns of circuitry on an integrated circuit. In order to continue to shrink circuitry, semiconductor makers are starting to use ASML's EUV machines which use light with a wavelength of 13.5 nm. The much shorter wavelength of light in the EUV machines allows for smaller circuits to be created.
All of the major semiconductor manufacturers, including Intel (INTC), TSMC, Samsung (OTCPK:SSNLF), GlobalFoundries, have announced plans to use EUV in 7 nm and below process nodes. There simply is no other path forward to continue Moore's Law. ASML is the only source for EUV lithography tools.
The tools are enormously expensive at €100 million a pop, and they can only process about half as many silicon wafers per hour as the current DUV tools. But manufacturers are going to use them anyway, on a limited basis, because they don't have any choice.
This is the background for an article by Barron's author Tiernan Ray on April 13 titled "Apple Clouds ASML Earnings Forecast." In the article, Ray cites research from Steve Mullane of BlueFin Research Partners.
Mullane claimed, and Ray also claimed substantiation, that Apple didn't want to pay the extra cost of TSMC's planned 7nm+ process, which will be the first to use EUV tools on a limited basis. The article described the issue as related to getting adequate "throughput", which we already know is about half of that of DUV. Mullane stated:
. . . with no near-term fixes to the throughput issues alone, there is a high risk to ASML that EUV implementation into high volume manufacturing could be delayed again.
The article then states that
Part of the problem, apparently, is that Apple, a big customer of TSM, which fabricates chips for the iPhone, doesn't want to have to pay extra money it would cost TSM to make chips using the ASML technology, known as "EUV," or "extreme ultraviolet."
So, the BlueFin analyst is looking at the lower wafer throughput of EUV machines and their higher cost and infers that their use in 7nm+ must make the process more expensive. His analysis is both superficial and incorrect.
Semiconductor fabricators use a process called "multi-patterning" to achieve smaller circuit features using the current generation DUV lithography machines. This amounts to multiple exposures using different masks. This has worked well to get foundries like TSMC to 10 nm, but the number of lithography and mask alignment steps explodes dramatically when trying to use multi-patterning for 7 nm. TSMC decided to bite the bullet and use multipatterning for its new 7 nm process and insert EUV for an enhanced 7 nm+ process in 2019.
Samsung, on the other hand, isn't even bothering with multi-patterning on its 7 nm process, and is going straight to EUV. TSMC seems to have won the race to be first to a 7 nm process, as a result, but Samsung's use of EUV underscores the advantages of using EUV.
EUV can reduce the number of process steps by roughly a factor of 2-4, depending on the specific lithography process. The process step simplification more than compensates for the lower wafer throughput of EUV and the higher cost of the systems. TSMC will need to insert EUV in order to remain competitive with Samsung.
Apple can have no reasonable objection. The leading edge manufacturers are all moving to EUV, and Apple couldn't impede this progress even if it tried. And I doubt that Apple wants to. Apple will be the primary beneficiary of TSMC's 7 nm process, which will be used to produce the processors for this year's crop of new iPhones.
When asked about the report during its earnings call, ASML management were openly dismissive, stating simply that there had been no order cancellations for EUV tools.
ASML is part of the Rethink Technology Portfolio and is rated a buy. The above Tech Brief contained excerpts from an exclusive Rethink Technology report, ASML: 2018 Off To An Excellent Start.
Why Bloomberg was wrong about TSMC and Apple
As technically flawed as the BlueFin research was, it still shook a lot of people in the industry, and TSMC's management were asked about the report the following day during TSMC's Q1 earnings telecast. TSMC management once again stated that the plan is for EUV tool insertion for the 7 nm+ process in 2019. Until then, TSMC would move ahead on its 7 nm process without EUV, which TSMC announced was already in full production.
But the damage had been done, and the media largely ignored the fact that TSMC had achieved a process breakthrough in being first to 7 nm. Instead, the media focused on TSMC's supposed negative guidance, as exemplified in Bloomberg's "Chipmakers' Rout Widens After TSMC Ignites Smartphone Fears."
TSMC's sales outlook was depicted as "disappointing." The cut in its full-year revenue forecast from 10%-15% y/y growth to about 10% y/y growth was depicted as due to "weakness in demand for iPhones." The article states:
As the main manufacturer of Apple's processors, its tepid revenue forecast also revived fears that the iPhone X may already be losing momentum a quarter after its release.
But note that the forecast cut was only in the amount of year-over-year growth. TSMC wasn't trying to say that revenue would decline, or even that growth would be less than last year. The 10% growth forecast was still better than the guidance that TSMC offered this time last year of 5%-10% revenue growth for the year. In fact, TSMC achieved 9% y/y growth for 2017. TSMC's guidance for Q2 also was better than last year, when it forecast only a 3% y/y increase, which is what was eventually achieved. So, in the context of last year's guidance and results, TSMC's guidance of 10% y/y revenue growth is actually better than last year.
There also was some media misinterpretation of TSMC's industry outlook. During the conference call, TSMC forecast that the semiconductor market, excluding memory, would grow by 5% for 2018. This was interpreted as bad news for the industry in some quarters, yet it was better than the forecast TSMC gave last year at this time of 4% y/y growth. Foundry growth this year is expected to be 8%, while last year it was expected to be only 5%.
So TSMC didn't really say anything negative about the semiconductor business as a whole, the foundry business, or its own business. TSMC still expects to outgrow its peers in 2018. And keep in mind that TSMC is typically conservative in its guidance.
What about the "smartphone weakness" that was prominently featured in media reports? In his prepared remarks, co-CEO C. C. Wei was careful to refer to "continued softer demand from the smartphone segment" in his guidance for Q2. This was widely reported as a reference to Apple, but I think Wei's words were carefully chosen.
We know as of IDC's February report on the worldwide smartphone market that overall shipments declined 6.3% y/y in 2017 Q4. For the year, unit shipments were flat. Although IDC hasn't released numbers for Q1 (and they won't until Apple reports), there's every indication that smartphone market growth will continue to be slow. I believe that this was the intended target of the "smartphone segment" reference.
The fact that Bloomberg was so anxious to portray TSMC's guidance as a negative, and then lay this at the feet of iPhone X, should be deeply disturbing to any objective observer. There simply was no basis for the inference that has been widely made that TSMC's results and guidance foretell a steep decline in iPhone sales.
TSMC's revenue in Q1 grew by 12.7% y/y to $8.459 billion. TSMC's revenue guidance for Q2 called for revenue growth of 11% y/y at the midpoint of the revenue range of $7.8-7.9 billion. How does this guidance translate into a sharp decline in iPhone X sales? I don't know.
TSMC is part of the Rethink Technology Portfolio and is rated a buy. The above Tech Brief contained excerpts from an exclusive Rethink Technology report, TSMC Announces Volume Production on 7 Nm.
Analyst consensus points to iPhone growth, not decline
Yet the decline in iPhone X has become such a popular narrative that it's now virtually taken for granted. Research firm Canalys issued the following statement regarding iPhone X:
Canalys estimates that Apple shipped fewer than 14 million iPhone Xs in Q1 2018, down from 29 million in Q4 2017. "Apple's iPhone X performance in Q1 is a clear indication of the challenges that premium smartphones now face," said TuanAnh Nguyen, Analyst at Canalys. "The novelty of premium smartphones is wearing off, and features such as 18:9 displays and dual cameras are being commoditized quickly to lower ASPs."
I can't even begin to count the number of times analysts have dusted off the commoditization argument in predicting the decline (and fall) of iPhone. Yet iPhone is widely regarded as capturing most of the smartphone industry profits, 86%, according to a recent report by Counterpoint research. Of Apple's iPhone models, iPhone X is the most profitable by far: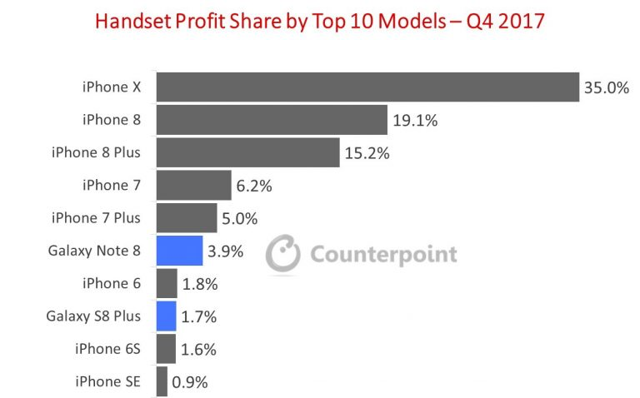 Source: Counterpoint Research
Does it really matter how many iPhone X got sold last quarter? I doubt that it does, and anyway, Apple doesn't report numbers for specific models. The broad analyst consensus is for iPhone sales in the March quarter of 52.55 million, which represents 3.5% y/y growth. This comes from a survey by Philp Elmer-DeWitt of the following analysts: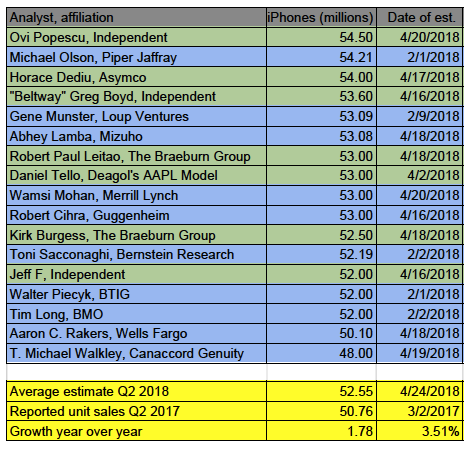 Source: Apple 3.0.
Generally the analyst average in Elmer-DeWitt's surveys comes pretty close to the actual number. His survey is much more trustworthy than scare headlines from Barron's or Bloomberg. Based on the real data, as opposed to biased interpretations, I see no reason whatsoever to panic about iPhone sales, or Apple. I remain long Apple and rate it a buy, especially during the summer doldrums.