Last year, we published an article titled "Best Ways To Gain From Bottoming Chinese Stock Market In 2016." Five stocks we recommended in the article - Baidu Inc. (NASDAQ:BIDU), Sina Corporation (NASDAQ:SINA), Kingold Jewelry (NASDAQ:KGJI), Zhaopin Ltd. (NYSE:ZPIN), and Yutong Bus Co. Ltd. (Shanghai Stock Exchange symbol 600066) - have mounted significant potential capital gains for investors since then. The following table shows each stock's maximum total capital gain since the date of publication to the end of 2017 (assuming an investor sell one particular stock at its highest point in 2017).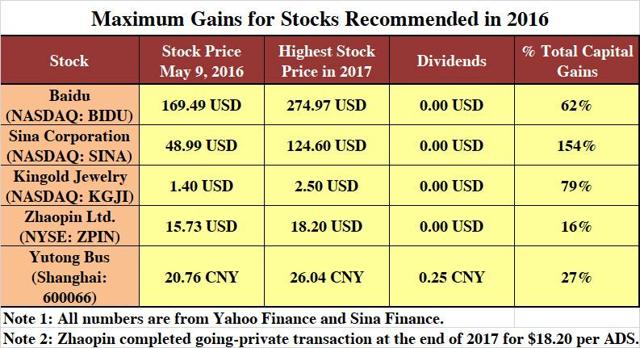 Two years have elapsed since we published that article. It is a good time for us to once again share our thoughts on Chinese stocks that we think investors can accumulate in the first half of this year to give them the best chance for reaping great payoffs within the next twelve months. One stock we recommended in 2016 stays in this year's list, while some we recommended last time are replaced by other stocks. Again, we put the recommended stocks into three categories. This time, we only recommend one stock for each category because we believe that there are fewer truly outstanding and undervalued stocks now after the prices of most Chinese stocks have more or less risen in 2017. At such time, investors need to be more selective by only putting their money into stocks that offer exceptionally good reward-to-risk ratios. Without further ado, here are our picks:
1. A Big Chinese company listed in the United States:
This time, we think that the best big Chinese stock listed in the United States to buy now is NetEase, Inc. (NASDAQ:NTES).
Like the Internet powerhouses Baidu and Sina mentioned in our previous article, NetEase is one of the oldest, biggest, and most well-known web portals in China. Among comprehensive web portals, it probably ranked second only behind Sina. On the home page of the company's main website (163.com), you can find information and products/services about almost anything you can think of (news, financials, entertainments, sports, cars, technologies, real estates, and a whole lot more). It owns two of the most popular and widely used email services in China - mail.163.com and mail.126.com. A screenshot of the 163 web portal is shown below.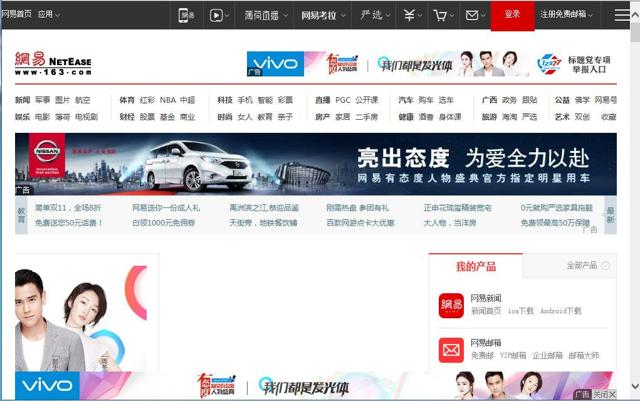 Unlike its major rivals, NetEase's revenue is still ballooning today despite its giant size. The table below shows the compound yearly revenue growth rates of four major web portals/search engines in China using the financial data of the last three complete financial years. As a result of its super high revenue growth rate, NetEase also showcased a whopping 121% compound yearly net income growth rate.

The reasons behind NetEase's high speed of growth are its firm foothold in some highly profitable businesses that its major rivals overlooked or somehow were not able to successfully compete in. For one, its online gaming business is arguably the oldest and most famous one in China and is an automatic money printing machine for the company. The history of its gaming business and a list of released games can be found on Baidu's Encyclopedia (the Wikipedia of China). Some numbers generated by NetEase's games are just outright overwhelming and absurd by Western standards. For instance, its Fantasy Westward Journey II game, the single best-selling online multi-player game in the history of China (and maybe of the entire world), has gathered more than 250 million registered users so far and had close to 3 million users playing simultaneously at its peak era! Can you imagine more than two-thirds of the population in the U.S. having registered to play one single online game? Another game, Westward Journey Online II, had 1.26 million users playing simultaneously in its peak era. Yin Yang Master, a relatively new game released in 2016, has been downloaded more than 200 million times in just one year. For NetEase, popular games developed in-house are not the exception but the rule. Over the past two decades, the company has developed and released blockbuster computer and mobile phone games that took the top spots of the market year after year. In addition, the company also has done exclusive distributions in China for many blockbuster global games such as Blizzard Entertainment's Warcraft III, World of Warcraft, and StarCraft II. Major global gaming companies choose to work with NetEase because of its enormous fan base and distribution network in China, which are hard for its competitors to match.
According to the company's last financial report, last year, the company's gaming business grew by 30% year over year. More importantly, the management team was very bullish on the pipeline of new blockbuster games coming out in the next several months and expected the growth rate of gaming revenue to pick up a lot of steam going forward (we concur with the management's view on the new games in the pipeline). With game players' strong social connections and addiction to the games and platforms they have played, it is very easy for NetEase to keep on milking billions of service fees out of millions of die-hard fans, especially when the company has such a strong game development and marketing/distribution team.
Another business that has allowed NetEase to gain very strong traction lately is e-commerce. In 2017, the company grew its e-commerce and email business by 160%, and the CEO and other executives expressed a highly bullish view on the growth potential of this business section over the next several years. The company has been very smart to avoid direction confrontations with the top-two players in e-commerce in China, Alibaba (NYSE:BABA) and Jingdong (NASDAQ:JD). Instead, NetEase picked authentic imported goods and authentic goods with unique and stylish designs that the top shopping sites overlooked. Its Kaola site (kaola.com) offers a humongous number of foreign goods that the company directly buys from the headquarters of foreign brands and then imports into China. By doing so, NetEase can guarantee its customers the authenticity and quality of these foreign items. Yanxuan.com, another e-commerce site of NetEase, offers unique and/or high-quality items from famous brands or NetEase's own brand that were carefully picked by the company's marketing and procurement department. Again, NetEase guarantees the authenticity of all goods sold on the Yan Xuan site. The confidence shoppers can feel about NetEase's e-commerce sites is something that Alibaba and Jingdong are not able to offer (Jingdong is better than Alibaba in terms of preventing the sale of counterfeits on its sites but still is no match to NetEase in this regard).
On account of NetEase's strong competitive advantages in these two businesses and some others, we believe the company will enjoy an average annual growth rate of more than 40% on its top line and an even faster growth rate on its bottom line for the next several years. With such a high growth rate, the company's current P/E of less than 20 is way too low and not sustainable. That's why we think the stock is a great investment right now.
In addition to NetEase, two other major Internet companies, Tencent (OTCPK:TCEHY) and Baidu, have almost as strong growth potentials as NetEase does. Tencent's online payment platform has expanded very quickly and has gained considerable ground on its biggest rival Alibaba's online payment platform, Alipay. Meanwhile, Tencent has kept a commanding leadership position in the market of mobile chatting, and that monopolized leadership position is almost impossible to be challenged. As for Baidu, the company's search business continues to do extremely well and monopolize the market in an unchallenged way, while it has also gained significant progress and early-mover advantages in a couple hot new technologies such as artificial intelligence and cloud services. In addition, it keeps on expanding market shares in some business segments that the company entered in recent years, such as group purchases (Groupon-type service) and takeout ordering (mostly for meals but also for other things). We rank Tencent and Baidu after NetEase mainly because their P/E ratios are much higher than NetEase's right now. However, it might not be a bad thing for an investor to allocate some portion of his/her portfolio of large-cap Chinese stocks to a couple next-best companies rather than putting all money into the best one.
2. A small-sized Chinese company listed in the United States:
For small-sized to mid-sized Chinese stocks, we have concluded that Kingold Jewelry is still the best choice to put our money in. True, the stock is not as cheap as it was when we recommended it the first time, as its price has risen almost 50% since then. However, the gap between the stock's current price and its fair value is still enormous; we view the 50% gain as just the beginning of the market's awareness of this company and correction of the company's valuation. As we said in another article published earlier this year, in spite of being put into a small cap on NASDAQ, Kingold is by no means a small or unknown company in China. Instead, it is one of the top 10 jewelry brands that are known by tens or hundreds of millions of people in China. It has been ranked top-10 by not one or two but many associations and newspapers repetitively, and it has been recognized by different levels of government offices and other organizations year by year. So, we are not talking about a one-time show or performance-by-chance. Rather, we are talking about a company that has been consistently recognized for its operational superiority and brand value by the consumers, peers, and government agencies in the second largest gold and jewelry market of the world!
At the end of last year, Kingold was invited to give a speech at the 2017 Jewelry Convention of Hubei province (the news piece also reminded readers that Kingold was the vice president of the Jewelry Association of Hubei province). In addition, Mr. Jia, the CEO of Kingold, received an outstanding entrepreneurship award from the local government in September. Pictures of the Jewelry Convention are shown below.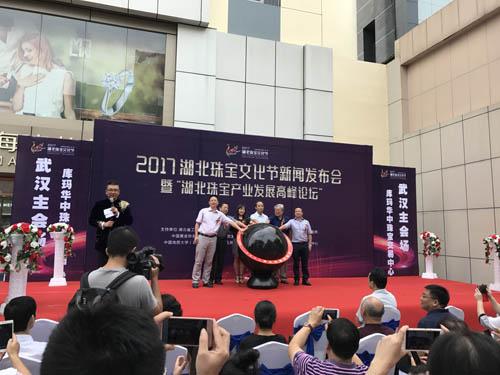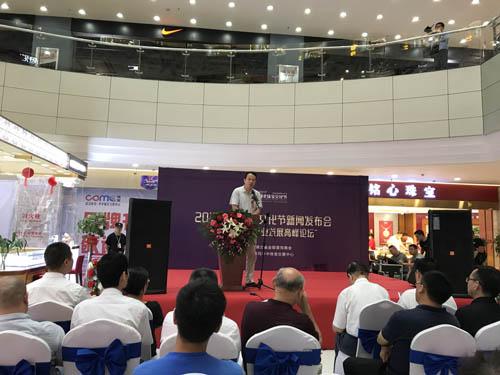 The company's strong desire to maintain a premium brand image and increase brand recognition was evidenced in its attending of a brand-management forum hosted by the government of Hubei province on October 31, 2017. Top marketing and brand-management experts in China gave speeches at the event and shared ideas with the company's executives. The company was also invited to attend a similar forum in September. According to a news piece, only a limited group of premium corporations in Hubei province are invited to attend such events. Pictures of the events are shown below.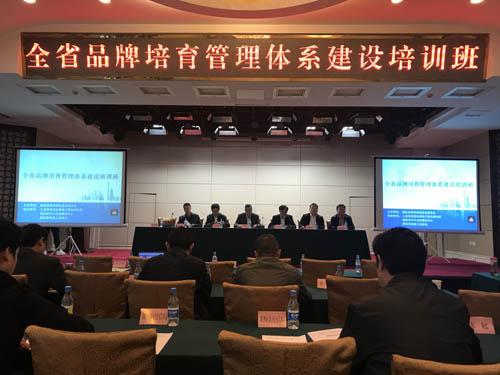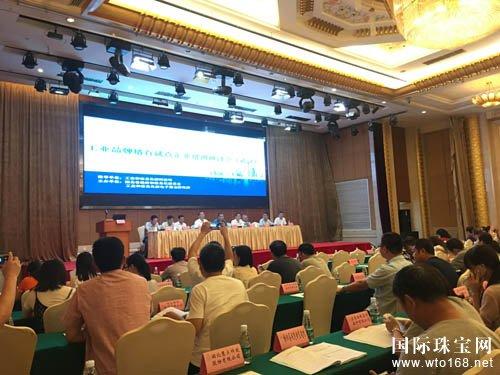 With one of the most popular financial websites in China, East Money, predicting demand for gold to keep on rising fast in China through 2017 and beyond, it is a fine time to invest in the stock of a strong gold company in China for an unthinkably low price of less than twice its current EPS (full-year EPS of 2016).
Kingold just released its earnings for the fourth quarter of 2017. In the quarter, the company grew its revenue by 84% year-over-year. Furthermore, the company has raised the forecast for this year's full-year gold production to 110 metric tons. This echoes our assessment of the company's business outlook going forward based on the aforementioned observations and market data.
Again, at current valuation, we think that the company is a great target for a hostile takeover or a management buyout. As the situation currently stands, the major shareholders of Kingold can offer public investors a 100% premium over the current price to take the company private and then re-IPO in Shanghai for 10 times the price they pay to American investors. In addition, its competitors in China can offer to buy out all of the company for twice its current market capital and reap fat gains from accretive earnings addition, synergies, and market expansion in China. Consequently, Kingold Jewelry is sitting at a rarely seen sweet spot right now, offering both huge upside potentials and limited downside risk. As we said in our last article, Chinese government is eagerly calling its strong companies listed oversea home. As a top-tier brand name in the jewelry market in China and the founding member of China's biggest gold exchange, Kingold is certainly a company Chinese government will want to include in its domestic stock exchanges.
Are there risks in buying Kingold Jewelry's stock? Sure, there are always risks when investing in a small-cap stock. However, the reward-to-risk ratio looks abnormally high when considering the company's low valuation level compared to its industry's average and the high probability of the company being privatized at a much higher price under the current homecoming frenzy for Chinese stocks listed on foreign exchanges.
3. A Chinese company listed in China:
Over the past two years, China has dramatically opened its domestic market to foreign investors by allowing foreign investors to buy all stocks listed on Shanghai or Shenzhen stock exchanges using brokerage accounts set up in Hong Kong (which is open to citizens of most countries) or QFIIs (Qualified Foreign Institutional Investors), for which the Chinese government has increased the national quota significantly.
Among all stocks listed in China, we think Lianchuang Opto-electronic Science & Technology Co., Ltd. (Shanghai Stock Exchange symbol 600363) offers investors the highest reward-to-risk ratio today. Lianchuang was founded in 1999 in the high-tech park in the capital of Jiangxi province, Nanchang. Nanchang is at about the geographic center of the biggest metropolitan and economic centers in central, eastern, southern, and southeastern China. See the map below for Nanchang's geographic location in China (Nanchang is the red dot).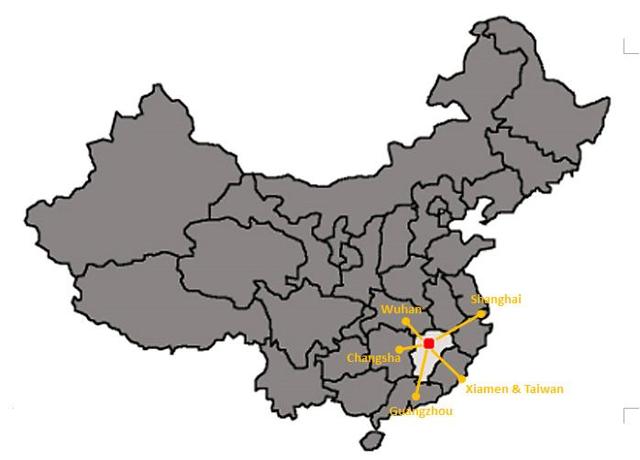 Lianchuang is one of the biggest and oldest manufacturers of LED products in China and the first dedicated designer and manufacturer of LED products to go public in China. The company makes just about every kind of LED-related things you can think of - ranging from LED electronic chips and tubes to lights, monitors, and all kinds of screens used on small to gigantic devices (including those super-sized ones hung on buildings). It also makes cables and controllers for many kinds of electronics. In recent years, the company has expanded into new technologies and business sectors with very high gross margins such as high-intelligent controllers, smart lightings, and LED-related military devices. The following pictures show major categories of its products.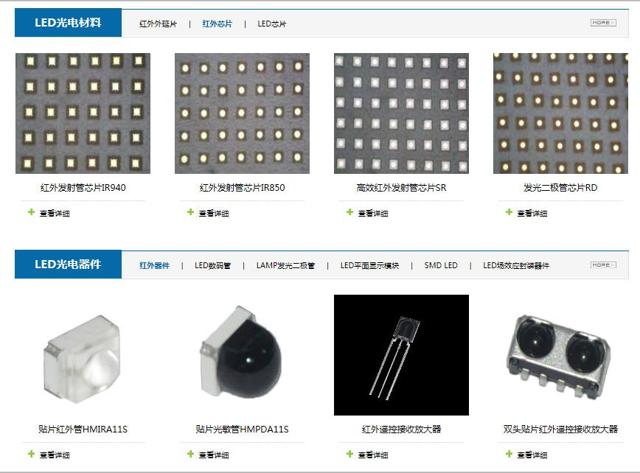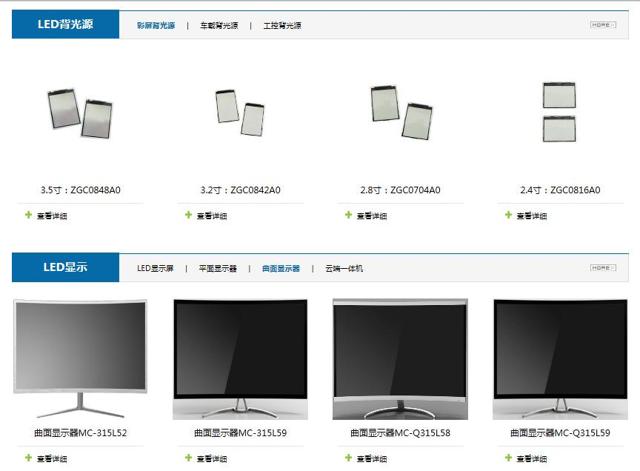 Lianchuang is included in the central government's "light torch plan," the highest level national plan to support and strengthen high-tech companies with the best potential to produce world-leading technologies and become global giants that export their products to every location in the world. The company has received numerous awards from local, provincial, and central government agencies.
The markets for LED electronics, lighting, and screens are still at a young age in China and have enormous room to grow. The same can be said about the market for highly intelligent controllers in China. For example, according to a report published by Lux Research, China's LED lighting market will grow by a jaw-dropping 140% rate in 2017 and enjoy a compound annual growth rate of 24% in the foreseeable future. In another report published in 2014, the analyst estimated that China's smart lighting market would grow from $16 billion in 2014 to $200 billion in 2018, a compound annual growth rate of 88%!
Last year, Lianchuang saw its net income grow by 28.6% year-over-year, echoing the industry's fast growing rate. Amazingly, with all these great growth prospects, Lianchuang's stock is only trading at 25 times its EPS for 2017 (based on the stock's closing price on April 23, 2018). The following table shows its EPS numbers for the last four years. As we can see, the growth of company's net income started to pick up steam last year.

A P/E ratio of 25 is extremely low for an electronic component manufacturer listed in China. The average P/E ratio for all electronic component manufacturers listed in China is about 50 now; a company with a P/E of less than 30 and growing at 30% yearly rate is almost unheard of in China. We suspect that the main reason behind Lianchuang's dirt-cheap P/E is its management team's "inactivity" in the stock market. By our observations, the top executives of Lianchuang (including its CEO) have traded very few shares of the stock, probably meaning that they have not teamed up with any stock manipulators in China to profit from the stock market but rather have devoted all their attention to improving the company's operations. In the stock market in China, a small cap with a market capital of about 800 million U.S. dollars will not see its stock advance much if its insiders are not giving major market traders "sweeteners" to push its stock higher. That fact actually works to our favor as a fundamental-based value investor, as we like to accumulate our stakes on a stock when the entire market has not had any interest in it. In our opinion, now is the golden moment for value investors to take a good position in Lianchuang's stock before its major upward move begins.
One thing is worth special attention here. Because the U.S. and China are engaging in a trade war and the U.S. has given harsh punishments to China's two biggest makers of electronic products Huawei and Zhong Xing by prohibiting all U.S. chip makers from providing chips to these two companies (Huawei's case is still under investigation, but an eventual punishment and/or ban seem likely), Chinese government will inevitably putting developing home-made ICs its top and very urgent priority for the coming years and will very likely give tremendous monetary and other forms of supports to domestic chip makers. Since Lianchuang is the leading maker of ultra-red and LED chips in China (see the first picture of its products in the beginning of this section), the company's top line and bottom line may get extra steams in the coming years. More importantly to investors, as the need to support domestic chip makers is on front pages of all media now, we will not be surprised any bit if Lianchuang's stock catch capital market's attention and shot up anytime soon.
Final Thought:
As we said in our previous article, "time waits for no man" and "higher rewards come from higher risks." As China opens its capital market and strengthens the transparency and reliability of its public companies (two action items emphasized by Chinese leaders this year), buying interest will flock in fast. The opportunities to buy great Chinese companies' stocks at drastically discounted prices may soon become scarce. Investors who followed us and bought the five Chinese stocks we recommended two years ago have realized pretty decent returns. We believe that the three stocks we are recommending this time will likewise trade at much higher prices one year from today. Investors who are interested in emerging markets may consider accumulating some shares of these three stocks now while their reward-to-risk ratios are still attractive.
Disclaimer: We are long Lianchuang Opto-electronic Science & Technology Co. The opinions of the author are not recommendations to buy or sell any security. Please remember to do your own research prior to making any investment decisions, as well as knowing your own unique goals and tolerance for risk.
Disclosure: I am/we are long KGJI.
I wrote this article myself, and it expresses my own opinions. I am not receiving compensation for it (other than from Seeking Alpha). I have no business relationship with any company whose stock is mentioned in this article.
Editor's Note: This article discusses one or more securities that do not trade on a major U.S. exchange. Please be aware of the risks associated with these stocks.