Real Estate Weekly Review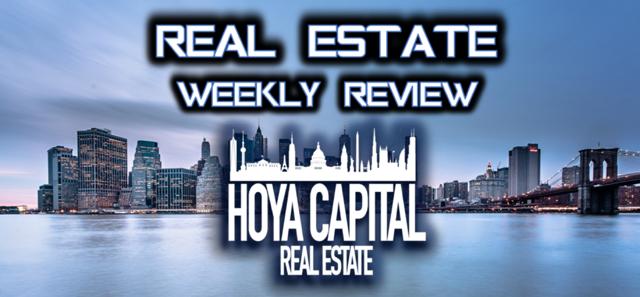 REITs delivered their best week since 2016 after a flurry of stronger-than-expected earnings across much of the sector. The real estate ETFs (VNQ and IYR) surged more than 3%, significantly outperforming the 0.2% decline in the S&P 500 (SPY). While early, there are indications that REIT fundamentals may further improve in 2018, aided by strong demand growth and a slowing of supply growth.
As REIT valuations have been driven almost entirely by macroeconomic conditions in recent months, commodity prices, through their impact on inflation and interest rates, have become an important factor to watch for real estate investors. The most significant culprit of rising inflation expectations has been crude oil (USO), which finished flat on the week. Mirroring energy prices, the 10-Year yield finished the week unchanged after breaking through the 3.0% level earlier in the week. Despite booming US production, oil prices are up 30% YoY as OPEC continues to restrict production, aided by the collapse of Venezuela's oil production capability.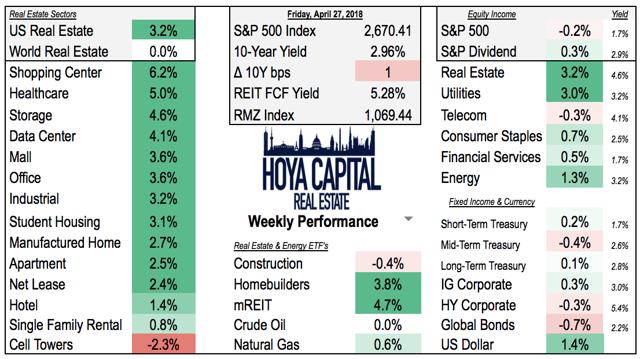 (Hoya Capital Real Estate, Performance as of 4pm Friday)
Homebuilders (XHB) also rallied nearly 4% this week after strong earnings from Pulte (PHM) and D.R. Horton (DHI) and solid new and existing home sales data. In other areas of the real estate sector, mortgage REITs (REM) finished the week nearly 5% higher while international real estate finished flat.
Real Estate Earnings Update
Last week, we published our earnings preview: Real Estate Earnings Preview: 5 Trends We're Watching. Macroeconomic conditions continue to dictate REIT valuations, but earnings season may be a catalyst to break the "rates up, REITs down" narrative. So far, this has been exactly the case: strong earnings results have caused many REITs to re-price to higher valuations despite only modest changes in earnings outlooks.
Highlights this week included stronger-than-expected earnings across the entire retail REIT space. Mall REITs Simon (SPG), CBL (CBL), and Washington Prime (WPG), as well as shopping center REITs Kimco (KIM), Weingarten (WRI), and DDR (DDR) all raised full-year guidance, bucking the trend of downward revisions that plagued these stocks in 2017.
Industrial REITs continue to be the standout as four names that have reported this quarter have smashed through expectations. This week, First Industrial (FR) and Duke (DRE) beat and raised, matching last week's results from Prologis (PLD) and EastGroup (EGP). In the data center space, Digital Realty (DLR) beat expectations on strong leasing results, while CoreSite (COR) came in a bit light.
In the residential sectors, manufactured housing continues to exhibit stellar fundamentals with strong results from Sun Communities (SUI) and Equity Lifestyle (ELS). Apartment REITs including AvalonBay (AVB), Equity Residential (EQR), and UDR (UDR) results that were in line with estimates as these REITs continue to deal with significant supply growth in most markets.
Storage REITs, another sector dealing with oversupply, also got a welcome relief this week with strong results from Public Storage (PSA) and CubeSmart (CUBE). Student Housing, another underperformer of 2017, rallied this week as American Campus (ACC) reported in-line results.
Next week's slate includes more than 40 REITs including Healthcare Trust (HTA), Vornado (NYSE:VNO), Omega (OHI), Store Capital (STOR), VEREIT (VER), QTS (QTS), CyrusOne (CONE), Welltower (WELL), Spirit (SRC), and National Retail (NNN). Real estate earnings will continue for the next three weeks. The full earnings calendar is below.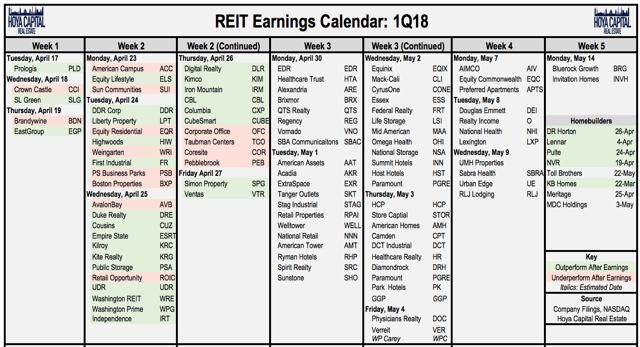 The retail, storage, and data center REITs were among the top-performers on the week while the cell tower, hotel, and single family rental sectors were among the laggards. Cell Tower REITs SBA Communications (SBAC), American Tower (AMT), and Crown Castle (CCI) have been hit by reports of progressing merger talks between Sprint (NYSE:S) and T-Mobile (NASDAQ:TMUS).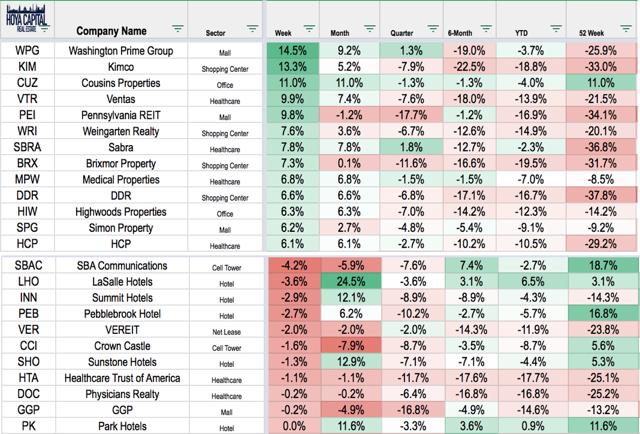 2018 Performance
REITs are now lower by 8% YTD, significantly underperforming the S&P 500, which is flat on the year. Homebuilders are off by more than 10%. The 10-Year yield has climbed 55 basis points since the start of the year, aided by the 14% climb in the price of crude oil and 1% decline in the trade-weighted value of the US Dollar.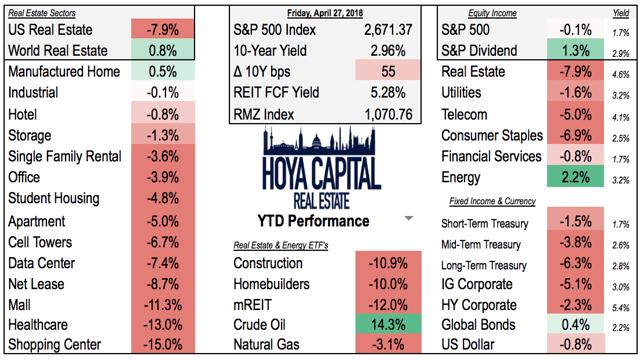 REITs ended 2017 with a total return of roughly 5%, lower than the 20-year average annual return of 12%. Going forward, absent continued cap-rate compression, it is reasonable to expect REITs to return an average of 6-8% per year with an annual standard deviation averaging 5-15%. This risk/return profile is roughly in line with large-cap US equities.

Real Estate Economic Data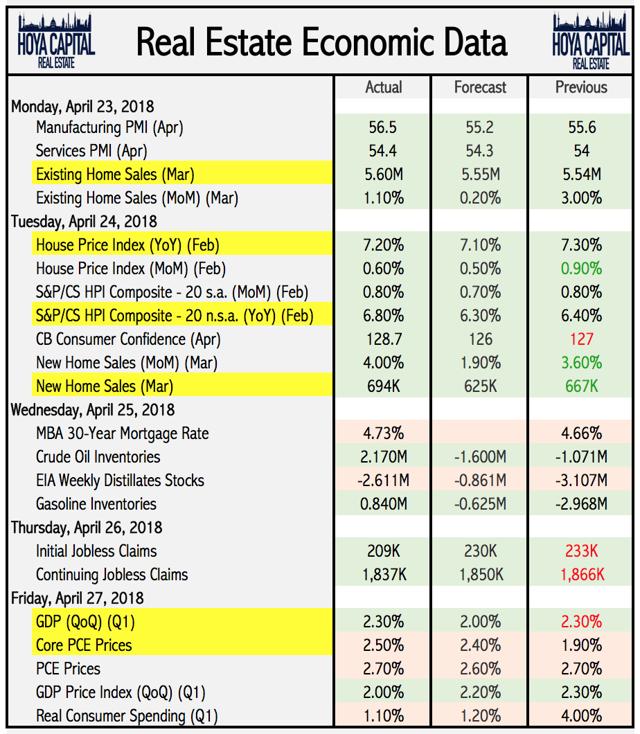 (Hoya Capital Real Estate, HousingWire)
US Economic Expansion Continued in 1Q18
The US economy continued to grow at a solid rate in 1Q18, powered by business investment and consumer spending. The current expansion, which began in late 2009, is set to become the second-longest on record next month. Real GDP grew at a 2.3% QoQ annualized rate in the first quarter and at a 2.9% rate on a YoY basis. After a disappointing 2016 that saw economic momentum slow with GDP rising just 1.5%, the new administration's promise of deregulation and tax cuts lifted business and consumer optimism to record levels, and appears to have reignited the US economy over the past several quarters. A strong labor market, combined with growth in global trade and rising retail sales, has been particularly important in boosting demand for commercial and residential real estate.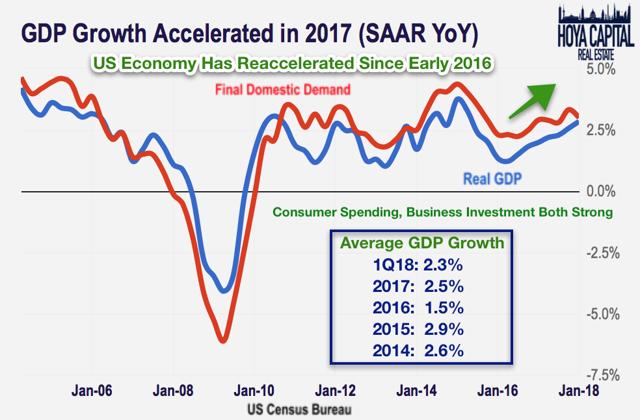 Recent economic growth has been even more impressive considering the negligible impact of real estate development. Growth in residential fixed investment and business investment in structures contributed just 0.1% to the total 2.5% growth in 2017. For context, these two categories boosted GDP by 1.3% at the peak in 2002 and dragged down GDP by 1.1% at the bottom in 2008. We continue to discuss the structural impediments to new supply growth and that this real estate cycle saw less overall new supply than the prior cycle.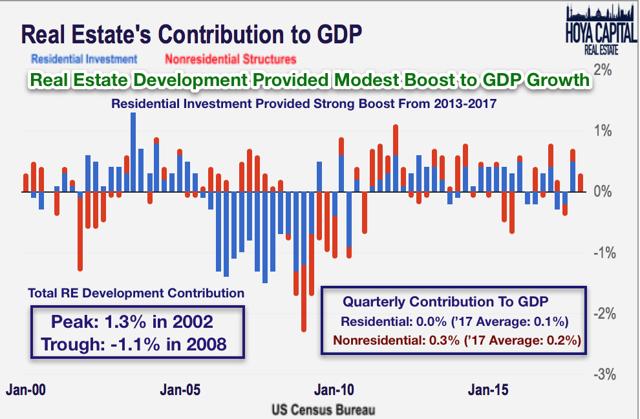 Looking at this data through another lens, we see that real estate's share of GDP remains well below the pre-recession period. The surge in residential investment fueled the housing bubble in the mid-2000s and was responsible for 6.6% of GDP in 2005. Residential fixed investment now makes up just 3.9% of GDP while business nonresidential investment in structures makes up 2.9% of GDP.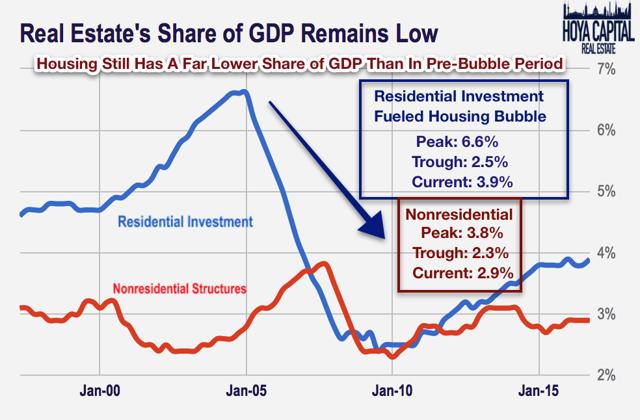 Solid Home Sales in March, But Trend Remains Weak
This week, new and existing home sales data was released. Both new and existing home sales were strong in early 2017 but faded into year-end, likely due to rising mortgage rates, unaffordability issues, and continued tight supply levels. Existing homes were sold at a 5.60m seasonally-adjusted-annualized-rate in March, slightly beating expectations. Existing sales have risen just 0.2% over the past year, the weakest rate of growth since early 2015. New homes were sold at a 694k rate, which strongly beat expectations and there were upward revisions to past months. New home sales, which are primarily comprised of single family homes, have been the relative bright-spot, growing 7.5% on a TTM basis. This rate of growth, however, is also the second slowest since early 2015.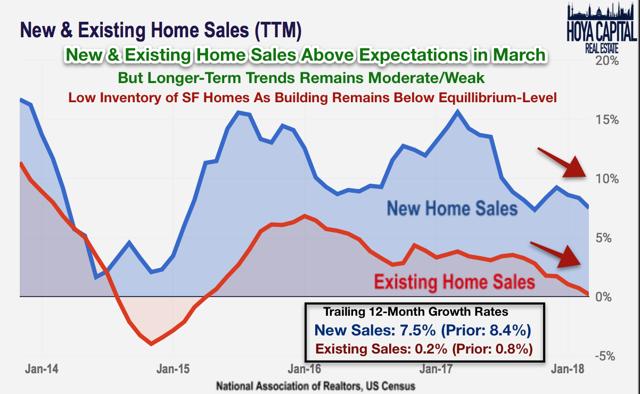 By historical standards, new home sales remain at mid-1990s levels and even lower after adjusting for population growth. That said, the significant overbuilding of single family homes that occurred between 1995 and 2005, perhaps the most significant cause of the financial crisis, has contributed to the slow post-recession recovery in new home construction. The growth in existing home sales have slowed since 2015, but this rate remains healthy by historical standards. Too many existing home sales (as we saw from 2003 to 2006) indicate that either mortgage standards have gotten overly loose or short-term housing flipping activity has increased. At around 7% per year, the turnover rate of existing homes is roughly in line with pre-2000 levels.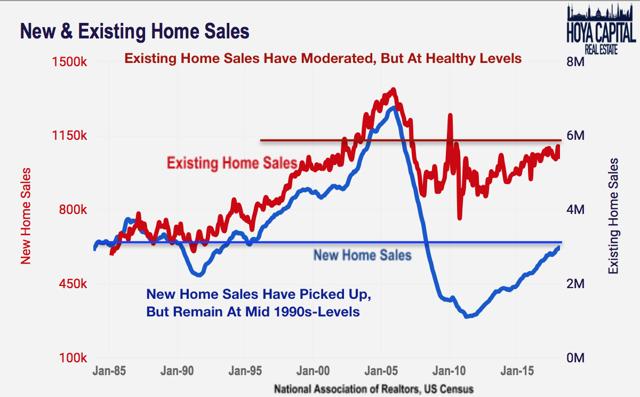 Existing home inventory remains near historically low levels, primarily a result of the tepid pace of new home construction in the aftermath of the recession. Other effects are at play, too, including the increased institutional presence in the single family rental markets and the rising rate of homeownership among the older demographics. First-time homebuyers made up 30% total existing home sales last month, down from 32% in March 2017. The rate of first-time homebuyers remains stubbornly below the pre-bubble level of 40-45% and the bubble-peak of 52%. We have yet to see the younger demographics enter the homeownership markets in any significant numbers.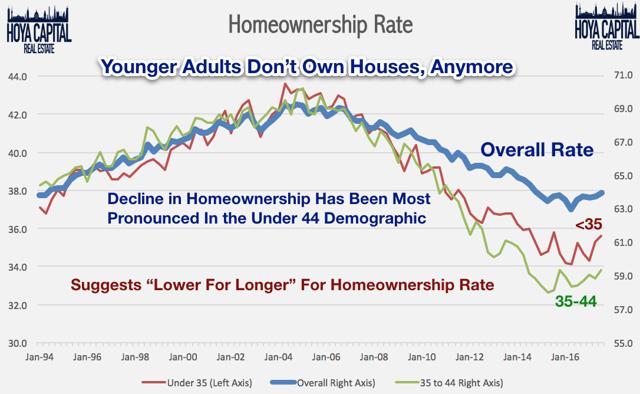 Home Prices Continue To Rise
Home prices have risen at least 5% YoY in every month since late 2012. Median household income on the other hand has risen roughly 3.5% per year during this time and average hourly earnings have risen at a 2.5% rate. The Case-Shiller national index showed 6.8% YoY growth in February, rising significantly from the 6.4% rate in January while the FHFA and Zillow indexes showed 7.2% and 8.0% rises in home prices, respectively.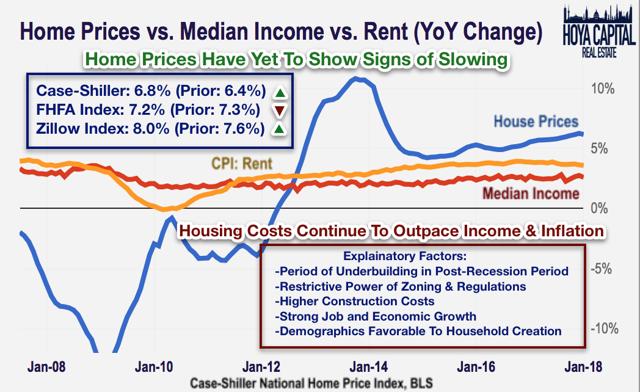 The relative lack of new housing supply has been the driving force behind home price appreciation and rental growth. On the national level, home prices have regained most or all of the ground lost during the recession. On a nominal basis, home prices are now 7% above the pre-bubble peak from 2006. On a real basis, however, home prices are still 12% below peak levels after accounting for the effects of inflation.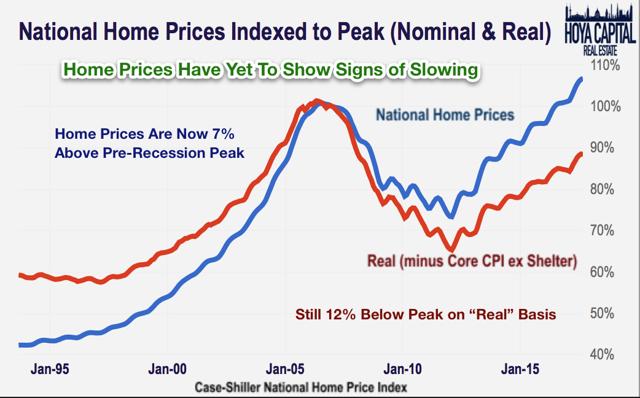 We recently published our Housing and Construction report: As Housing Recovery Stalls, Is a New Crisis Emerging?. We analyzed the dynamics affecting real estate markets and highlighted that supply growth appears to be stalling after several years of strong growth. We discussed the factors that will impact house prices and rent growth in 2018.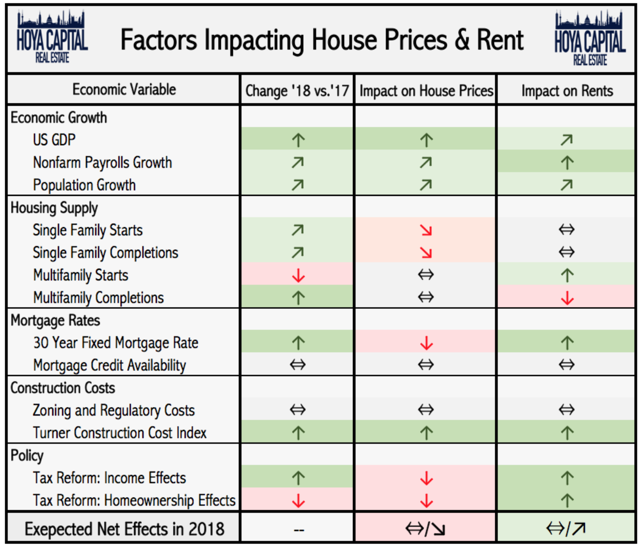 Bottom Line
REITs delivered their best week since 2016 after a flurry of stronger-than-expected earnings across much of the sector. While early, there are indications that fundamentals may further improve in 2018. Retail REITs have been the surprise winners so far this earnings season. Kimco and Simon raised full-year guidance, bucking the trend of downward revisions that plagued the sector in 2017.
Mirroring energy prices, the 10-Year yield finished the week unchanged after breaking through the 3.0% level earlier in the week. Calming geopolitical tensions may provide relief from surging oil prices. The US economy continued to grow at a solid rate in 1Q18, powered by business investment and consumer spending. Real estate's contribution to GDP growth has diminished in recent quarters. New and existing home sales were solid in March, but the trend remains weak. Rising home prices and tightening credit conditions continue to keep potential buyers on the sidelines.
This week, we published Affordable Housing REITs Continue To Thrive, our first quarterly update of this earnings season. Manufactured Housing REITs delivered another strong quarter in 1Q18. Beyond the sector-leading internal growth, external growth should provide a continued tailwind in 2018. While most REIT sectors are facing slowing fundamentals as the real estate cycle matures, manufactured housing continues to exhibit remarkable consistency. The sector has been largely immune from supply-related pressures.
As earnings season continues, we will begin to publish updates to our REIT Rankings sector reports which will analyze 1Q18 results. Be sure to check out our most recent REIT Rankings on the Shopping Center, Hotel, Office, Healthcare, Industrial, Single Family Rental, Cell Tower, Apartment, Net Lease, Data Center, Mall, Student Housing, and Storage sectors.
Please add your comments if you have additional insight or opinions. We encourage readers to follow our Seeking Alpha page (click "Follow" at the top) to continue to stay up to date on our REIT rankings, weekly recaps, and analysis on the real estate and income sectors.
Disclosure: I am/we are long VNQ, SPY, MAA, CPT, OHI, PLD, GGP, STOR, SHO, SUI, ELS, ACC, EDR, DLR, COR, REG, CUBE, PSA, EXR, BXP, EQR, INVH, SPG, HST, TCO, AMT, SBRA, AMZN.
I wrote this article myself, and it expresses my own opinions. I am not receiving compensation for it (other than from Seeking Alpha). I have no business relationship with any company whose stock is mentioned in this article.
Additional disclosure: All of our research is for educational purposes only, always provided free of charge exclusively on Seeking Alpha. Recommendations and commentary are purely theoretical and not intended as investment advice. Information presented is believed to be factual and up-to-date, but we do not guarantee its accuracy and it should not be regarded as a complete analysis of the subjects discussed. For investment advice, consult your financial advisor.