While the S&P 500 (SPY) steered itself right into the middle of Yellowstone National Park based on April 11th sentiment readings, the market made a quick U-turn and the bears are now in the rear-view mirror. Bullish sentiment has risen from 26% to 37% in a matter of two weeks and bearish sentiment has fallen off a cliff, down from 43% bears to less than 26% bears. This has managed to push bearish sentiment from nearly 15% above its long-term average to 4% below it in a very short period of time. This is not what the bulls want to see ideally, as the wall of worry they had hoped to scale has been demolished. This does not mean the market cannot travel higher from here and make upward progress, but the AAII Sentiment Survey reading is no longer exhibiting a contrarian bullish reading.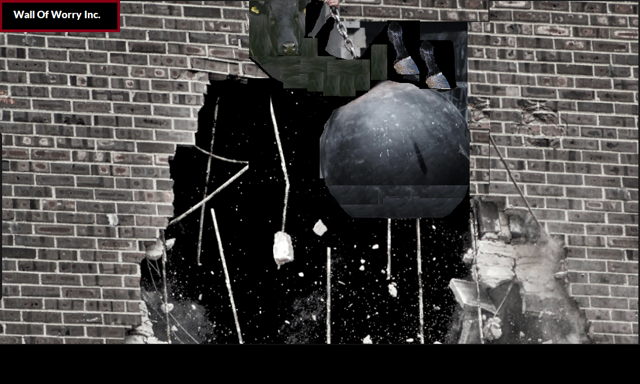 (Source: Author's Photo)
When looking at sentiment for the market, I prefer to look at as many different indicators as possible to try and find a balanced reading. Just as a doctor would not solely use a stethoscope if you stepped in his office for a check-up, it would be irresponsible in my opinion to base all of one's analysis on a single sentiment indicator. This is why I use up to 5 different sentiment indicators (some weighted slightly more than others) to get the most reliable overall temperature reading for the market.
Daily Sentiment Index Data
Taking a look first at Daily Sentiment Index Data below, we can see that bullish sentiment has retreated from levels of extreme optimism in January where we saw multiple 90% bulls or higher readings. Typically, readings above 85% can be a yellow flag and reason to be on high-alert for potential reversal patterns. This is a good sign for the bulls as it was unlikely the market was going to make much progress when the bull camp was already almost completely inhabited. Since that time we have seen the bull camp retreat all the way to 10% bulls on more than one occasion. This correction has not been enough to pull the sentiment moving averages all the way back to levels of extreme pessimism, but it's certainly a step in the right direction. The sentiment moving averages I watch were sitting around 80%+ bulls for a few weeks in December through January and are now sitting in the 35-40% level. The Q1 2016 bottom coincided with these sentiment moving averages dropping to the 15% level.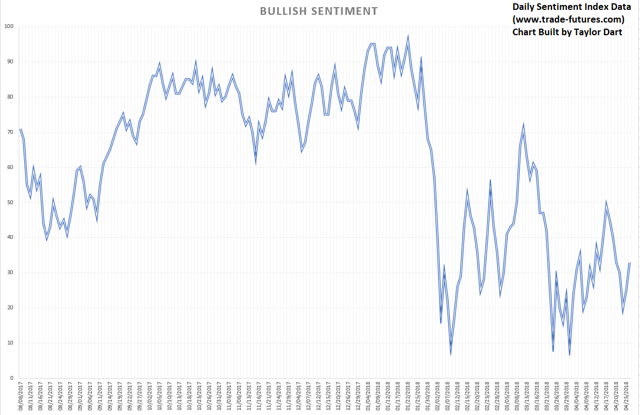 (Source: Daily Sentiment Index Data, Author's Chart)
Based on the current reading look at Daily Sentiment Index Data from the charts I build for myself and subscribers, we have made significant progress from the crowded bullish trade in late Q4/early Q1, but we're not yet at extremes. This does not mean the market cannot bottom based on current readings, but the odds suggest we may still need to shake out a few more bulls.
AAII Investor Sentiment Survey Data
Moving on to AAII Investor Sentiment Survey Data below, we can see the past four weeks of data going from the bottom right corner (least recent) to the top left corner (most recent). As of the April 4th close while the S&P 500 (SPY) sat at 2644, we had a reading of 36.6% bears, and 32% bulls (rounded). This was a decent reading as bears were climbing and bullish sentiment was well below its historical average of 38.5% bulls. The next week the bulls received a welcome surprise as bulls dropped all the way down to 26% bulls and bears flooded into the market to register a reading of 43% bears (rounded). This was a great sign for the market and there was now a wall of worry to climb and this is often a key ingredient in setting up durable bottoms. The issue came the week before last and this week as bearish sentiment plummeted from 43% bears to 25.6% bears, nearly halving the amount of participants in the bear camp.
This is not a contrarian bearish sign, but it has moved AAII Sentiment Survey data from a contrarian bullish signal back to neutral. While bullish sentiment is nowhere near over-heated and still below its historical average, bearish sentiment is quite subdued. Once again, this does not mean the market cannot move higher because of this reading. This is simply not ideal for the bulls as the reading has eroded from bullish to neutral based on my analysis.
Despite the market moving from 2663 to 2639 (a drop of 1%) between the reading dates, there are fewer bears present. This tells me that a little bit of complacency is returning to the market or at the minimum, market participants are not all that scared. Sentiment has clearly made a large step in the right direction from 50%+ bulls and less than 20% bears in January, but to say we're at extreme pessimism here would be a blatant lie. This reading was looking exceptional from a contrarian bullish standpoint two weeks ago and has now eroded to mediocre at best.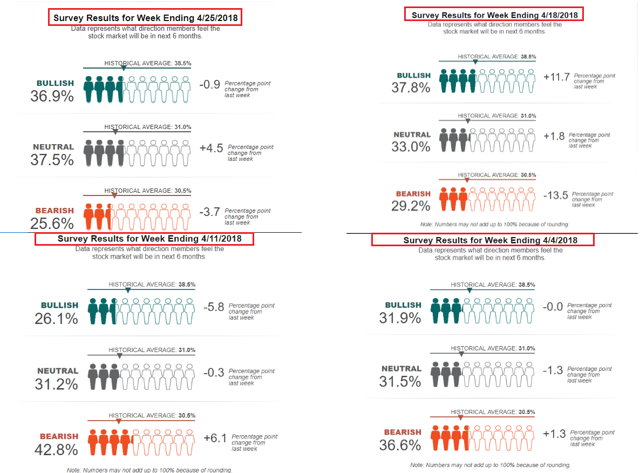 (Source: AAII Sentiment Survey Data)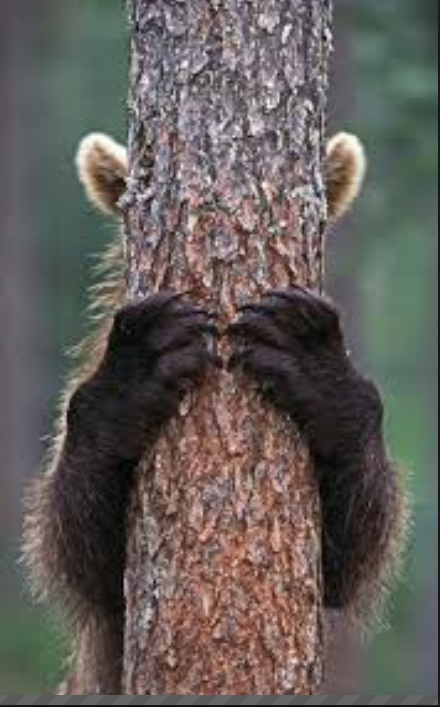 NAAIM Exposure Index
Finally moving over to the NAAIM Exposure Index, we can see that exposure is near a 2-year low. Before going into more analysis on the indicator, it's worth noting how the data is derived.
The range of responses that active managers can state for their positioning is as follows:
Range of Responses:
200% Leveraged Short
100% Fully Short
0% (100% Cash or Hedged to Market Neutral)
100% Fully Invested
200% Leveraged Long
(Source: NAAIM Exposure Index)
As we can see from the below chart, it's extremely rare that we would ever be at a 0 reading as this would mean that active managers are 100% in cash or fully hedged. Given the fact that most funds and institutions are required to at a minimum hold a certain level of long exposure, it would be extremely rare to ever see this fall into negative or near zero levels. For this reason, I treat readings of sub-50 as significant as this means that active managers are 50% cash or more on average.
Taking a look at the below chart, it is evident that active managers on average had nearly 100% exposure in Q4 and briefly went leveraged long. This was an extremely significant contrarian indicator and a good reason to be holding at least some cash. When the average active manager is fully invested and approaching margin on the market, there's likely not much further progress the market can make in the short term.
Since the extreme reading we saw in late Q4, active exposure has tumbled from nearly 100% to closer to 65%. This means that the average active manager surveyed is either hedged or holding 35% cash or more. This is much more reasonable levels than we had three months ago and it shows that active managers are playing some defense. While the statistic that this is the lowest reading in two years may sound very significant, it's less significant when comparing this reading to where we were sitting in the Q4 2015/Q1 2016 correction and the Q4 2014 "Ebola Correction." During the Ebola Correction and the Q4 2015 through Q1 2016 corrections the market retreated by roughly 10% or more and NAAIM Exposure retreated to 40% in Q4 2014 and nearly 20% in Q1 2016. Despite this correction being of the same magnitude and actually larger than the Ebola correction, there is less fear out there.
As mentioned with all of the other sentiment indicators above, this does not mean that the market cannot bottom due to us not being an extreme. Having said that, I would prefer to see NAAIM Exposure at slightly lower levels and not just above the historical average reading here. A drop beneath the 50% level on NAAIM Exposure Index would be more significant and would set up a more reliable bottoming setup on the markets if we were to get one.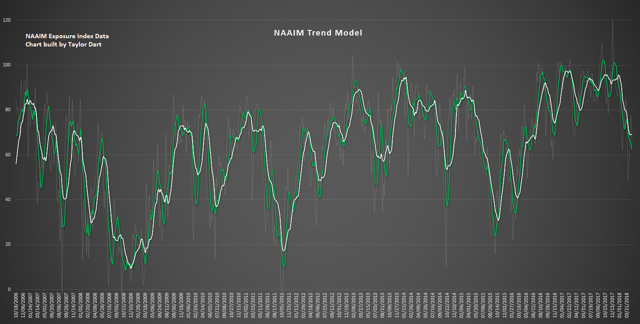 (Source: NAAIM Exposure Index, Author's Chart)
Based on all of the above indicators, we are not at levels where durable bottoms after 10% or larger corrections have been formed in the past. This does not by any means mean that we cannot bottom here and we have not already bottomed at 2533 SPX, but those suggesting that sentiment is at extreme levels are misinformed. The best thing for the bulls would be another month or so of chop or even a return closer to the market lows as this would likely wash out bullish sentiment and place it closer to levels where more durable bottoms are more often formed.
Based on the above data I have started to dip my toes back in the proverbial market water, but am not interested in getting too aggressive just yet with my overall exposure. I am, however, actively looking for new opportunities to move this exposure up slightly as long as the individual setups are there. Of course, it's not as simple as just putting exposure back on in a stock-picker's market like we've found ourselves in currently. This is why I'm being picky and patient with new setups as I'm trying to position myself in what names have the highest probability of becoming the new market leaders like KLX Inc. (KLXI) and WildHorse Resource Development (WRD), not buying the old market leaders where much of the easy money has already been made.
Disclosure: I am/we are long SPY, KLXI, WRD.
I wrote this article myself, and it expresses my own opinions. I am not receiving compensation for it (other than from Seeking Alpha). I have no business relationship with any company whose stock is mentioned in this article.
Additional disclosure: If you liked this article and found it useful, please feel free to follow me by clicking on my name next to my avatar at the top of this article. I also invite you to check my performance at TipRanks.com where I am ranked in the Top 100 Contributors for performance.