(Update 04/30/18 1:00 PM ET) A new movement in Synergy Pharmaceuticals (SGYP) is quickly gaining traction as more than 190 shareholders who collectively own 8.2 million shares have pledged to support an activist investor to take control of the company. This large group is asking fellow shareholders to pledge support for an activist campaign in the company. They have reached out to both Carl Icahn and Bill Ackman to help their cause.
I recommend investors buying a speculative position as well as to consider participating in the group to put more pressure on management to deliver results. The bigger the group is, the more likely an activist would be to pursue a stake in the company.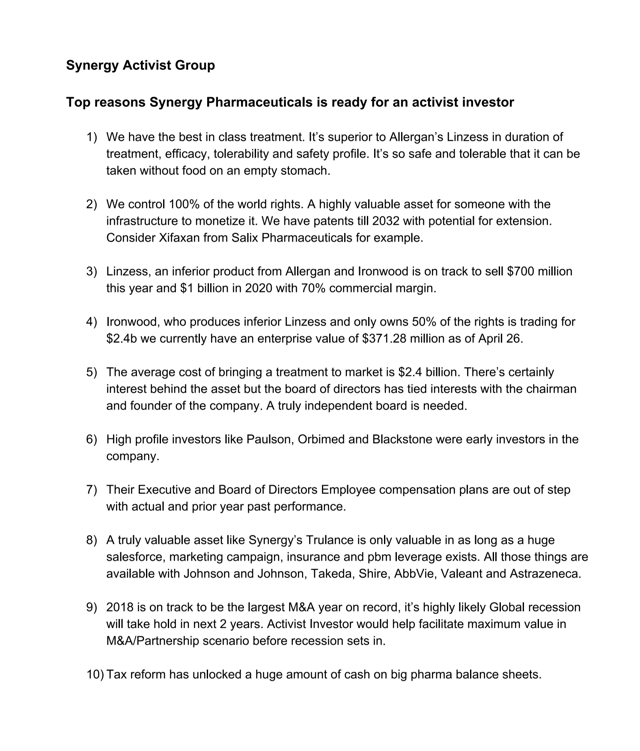 Source: Synergy Activist Group
True Value Behind the Company
There's true value behind the shares that could potentially be unlocked if an activist were to be involved. Consider this: on average, a company spends $2.6 billion to bring a new therapy to market. Synergy has an enterprise value of less than $400 million. There's certainly interest in the asset, but management fails to capitalize on it.
Troy still gets a pass. The Board certainly does not.
Perhaps on my last article, I was too critical on the performance of Troy Hamilton, and I should at least give him credit for opening up the door for a possible partnership. But Gary Jacobs, the chairman of the company has yet to give shareholders an answer for why a partnership hasn't been established or the company sold. To see how unsatisfied shareholders are, it will just suffice to see the comments section of my last article. In general, shareholders are all voting against all the proposals of management except for the accounting firm and keeping Troy Hamilton on the Board.
Deaf ears of management: Sell the company or partner up
I think the biggest risk for new and old investors is that management is deaf and not listening to what investors want. When founder Gary S. Jacobs went to the capital markets to raise money for his venture, he should have known there's a silent agreement between private capital and talent which is: "We will give you money so that we both make money." Chairman Jacobs has already forgotten that private capital trusted him to hold up his end of the bargain.
Investors don't want Synergy to continue going alone.
The uncertainty, the fears of dilution, the lack of leverage with insurance companies aren't what investors in this company signed up for and management should listen carefully.
Management words: We will rather dilute than take a deal
The following is an excerpt from the recently filed Annual report of the company via a 10-K Form. (F9 Basis of Presentation, Accounting, ...)
"To the extent that Synergy may need to raise additional funds by issuing equity securities, Synergy's stockholders may experience significant dilution. Any debt financing, if available, may involve restrictive covenants that impact Synergy's ability to conduct business. If Synergy is unable to raise additional capital when required or on acceptable terms, Synergy may have to (i) significantly scale back our commercialization efforts ; (ii) seek commercial partners for our products on terms that are less favorable than might otherwise be available; or (iii) relinquish or otherwise dispose of rights, on unfavorable terms, to technologies, product candidates or products that Synergy would otherwise seek to develop or commercialize itself."
The wording for me continues to sound like they want to go alone. They refuse on partnering up and they are going to keep trying until the very last minute regardless of the uncertainty that creates. I would love to know your thoughts.
Complete Launch Failure
At this point in time, Linzess was already at 23,000 Rxs per week with its 1,500 sales force behind it. I know many will say we only have 200 and if we divide 23,000 by 1,500, we actually have a better average per sales rep.
But it's worthless and pointless to say that because it's not about comparative averages but about absolute averages. How much penetration in the market they have and how fast they commercialize Trulance is all that matters. 50% of 23,000 Rxs is better than 100% of 3,000 Rxs.
Investors should not have a let's give management an "A" for effort attitude. There was interest from Takeda (OTCPK:TKPYY) in January 2017, but management failed to close a deal. Now investors can only hope shares will ever trade at $6 when the offer was made.
Vote no against more compensation.
Don't let management continue to award grants, pay the CFO a tremendous amount of money, etc. Austerity is needed at the company. Shareholders never asked for a going alone strategy. If retaining employees is a challenge, then management should just sell the company and move on.
Trulance is more valuable on someone else's hand. It's just that simple.
One more time, the biggest risk is dilution
The biggest risk I see is that management hasn't publicly committed to never again make dilution an option. Not once they have said it was a bad idea to dilute. They haven't taken a hit with their pay as shareholders have had with their investment. In other words, management isn't shareholders friendly and that's the biggest risk to investing in Synergy Pharmaceuticals.
Disclosure: I am/we are long SGYP.
I wrote this article myself, and it expresses my own opinions. I am not receiving compensation for it (other than from Seeking Alpha). I have no business relationship with any company whose stock is mentioned in this article.
Additional disclosure: Consult a registered professional investment advisor before investing.