Introduction
I present three deep value companies with strong financial positions and the potential for 20-61% returns with in two years.
Micron Technology Inc. (MU), Teck Resources Limited (TECK) and Foot Locker Inc. (FL) are companies with widely different operations and equally different price action in the past year. Regardless of price action each company is deeply undervalued and are currently out of favor. These companies provide unique investment opportunities each with different potential catalysts.
We all have probably heard the famous quote,
"In the short run, the market is a voting machine but in the long run, the market is a weighting machine." -Benjamin Graham
I can think of no quote that more accurately represents the dynamic situation of these three companies.
When neglect turns to love, and mean reversion begins these companies will benefit. The bears are unjustly punishing Micron, Teck Resources and Foot Locker; this article highlights the companies' value and disproves many of the negative narratives hurting their stock price.
Income Valuation
There are many ways to value a company. The Enterprise Value (EV)/Earnings Before Interest & Taxes multiple is commonly compare companies. Enterprise Value (EV) best reflects the price of owning the business as a whole. EBIT, Earnings Before Interest & Taxes is a measure of income that standardizes earnings independent of capital structure and taxes which allows comparison across industries.
The famous Magic Formula by value investor Joel Greenblatt known for producing above average returns uses Earnings Yield (EBIT/EV) the same valuation metric as EV/EBIT only with the numerator and denominator flipped.
Even with the negative market sentiment surrounding these companies I find it hard to believe they are price at fair value considering their industry average EV/EBIT multiples. I certainly don't believe they deserve an industry average valuation, but they don't deserve this much fear and loathing. Over-pessimism is unjustly punishing their valuations creating an excellent opportunity for multiple appreciation when market sentiment changes.
| | | | | | | | | |
| --- | --- | --- | --- | --- | --- | --- | --- | --- |
| | Share Price | EV | EBIT (TTM) | EV/EBIT | Industry Average EV/EBIT | Current Earnings Yield | Fair Value EV (8*EBIT) | EV Upside |
| Micron | $ 47.52 | 61.11 | 10.78 | 5.67 | 17.05 | 17.64% | 86.24 | 41% |
| Teck | $ 24.61 | 18.97 | 3.45 | 5.49 | 13.94 | 18.21% | 27.63 | 46% |
| Foot Locker | $ 44.41 | 5.20 | 0.57 | 9.11 | 16.16 | 10.98% | 4.57 | -12% |
| Foot Locker* | $ 44.41 | 5.20 | 0.78 | 6.65 | 16.16 | 15.04% | 6.26 | 20% |
| | | | | | |
| --- | --- | --- | --- | --- | --- |
| EV/EBIT = 8 | Market Cap | EV-MKT Cap | MKT Cap | Share Price | Equity Upside |
| Micron | 55.11 | 6 | 80.24 | $ 69.19 | 46% |
| Teck | 14.11 | 4.86 | 22.77 | $ 39.72 | 61% |
| Foot Locker | 5.24 | -0.04 | 4.61 | $ 39.05 | -12% |
| Foot Locker* | 5.24 | -0.04 | 6.30 | $ 53.36 | 20% |
| | | | | |
| --- | --- | --- | --- | --- |
| EV/EBIT = 7 | EV | MKT CAP | Share Price | Equity upside |
| Micron | 75.46 | 69.46 | $ 59.89 | 26% |
| Teck | 24.18 | 19.32 | $ 33.69 | 37% |
| Foot Locker | 4.00 | 4.04 | $ 34.21 | -23% |
| Foot Locker* | 5.47 | 5.51 | $ 46.73 | 5% |
All Data is in USD (Billions) except per share data, Data as of Friday April 27th Close
*Excluding Unusual Expenses
Data source: Seeking Alpha
Micron is still growing their top and bottom lines while many are concerned how much the stock will be crushed on the cyclical downswing. Right now, it's a guessing game exactly when and where the market will peak in the cyclical sector. Someone might accurately foresee the top and bottom but predicting the future is the business of the brave and sometimes foolish. What I know is that Micron is undervalued based on data. Eight is a fair multiple for the company considering fears of oversupply are continually dismissed. An EV/EBIT multiple of 8 implies a 46% upside and share price of $69.19 before hitting fair value. Personally, I think fears of the semiconductor cycle are overestimated and demand coming from several drivers will continue to surprise the market but should be account for. If an EV/EBIT multiple of 7 is applied instead Micron has a 26% upside priced at $59.89 per share. Sentiment for Micron might take a while to materialize but the stock could go on a run anytime like it did in 2017. In the meantime, I will happily hold my shares; Micron will likely have another outstanding year making two consecutive years of record profits.
Teck Resources is benefiting from the cyclical upswing in commodity prices, mainly steel making coal and copper after years of drudging through. The company remains undervalued even with the stock appreciating 22% form a year ago. Teck's 2017 EBIT of $3.454 billion US is more than triple the 5-year EBIT average of $1.02 billion US. The company trades significantly below their industry average valuation with solid and semi-diverse operations. With an EV/EBIT of 5.49 it is one of the cheapest large caps traded in North America. Applying a fair value EV/EBIT multiple of 8 the commodity producer has an upside of 64% and a share price of $39.72. Since Teck is near the top of its cycle a multiple of 7 is more conservative, reducing the upside to 37% and share price to $33.69.
It's remains uncertain how long the company will benefit from increased steel making coal prices and the rebound in copper prices. Production estimates, pricing and cash cost for 2018 is strong for their main products coal, copper and zinc. Teck will be a major benefactor from the commodity super-cycle. Their 20.89% stake in the Fort Hills oil sands mining and processing operation diversifies their revenue stream and provides growth. Fort Hills will be running at full capacity by the end of the year. Sustained commodity pricing will provide investors confidence which I see translating to increased value.
Foot Locker is one the most recognizable specialty retail brands. Doubts about the company's ability to grow, competition, an outdated business model, the shift to e-commerce and pension litigation have put a damper on investor sentiment and valuation.
Regardless Foot Locker is a solid business at a cheap price. Their EV/EBIT is 9.11 and normalized it sits at a lowly 6.65 which implies an Earnings Yield of 15.04%. The company is valued significantly less than their industry average and what I believe to be fair value. Foot Locker deserves an EV/EBIT multiple of 8, and with its current earnings the company should trade a $53.43 a share, 20% more than its current share price. If a multiple of 7 is used the margin of safety disappears, and reduces the upside potential to only 5% with a fair value share price of $46.73.
Most concerns are legitimate specifically their pension litigation which Foot Locker wrote off $128 million in the fourth quarter to cover the liability. The pension litigation and reorganization charges reduced their profit by $191 million in 2017. Foot Locker has covered all current costs of the settlement but may in addition need to pay interest to the plaintiff. Their pension plan is solid with a small asset surplus and a conservative discount rate of 3.7% to 4%. Many are fearful of the company's ability to remain relevant in the future which a valid concern considering their ultra-competitive market and shifting preferences to e-commerce. Foot Locker may not look like it right now, but the company is a cash cow trading at a very low valuation; once their pension litigation is settled expect to see their earnings per share back in the $4 to $5 range.
Balance Sheet Health
(Cash - Long-Term Debt) / Free Cash Flow is the metric used to determine how long it would take for a company to eliminate their Long-Term Debt. Cash minus Long-Term Debt calculates the companies' Net Long-Term Debt position assuming account receivables and payables are an ordinary part of the company's business. Free Cash Flow (FCF) quantifies the amount of cash that operations produce and could be used freely to reduce debt. Many analysts use Long-Term Debt divided by EBITDA, I believe FCF is a more appropriate denominator as it includes the corresponding capital expenditures to replace asset depreciation.
| | | |
| --- | --- | --- |
| | Net Debt (Cash - Long-Term Debt) USD (Billions) | Years Required to repay Net Debt (Long-Term Debt - Cash) / FCF |
| Micron | 0.23 | NA |
| Teck | -4.08 | 1.54 |
| Foot Locker | 0.73 | NA |
Data source: Seeking Alpha
Micron has a robust balance sheet, with about $8.5 billion of long-term liabilities, their cash account is $8 billion large but their interest bearing long term debt is only $7.81 billion. Theoretically Micron could pay down their long-term debt with their cash account. I highly doubt Micron would use their cash in this way. Micron will be using a good portion of this cash (Billions) to finance construction of their third NAND fab facility in Singapore. Micron will use a few billion to construct their new facility which will mostly be paid for from free cash flow generation from now until the summer of 2019 when it opens and their large cash account. Micron should reduce their long-term debt gradually and retain a high cash balance to ensure financial resilience for when the semi-conductor cycle bottoms out.
Teck Resources is in the most leveraged of the three examined but their credit has been upgraded by Moody's four times since October 27th 2016, most recently April 18th to Ba1 with a stable outlook.
"Teck's ratings have been upgraded because the company continues to generate strong free cash flow and its excellent liquidity provides cushion for commodity price volatility", said Jamie Koutsoukis, Moody's Vice President, Senior Analyst.
Further consideration should be given to Teck's long-term liabilities. Their long-term debt accounts for only $5.02 billion of their $11.89 billion of total long-term liabilities. Teck has $4.51 billion in deferred taxes which likely never truly be paid, $426 million for provision of risks & charges and $1.44 billion of other liabilities. With Teck's free cash flow and capital expenditures for 2018 is expected to remain approximately the same as 2017. Teck could eliminate their long-term debt in as little as a year and half by applying all of their free cash flow.
Foot Locker's cash balance outweighs their long-term liabilities providing a margin of safety. Not only could Foot Locker easily eliminate their long-term debt they have enough cash to cover their long-term liabilities. Their long-term debt rings the register for a minimal $125 million and a heftier $318 million is recorded for risks and provisions. Of the three companies Foot Locker's balance sheet is the strongest with $7.09 of cash per share.
Rewarding Shareholders
Lastly each company is analyzed by the return they give to shareholders. Combing their share buyback yield and dividend yield gives us return to shareholders. It is always interesting to examine how a company's management decides to reward shareholders. The timing of buybacks can indicate whether management believes their stock is undervalued or merely be a result of excess free cash flow and little opportunities for reinvestment.
| | | | |
| --- | --- | --- | --- |
| | Buyback Yield % | Dividend Yield % | Shareholder Yield % |
| Micron | -2.89% | 0 | -2.89% |
| Teck | 0.03% | 0.78% | 0.81% |
| Foot Locker | 9.53% | 3.00% | 12.53% |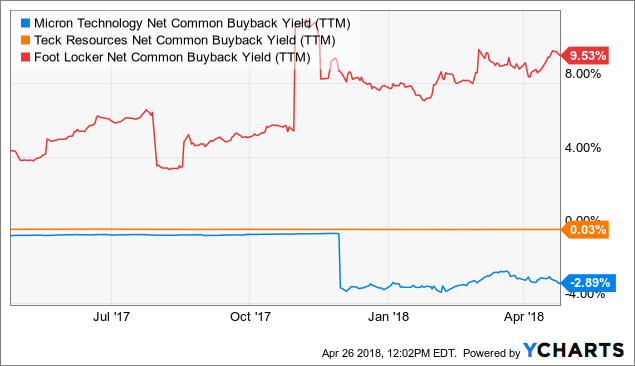 Micron's net common buybacks do not paint the full picture, their share count continues to increase from the dilutive effects of equity plans and convertible notes. Year over year the diluted weighted average share count increased 6.72%, an unappealing amount to the outside investor. Micron's record year brought more profit than many were expecting but the effects of convertible notes diluted future earnings. Diluting their share base compound, the negative effect of reduced earnings on their share price when Micron's products experience the downtrend from their market cycle. Not paying a dividend clearly indicates management believes their return on capital for new projects is greater than the return on capital they could find elsewhere in the market.
Teck like many other miners has an unstable dividend history. Teck shareholders in the past were rewarded generously, today dividends have been cut to a bare minimum. Their regular base dividend is currently a paltry $0.05 Canadian ($0.039 US) per quarter.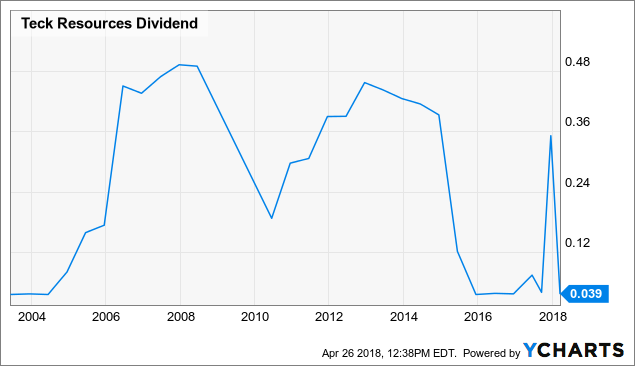 Management is more focused on maintaining a healthy balance sheet, increasing their credit rating and reducing risk to shareholders via deleveraging. After being hit hard from an extended slump in steel-making coal prices earlier this decade Teck is maintaining a consistent capital expenditure program and diversifying its operations with their Fort Hill's Oil play. For Teck reducing risk for shareholders out weights reward.
Foot Locker has increased shareholder value tremendously through buybacks and dividends. The total shareholder return is a staggering 12.53%. Many see the company as a dead-end business. New capital projects and expansion is not in the cards for the company. Unless their business model is revamped, and the company can change directions I suspect their same store count will decrease gradually or remain equal over the long-term. Regardless the company is currently a cash cow. Foot Locker is buying back shares while they are cheap, accelerating shareholder value. Richard Johnston, Foot Lockers CEO increased his common stock holdings of the company by more than 10% less than a month ago indicating undervaluation. Foot Locker's dividend payments are another effective way to distribute their abundant free cash flow with the lack of reinvestment opportunities. Even with a stagnant business I expect Foot Locker's eps to remain in the $4-$6 range from aggressively retiring common shares. Foot Locker is a unique investment opportunity.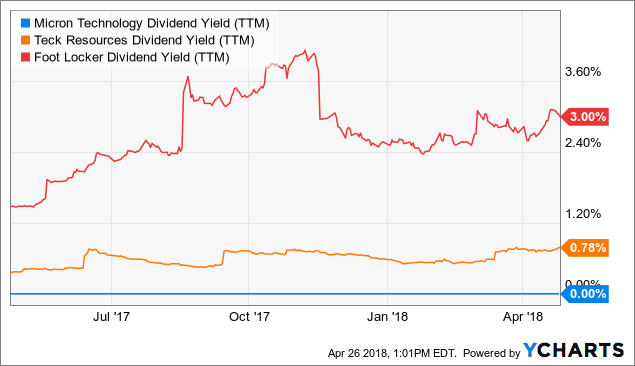 Conclusion
Micron, Teck Resources and Foot Locker provide excellent investment opportunities with upsides ranging from 20% to 64% based on an EV/EBIT multiple of 8 and more conservatively 5% to 36% based on an EV/EBIT multiple of 7. These companies' very low EV/EBIT valuations create the potential for large gains while losses are minimized by their healthy balance sheets. Even with an expensive market these companies are absolutely cheap, very few companies can be found trading at such a discount to the market and their peers.