The 3% Yield That Really Matters
Includes:
BIL, CLTL, CORP, CSI, CWAI, DFVL, DFVS, DLBL-OLD, DLBS, DTUL, DTUS, DTYL, DTYS, EBND, EDD, EDF, EDI, EDV, EGF, ELD, EMAG, EMB, EMBH, EMBU, EMD, EMLC, EMSH, EMTL, ESCR, ESEB, FCOR, FEMB, FIBR, FLAT, FTT, GBIL, GHI, GOVT, GSY, HYDD, IBD, IBDS, IEF, IEI, IGEB, IGEM, JEMD, LEMB, LQD, MLQD, MSD, PCY, PLW, PST, QLTA, RISE, SBW, SCHO, SCHR, SHV, SHY, SPBO, SPTI, SPTL, SPTS, STPP, TAPR, TBF, TBT, TBX, TEI, TLH, TLT, TMF, TMV, TTT, TUZ, TYBS, TYD, TYNS, TYO, UBT, USIG, UST, USTB, VGIT, VGLT, VGSH, VTC, VUSTX, VWOB, WFIG, ZROZ
by: Richard Turnill
Key points
We see higher short-term U.S. rates having a profound impact: Investors can now earn returns in excess of inflation while taking on much less risk.
The U.S. 10-year Treasury yield hit a four-year high of 3%. U.S. stocks slid despite strong earnings reports, but recovered later in the week.
We expect a solid U.S. employment report this week. The Federal Reserve is expected to deliver an upbeat message on the economy.
The 10-year U.S. Treasury yield touched 3% last week for the first time in more than four years - inciting much hand-wringing. Yet, this overshadowed a similar milestone that we believe is of far greater significance to investors: Yields on short-term U.S. investment grade (IG) corporate bonds also hit 3% - an eight-year high.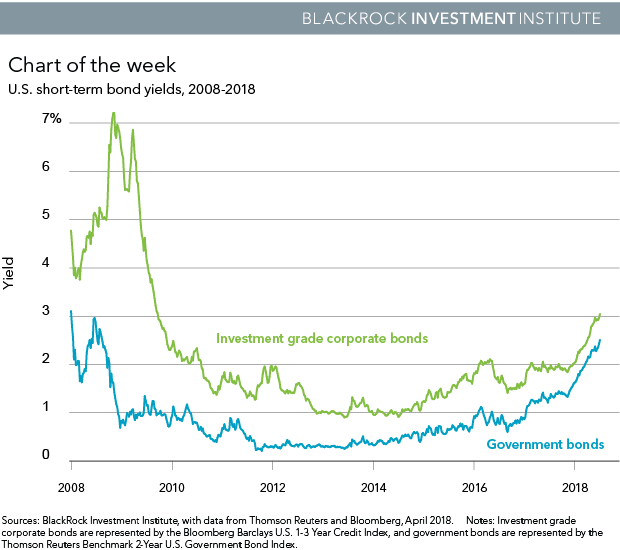 Rock-bottom short-term interest rates over the past decade have driven income-hungry investors to riskier assets in search of higher yields. The chart above shows that yields on short-term IG corporate bonds have mostly languished below 2% since 2010 while two-year Treasury yields have hobbled below 1%. Yields on both have increased this year, with the corporate bond yield breaking above 3% and Treasury yield rising to just shy of 2.5%.
Investors can earn positive after-inflation returns from these bonds for the first time since the global financial crisis. To be sure, rates are much lower in developed markets outside the U.S. Yet greater competition for capital from U.S. shorter-duration bonds has implications across asset classes.
"Safe" income makes a comeback
Rising confidence in the economy - and in the Federal Reserve's resolve to press ahead on its normalization path - has helped drive up yields in the U.S. fixed income market, especially on the front end. One implication: "safe income" is back. Investors no longer need to take on as much risk to generate enough return to preserve purchasing power. A lack of lower-risk income sources since the financial crisis forced investors toward riskier assets, raising the demand for these assets amid relatively fixed supply. The result: higher prices for riskier assets like equities and tighter spreads for high yield and emerging market (EM) bonds. The increase in wealth and accommodative financial conditions stimulated spending and investment.
What happens as this process kicks into reverse amid rising rates? With the rise in short-term yields, we see assets closest to Treasuries repricing first as the competition for capital heats up. Rising rates, increased economic uncertainty and the return of market volatility have driven the spreads on other perceived "safe" short-dated assets, such as IG credit, wider. This has made such assets more attractive. We also see the yield curve steepening: Rising Treasury issuance and less buying from the Federal Reserve should lead to higher long-term yields. Firming inflationary expectations could add to these curve-steepening pressures.
Rising rates have been a key driver in the recent repricing of risk assets and bouts of volatility, but there are other factors at play. The sustained and steady economic expansion is supporting strong corporate earnings growth globally, underpinning our preference for equities. We expect rates to rise, but plentiful global savings to help limit the extent. This should remain a favorable environment for risk-taking, we believe. Yet more competitive returns from "safe" assets imply muted returns on risk assets. We see future returns driven primarily by income in fixed income and earnings growth in equities, rather than by a rerating spurred by a decline in rates and risk.
The U.S. 10-year Treasury yield hit a four-year high of 3%. Strong U.S. equity earnings were initially met with a poor market reaction, though share prices rebounded later in the week.
The European Central Bank stood pat. President Mario Draghi expressed confidence in the eurozone's solid economic growth but cited escalating trade tensions and the recent soft patch in economic data as risks. The region's composite purchasing managers' index (PMI) held steady.
U.S. data confirmed a moderate pace of economic growth in the first quarter. Labor costs rose faster than expected, and consumer confidence climbed to its second-highest level since 2000.
Global snapshot
Weekly and 12-month performance of selected assets
| Equities | Week | YTD | 12 Months | Div. Yield |
| --- | --- | --- | --- | --- |
| U.S. Large Caps | 0.0% | -0.1% | 11.8% | 2.0% |
| U.S. Small Caps | -0.5% | 1.7% | 11.2% | 1.2% |
| Non-U.S. World | -0.4% | 0.2% | 15.5% | 3.2% |
| Non-U.S. Developed | -0.2% | 0.7% | 14.3% | 3.3% |
| Japan | 0.2% | 1.8% | 18.8% | 2.2% |
| Emerging | -0.1% | 0.3% | 20.6% | 2.8% |
| Asia ex-Japan | -0.8% | 0.1% | 22.1% | 2.6% |
| Bonds | Week | YTD | 12 Months | Yield |
| --- | --- | --- | --- | --- |
| U.S. Treasuries | 0.1% | -2.1% | -1.1% | 3.0% |
| U.S. TIPS | 0.1% | -1.1% | 0.2% | 3.0% |
| U.S. Investment Grade | -0.1% | -3.3% | 0.7% | 3.9% |
| U.S. High Yield | -0.4% | -0.2% | 3.4% | 6.3% |
| U.S. Municipals | -0.4% | -1.6% | 1.4% | 2.8% |
| Non-U.S. Developed | -1.4% | 1.3% | 7.8% | 0.8% |
| Emerging Market $ Bonds | -0.7% | -3.1% | 1.5% | 6.0% |
| Commodities | Week | YTD | 12 Months | Level |
| --- | --- | --- | --- | --- |
| Brent Crude Oil | 0.8% | 11.6% | 45.1% | $74.64 |
| Gold | -0.9% | 1.6% | 4.7% | $1,324 |
| Copper | -2.8% | -6.2% | 19.4% | $6,797 |
| Currencies | Week | YTD | 12 Months | Level |
| --- | --- | --- | --- | --- |
| Euro/USD | -1.3% | 1.0% | 11.6% | 1.21 |
| USD/Yen | 1.3% | -3.2% | -2.0% | 109.05 |
| Pound/USD | -1.6% | 2.0% | 6.8% | 1.38 |
Source: Bloomberg. As of April 27, 2018.
Notes: Weekly data through Friday. Equity and bond performance are measured in total index returns in U.S. dollars. U.S. large caps are represented by the S&P 500 Index; U.S. small caps are represented by the Russell 2000 Index; Non-U.S. world equity by the MSCI ACWI ex U.S.; non-U.S. developed equity by the MSCI EAFE Index; Japan, Emerging and Asia ex-Japan by their respective MSCI Indexes; U.S. Treasuries by the Bloomberg Barclays U.S. Treasury Index; U.S. TIPS by the U.S. Treasury Inflation Notes Total Return Index; U.S. investment grade by the Bloomberg Barclays U.S. Corporate Index; U.S. high yield by the Bloomberg Barclays U.S. Corporate High Yield 2% Issuer Capped Index; U.S. municipals by the Bloomberg Barclays Municipal Bond Index; non-U.S. developed bonds by the Bloomberg Barclays Global Aggregate ex USD; and emerging market $ bonds by the JP Morgan EMBI Global Diversified Index. Brent crude oil prices are in U.S. dollars per barrel, gold prices are in U.S. dollar per troy ounce and copper prices are in U.S. dollar per metric ton. The Euro/USD level is represented by U.S. dollar per euro, USD/JPY by yen per U.S. dollar and Pound/USD by U.S. dollar per pound. Index performance is shown for illustrative purposes only. It is not possible to invest directly in an index. Past performance is not indicative of future results.
Asset class views
Views from a U.S. dollar perspective over a three-month horizon
Asset Class
View
Comments
Equities
U.S.
Extraordinarily strong earnings momentum, corporate tax cuts and fiscal stimulus underpin our positive view. We like the momentum and value style factors, as well as financials and technology.
Europe
We see economic expansion and a steady earnings outlook supporting cyclicals. Our neutral stance acknowledges that earnings momentum lags other regions. Euro strength also is a source of pain.
Japan
Positives are improving global growth, more shareholder-friendly corporate behavior and solid earnings. We see Bank of Japan policy and domestic investor buying as supportive. Further yen strengthening would be a risk.
EM
Economic reforms, improving corporate fundamentals and reasonable valuations support EM stocks. Above-trend expansion in the developed world is another positive. Risks include a sharp rise in the U.S. dollar, trade tensions and elections. We see the greatest opportunities in EM Asia. We like Brazil and India, and are cautious on Mexico.
Asia ex Japan
The economic backdrop is encouraging. China's growth and corporate earnings appear likely to remain solid in the near term. We like selected Southeast Asian markets but recognize a faster-than-expected Chinese slowdown would pose risks to the entire region.
Fixed Income
U.S. government bonds
We see rates rising moderately amid economic expansion and Fed normalization. Shorter maturities offer a more compelling risk/reward tradeoff. They and inflation-linked securities can be buffers against rising rates and inflation. We like 15-year mortgages relative to their 30-year counterparts and to short-term corporates.
U.S. municipals
Solid retail investor demand and muted supply are supportive of munis, but rising rates weigh on absolute performance. A more defensive stance is warranted near term, we believe, though any material weakness due to supply may represent a buying opportunity. We favor a barbell approach focused on two- and 20-year maturities.
U.S. credit
Sustained growth supports credit, but high valuations limit upside. We prefer up-in-quality exposures as ballast to equity risk. Higher-quality floating rate instruments and shorter maturities are well positioned for rising rates, in our view.
European sovereigns
The ECB's negative interest rate policy has made yields unattractive and vulnerable to the improving growth outlook. We expect core eurozone yields to rise. We are cautious on peripherals given tight valuations and the prospect of the ECB reducing its asset purchases.
European credit
Recent spread widening driven by increased issuance has created some value, while ongoing ECB purchases should support the asset class. Negative rates have crimped absolute yields - but rising rate differentials make currency-hedged positions increasingly attractive for U.S.-dollar investors. Subordinated financial debt looks less compelling versus equities.
EM debt
Gradual Fed rate rises favor local-currency exposures - particularly given their higher yields relative to major bond markets. A shift by EM central banks toward tighter policy reduces our return expectations. We see solid fundamentals and investor inflows limiting EM currency volatility.
Asian fixed income
Regional growth and inflation dynamics are supportive of credit. China's rising representation in the region's bond universe reflects its growing credit market. Higher-quality growth and a focus on financial sector reform are long-term positives, but any China growth slowdown would be a near-term challenge.
Other
Commodities and currencies
*
Declining global crude inventories underpin oil prices, with geopolitical tensions providing further support. We are neutral on the U.S. dollar. The factors driving its recent slide are likely temporary, but it's unclear when the U.S. yield differential with other economies will reassert itself as the main driver.

* Given the breadth of this category, we do not offer a consolidated view.
This post originally appeared on the BlackRock Blog.