Denbury's Improving Long-Term Outlook
Summary
I had mentioned that Denbury's long-term prospects would be positive with $60+ oil.
WTI futures are now averaging around $62 in 2019, allowing Denbury to potentially hedge at favorable prices.
It doesn't benefit that much from rising 2018 prices due to its current hedges, but has only 10,000 barrels per day in 2019 hedges as of last report.
Denbury could reduce its debt to around $2.3 billion by the end of 2019 at current strip prices.
This would result in estimated leverage of approximately 3.2x, putting Denbury into position to deal with its 2021 to 2023 debt maturities.
Denbury Resources (DNR) is a company that will benefit substantially in terms of survival prospects if oil prices continue to remain in the $60s. It is mostly hedged for 2018, so the high oil prices this year only provide partial benefit for the company. However, if oil prices remain strong into 2019 (where the current strip is at $62), Denbury's leverage situation should improve significantly.
Denbury is not out of the woods yet, but the current situation appears favorable for it.
New 2018 Projections
At an average of $66 WTI oil, Denbury's oil and gas revenues are now expected to be around $1.46 billion, which is an improvement of $131 million from $60 WTI oil. However, Denbury's 2018 hedge value is now expected to be negative $188 million, a decline of $96 million from its value at $60 WTI oil. I am assuming that Denbury's oil differential remains at around $0.40 above WTI oil, which appears consistent with LLS oil trading at a several dollar premium to WTI over the rest of the year.
This results in estimated revenues of $1.307 billion net of hedges for Denbury.
| | | | |
| --- | --- | --- | --- |
| | Units | Price Per Unit | Revenue ($ Million) |
| Oil (Barrels) | 21,837,950 | $66.40 | $1,450 |
| Natural Gas [Mcf] | 4,752,300 | $2.20 | $10 |
| Net Other | | | $35 |
| Hedge Value | | | -$188 |
| Total | | | $1,307 |
Denbury's cash expenditures are estimated at $1.204 billion, resulting in estimated positive cash flow of $103 million during the year.
| | |
| --- | --- |
| | $ Million |
| Lease Operating Expense | $475 |
| Marketing Expenses | $50 |
| Production Tax | $116 |
| Cash G&A | $70 |
| Cash Interest | $180 |
| Capital Expenditures | $313 |
| Total | $1,204 |
This is an improvement of $25 million when I last looked at Denbury at around $60 WTI oil for the year.
Denbury only partially benefits from the improvement in 2018 oil prices though since it has substantial hedges for 2018. The $131 million increase in revenues from the $6 increase in WTI oil prices is offset by a $96 million decrease in hedge value and a $10 million increase in production taxes.
Denbury's 2019 Outlook
Denbury's 2019 situation doesn't look to be significantly affected by hedges at the moment. It has hedged around 10,000 barrels per day in the low to high $50s (and are primarily collars), while 2019 strip prices are currently around $62. Denbury's 2019 hedges are currently estimated to have around negative $3 million in value.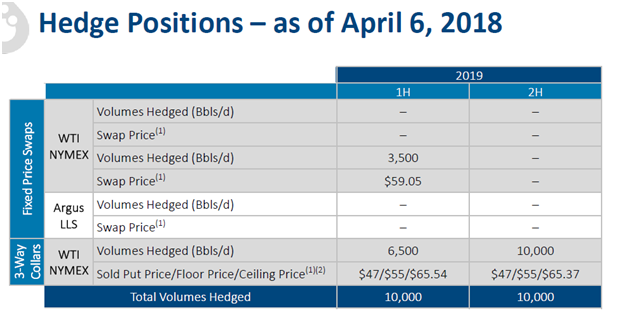 Source: Denbury Resources
If Denbury increases its production by around 5% in 2019 to 65,000 BOEPD, then it could generate around $1.462 billion in revenue at $62 WTI oil. This also assumes that LLS trades for around $2 to $3 above WTI, resulting in no overall oil differential.
| | | | |
| --- | --- | --- | --- |
| | Units | Price Per Unit | Revenue ($ Million) |
| Oil (Barrels) | 22,894,625 | $62.00 | $1,419 |
| Natural Gas [Mcf] | 4,982,250 | $2.20 | $11 |
| Net Other | | | $35 |
| Hedge Value | | | -$3 |
| Total | | | $1,462 |
In this situation Denbury would have $721 million EBITDA in 2019 after hedges. This is a significant improvement from its estimated $596 million EBITDA in 2018 after hedges since the lower oil prices in 2019 are more than offset by increased production and better hedge value.
| | |
| --- | --- |
| | $ Million |
| Revenue | $1,462 |
| Less: Lease Operating Expense | $500 |
| Less: Marketing Expenses | $52 |
| Less: Production Tax | $116 |
| Less: Cash G&A | $73 |
| EBITDA | $721 |
Denbury had $2.735 billion in debt principal at the end of 2017 pro-forma for its debt exchanges. With the potential for positive cash flow in 2018 and 2019 and the conversion of its convertible notes, perhaps this debt may end up being reduced to around $2.3 billion by the end of 2019. This would result in debt to 2019 EBITDA of approximately 3.2x, which would be much improved for Denbury.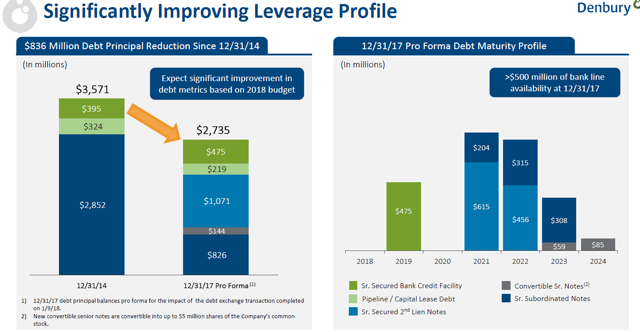 Source: Denbury Resources
Conclusion
While Denbury doesn't benefit that much from increasing 2018 oil prices at the moment, the improved outlook for 2019 could result in significantly reduced leverage. Denbury will be in solid shape if it can average in the low $60s for its oil after hedges. With futures for the first half of 2019 averaging near $64 now, this is probably a good opportunity for Denbury to lock in some additional hedges to help keep it on track to being able to refinance its 2021 to 2023 debt maturities.
Free Trial Offer

We are currently offering a free two-week trial to Distressed Value Investing. Join our community to receive exclusive research about energy companies and other opportunities along with full access to my portfolio of historic research that now includes over 1,000 reports on over 100 companies.
This article was written by
Unique insight into distressed opportunities to target outsized returns.
Elephant Analytics has 15 years of analytical experience and unique skills in numerical analysis and practical mathematics. He is currently ranked in the top 2% of analysts by TipRanks.
  
Elephant Analytics has also achieved a top 50 score on the Bloomberg Aptitude Test measuring financial aptitude (out of nearly 200,000 test takers). He has also achieved a score (153) in the 99.98th percentile on the WAIS-III IQ test and has led multiple teams that have won awards during business and strategy competitions involving numerical analysis. In one such competition, he captained his team to become North American champions, finishing ahead of top Ivy League MBA teams, and represented North America in the Paris finals.

Elephant Analytics co-founded a company that was selected as one of 20 companies to participate in an start-up incubator program that spawned several companies with $100+ million valuations (Lyft, Life360, Wildfire). He also co-founded a mobile gaming company and designed the in-game economic models for two mobile apps (Absolute Bingo and Bingo Abradoodle) with over 30 million in combined installs.

Legal Disclaimer: Elephant Analytics' reports, premium research service and other writings are personal opinions only and should not be considered as investment advice. Only registered investment advisors can provide personalized investment advice. While Elephant Analytics attempts to provide reports that include accurate facts, investors should do their own diligence and fact checking prior to making their own decisions.


Analyst's Disclosure: I/we have no positions in any stocks mentioned, and no plans to initiate any positions within the next 72 hours. I wrote this article myself, and it expresses my own opinions. I am not receiving compensation for it (other than from Seeking Alpha). I have no business relationship with any company whose stock is mentioned in this article.
Seeking Alpha's Disclosure: Past performance is no guarantee of future results. No recommendation or advice is being given as to whether any investment is suitable for a particular investor. Any views or opinions expressed above may not reflect those of Seeking Alpha as a whole. Seeking Alpha is not a licensed securities dealer, broker or US investment adviser or investment bank. Our analysts are third party authors that include both professional investors and individual investors who may not be licensed or certified by any institute or regulatory body.