Friday's GDP report saw stronger growth than was expected, coming in at 2.3% versus expectations for 2.0%, but below the 2.9% rate from the prior quarter. The biggest drag on GDP growth this quarter came from Personal Consumption Expenditures, which slowed to just 0.73%, the slowest rate since Q2 2012. This decline came from the goods purchased category - mainly durable goods, especially automobiles and in the non-durable category - clothing and shoes. This rather dramatic decline is likely a function of two things: first the rising ratio of consumer debt to disposable income and second, the base-effects of the forced spending in Q4 due to the damage caused by the twin hurricanes in the east and fires in the west.
The biggest contributor to growth came from Gross Domestic Investment, which was primarily from principal residential construction and an increase in non-farm inventories. The spike in residential construction was to be expected given the Fed's clear intention to keep raising rates, which means higher mortgage rates.
On the other hand, government investment in fixed asset investment (infrastructure) is at historical lows. The chart below, from Topdown Charts, illustrates this quite clearly.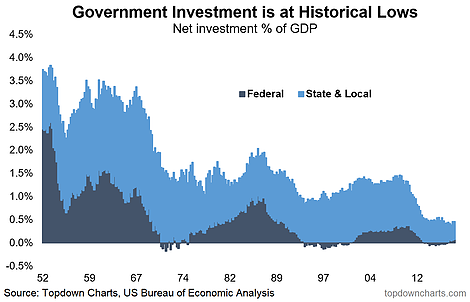 The points to note on US government investment and long-term GDP growth trends are: -US government fixed asset investment remains around record lows as a percentage of GDP.-The decline in government investment seems to mirror the long-term decline in US economic growth.-More recently the decline in long-term GDP growth rates looks to have bottomed, and this lines up with the bottom in US government bond yields.-Private investor interest in infrastructure assets appears to be growing, which is important given the decline in government investment spending."
As we discuss regularly here at Tematica, the growth of an economy is a function of just two things:
Growth in the Labor

Pool

Growth in Productivity
Crumbling highways, bridges, and roads and outdated airports (just to name a few) reduce productivity and increase costs. For more robust economic growth, these investments - be they through tax and debt-funded public coffers, or the private sector - must be made to keep America competitive.
As Topdown Charts points out, this is an area to which investors ought to pay attention -
Thinking about trends in US government fixed asset investment, and the need for infrastructure upgrades and modernization, and what was an initial false start for an infrastructure spending plan (which now seems likely to be tabled for serious discussion after the US mid-term elections later this year), it's interesting to note the rise in popularity of infrastructure ETFs."