Welcome to the thirteenth edition in the series "JF's Core Biotech Buys."
Our model account utilizes a full position size of $5,000 and will hold up to 20 stocks. Trades will be less frequent with cost averages calculated at the day's close when an article is published. Depending on the size of a reader's account, buying or selling in smaller increments may be warranted or as cash flow allows. Regardless, the model account is primarily for referential purposes, so readers can easily follow along.
*New editions will be made available on a weekly basis.
**This series seeks to aid readers with a longer-term focus in building a diversified portfolio in the biotech arena via selection of stocks with multi-year upside potential and limited downside. However, the sector itself is still quite volatile, subject to unique risks (i.e., regulatory change, adverse legislation, loss of patent protection, etc.) and bad news regarding key assets (i.e., regulatory downthumb, disappointing data) could result in larger losses than expected. Readers need to evaluate holdings and ideas discussed here for themselves, weighing the risks in light of their particular risk tolerance and objectives. Blind following is strongly discouraged.
*** As ROTY is my primary focus, I may own only a few of the Core Biotech names at any given time. However, I still seek to provide my thesis and point of view, how I would approach each stock in hopes that it aids readers in making their decisions.
Current Snapshot of Core Biotech Model Account

Two Sentence Thesis/Case for Limited Downside
1. Array BioPharma (ARRY) - Updated results for binimetinib/encorafenib in BRAF positive colorectal cancer and melanoma exceeded expectations using the gold standard of overall survival. The stock is very attractive as an M&A target, and data to date provides a cushion to the current valuation considering large market opportunities being targeted.
2. Hutchison China Meditech (HCM) - The stock offers investors a strong pipeline of differentiated candidates (up to 15 possible Breakthrough Therapy Designations), China exposure (via its sales team of over 3,200 employees and 1,900 medical professionals), validating partnerships and several upcoming catalysts. Downside appears limited due to having several irons in the fire, low cash burn as a result of its prescription drug commercial services segment offsetting clinical costs and quite a few pivotal readouts lined up over the next couple years.
3. Neurocrine Biosciences (NBIX) - INGREZZA sales should continue to impress (has a leg up over Teva's (TEVA) Austedo and could do over $2 billion in peak sales), while the market opportunity in Tourette's and opportunity for elagolix appear largely ignored. The stock is also a very attractive M&A target with downside limited by a so far successful INGREZZA launch that appears to be strengthening and a run-up into T-Force GOLD results by year-end.
4. NovoCure (NVCR) - Optune is a revolutionary therapeutic option with blockbuster potential in GBM alone, the launch is going quite well, cash burn is decreasing, and data in additional indications (such as mesothelioma) could drive additional upside. It is my belief that the current valuation is backed up by the market opportunity in GBM, and for this reason (along with news flow in the medium term), I believe downside to be relatively limited.
5. Seattle Genetics (SGEN) - Management continues to make the right strategic moves, there's a strong institutional base, ADCETRIS should eventually prove to be a blockbuster, and it has a deep pipeline likely to drive future growth. The recent secondary at $52 indicates a near-term bottom, and the inherent value of ADCETRIS, plus important news flow in the medium term (including tucatinib data in metastatic CRC), leads me to believe downside risk is limited.
6. Spark Therapeutics (ONCE) - The $2 billion gene therapy pioneer has over a quarter of its market capitalization in cash, a key ex-US partnership with Novartis (NVS) (can leverage its infrastructure plus adds credibility to LUXTURNA prospects), and pipeline of promising assets with several opportunities to create value in 2018. After a post-ASH meltdown of epic proportions, SPK-8011 and other pipeline programs appear to be written off (perhaps prematurely), the market is in "show me" mode regarding the LUXTURNA launch, and it has a substantial cash position following the ex-US deal (plus priority voucher to monetize).
7. Abeona Therapeutics (ABEO) - Data for ABO-102 in MPS IIIA appears encouraging to me (decreases in heparan sulfate, neurocognitive benefits), initial data for ABO-101 in MPS IIIB showed early promise, EB-101 in RDEB could see an expedited path to market if the pivotal study yields fruit, and other gene therapy candidates are soon to enter the clinic. The short report (with several dubious claims) appears to have brought shares down to a more palatable level that provides a greater margin of safety, with current programs and its cash position providing a decent downside cushion.
8. Radius Health (RDUS) - The TYMLOS launch continues to progress well (as reflected in sales, insurance coverage and market penetration), the opportunity for abaloparatide-transdermal patch appears underappreciated and elacestrant provides high optionality. As sales and market penetration head north, the company should continue to gain significant visibility, and all three lead assets provide a substantial downside cushion.
9. Galapagos (GLPG) - Partnered assets continue to progress in the clinic, its IPF program offers optionality, efforts in cystic fibrosis to develop a triple combination therapy should not be underestimated and Gilead (GILD)-partnered filgotinib could have peak sales of over $3 billion alone. As for downside cushion, it has a solid cash balance and impressive data to date along with the looming specter of M&A which should keep a healthy premium in the stock.
10. Exelixis (EXEL) - Label expansion and new trial data for cabozantinib and cobimetinib should continue to drive upside, while revenue growth and increased gains in market share have also been encouraging. The stock is quite attractive as an M&A candidate and the post-fourth-quarter earnings dip in share price makes for an interesting entry point.
11. Corcept Therapeutics (CORT) - Revenue growth is impressive on a quarterly and annual basis, its cash position is growing, and several pipeline assets (recorilant, CORT118335, CORT125281) could reach key inflection points in other areas such as oncology and NASH. The stock price plummeted after news of generic competition from Teva, but it has plenty of time to grow Korlym revenues and unlock value in the pipeline.
12. Adamas Pharmaceuticals (ADMS) - GOCOVRI peak sales could exceed $500 million (conservative estimate), and the company has a promising pipeline of assets (including ADS-4101) that could create value. The current depressed valuation comes as a result of a generic filing and approval of Osmotica's Osmolex, with their large cash position (includes funding from HealthCare Royalty Partners and $134 million secondary offering) providing us additional downside cushion.
13. Dynavax Technologies (DVAX) - Heplisav appears to be a superior treatment option as compared to GlaxoSmithKline's (GSK) Engerix-B with peak sales potential of $500 million, they have a strong cash position and upcoming data for SD-101 in combination with Merck's anti-PD-1 therapy KEYTRUDA provides a nice call option (ORR at ASCO last year was 100% in early-stage dose escalation study). It is possible that downside is cushioned by the potential of HEPISLAV-B and prior encouraging data for SD-101.
14. bluebird bio (BLUE) - The company's BCMA CAR-T drug candidate bb2121 remains attractive despite overblown fears on durability (peak sales of $2 billion or more), LentiGlobin has a good shot at success in TDT (Transfusion-Dependent ß-Thalassemia) and SCD (Severe Sickle Cell Disease), and they have a strong cash position. Recent pessimism and the resulting share price decline lead me to believe the valuation is attractive, while management's prior track records are suggestive of continued progress in the clinic in the medium term.
15. Xencor (XNCR) - The firm's antibody platform is quite attractive, they possess a deep pipeline, recently pulled off an upsized financing and received much needed validation in the form of positive data for Alexion Pharmaceuticals' (ALXN) ALXN1210 (makes use of Xencor's Xtend technology to extend half-life and reduce frequency of dosing). Downside appears limited after the secondary and validation of their technology, while advancement of their pipeline (IgG4-RD phase 3 trial initiation, data from phase 2 study in SLE and phase 1 study in AML) should keep Wall Street interested.
16. Antares Pharma (ATRS) - The company possesses a strong pipeline of drug/device combination product candidates which provide better treatment options in a variety of disease settings - Xyosted could potentially be approved by September and should see significant adoption due to several advantages over current treatments (keep in mind global male hypogonadism market to exceed $3 billion within 10 years). A substantial cushion to downside exists due to strength and positive trends in the core business.
17. Blueprint Medicines (BPMC) - The current $3.75 billion valuation compares favorably to $2 billion peak sales potential of two lead drug candidates, while their solid cash position after the December secondary offering and their deep pipeline provide adequate cushion to the current share price. The targeted oncology theme has been a winner for us in the past couple years and I expect that trend to continue.
18. Ionis Pharmaceuticals (IONS)- The stock looks increasingly attractive after the expanded collaboration with Biogen, the company has done well to monetize partnered programs while retaining significant economics, they´ve proven themselves with the success of assets such as Spinraza, key catalysts include near term product launches and certain wholly-owned assets provide optionality & the possibility for outsized future returns. Their sizeable cash position and diversified pipeline with a variety of value drivers going forward provides adequate downside cushion.
Performance Since Launch February 5th
+1.11% for Core Biotech Model Account versus -3.39% for IBB and -1.52% for XBI
General Commentary
The general market and biotech sector continue to experience rough waters.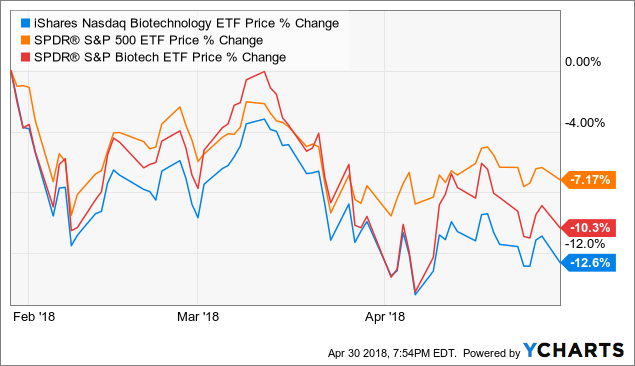 While several readers have been discussing how they are readying for a bear market or continued correction, I want to remind everyone that personally I am not a fan of ¨market timing¨. I don´t try to predict when peaks and troughs are being established or when the next big move in either direction is coming.
What I do focus on is risk management and continually reviewing the thesis for each holding along with recent developments. If a thesis is significantly weakened, it´s likely that we sell the related stock and move on to a more promising idea. If the thesis is strengthened, we either add to the position or continue to hold.
While ROTY positions are more actively managed and we have less pain tolerance, I remind readers that with Core Biotech we have a multi-year time frame. That means some holdings will experience significant volatility and downside, and that´s part of it. If the thesis hasn't changed, we will continue to hold and experience (hopefully temporary) pain.
With 18 positions in the model account, we only have room for just two more and I will continue to be very selective. I look forward to your suggestions as far as future picks.
Updates on Model Account Positions
Radius Health (RDUS)- The company announced first quarter financial results will be released on Thursday May 10th along with a conference call and live audio webcast at 8AM. A corporate update will also be provided- the timing potentially bodes well.
Galapagos (GLPG)- The company announced initiation of the FALCON clinical study with an investigational triple combination therapy in cystic fibrosis patients. Topline results from the first part of the study are expected in the third quarter this year.
In the first part of the study 8 patients will be treated for two weeks with a fixed dose dual combination of potentiator GLPG2451 and C1 corrector GLPG2222 in homozygous F508del patients. This will be followed by two weeks' treatment with '2451, '2222, and C2 corrector GLPG2737. The second part of the study will involve treatment at a higher dose combination of '2451 and '2222 in separate 8 patient cohorts of homozygous F508del patients and heterozygous F508del patients with a minimal function mutation on the other allele. This will be followed by two weeks' treatment with '2451, '2222, and '2737.
According to CSO Dr. Piet Wigerinck another triple combination should be entering the clinic in the near future as well. Catalyst Tracker has been updated and while the company is behind in the CF race, they should by no means be counted out.
The company also announced first quarter results for 2018 and provided guidance for full year cash burn of €220-240 million (compares well to total cash position of €1.1 billion). As for catalysts, keep in mind top-line data for the FINCH 2, EQUATOR and TORTUGA studies is expected later on.
They also presented new preclinical results which demonstrated beneficial effects on cartilage and bone with GLPG1972 in an osteoarthritis rat model at the Osteoarthritis Research Society International (OARSI) World Congress.
Ionis Pharmaceuticals (IONS)- An analyst at Evercore ISI commented on weakness in the stock, stating he knew Spinraza new adds would start to decline at some point but was surprised by how early it was taking place. He sees potential for Spinraza stagnation in the US with growth driven outside the US. As for data with the Roche (OTCQX:RHHBY) partnered Huntington´s program, he stated encouraging signs were seen for some disease measures while others were less encouraging. While their initial Huntington´s data was a watershed event and important step forward, personally I wouldn´t be surprised to see it bested by competitor programs with data coming out within the next year or so.
Blueprint Medicines (BPMC)- Matthew Herper´s article on Forbes does a good job of trying to explain the recent decline in the stock price.
The company also announced a live conference call and webcast will be hosted at 8:30 a.m. on May 2nd to report first quarter 2018 results and provide a corporate update. The timing potentially bodes well.
Neurocrine Biosciences (NBIX)- The company announced that once-daily INGREZZA capsules improved TD symptoms regardless of body region. New data anlyses along with long-term efficacy and tolerability were presented at the 70th Annual Meeting of the American Academy of Neurology.
Eiry W. Roberts, M.D., Chief Medical Officer at Neurocrine, had the following remarks to add:
We believe these data are important since patients' experience with tardive dyskinesia can be highly variable in terms of the body region impacted by uncontrollable movements. In addition, data analyses from our open-label long-term study show improvement in clinician and patient-reported outcomes, further demonstrating the effectiveness and tolerability of INGREZZA for the treatment of tardive dyskinesia.
The company also presented new investigational data for elagolix at the 2018 American College of Obstetricians and Gynecologists (ACOG) Annual Meeting.
First quarter results were encouraging with net product sales for INGREZZA of $71.1 million coming in ahead of expectations.
Exelixis (EXEL)- The company announced that data from clinical studies of cabozantinib will be the focus of 15 presentations to be given at the American Society of Clinical Oncology (OTC:ASCO) 2018 Annual Meeting in June.
Novocure (NVCR)- The company reported financial results for the quarter and year ended March 31st. Highlights included continued commercial momentum and positive top-line data for the STELLAR study. Net loss for the quarter came in at $20.7 million, while cash and equivalents plus short term investments totaled $216.3 million. Net revenues of $52.1 million represented 49 percent growth over the same period in 2017.
Seattle Genetics (SGEN)- The company reported results for the first quarter of 2018. Highlights included record ADCETRIS sales up 36% over the same quarter in 2017, completing the acquisition of Cascadian Therapeutics and the granting of the coveted Breakthrough Therapy Designation for late-stage program enfortumab vedotin in metastatic urothelial cancer.

Spark Therapeutics (ONCE)- The company announced the sale of its rare pediatric disease priority review voucher to Jazz Pharmaceuticals for $110 million.
Xencor (XNCR)- The company announced it will release first quarter results after market close Monday May 7th.
Array Biopharma (ARRY)- The company will present third quarter results and hold a conference call on Wednesday May 9th. The timing is at 9 a.m. and potentially bodes well.
Actions To Take This Week
Filling out (adding to) our positions in Blueprint Medicines and Xencor. Please see the original thesis for both.
**Again, trades are executed at the closing price on the day the article is published (or Monday's closing price if published on the weekend).
Catalyst Tracker for Core Biotech Holdings
The excel spreadsheet that follows contains material events coming up for each stock in the Core Biotech model account. Feel free to private message me with any catalysts you believe should be included:
Catalysts for JF's Core Biotech model account
Final Thoughts
Keep in mind that my objective for readers is to make their own decisions, do their own due diligence and invest according to their particular objectives. Stocks discussed here can be replaced or supplemented with selections readers have found from their own research that have similarly promising prospects and limited downside.
Feel free to ask questions as we strive to have an ego-free atmosphere where readers bounce ideas off each other and contribute their own DD. The goal is to constantly improve our thought processes, challenge each other's investment rationales, and learn from our losers and winners alike. Biotech can be a tricky sector, but by focusing on high-value assets, firms with growing sales/pipelines and valuations that help protect our downside, I'm optimistic that readers should see a growing brokerage account for whatever life goals they have lined up.
Disclaimer: Commentary presented is not individualized investment advice. Opinions offered here are not personalized recommendations. Readers are expected to do their own due diligence or consult an investment professional if needed prior to making trades. Strategies discussed should not be mistaken for recommendations, and past performance may not be indicative of future results. Although I do my best to present factual research, I do not in any way guarantee the accuracy of the information I post. I reserve the right to make investment decisions on behalf of myself and affiliates regarding any security without notification except where it is required by law. Keep in mind that any opinion or position disclosed on this platform is subject to change at any moment as the thesis evolves. Investing in common stock can result in partial or total loss of capital. In other words, readers are expected to form their own trading plan, do their own research and take responsibility for their own actions. If they are not able or willing to do so, better to buy index funds or find a thoroughly vetted fee-only financial advisor to handle your account. I am in a collaborative relationship with The Biotech Forum/Bret Jensen.
Disclosure: I am/we are long ARRY, NBIX, EXEL, GLPG, HCM, SGEN, NVCR, ABEO, RDUS, ONCE.
I wrote this article myself, and it expresses my own opinions. I am not receiving compensation for it (other than from Seeking Alpha). I have no business relationship with any company whose stock is mentioned in this article.
Editor's Note: This article discusses one or more securities that do not trade on a major U.S. exchange. Please be aware of the risks associated with these stocks.