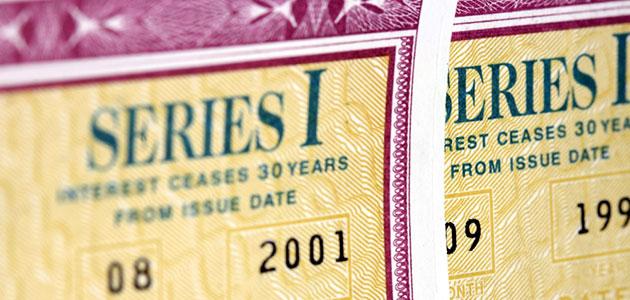 The fixed rate on U.S. Series I Savings Bonds will rise from 0.1% to 0.30% on May 1, the highest fixed-rate reset since November 2009, The U.S. Treasury just announced.
This means that I Bonds purchased from May 1 to October 31 will carry a "composite rate" of 2.52% annualized, based on the fixed rate of 0.30% and the inflation-adjusted variable rate of 2.22%. Here is the Treasury's announcement:
The composite rate for Series I Savings Bonds is a combination of a fixed rate, which applies for the 30-year life of the bond, and the semiannual inflation rate. The 2.52% composite rate for I bonds bought from May 2018 through October 2018 applies for the first six months after the issue date. The composite rate combines a 0.30% fixed rate of return with the 2.22% annualized rate of inflation as measured by the Consumer Price Index for all Urban Consumers (CPI-U). The CPI-U increased from 246.819 in September 2017 to 249.554 in March 2018, a six month change of 1.11%.
The inflation-adjusted variable rate of 2.22% was set in stone with the April 11 release of the March inflation report, and it is actually falling from 2.48% for I Bonds purchased before May 1. But the higher fixed rate - which stays with the I Bond until it is sold or matures - is a much more attractive feature. The Treasury does not disclose how it sets the fixed rate, but in my research, I have found that it tends to correspond with the 10-year TIPS yield. When that yield rises, a higher fixed rate is likely, as I noted in an April 12 article: "I Bond Investors: Hold Off On Purchases Despite A Declining Variable Rate."
Here is the trend in real yields and fixed rates leading to today's Treasury decision, with rates above 0.0% highlighted in green: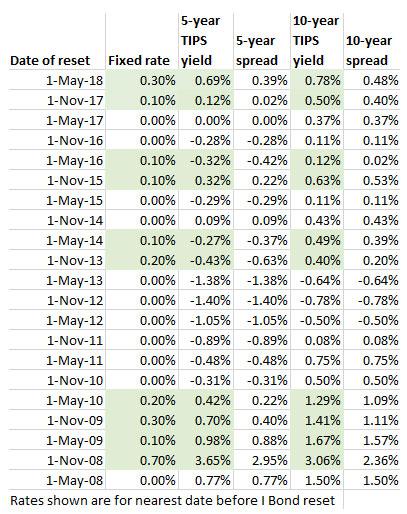 The Treasury's decision is justified by the data: The fixed rate of 0.30% on May 1 still leaves a wider spread compared with the 5- and 10-year TIPS yields on October 31, just before the fixed rate rose to 0.1%. So let's give a shout-out to the Treasury for making the correct move.
I Bond buying strategy?
Investors in I Bonds are limited to $10,000 a year per person, in electronic form purchased at TreasuryDirect. Because of that limitation, it's a good idea to wait for the most-attractive yield possible each year. I'd say today's fixed-rate decision makes buying I Bonds after May 1 an attractive option. If you buy near the end of the month, you can earn an entire month's interest, and that's probably what I will do.
Shuffle your inventory? A fixed rate of 0.30% offers you an opportunity to sell I Bonds purchased previously with a fixed rate of 0.0% and then reinvest in the higher fixed rate. This means, however, that your net holdings won't increase - you still face a limit of $10,000 a year per person. You will also face income taxes on any gain in your previous investment.
This is a good strategy for anyone who doesn't have enough reserve cash to buy additional I Bonds.
Wait it out? Another option would be to wait until we get closer to the November 1 rate reset, which could be higher (or lower). We will know the new inflation-adjusted variable rate after the September inflation report is released on October 11, and you'd have three weeks to decide on buying before November 1, or after. I can't say this is a bad strategy, but keep in mind that whatever the rate reset is, it will be available for purchase as your 2019 I Bond allocation.
These decisions aren't life changing. I say just throw in the towel and buy the I Bonds with a fixed rate of 0.30%, the best rate reset since November 2009.
Terms for EE Bonds
The Treasury held the fixed rate for EE Bonds at 0.1%, which is disappointing but actually irrelevant. EE Bonds are an investment that needs to be held for 20 years - when they double in value - and then sold. If you hold them 20 years, you earn about 3.5% in tax-deferred interest and face no state income taxes. EE Bonds remain attractive for anyone who can absolutely hold them for 20 years, offering a return that still outperforms a 20-year nominal Treasury (3.01%) and also the 30-year (3.11%). Here are the Treasury's terms:
Series EE bonds issued from May 2018 through October 2018 earn today's announced rate of 0.10%. All Series EE bonds issued since May 2005 earn a fixed rate in the first 20 years after issue. At 20 years, the bonds will be worth at least two times their purchase price. The bonds will continue to earn interest at their original fixed rate for an additional 10 years unless new terms and conditions are announced before the final 10-year period begins.
One caution: It's possible long-term rates will begin increasing in coming months. The yield curve is extremely flat right now, with the 30-year Treasury yielding only 16 basis points higher than a 10-year. That probably won't continue, and if long-term rates rise, EE Bonds will be less attractive.