Welcome to the April 2018 edition of Electric Vehicle (EV) company news. March electric car sales was a record setting month with global electric car sales reaching the second best month ever, and Europe having their best month ever. China and Europe are growing sales at 85% and 41%, respectively, with global sales continuing to grow at staggering growth rates.
Global electric car sales as of end March 2018
Global electric car sales finished March 2018 with 142,000 sales for the month, up 53% on March 2017, with 1.3% market share. Year to date sales are up 59% on last year.
Of note, 60% of all global electric car sales so far in 2018 were pure electric.
China electric car sales were 59,000 in March 2018, up 85% on March 2017. Electric car market share in China for March 2018 was 1.8% market share.
Current subsidies in China were reduced by 20% in 2017 and will be reduced by 40% in 2019 and 100% by 2021. China's Zero Emission Vehicle (ZEV) credit system was announced on September 28, 2017, and will begin in 2019 with 10% of credits (12% in 2020) required from new energy vehicles (NEVs). That translates to 4-5% of EV sales as market share for 2019. We are also expecting an announcement at some stage as to when China will ban ICE vehicles, noting BYD Chairman Wang thinks by 2030.
Europe electric car sales were over 40,000 in March 2018, 41% higher than in March 2017. This sets a record for Europe's best ever month. Europe electric car market share was 2.2% in March 2018. Norway still leads the world with an incredible 56% market share of electric cars sold in March.
US electric car sales were over 26,000 for March 2018, 42% higher than March 2017. U.S. electric car market share so far for 2018 is 1.3%. The above sales include light commercial vehicles.
Note: An acknowledgement to Jose Pontes of EV Sales and EV Volumes for his excellent work compiling all the electric car sales quoted above and below.
Global electric car sales by manufacturer for March 2018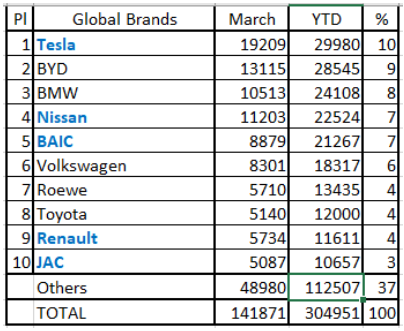 Source: EVSales
Annual global electric vehicle sales forecast to hit 24.4 million by 2030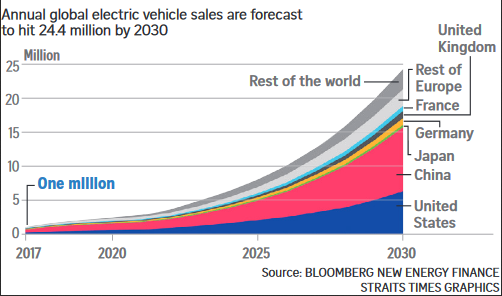 EV market news for April 2018
A story I missed from January 2018. CleanTechnica reported:
Dutch company introduces autonomous electric barge in Europe. Dutch company Port Liner has a better idea. It will be introducing an autonomous electric barge for the European market beginning in August of this year. Port Liner CEO Ton van Meegen tells The Loadstar, a shipping industry trade journal, that 5 autonomous electric barges will begin operating between the De Kempen intermodal terminal in the south of the Netherlands and Antwerp beginning in August. They have been designed to fit beneath the many bridges found in the Netherlands and Belgium. The barges are expected to remove 23,000 trucks - most of them diesel powered - from area roads.
Port Liner plans to have 5 autonomous electric barges in the Netherlands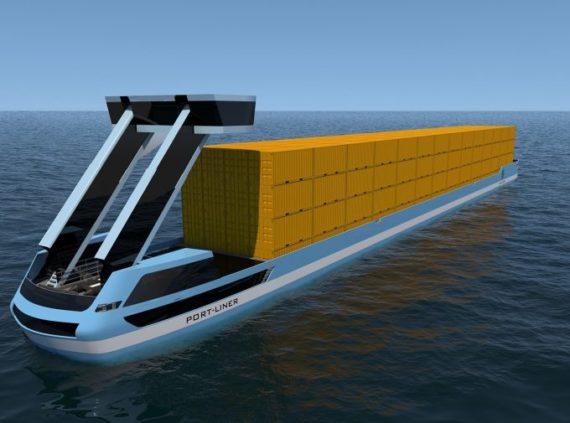 On April 24 Bloomberg reported:
Electric buses are hurting the oil industry. About 279,000 barrels a day of fuel won't be needed this year. The numbers are staggering. China had about 99 percent of the 385,000 electric buses on the roads worldwide in 2017, accounting for 17 percent of the country's entire fleet. Every five weeks, Chinese cities add 9,500 of the zero-emissions transporters-the equivalent of London's entire working fleet, according Bloomberg New Energy Finance. 'This segment is approaching the tipping point,' said Colin Mckerracher, head of advanced transport at the London-based research unit of Bloomberg LP. 'City governments all over the world are being taken to task over poor urban air quality. This pressure isn't going away, and electric bus sales are positioned to benefit.'
A BYD electric double decker bus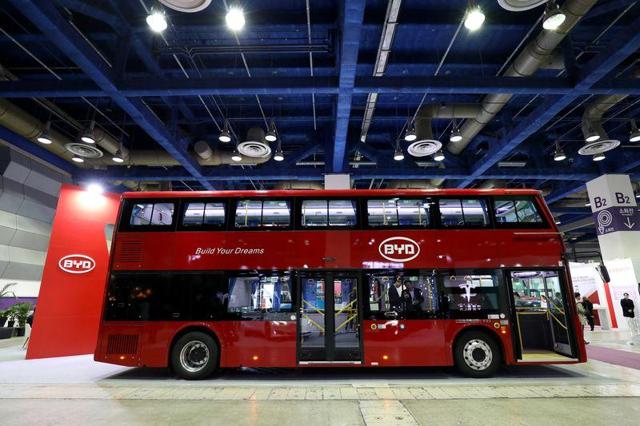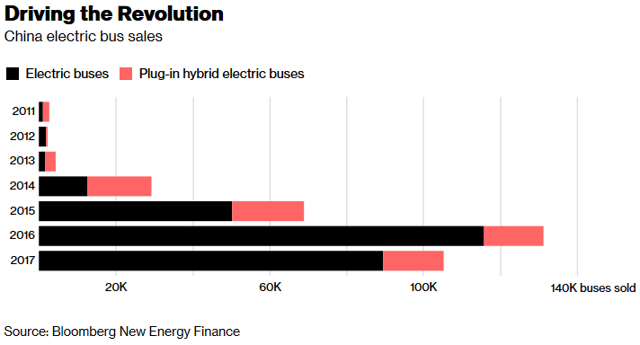 Note: The 2017 lower figure was caused by a large subsidy cut in China. 2018 e-bus sales should be much better.
On April 24 an interesting article by ePressi stated: "Global electric vehicle and plug-in hybrid penetration would need to reach 12% in order to comply with international climate targets by 2025. This would mean that the proportion of electric vehicles and plug-in hybrids would be ten times higher than currently. At the same time, the demand for raw materials for electric cars is expected to grow strongly."
On April 25 Green Car Reports reported, "PG&E offers new $3,000 rebate to Nissan Leaf buyers. PG&E (formerly Pacific Gas & Electric) announced yesterday a new $3,000 purchase incentive for new Nissan Leafs. The utility company rebate is taken off the purchase price and comes on top of a $7,000 rebate from the state and the $7,500 federal tax credit. The 2018 Nissan Leaf starts at $30,875 including destination. After all the rebates and credits, a PG&E customer could buy a new Leaf for just $16,500, making it one of the cheapest new cars on the market."
On April 26 WEForum reported, "China is adding a London-sized electric bus fleet every five weeks. Every five weeks, 9,500 brand new electric buses take to the roads in China. That's the equivalent of the entire London bus fleet, says a new report by Bloomberg New Energy Finance. The world has around 3 million buses. Most run on diesel and compressed natural gas. The global fleet of electric buses now totals around 385,000 vehicles - and 99% of those are in China. Some major cities, like Shanghai and Shenzhen, have stopped buying traditional fuel-run buses altogether and are only buying electric."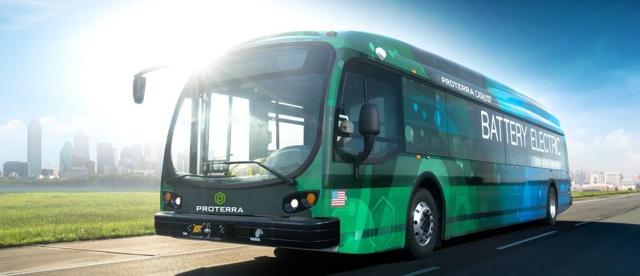 Electric bus fleet numbers in Europe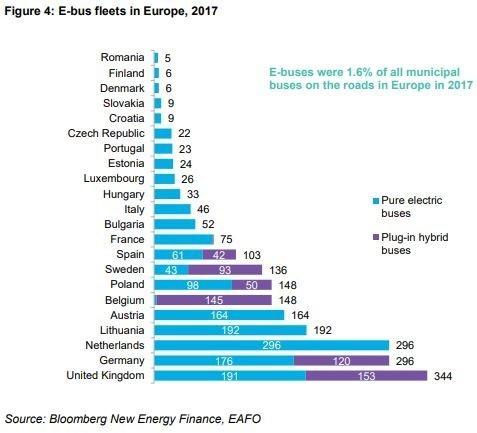 On April 29 Bloomberg reported: "After Tesla debacle, Denmark reconsiders electric car subsidies. Any new incentives would be announced along with a government plan to boost clean-energy consumption after the summer."
On April 30 Green Car Reports reported, "Draft EPA memo freezes fuel economy standards at 42 mpg through 2026. After announcing its intention last month to roll back emissions standards that require cars to get higher fuel economy, the EPA is now circulating a proposal in Washington to freeze the standards at 2020 levels through 2026."
EV company news for March 2018
Tesla Inc. (NASDAQ:TSLA)
Tesla is currently ranked the number 1 globally with 10% global market share. Tesla is the number 1 electric car seller in the US with 33% market share. An amazing comeback month for Tesla rising from global number 5 last month back to global number 1 YTD for 2018.
On April 13 Elon Musk tweeted, "Tesla will be profitable & cash flow+ in Q3 & Q4, so obv no need to raise money."
On April 27 Teslarati reported, "Tesla Semi sighted on cargo route between Fremont and Gigafactory."
On April 30 Teslarati reported, "Tesla Model S high-speed police cruisers deployed in Luxembourg."
Tesla Model S police cars in Luxembourg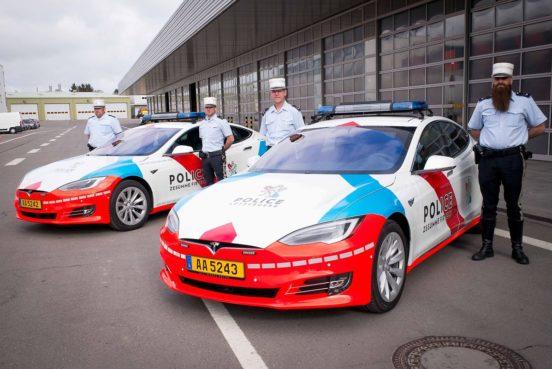 BYD Co. (OTCPK:BYDDY), (OTCPK:OTCPK:BYDDF) HK:1211
BYD is currently ranked the number 2 globally with 9% global market share, and is ranked number 1 in China with 24% market share.
During April BYD Co announced new bus launches in South Korea and Auckland, had 8 new e-bus orders from Spain, and showcased a stellar lineup of electric cars at 2018 Beijing Auto Show.
BYD Rolls out Stellar Lineup at 2018 Beijing Auto Show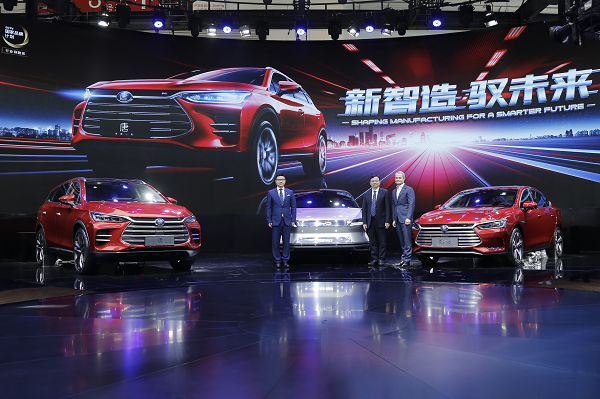 BMW (OTCPK:BMWYY)
BMW is currently ranked the number 3 global electric car manufacturer with 8% global market share. BMW is number 1 in Europe with 16% market share.
On April 25 Bloomberg announced, "BMW unveils electric SUV as its first planned China export. Partner Brilliance confirms project to ship iX3 model abroad. The iX3, which will be able to travel 400 kilometers (250 miles) on a fully charged battery. The model will enter the fast-growing premium electric-SUV segment after Jaguar's I-Pace crossover and Audi's Q6 E-Tron, which are scheduled for initial deliveries later this year, and the Mercedes-Benz EQ C crossover coming out in 2019."
The BMW iX3 all-electric SUV at the Beijing International Automotive Exhibition on April 25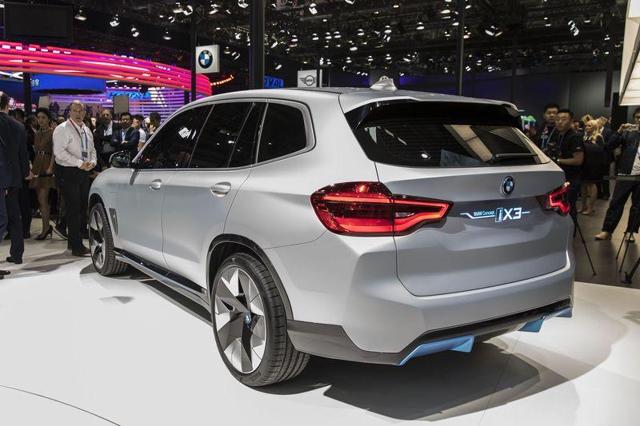 Renault (OTC:RNSDF) / Nissan (OTCPK:NSANY) / Mitsubishi (OTCPK:MSBHY, OTCPK:MMTOF)
Nissan is currently ranked number 4 for global electric car sales with 7% market share, and Renault is ranked global number 9 with 4% market share. The new model Nissan Leaf hit Europe running with 6,053 European sales in March.
On April 13 Equipment News reported, "Nissan launches first electric vehicle battery recycling plant in Japan. A joint venture between Nissan and the trading firm Sumitomo Corporation has been established, and the initiative is operated by 4R Energy Corporation. According to Eiji Makino, chief executive of 4R Energy Corporation, "By reusing spent EV batteries, we wanted to raise the (residual) value of EVs and make them more accessible. Batteries that have fallen below 80 percent of their energy capacity are not used for the Leaf recycling program, but are reassembled for lower-energy vehicles like golf carts, forklifts or for low-intensity functions in street lamps."
On April 30 Automotive News reported, "Japan brands' EVs for China appear strikingly familiar. Nissan plans to launch eight new EVs globally and hit annual sales of 1 million electrified vehicles in five years. Some 20 electrified models, including EVs and models using the company's e-Power extended range hybrid setup, are earmarked for China in the next five years."
The Sylphy Zero Emission EV will be the first made-in-China full EV sold by Nissan in China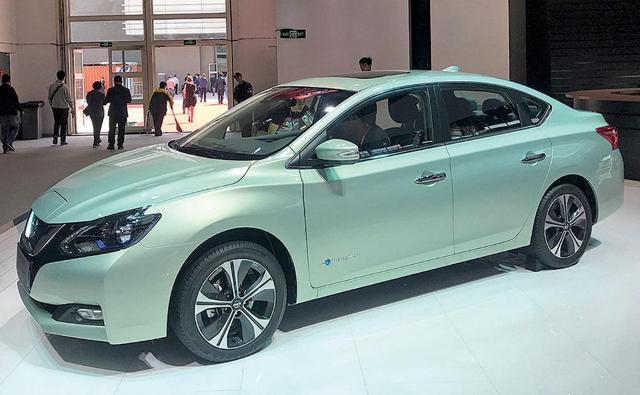 Beijing Automotive Group Co. (BAIC) (OTC:BCCMY, HK:1958), Shanghai Automotive Industry Corp. [SAIC] (CH:600104)
BAIC is currently ranked the global number 5 with 7% market share. BAIC is the number 2 selling electric car manufacturer in China with 17% market share.
On April 9 Automotive World reported, "Magna to develop electric vehicle architecture for BAIC Group. BAIC Group (Beijing Automotive Industry Holding Co., Ltd.) and Magna today announced that they will jointly develop a next-generation smart electric vehicle architecture for the Chinese market. "We are proud to develop the next generation of advanced smart EV architecture together with BAIC," said Günther Apfalter, President of Magna Europe & Magna Steyr. "This is a further big step forward for Magna in vehicle electrification for the Chinese market."
On April 25 The news Tribune reported, "Chinese automaker plans electric car production in S Africa."
Volkswagen Group (OTCPK:VLKAY) / Audi (OTCPK:AUDVF) / Porsche (OTCPK:POAHF)
Volkswagen is currently ranked the number 6 top-selling global electric car manufacturer with 6% market share. In Europe Volkswagen is the number 2 electric car seller with a 13% market share.
On April 18 Car Dealer Magazine reported, "Volkswagen halts orders of its second electrified car this year. Volkswagen has had to halt orders on two of its electric cars due to "unprecedented demand". Both vehicles are experiencing "exceptionally" long wait times between order and delivery."
On April 25 Bloomberg reported, Volkswagen open to revisiting Tata tie-up for India mass market. Months after calling off a planned partnership with Tata Motors Ltd., Volkswagen AG signaled it isn't shutting the door on a tie-up with the Indian automaker as it works on a strategy to bring budget cars to millions of cost-conscious buyers in the South Asian country. German maker to decide on affordable cars for India soon."
On April 25 Volkswagen announced, "Volkswagen to offer electrified versions of its models. This new product strategy will come into play for the first time from 2019 onwards with the launch of the next generation of the Golf and the first I.D. In the future, Volkswagen will gradually electrify almost every vehicle in its range of models."
Toyota (NYSE:TM)
Toyota is currently ranked the number 8 in the global electric car manufacturer's sales ranking, with 4% global market share.
Some news from December 2017, I recently came across again: "Toyota aims for sales of more than 5.5 million electrified vehicles including 1 million zero-emission vehicles per year by 2030. Electrified vehicles to be available across the entire Toyota and Lexus line-up by around 2025. Toyota will accelerate the popularization of BEVs with more than 10 BEV models to be available worldwide by the early 2020s, starting in China, before entering other markets―the gradual introduction to Japan, India, United States and Europe is expected."
On April 30 Automotive News reported, "Japan brands' EVs for China appear strikingly familiar. If the first wave of Japan-brand electric vehicles for China looks familiar, it should. Toyota, Nissan and Honda are simply rolling out EV versions of existing nameplates. Toyota Motor Corp. will launch two full electric variants of its C-HR subcompact crossover in 2020. In Beijing, Toyota unveiled plug-in hybrid versions of its Corolla and Levin small cars for sale in China starting next year. Those two, along with the upcoming all-electric C-HR, are part of 10 new electrified vehicles the automaker plans to bring to China by 2020."
Note: Honda is planning more than 20 new electrified models before the end of 2025.
General Motors/Chevrolet (NYSE:GM)
GM/Chevrolet is currently ranked the number 11 global electric car manufacturer. They are the number 2 ranked electric car seller in the US with 14% market share.
On April 25 Inside EVs reported, "Buick Enspire electric SUV debuts in China with 370-mile range. According to Buick, the concept puts out up to 410 kW of power, is "able to travel up to 370 miles on a single charge" and can even charge wirelessly. It supports fast charging too, which the automaker says can replenish that battery to 80% in 40 minutes. There's no indication at this time that this concept is production bound."
Buick Enspire electric SUV concept car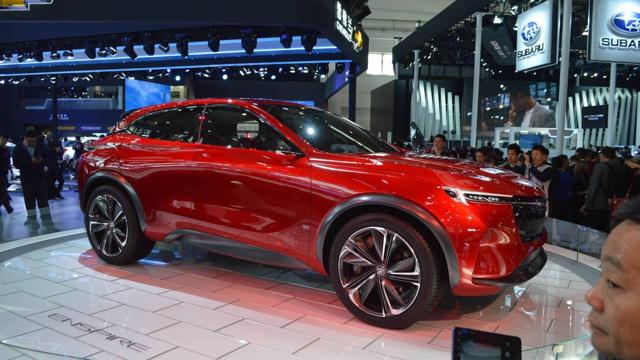 Geely Automobile Holdings Ltd (OTCPK:GELYY, HK:0175), Volvo Group (OTCPK:VOLVY), Kandi Technologies Group (NASDAQ:KNDI), Proton, Lotus
On April 6 Automotive News China reported, "Daimler to discuss cooperation in China with Geely's Li Shufu. CEO Dieter Zetsche said: So far our talks with Li Shufu have been very positive. He wants his investment in Daimler to be a long-term one and he supports our successful strategy."
On April 27 Automotive News China reported, "Geely Auto debuts flagship sedan with technologies developed with Volvo. Geely Auto seeks to derive 90 percent of its annual sales from hybrids, plug-in hybrids and electric vehicles by 2020. Of its green vehicle sales, the company expects hybrids and plug-in hybrids to combine for 65 percent and EVs to contribute the remaining 35 percent by 2020. In the first quarter, Geely Auto's deliveries jumped 39 percent to 386,296. It wants to boost its annual sales 27 percent to 1.58 million this year. Geely Auto, headquartered in the east China city of Hangzhou and listed in Hong Kong, is a subsidiary of Zhejiang Geely Holding Group. Zhejiang Geely also owns Volvo Car Corp."
Daimler-Mercedes (OTCPK:DDAIF, OTCPK:DDAIY) (Smart)
On April 9 Clean Technica reported: "Mercedes plans battery electric EQ S by 2020. Michael Kelz, head of large car development for Mercedes says: 'We will have an electric vehicle at the level of the S Class, no doubt, but it will not be the S Class. It will be a luxury, electric car, a top-of-the-line car.' Called the EQ S, it will be marketed under the EQ brand, Daimler's name for its all new electric car division."
Ford (NYSE:F)
On April 26 Techcrunch reported, "Ford to stop selling every car in North America but the Mustang and Focus Active. Ford sees 90 percent of its North America portfolio in trucks, utilities and commercial vehicles. Citing a reduction in consumer demand and product profitability, Ford is in turn not investing in the next generation of sedans."
Fiat Chrysler (NYSE:FCAU)
No news for the month. Recent news from Fiat Chrysler included "Fiat Chrysler to end diesel engines in cars by 2022 (but not trucks): report", and "Fiat Chrysler's Marchionne: The Future of Cars Will Be Electric and Commoditized."
Tata Motors (TTM) group (Jaguar, Land Rover)
On April 23, ETAuto.com reported:
Mandatory local electric vehicles content likely to be hiked to 70% in 3 years. The government plans to double the mandatory local content in electric vehicles to 70% in three years and impose heavy duties on imports to ensure that domestic manufacturing gets a big boost from the Rs 8,730-crore proposal to shift public transport to battery-operated vehicles. This has huge implications for domestic car makers such as Tata MotorsNSE 1.04% and Mahindra & Mahindra, which are facing competition from foreign players like China's BYD, which recently won tenders with astonishingly low bids that seemed unviable to local rivals. The second phase of Faster Adoption And Manufacturing of (Hybrid &) Electric Vehicles in India (FAME India) scheme, which is being finalized, proposes long-term tax holidays for domestic manufacturing and heavy duties on equipment imports.
On April 26 ETAuto.com reported, "Volkswagen open to revisiting Tata tie-up for India mass market."
Great Wall Motors
On April 26 Motoring reported:
BEIJING MOTOR SHOW: Great Wall EV brand debuts. Chinese giant, Great Wall Motors, has introduced a fourth brand to its portfolio with the launch of ORA, its new brand for electric vehicles. Standing for Open Reliable Alternative, ORA is being introduced initially in the Chinese market, with the first of its battery electric vehicles set to hit the road by the end of this year (2018). ORA's line-up comprises two model ranges, the R Series and the iQ series, each range promising a high degree of connectivity and level 3 autonomy from launch. The R Series will be introduced with two compact vehicles, the R1 and R2. The R1 is a micro vehicle ready to slot in to China's rapacious vehicle market, where tiny trikes and electric bikes are popular options for navigating megacities like Beijing. The R2 is a larger four-seat vehicle with the four wheels pushed out to the corners to maximize its wheelbase and present a larger cabin space. Vice President of Product Planning, Sam Chen, said that while the ORA was initially intended for China, Great Wall Motors would consider introducing the vehicles for export markets.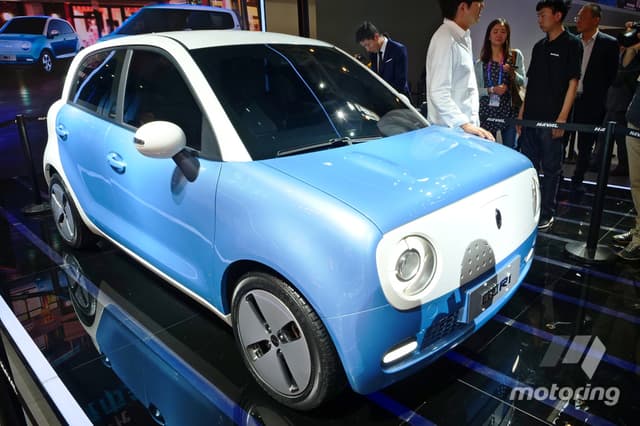 Didi Chuxing
On May 1 Automotive News China reported, "Didi alliance eyes 10 million EVs by 2028. Didi Chuxing is the force to reckon with in Chinese ride-hailing. The ultrapopular company kicked off last week's Beijing auto show by saying it has forged an alliance of 31 auto industry companies - including Toyota, Volkswagen and the Renault-Nissan-Mitsubishi Alliance - to develop cheap, electrified vehicles for new mobility in China. The goal is to have 1 million electric vehicles in Didi's network by 2020 and 10 million by 2028. That's up from some 260,000 EVs in 2017. It also seeks to quadruple the number of Didi users to 2 billion people worldwide over the next 10 years. Didi has 450 million users now."
Autonomous Driving/Car Play and IT connectivity
Currently, Alphabet Inc. (GOOG, GOOGL) and Tesla are leaders in autonomous vehicles. Note that the new Model 3 will come as standard with WiFi. Apple (NASDAQ:AAPL) is doing well with on-board entertainment Apple Play, as is Google with Android Auto. Nvidia (NASDAQ:NVDA) is a leader in supplying GPU chips for modern cars at various levels of autonomy and safety, Intel (INTC) are also involved in this area. Alibaba (BABA) has teamed up with SAIC to make an "internet car".
All the above should benefit from the switch to EVs and higher-tech vehicles.
On April 24 Automotive News China reported, "Alibaba signs AI deal with Daimler, Audi, Volvo. Chinese online retailing giant Alibaba is teaming with global auto brands for the first time to supply artificial intelligence technology for home-to-vehicle connectivity. Alibaba A.I. Labs, the company's artificial intelligence unit, will supply its AI + Car system to Daimler, Audi and Volvo for deployment in China, Alibaba said Monday."
Investors may like to read my article "Companies to benefit from the future smart car boom."
Other EV companies
Other EV companies I am following include Byton (private), Chery Automobile Co. Ltd. (private), Faraday Future, Fisker (private), GreenPower Motor Company Inc. [TSXV:GPV] (OTCQX:GPVRF), Groupe PSA (owner of Peugeot), Hyundai (OTC:HYMTF), Honda (HMC, OTCPK:HNDAF), Kia (OTC:KIMTF), Lamborghini, Lucid Motors (formerly Atieva) (private), Mahindra & Mahindra (OTC:MAHDY), Mazda (OTCPK:MZDAY), Nio (formerly NextEV), Rivian (private), Subaru (OTCPK:FUJHY), WM Motor, Xiaopeng Motors, and Zhi Dou (private).
The list of countries and cities banning (or soon to ban) petrol and diesel vehicles include at least - UK (2040), China, Germany, France (2040), Netherlands (2030), London, Paris (2030), Stuttgart, Mexico City, Madrid, and Athens. Added to this are countries pushing hard to become 100% EV - Norway and India.
Conclusion
March 2018 global electric car sales were up 53% on March 2017 - An amazing performance so early in the year. Electric car market share in Europe for March reached 2.2%, China reached 1.8%, and the US 1.3%.
My highlights for April were:
Tesla races back to the top as global number 1 electric car seller year to date.
Volkswagen has had to halt orders on two of its electric cars due to "unprecedented demand."
Nissan plans 20 electrified models, including EVs and models using the company's e-Power extended range hybrid setup, are earmarked for China in the next five years.
Toyota plans 10 new electrified vehicles for China by 2020.
As usual, all comments are welcome.
Disclaimer: The information in this article is general in nature and should not be relied upon as personal financial advice.
Editor's Note: This article covers one or more microcap stocks. Please be aware of the risks associated with these stocks.