3 Ideas - May 2018: The MicroCap Conference, NYC
Summary
Small caps, big ideas.
Canadian marijuana, lithium metal anodes, ad tech algorithms.
The Hydropothecary Corporation, Alpha-En Corporation, AcuityAds Holdings.
Fabled stories of microcap folklore.
Intended as the opening act, never the finale.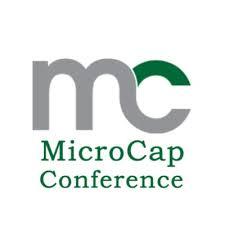 Recently, I had the chance to attend the MicroCap Conference in New York City; it's an event I always look forward to. With over 120 companies in attendance, there's ample opportunity to speak with management, sit in on multiple presentations, and learn about exciting new businesses… Ideas abound! I'm on the hunt for a captivating story, an exciting tale, and a great adventure in the Microcap lore. Some of my previous narratives include "22nd Century, Inc. (XXII) and the Very Low Nicotine Cigarette," as well as "Marrone Bio Innovations (MBII) and the Biological Pesticides" (more to come in the near future).
Although usually considered speculative in nature, small cap companies can be extraordinary outperformers, given the right circumstances; and so, below are some notes on three presentations I sat in on during the conference, in the hopes of finding a fabled unicorn, instead of getting stuck fighting the Minotaur.
The Hydropothecary Corporation (OTC:HYYDF) and 20 Tons of Cannabis ($492mm Cap)
The Hydropothecary Corporation is a cannabis producer centered in Quebec. It is the fifth largest marijuana company in Canada (by market cap). As part of management's expansion strategy, the company intends on spreading into Ontario and the rest of Western Canada, and then internationally, including to the United States once cannabis becomes legal in the lower 48.
Mostly due to government contracts, HYYDF has a 35% market share of the Quebec cannabis market, which translates to ~8% of the Canadian market as a whole. From a revenue standpoint, that's about an $800 million opportunity based off a $10 billion market for Canadian Cannabis (in $CAD).
With a current 63% margin, the company is focused on a value chain of products, manufacturing multiple cannabis goods - everything from mint-flavored sprays to oral pills to dried powder. One of CEO Sebastian St-Louis' long-term goals is to achieve brand power, similar to how a large liquor conglomerate (think Diageo (DEO), for example) owns multiple products on the shelf: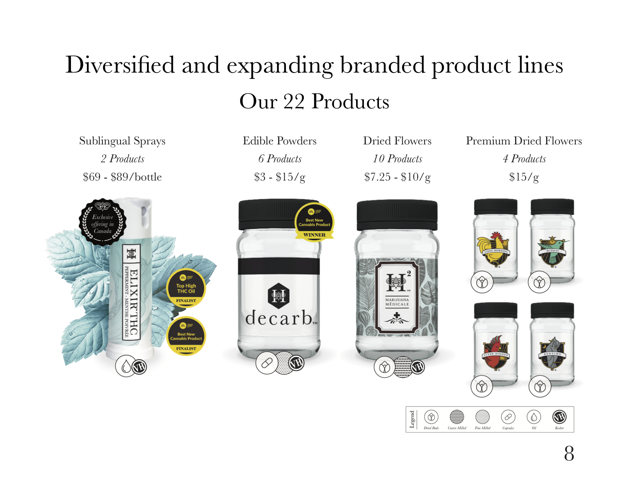 (Source: Investor Presentation)
Even though the margins on Cannabis are expected to decline as more producers enter the market and drive up supply, the Company expects to produce at a run-rate of $0.97/gram ($CAD), which still places their long-term margins at over 30% - even though the margins on other companies will dwindle down to 10%.
What stuck out to me the most during the presentation was the 20-ton contract to sell marijuana with approval from the Canadian government. So assuming a $0.97/gram cost, a 30% long-term margin, and 1,000,000 grams in a metric ton, some back of the envelope math gets us to a $27.6mm contract, just in Quebec (again, in $CAD). Complement the 20-ton sale with the ability to create over 60 different products along with expansion into new Canadian and international markets, and you can begin to see potential for significant revenue growth.
But that's not all. Mr. St. Louis sees Hydropothecary Corp. as a disruptor to the alcohol industry. The product value chain will also include new liquid forms of Cannabis that can actually serve as a substitute for alcoholic beverages and possibly displace them altogether. Even though the company has not yet created such a product, according to the CEO, the technology required to disrupt the alcohol industry and essentially introduce a water-soluble cannabis product is "low-hanging fruit," and can be achieved in the next few years or less.
What are the risks? First off, the Cannabis market in Canada is already competitive, and it's the fifth largest company behind the likes of Canopy (OTCPK:TWMJF), Aurora (OTCQX:ACBFF), Aphria (OTCQB:APHQF), Medreleaf (OTCPK:MEDFF), and Cronos (CRON). What's more, there are approximately 228 million fully diluted shares, selling at $3.16/share ($4.04/share $CAD), and the company generated $CAD4.09mm in 2017 revenues. That's quite a premium, and Hydropothecary Corp. trades expensively at a 225x sales multiple. Caveat emptor.
alpha-En Corporation (OTCQB:ALPE) and the Next-Gen Lithium Battery ($57mm Cap)
alpha-En has developed a novel process for making a better lithium battery. It is a patent-pending method for producing pure lithium metal and associated products at room temperature. The process is more efficient, creates longer-lasting batteries, and is environmentally friendly.
Comparatively, according to the National Academy of Engineering, the cost challenges for conventionally manufacturing Lithium Ion batteries continues to stifle the electric car market. While the U.S. Department of Energy has a cost target for electric vehicle batteries of $125/kWh, the current cost is somewhere between $400-$500/kWh. Therefore, full adoption of electric vehicles remains unlikely. However, there may be an opportunity to reduce cost via the manufacturing process:
Further cost reduction is possible through optimization of manufacturing schemes. Lithium ion batteries are manufactured in sets of electrodes and then assembled in cells. Active material is mixed with polymer binders, conductive additives, and solvents to form a slurry that is then coated on a current collector foil and dried to remove the solvent and create a porous electrode coating. The solvent of choice, N-methylpyrrolidone (NMP), is considered an indirect material […], but it is expensive, exhibits flammable vapors, and is highly toxic. […] In addition, the electrode manufacturing plant is required to recapture the solvent from its exhaust stream, distill it, and recycle it. This is again an additional cost.
Enter alpha-En and chairman Jerry Feldman, who has already established partnerships with Princeton University, Argonne National Laboratory, and Mercedes-Benz (DDAIF) to further develop a more practical method for producing pure lithium metal at room temperature, without the older, expensive manufacturing practices and then bringing the batteries to the market at scale: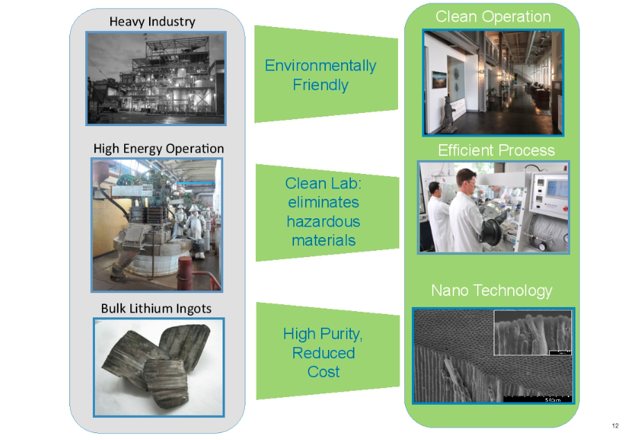 (Source: Investor Presentation)
The traditional procedure includes a "rolling" method that due to the nature of the process leaves excess toxic gas and possibly impure lithium substrate. Instead of the old-school process, alpha-En can take Lithium carbonate, and process it directly into pure Lithium metal to create an anode, with CO2 as a by-product of the spontaneous reaction.
There's a lot of science terminology involved here, so as an aside, Mr. Feldman discussed the applications on electric cars: A Tesla (TSLA) car can weigh somewhere around 1,700 pounds, with about 7,000 little batteries inside it. With a full battery it can travel 200 miles at a time, and it takes 6 ½ hours to charge.
Supposedly, with alpha-En's pure lithium anode, that same Tesla could reach a 400-mile range. That is the potential impact of alpha-En's Lithium advancements. The anodes could demonstrate a 200% increase in battery performance. Furthermore, management has plans for a proprietary "Lithium Air" battery (the "holy grail battery") that could be 1000% better than the current standard.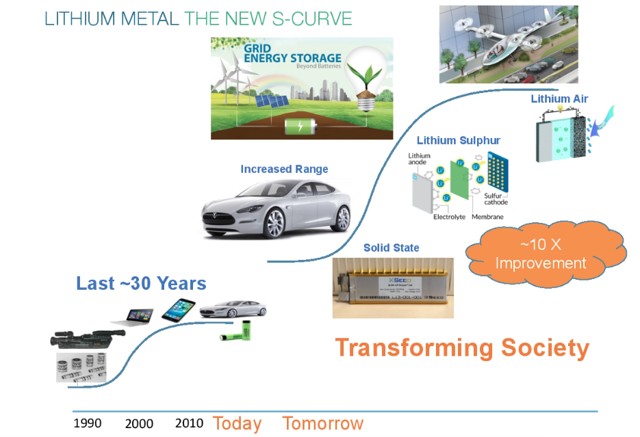 The downside? Management is still looking for financing to get the company to the next level of small-scale production. What's more, the patent for the process is still pending and may not prove to be valuable IP to investors. From a technological standpoint, the Lithium anode battery is quite possibly about two years away from market application, and the "Lithium Air" product is even further away from production at scale. Even still, Alpha-En seems like a darling speculative play, but may require a more in-depth understanding of the lithium market as a whole.
AcuityAds Holdings (OTCPK:ACUIF) and the Ad Tech Algorithm ($26mm Cap)
Started in 2009, Acuity Ads has created an "AI" system in the Ad-tech space. It's an artificial intelligence layer that has helped the firm produce a 97% CAGR in revenues since 2011 ($CAD 58 million in 2017 revenues). Given that there's a $630 billion advertising market, a $265 billion digital advertising space, and a $72 billion programmatic advertising market, there's plenty of room for AcuityAds to grow exponentially.
CEO Tal Hayek explains Acuity's AI algorithm as a program that makes decisions for advertisers (like McDonald's (MCD), Disney (DIS), or Toyota (TM)) at split-second speed to get an ad direct to a consumer on a digital website, like CNN.com or CNBC.com.
For example, suppose McDonald's wants to place a mobile ad. In order to do so, McDonald's places a bid into Acuity's system. Then, Acuity looks up customers' preferences in its programmed database - there's no private information stored in the system, only enough to match a consumer with the right ad. If McDonald's gets the winning bid, then the consumer sees a McDonald's ad on the website. It's basically similar to buying and selling on the stock market, except that the entire process takes place in less than 50 milliseconds. By the time you see the ad online, multiple advertisers have likely already bid on the ad spot: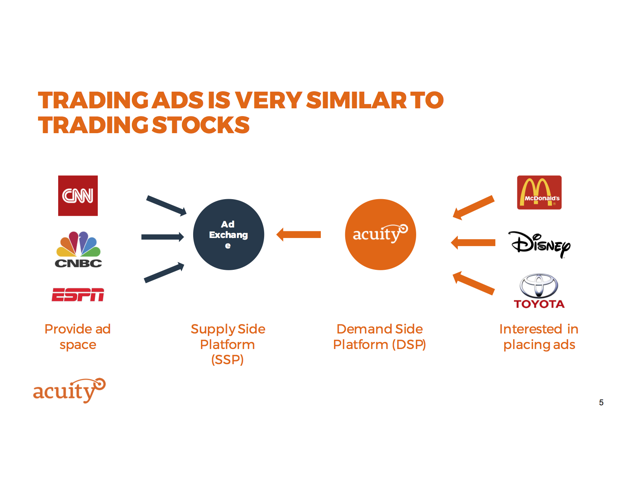 (Source: Investor Presentation)
In addition, last year, 80% of the Company's revenues came from recurring clients, and that includes Fortune 500 companies like Toyota, Ford (F), TD Bank (TD), Subway, McDonald's, Best Buy (BBY), Expedia (EXPE), and more. Given the revenue growth per customer at Acuity, it is clear that clients keep coming back to utilize Acuity's Ad-tech algorithm.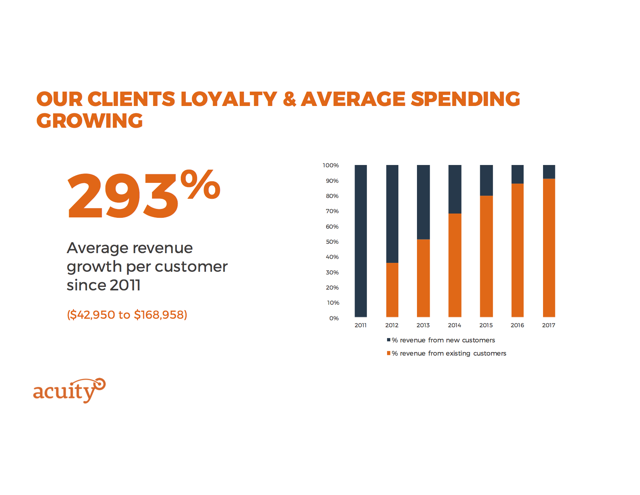 From an investor's perspective, the $0.74 stock price puts the current value at less than 1.0x sales. That said, if the explosive revenue growth continues, the downside on this particular Canadian small-cap could be minimal. Yet, the risk remains, and one source of investor unease could be the drop in stock price from $3.00 to under $1.00.
In September, the stock dived due to an announcement that management fired certain clients for misusing the system - clients were using ad spots for videos when it should have been static ads, resulting in a bad user experience. But now that the stock price has plummeted, the shares now trade at a low price/sales multiple under 1x.
Best of luck, and as always, Buyer Beware.
Editor's Note: This article covers one or more microcap stocks. Please be aware of the risks associated with these stocks.
This article was written by
MS Industrial and Applied Mathematics. Investing through a loosely coupled, complex system. "I am a great believer in luck, and I find the harder I work, the more I have of it." -Thomas Jefferson
Analyst's Disclosure: I am/we are long ACUIF, XXII. I wrote this article myself, and it expresses my own opinions. I am not receiving compensation for it (other than from Seeking Alpha). I have no business relationship with any company whose stock is mentioned in this article.

I may initiate a position in ALPE, HYYDF, or MBII in the next 72 hours. Nothing contained in this message is an offer or solicitation to buy or sell any security/investment, and is for informational purposes only.
Seeking Alpha's Disclosure: Past performance is no guarantee of future results. No recommendation or advice is being given as to whether any investment is suitable for a particular investor. Any views or opinions expressed above may not reflect those of Seeking Alpha as a whole. Seeking Alpha is not a licensed securities dealer, broker or US investment adviser or investment bank. Our analysts are third party authors that include both professional investors and individual investors who may not be licensed or certified by any institute or regulatory body.