Back in October, I made the argument that gold prices could have significant room to go higher in a low-interest rate environment - owing to significant dollar weakness.
Since October, we have seen gold resurge to a level of 1324.40 at the time of writing: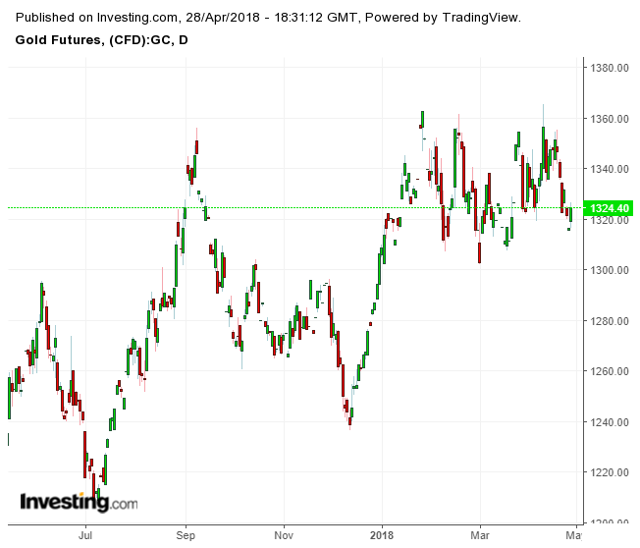 In spite of this, gold prices still trade well below the highs of 1900 seen in 2011: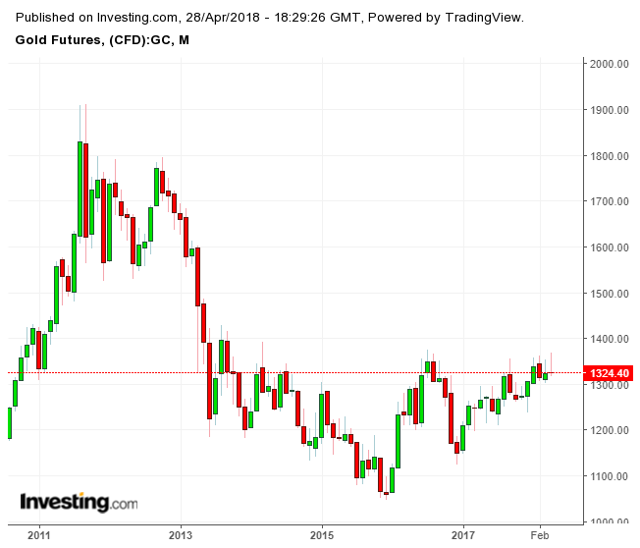 This is not surprising, given that the US dollar has largely been on a downward trajectory since last year: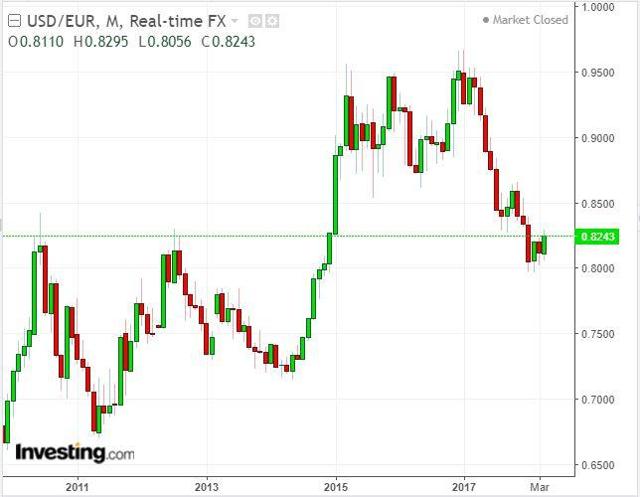 With that being said, the dollar has gained some ground this year, as the Federal Reserve now seem to be pursuing a path of interest rate rises at a faster trajectory than previously anticipated. In March, rates were risen from 1.5% to 1.75%, and while three interest rate hikes were set for this year, a fourth has not been ruled out.
With the economic growth forecast from the Federal Reserve having been revised upwards to 2.7% from a prior 2.5%, there is clearly potential for further rate rises without adversely affecting economic growth. Moreover, interest rates are still well below the 5%+ seen before 2008, so rates certainly have room to rise further.
As a result, could we see a downtrend in gold prices?
Over the short term, it certainly looks likely. Gold prices are primarily a risk-off asset, meaning that investors tend to flock to gold during times of economic uncertainty. In the case that the Federal Reserve continues to raise rates without hampering economic growth, gold prices look likely to descend in the near-term.
In this regard, I do not see a case for a long gold position at this point in time. The main circumstance under which the sentiment on gold could turn bullish once again is if interest rates rise at a faster pace than is feasible to maintain a steady course of economic growth. That scenario looks unlikely at the moment.
Moreover, demand from China had initially been more vibrant as a hedge against a declining U.S. dollar. However, this is now on the decline. For instance, China imported 59.4 tonnes of gold from Hong Kong this March - which was 47% lower than that of the same period last year. This lack of demand has the potential to place further downward pressure on the metal, and it looks increasingly likely that gold prices will head below 1300.
Gold prices saw quite a spike heading into 2018 - and initially found support at a level of 1240. If we see gold prices continuing to decline, then I envisage that gold will head down to at least 1240 before reverting. I would take a bearish view on gold at this point in time.
Disclosure: I/we have no positions in any stocks mentioned, and no plans to initiate any positions within the next 72 hours. I wrote this article myself, and it expresses my own opinions. I am not receiving compensation for it (other than from Seeking Alpha). I have no business relationship with any company whose stock is mentioned in this article.