Most commodity prices such as oil, gold, silver, and lithium are wild cards that can swing significantly in any given quarter depending on breaking news and headlines alone because we live in a newsy-type world these days.
This is why my game plan is to unearth overlooked and grossly undervalued energy and mining plays with high insider ownership and pristine balance sheets whose projects work at current gold, silver, lithium, and oil prices. This is how I minimize the downside risk. And if higher prices come, they will maximize the upside. This is the case with GoGold Resources (OTC:GLGDF).
Unlike other stock pickers and newsletter Editors, I avoid or even short the highly leveraged companies that pray for higher commodity prices to save them from bankruptcy or put them out of their misery. And this investment strategy has worked very well thus far.
That said, many Seeking Alpha articles were written about GoGold Resources from 2013 until 2016. However, the company has been poorly covered on Seeking Alpha since 2016. Actually, this is the first article after 2016 and therefore, this is the first article after November 2017, when GoGold completed the transformational sale of Santa Gertrudis and became debt-free.
In this article, I will update the story, add key information that can't be found in the company's reports (i.e. CEO's latest statements, IR's recent statements), add key fundamentals on a relative valuation analysis that can't be found in the previous Seeking Alpha articles while also shedding light on the company proforma the transformational deal with Agnico Eagle Mines (NYSE:AEM) that cleaned the balance sheet and boosted the stockholder equity at $130.8 million.
GoGold Resources trades on the Toronto board under the ticker GGD where its current price is approximately CAD$0.44 per share.
The Transformational Sale Of Santa Gertrudis And The 2% NSR
In December 2017, GGD completed the sale of its producing Santa Gertrudis gold mine for cash of $77.2 million and a 2% NSR (net smelter royalty) on the project. AEM has the option to repurchase 50% of the 2% NSR at any time for $7.5 million, as quoted below:
"Pursuant to the terms of the Agreements, GoGold will receive total cash consideration of US$80 million and will be granted a 2% NSR on the Project. Agnico will retain the option to buy back 1% of the NSR for US$7.5 million."
Therefore, it's safe to assume that GGD's 2% NSR is valued at $15 million. This transformational sale of Santa Gertrudis resulted in a pre-tax gain in the quarter ending December 31, 2017, of almost $54 million on the project which was initially acquired in 2014. This transformational deal also underlined the competence of this management team and primarily the competence of the CEO, given that he bought a gold mine that was sitting idle for years, unlocked a lot of value in just three years, and finally sell it recording a significant gain of $54 million although the gold price didn't help at all but has largely remained flat during these three years.
Pro-forma this transformational transaction, GGD is debt-free with $14.4 million in cash and stockholder equity at $130.8 million (Dec. 2017).
On top of this, the 2% NSR that can be currently classified as "cash equivalent" will be a significant mid-term revenue stream for GGD, as explained in the next paragraphs.
The Parral Tailings Project
The company's Parral Tailings project is located in the city of Hidalgo del Parral in the state of Chihuahua in Mexico. This is one of Mexico's prolific mining districts with excellent infrastructure and many other projects in the area having potential to be satellite operations.
Also, according to the annual report, the Parral Tailings project is "located near the heart of the city, the tailings have become a nuisance to residents and an impediment to development", so it's important to note that the company enjoys the full support from the local community.
The company's 2013 pre-feasibility study defined reserves of 35.3 million oz. of silver equivalent. The average silver grade over the life of the mine is estimated at 38.4 g/t with the average gold grade being at 0.31 g/t, as illustrated below: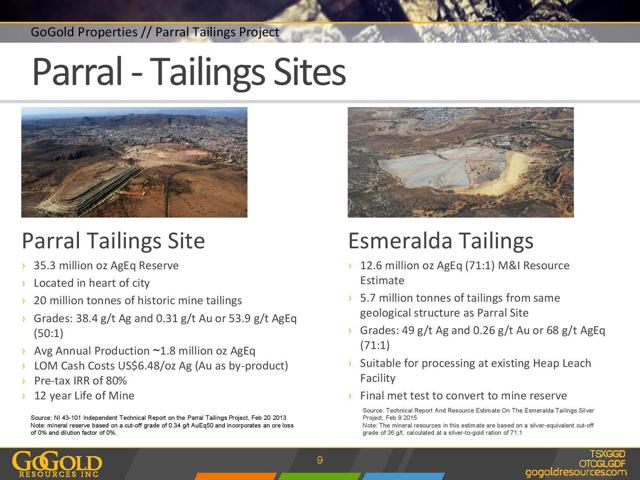 GoGold's heap leach facility was financed and built within 18 months and production began in June 2014. In February 2015, GoGold acquired a nearby tailings property (Esmeralda Tailings) containing an additional 5.77 million tonnes at 49 g/t silver and 0.26 g/t gold for an additional estimated M&I resource of 12.6 million of silver equivalent ounces. Material from the new acquisition will be processed at GoGold's existing heap leach facility.
As a result, the reserves from Parral and M&I resources from Esmeralda currently total 47.9 million oz of silver equivalent with LOM being over 12 years.
As linked above, the pre-feasibility study pegged sustaining capital costs at $27 million over the mine's projected 12-year life span that translates into an average annual CapEx of just $2.25 million.
Consistent Production Growth at Parral
The big progress at Parral over the last twelve months was overshadowed by the company's weak balance sheet due to its debt overhang.
Specifically, based on the quarterly production reports to-date, the company has achieved a 110% production growth at Parral since Dec. 2016, as shown below:
Q ended

Dec. 2016

Q ended

Mar. 2017

Q ended

June 2017

Q ended

Sept. 2017

Q ended

Dec. 2017

Q ended

Mar. 2018

Production

(oz AgEq)

200,063

278,230

314,910

353,370

392,406

417,191
And there is one more reason why this production growth has passed unnoticed thus far. To-date, GGD hasn't launched a detailed press release summarizing its achievements and operational progress on this low CapEx, low Opex, and low-risk asset.
The Efficiency Upgrades And Optimizations At Parral
When it comes to the aforementioned production growth, the tremendous progress hasn't come accidentally. GGD has made major operational improvements at Parral over the last twelve months and as a result, the recovery rates have exceeded 60%.
This is why the CEO recently stated that:
"The changes made at Parral in late 2016 and the first half of 2017 have now taken effect and we expect to see continued increases in production through fiscal 2018".
This is also why the company's IR recently stated at the New Orleans Investment Conference that he expects the company to reach approximately 2,000,000 oz in FY 2018 and 3,000,000 oz in FY 2019 at an AISC of $10 per oz.
Specifically, the initial design of the heap caused the center to slump which led to a lack of oxygen. Oxygen needs to be present for the proper chemical reaction to occur, so the focus was on optimizing the agglomeration and the chemistry to speed up the recovery time. As a result, GGD modified the stacking process and altered the elevation of the heap. Actually, they reduced stacking height to 5-meter high lifts from the 10-meter high lifts in previous years to allow better flow distribution and oxygen influx. This method has worked well for other heap leach operations in Mexico.
Additionally, GGD recently commissioned a new sulphidization, acidification, recycling and thickening (SART) plant to increase the oxygen levels in the solution. As a result, the company will speed up the reaction with the cyanide, which will lead to a faster recovery of the silver while also decreasing the operating costs by recycling of cyanide within the process, as quoted below:
"...during the most recent quarter construction was completed on the SART plant at Parral which will reduce cyanide consumption and generate a saleable copper sulfide product. The plant is being commissioned now and is expected to contribute cost savings and copper production in the current quarter".
Moreover, the new SART plant will provide a new revenue stream for GGD because it will produce a saleable copper sulfide product effective this quarter (Q3 FY 2018), as quoted above. And this copper comes at a time when copper price has risen significantly since 2015, as shown below: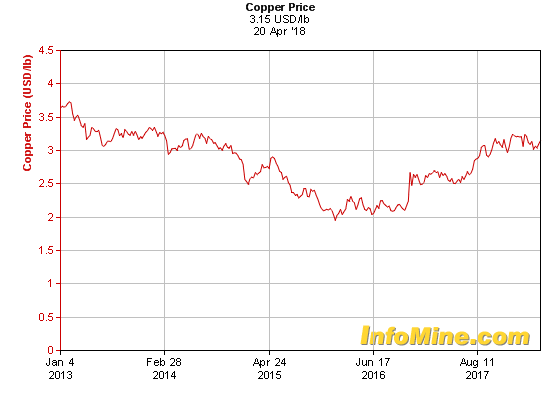 Also, all stacking to-date has been on a single lift. However, GGD recently changed this and started to use second lift stacking (double stacking) for better pad usage and bottom lift residual leach.
Furthermore, the percentage of higher-grade fresh ore will gradually increase while the percentage of previously-leached lower-grade ore will gradually decrease in the next couple of quarters, affecting positively the quarterly production. For reference, as linked above:
"GGD stacked a total of 439,000 tonnes of material in Q2 FY 2018, of which 193,000 tonnes were fresh tailings (~44%) and 236,000 tonnes were reprocessed material (~56%)."
On top of this, GGD purchased a new stacker in late 2017, which has resulted in stacking rates improving by 23% over the last quarter to 4,843 per day in January 2018, as quoted below:
"During the quarter, the Company stacked a total of 439,000 tonnes of material, an average of 4,878 per day, of which 193,000 tonnes were fresh tailings and 236,000 tonnes were reprocessed material. This is an increase of 24% over the average stacking rate from the last year. The stacking rates are expected to continue to improve throughout the remainder of 2018."
Thanks to these efficiency upgrades including the new stacker which can stack ore symmetrically, tonnages stacked are expected to rise to 5,500 tpd by Q4 FY 2018, allowing more fresh ore to be under leach. Therefore, GGD projects that it will continue to consistently increase its quarterly production reaching approximately 550,000 silver equivalent ounces in Q4 FY 2018, as illustrated below: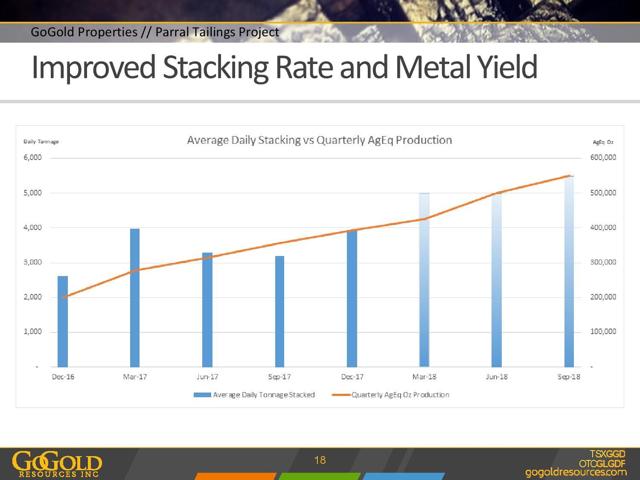 Thanks also to these optimizations, cash costs will decrease in the coming quarters, according to the company. Specifically, the company stated in the latest quarterly report linked above:
"Cash costs in the current quarter (Q1 FY 2018) were $11.69 per silver equivalent ounce, costs have increased due to the reprocessing of tailings which will be completed in the quarter ending March 31, 2018 (Q2 FY 2018), after which costs are expected to decrease."
There is no denying that AISC follows the drop in cash costs and therefore, I project that AISC will drop to approximately $11 per oz in Q4 FY 2018 from $15.25/oz in Q1 FY 2018.
Debt-Free Balance Sheet And Low CapEx For Q2, Q3, Q4 FY 2018
Pro-forma the recent transformational sale of Santa Gertrudis, GGD is debt-free with $14.4 million cash and stockholder equity at $130.8 million.
Meanwhile, the current market cap is just CAD$73 million, which translates into $57 million and therefore, debt-free GGD currently trades at just 0.4 times its Stockholder Equity.
Thanks to significantly increased production at Parral (95% production growth YoY, as shown above), revenue in Q1 FY 2018 rose approximately 60% on a YoY basis reaching $5.8 million.
Also, the company generated positive EBITDA in Q1 FY 2018 at approximately $510,000 while it was breakeven from a cash flow standpoint with negative operating cash flow at just $580,000.
More importantly, Q1 FY 2018 was not representative of the big fundamental change in GGD proforma the transformational deal with AEM that was completed in November 2017 because, among other things, it included finance costs of $622,000 and production costs associated with Santa Gertrudis.
Given that the sale of Santa Gertrudis was completed in Q1 FY 2018, Q2 FY 2018 will better reflect the new situation in GGD as a result of the aforementioned efficiency upgrades, the reduced operating costs, the increased production and the debt-free balance sheet that translates into zero finance costs.
In Q2 FY 2018, the company achieved a 6% production increase from the prior quarter. Therefore, it's safe to assume that GGD will generate positive operating cash flow effective Q2 FY 2018 (excluding net changes in non-cash working capital), while I project that the company's EBITDA in Q2 FY 2018 will reach or exceed $1.5 million.
Additionally, after taking into account the company's guidance for consistent and significant production increase in the remaining three quarters (Q2, Q3, Q4), I project that annual revenue will exceed $25 million and annual EBITDA will reach or exceed $9 million this fiscal year, which means that GGD's current Enterprise Value is under 5 times its 2018 EBITDA. And my projection is the result of flat silver and gold prices for the remainder of FY 2018.
From a cash flow standpoint, I project that GGD will not only generate positive operating cash flow but will also generate free cash flow in Q2, Q3 and Q4, because CapEx for the remainder of FY 2018 is under $1 million, based on the latest quarterly report, as quoted below:
"Management has budgeted less than US$1,000,000 in capital expenditures associated with Parral for the remainder of fiscal 2018."
Proven Management Team And High Insider Ownership
The CEO has a proven track record. He knows how to buy low, generate value within a relatively short period of time and sell recording big profits, as illustrated below: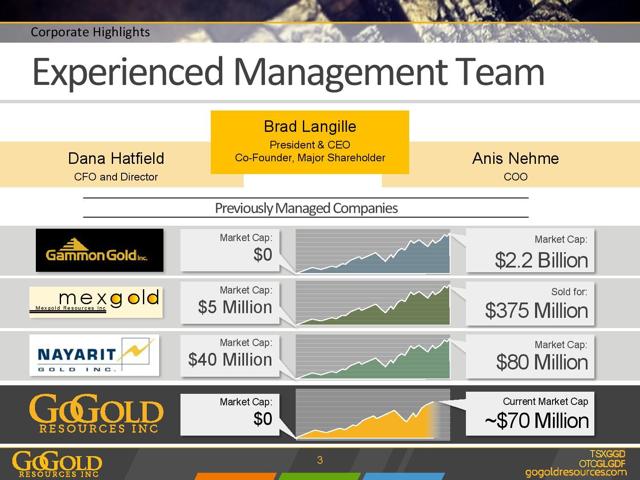 It's also noteworthy that he acquired Santa Gertrudis for just $11 million in 2014 and sold it for $80 million in 2017 recording a pre-tax gain of approximately $54 million, despite the fact that gold price has largely remained flat over the last three years. However, this isn't his sole accomplishment to-date.
As illustrated above, I want to emphasize the fact that GGD's CEO was the CEO for 12 years in Gammon Gold and the CEO for 5 years in Mexgold Resources. He acquired them when they were small, privately-held, family-owned projects, so he developed them from almost grass roots to commercial production and he ended up selling them with tremendous profits, as also presented in the latest presentation in the Denver Gold Group here.
Additionally, insiders' interests are very well aligned with shareholders', given that insiders own 30%, according to the presentation.
On top of this, the company's principals have been working in the mining industry in Mexico for more than 15 years. Coughlan, the Chairman, is an experienced executive in the mineral resource industry for nearly 30 years, who founded GoGold with Strategic Advisor Bradley Langille (the CEO) to take advantage of the numerous gold and silver projects in Mexico that for one reason or another were being underutilized.
The extensive experience Coughlan, Langille and the rest of the executive team had in Mexico gave them particular insight into the best way to go about developing those properties, as quoted below:
"GoGold's management team are veterans of successful mine development and operation in Mexico. In addition to their extensive business and government relationships, they have the knowledge, experience and financial acumen required to turn properties into profitable producing mines."
GGD And The Peers
The relative valuation analysis is always very useful to those value investors who look for "the big picture" in an industry. However, none of the previous Seeking Alpha articles about GGD included a relative valuation analysis, so I decided to gather all the relevant information from the peers' reports and present the relevant metrics into this article.
GGD's peers below have been selected very carefully. First, they are primarily silver producers while some of them also produce small quantities of gold, zinc or lead.
Second, all of them are small producers with annual production under 5 million AgEq oz. Actually, their annual production ranges from approximately 1 million AgEq oz up to approximately 4 million AgEq oz. In other words, this is not a comparison between small and major players.
Third, all the peers have their producing assets in jurisdictions with the same geopolitical risk like Mexico where GGD's properties are. In other words, this is not a comparison between producers who deserve a premium because they have their assets in safe jurisdictions (i.e. USA, Canada, Australia) and producers with assets in risky jurisdictions.
Fourth, the peers either aren't profitable or don't generate significant positive operating cash flow or both. Actually, most of them are losing money while also generating negative operating cash flow. Therefore, they don't deserve a premium relative to GGD, let alone the current huge premium.
This is a brief description about them:
1) Impact Silver (OTCPK:ISVLF) is a silver-gold explorer-producer with two processing plants and three producing mines in Mexico. It also trades on the Toronto board under the ticker IPT.
2) Avino Silver & Gold Mines (NYSEMKT:ASM) produces silver and gold from its Avino and San Gonzalo mines in Mexico. It also trades on the Toronto board under the ticker ASM.
3) Great Panther Silver (NYSEMKT:GPL) produces silver and gold from its two mines in Mexico, the Guanajuato mine complex and the Topia mine. It also trades on the Toronto board under the ticker GPR.
4) Excellon Resources (OTCPK:EXLLF) produces silver, lead, and zinc from its Platosa mine in Mexico. It also trades on the Toronto board under the ticker EXN.
5) Maya Gold & Silver (OTC:MYAGF) produces silver from its Zgounder Mine in Morocco. It also trades on the Toronto board under the ticker MYA.
That said, this is the first table with two key metrics, EV-to-EBITDA and Price-to-Book Value:
GGD

ASM

IPT

EXN

GPR

MYA

Enterprise Value

--------------------

2018 EBITDA (*)

4.8

8.5

37

39

15

90 (**)

Price to BV

0.4

1.1

1.1

2.3

2.6

4.4
(*): Estimate, based on the company's latest production guidance.
(**): Pro-forma the private placement of April 2018.
And this is the second table with another key metric associated with all the mining plays, EV-to-M&I resources or Reserves:
GGD

IPT (*)

EXN

GPR

ASM

MYA

Enterprise Value

-----------------

Reserves or

M&I resources

(AgEq oz)

$0.89/oz

$3.1/oz

$5.5/oz

$6.1/oz

$7.8/oz

$14/oz
(*): Based on the latest information, updated Jan 7, 2018, from Gold Stock Data.
I didn't include the inferred resources because the existence of the inferred resources is highly questionable and therefore, their economic extraction is a highly speculative assumption.
Clearly, GGD is grossly undervalued on all these three key metrics. And I would fully justify it if GGD still had a debt overhang or was on the verge of bankruptcy. However, this is not the case, as explained in detail in the previous paragraphs.
Catalysts And Growth Prospects
GGD is a commodity play, so the rise in the underlying commodities (primarily silver) will help its business. No question about it. However, the rising silver price isn't the only catalyst that can push GGD significantly higher from the current price level. Additional catalysts include:
1) Gross undervaluation on an absolute and relative basis: GGD was hovering well above CAD$1 per share in 2015 and 2016, as illustrated below:
However, the silver price has not helped over the last years, which has weighed on the stock.
More importantly, the debt overhang was the key reason why the stock dropped under C$1 in late 2016 and remained well under CAD$1 in 2017. Just until a few months ago, the company's survival was at risk due to the onerous debt.
Specifically, the company announced in August 2017 that:
"At June 30, 2017, the Company had a working capital deficit of $35.1 million. The Company was not in compliance with the financial covenants of its senior revolving credit facility, and as a result $46.3 million of debt was classified as current and included in current liabilities. A waiver of these financial covenants was obtained subsequent to quarter end on August 11, 2017. As a result of the waiver, further drawdowns on the Credit Facility are currently restricted and the Company must maintain a minimum cash balance of $1 million. In the event that the Company is unable to obtain amendments or waivers from the lender in the future, the lender may demand repayment. If the lender demands repayment and management is unable to secure alternate sources of funding, the Company's liquidity position could be impacted."
As such, investors dumped GGD running away from the stock while seeking safer commodity plays. That was a reasonable decision. If I owned GGD in 2017, I would do the same thing.
However, investors are still backward-looking. They are still in a "wait and see" mode although the onerous debt belongs to the rear-view mirror.
My experience says that this "wait and see" approach can change quickly, re-rating can happen anytime and the stock can climb rapidly closing the tremendous valuation gap with its book value and its peers, as presented in the previous paragraphs.
2) Positive cash flow and free cash flow: According to the CEO's latest statements linked above in the European Gold Forum that took place last week, GGD has started to generate free cash flow this quarter (Q3 FY 2018).
And I want to emphasize this very recent statement. He didn't just say that the company has started to generate positive operating cash flow. He stated that the company has started to generate free cash flow, which means that the positive operating cash flow is now bigger than CapEx.
But again, this is a very recent statement, so most investors are not aware of it, while those who are aware of it might want to see it happen first before they buy.
The bottom line remains the same though, so I believe positive operating cash flow and free cash flow generation make another catalyst that can propel the stock significantly higher bringing its valuation in line with peers'.
3) Accretive growth opportunities: Actually, this catalyst has two options. In the latest presentation in the European Gold Forum linked above, the CEO repeated his strategy of using the free cash flow from Parral to acquire and develop advanced projects that can be quickly moved to production and sold.
Given that the current quarter (Q3 FY 2018) now generates free cash flow according to the latest CEO's statements in the Denver Gold Group, we could get aware of the next acquisition soon.
This acquisition strategy regarding low CapEx, low Opex, high-IRR opportunities is also illustrated below: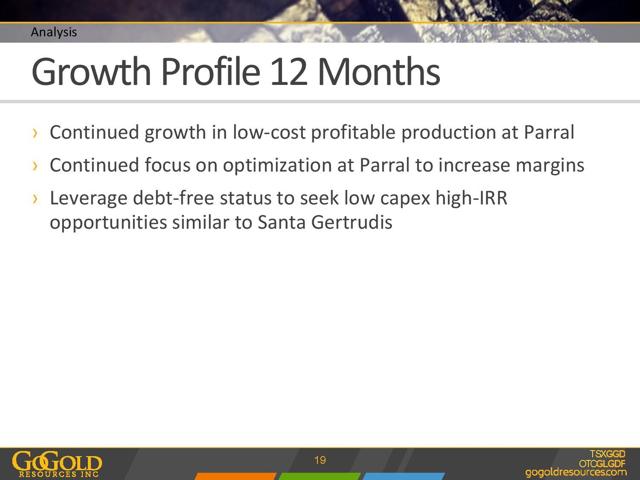 and CEO's recent statements, as quoted below:
"We are very pleased to complete this Transaction with Agnico. We believe GoGold shareholders are well positioned to benefit from the future potential of Santa Gertrudis through our retained royalty. After this Transaction GoGold will be debt free with a strong cash balance which positions the Company well as the Parral Tailings project ramps up to its full production potential, while also allowing us to continue to pursue further opportunities."
However, it looks like GGD is also getting ready to add new tailings deposits, as linked above:
"The Company has budgeted $200,000 for further improvement and expansion of its on-site lab in the 2018 fiscal year. This expansion will allow the Company to conduct column leach testing and additional fire assay tests. This lab expansion better positions the company for project evaluation, including additional tailings deposits."
And thanks to its pristine balance sheet, GGD has power in negotiations. It can also be selective because our research has showed that there are many high-grade tailings deposits at Parral area with easy trucking distance (20 km near city Hidalgo del Parral) such as Alfarena mine, Argentina mine, Cinco de Mayo mine, Coyote mine, Crestas de la Veta mine, Inmensidad mine, Palmillo mine, Piet mine, Refugio Mine, Remedios Mine, San Francisco mine, San Juanico mine, Sierra Plata mine, Tajo mine, Tecolte mine, Ocateca mine, Terrenates mine, Verde mine and Santa Barbara mine, a major past zinc, lead, copper, silver and gold property that produced from 1600 until 1991 at 5.8% Zn, 3.1% Pb, 0.72% Cu and 138 g/Mt Ag.
4) Organic growth thanks to the new stacker and its 10,000 tpd tonnage capacity: As mentioned above, GGD bought a new stacker in late 2017 that allows the company to double throughput at Parral to 10,000 tonnes per day.
In other words, the capacity is already here and as a result, there is ample room for significant production growth in the coming quarters given that the company processed just 4,800 tpd a couple of months ago.
5) The 2% NSR from Santa Gertrudis: Santa Gertrudis represents mid-term revenues for GGD with significant upside potential given that most of the acreage is underexplored with strong indications of high-grade mineralization, as quoted below:
"The property was the site of a historical heap leach operation that produced ~565,000 ounces of gold at a grade of 2.1 g/t gold from 1991 to 1994. As a past producer, substantial surface infrastructure is already in place, including pre-stripped pits, haul roads, water sources and buildings. Three favorable geological trends with a potential strike length of 18 km have been identified with limited drilling between deposits. In addition, GoGold had previously reported high-grade mineralization along northeast-trending structures."
Santa Gertrudis is a 42,000-hectare gold property in the Sonora State of Northwestern Mexico that contains several former producing gold mines. The property currently produces approximately 500 oz of gold per quarter while being in the final construction and engineering phase, as linked above:
"Compilation of historical data is in progress and camp rehabilitation is underway. Drilling will begin in the first quarter of 2018 and the initial program will consist of 28,000 metres at a budget of $7.2 million."
Santa Gertrudis is essentially an average grade, open pit gold operation currently holding an indicated resource of about 800,000 ounces, grading at about 1 gram per ton. But this is just the starting point and the area has significant exploration potential while the economics are very favorable.
Specifically, AEM is targeting annual production of 56,000 ounces over 12 years at an all-in sustaining cash cost (AISC) of just $699 per oz. Obviously, this AISC is very low. To put it into perspective, $700 AISC will put Santa Gertrudis in the top 10 of the gold majors' largest gold mines in the world for cost efficiency.
Given that AEM is an experienced gold producer, I believe that AEM will execute in line with PEA and will squeeze every ounce from this mine. Specifically, this gold asset represents annual revenue of more than $75 million for AEM, based on annual production of 56,000 oz and $1,350 per oz. Therefore, the 2% NSR on this large revenue pie amounts to over $1.5 million per year for GGD.
Risks
I'm a risk-averse investor, so I focus on debt-free or low leverage stocks with low key metrics from specific sectors that have underperformed and have bright outlook. This is the case with GGD.
Additionally, I like this silver and gold producer because it's not a miner pro-forma the sale of Santa Gertrudis, but it's a processor of tailings (the leftovers from past mines) with an in-depth know-how in a country with millions of tons of tailings. As a result, the growth potential is huge while GGD doesn't carry the typical risks associated with excavations and mining activities such as environmental issues (i.e. permits), floods, gas explosions, chemical leakage, underground accidents, and fatalities, to name some.
Furthermore, GGD is not a speculative explorer with zero revenue who looks for funds to prove up its acreage, increase its resources, construct a plant and become a producer one day. Instead, GGD is a proven producer with an established revenue stream and a project whose remaining life exceeds 10 years.
In short, GGD is a debt-free producer with a low CapEx, low Opex, low-risk and largely predictable business in the foreseeable future.
After all, GGD's main risks are largely associated with the fluctuations in commodity prices (silver and gold), market sentiment and currency fluctuations given that most of the costs are in Mexican peso.
Takeaway
Thanks to the transformational sale of Santa Gertrudis, GGD looks very different today than in late 2017, when it wasn't in compliance with the financial covenants of its senior revolving credit facility.
Thanks also to continued efficiency upgrades over the last quarters that have been increasing production and low CapEx for the remainder of this fiscal year (under $1 million), GGD has started to generate both positive operating cash flow and free cash flow, based on the CEO's latest statements in the European Gold Forum that took place last week, as linked above.
Given that the company has changed itself in a big way from a fundamental standpoint, there is a good chance for a major breakout and a leg up in the upward trend that began a few weeks ago.
Based on its Book Value of $130.8 million, GGD should stand at approximately CAD$1 per share (Toronto), where Price-to-BV is 1 times.
Based on the peers' valuation, GGD should be above CAD$1.50 per share (Toronto), as presented in the previous paragraphs.
GGD currently stands at approximately CAD$0.44 per share (Toronto).
It remains to be seen when Mr. Market will act to close this big valuation gap.
Disclaimer: The opinions expressed here are solely my opinion and should not be construed in any way, shape, or form as a formal investment recommendation. Value Digger does not accept any liability for any loss or damage whatsoever caused in reliance upon such information. Investors are advised that the material contained herein should be used solely for informational purposes. Investors are reminded that before making any securities and/or derivatives transaction, you should perform your own due diligence. Investors should also consider consulting with their broker and/or a financial adviser before making any investment decisions.
If you look for low-risk, deep value stocks and low-risk, high-yield dividend stocks, sign up for a 2-week Free Trial for Value Investor's Stock Club. Members get our best ideas on unknown/underfollowed, deep value stocks that are potential multi-baggers, dividend stocks with 8%+ yields, trade alerts for when we close positions and an active chat room to stay ahead of the crowd. Check out why our subscribers have given us unanimously 5-star rating and outstanding reviews.
Also, we strongly encourage you to follow us by clicking on the "Follow" button. This will enable you to receive our insightful articles that will help you make better investment decisions.
Disclosure: I am/we are long GLGDF. I wrote this article myself, and it expresses my own opinions. I am not receiving compensation for it (other than from Seeking Alpha). I have no business relationship with any company whose stock is mentioned in this article.
Editor's Note: This article covers one or more microcap stocks. Please be aware of the risks associated with these stocks.