Note: We have received monetary compensation to perform investor relations services for AdCare Health Systems (NYSEMKT:ADK). Readers should be aware that this compensation may indicate a potential bias in the material presented. The information presented is provided for informational purposes only and is not to be treated as advice to make any specific investment. The content included in this article is based on factual information obtained from public filings and other sources. For our full disclaimer, please visit the link on our profile.
Few investment opportunities are sweeter than a turnaround, where the value of a company is increased, sometimes dramatically, through the measured application of superior operational procedures, technologies, or marketing approaches. Usually this involves a single company bringing in new management to make the company more efficient or perhaps point the company in a totally new direction. With big companies, a turnaround can take years, even decades, and it's largely a one-shot deal, a relatively rare opportunity that can be hard to identify until the train has already left the station. But there is another type of turnaround scenario, one that is continuous in nature, involving multiple business entities. It's even less common than the traditional situation, but provides unique benefits.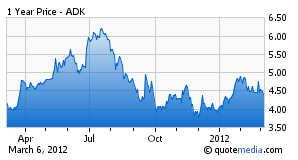 A prime example is AdCare Health Systems, an Ohio-based healthcare service provider that owns, operates, and manages skilled nursing homes, assisted living facilities, and retirement communities in a number of states, largely in the southeast. Facilities include independent living campuses, assisted living facilities, nursing homes, and dementia care homes. They also offer comprehensive home health care services. The company itself is not a turnaround target, but has become an aggressive and successful turnaround operator in the highly fragmented assisted living facilities industry.
AdCare has recognized, and is addressing, fundamental industry weaknesses, allowing it to acquire and turn around one operation after another, continually increasing revenue and building its own bottom line. The assisted living facilities industry today consists largely of independently owned local or regional businesses, often family controlled. These properties are frequently low-margin long-term care facilities, trying to deal with inefficiencies common in small independently run businesses. AdCare, using a carefully developed process of target identification, acquisition, and customized restructuring, is continuously in the process of evaluating and taking over such businesses, gradually transitioning them into efficiently run profitable operations, further increasing profit margins by emphasizing higher-margin acute care services supported by Medicare. To date, the strategy has increased Medicare census by 37.5% at acquired facilities.
Although they are careful to avoid states with severe financial problems, which could directly affect income, it's a model they've been able to spread from their home base in Ohio to dozens of facilities in Georgia, Alabama, Arkansas, and North Carolina, as well as other states, with new acquisitions currently underway. The company has a senior management team with decades of related experience, and their facilities have a strong and positive reputation.
AdCare's Chairman, David Tenwick, has extensive experience in mergers, acquisitions, and the raising of capital to keep the process moving, and their CEO, Boyd Gentry, has many years of experience in acquisition and divestiture. With a combined ownership of over 25% of common AdCare stock, the entire management team is incentivized to continue to grow the business for the benefit of shareholders.
It's a formula that seems to have worked. The net result has been ongoing and accelerating growth in revenue, covering several years, with fiscal 2010 and 2011 being the best of all. AdCare is now looking at the largest year-over-year revenue growth in the company's history. Moreover, the company's net income is seeing its first intermittent forays into positive territory. Add to this the fact that the industry is facing one of the biggest aging population booms in history, and the value of AdCare's position becomes clear.
Bert Wilkison of Chicago-based Kinetic Investments, a subsidiary of Wilkison Financial LLC, calls AdCare Health Systems an undervalued buy and hold stock, pointing primarily to the company's growth strategy. According to Wilkison, the reason the stock is undervalued is due to a "lack of understanding and appreciation of its growth plan and strategic acquisition model."
Also pointing to the strength of AdCare's unique approach to a growing but highly fragmented market is the recent positive report on the company by Stonegate Securities. The Stonegate report projects strong growth rates for AdCare over the next few years, 87% for 2012 versus 6% for the industry average, going on to say that the given figures also have notable upside potential, since they do not include currently unannounced acquisitions in the pipeline.
The company is currently trading around $4.30. With approximately 12.7 million shares outstanding, AdCare has a market cap of approximately $54.6 million, which is but a fraction of the company's annual sales of $134.55 million, providing a P/S ratio of only 0.41 (the industry average is more than twice as high). Furthermore, the balance sheet has remained solid throughout AdCare's aggressive M&A program. As of last report, the company held $158.3 million in total assets and $138.3 million in total liabilities.
In short, AdCare has done far more than simply improve an existing product, putting itself in a more competitive position. The company has built a financial engine, continually finding and revamping other businesses. For investors, it's a rare chance to profit from more than just a single turnaround.
Disclosure: I have no positions in any stocks mentioned, and no plans to initiate any positions within the next 72 hours.