Thesis
Facebook (FB) is one of the great growth names which many investors no doubt have at one point lamented "I wish I had bought this five years ago." Shares never seem to pull back and offer buying opportunities, probably due to the outstanding growth backed by strong tailwinds stemming from the move towards digital advertising. The recent Cambridge Analytica scandal, however, has sent shares cratering, giving investors a pullback and a potential buying opportunity. Should investors take advantage of this opportunity? Or does the efficient market mean that shares are now still not cheap? I am of the opinion that this is a rare market mistake in one of the highest quality stocks in the market. I am aggressively buying and have made this my second-largest position.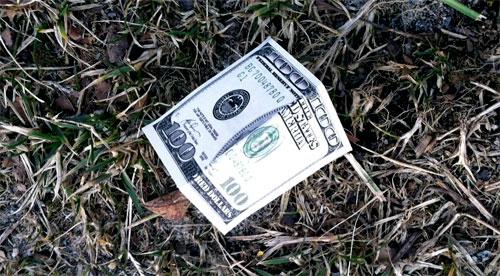 Business Overview
Facebook derives most of its revenues from its Facebook product which many may know as the world's top social network platform. In addition to Facebook, the company also has Instagram, Messenger, WhatsApp, and Oculus. In short, however, it makes its money by running advertisements.
Now Facebook is not just any advertising company. If it was, then we would not be here discussing it so bullishly.
Facebook is the ultimate advertising company because it owns the greatest advertising platform, in large part due to its access to personal data (which seems incidentally to have also gotten it under regulatory scrutiny). Think of a typical advertisement which might be run on a television program, billboard, or publication such as a magazine or newspaper. These have been acceptable mediums to promote your brand historically, but they all share one common problem: lack of connection with the audience. If you run a TV ad about dog food, you would appeal to any dog owners in the audience but the ad would have essentially no value to all the others. Nonetheless, you would still have to pay for the views of these viewers who have by no means been swayed to purchase your dog food. Not to mention those dog lovers might have missed the advertisement because they were busy checking Facebook on their smartphone.
Enter Facebook. Each advertisement at any given "view moment" is viewed on one device and by one individual user. Furthermore, Facebook knows the likes and interests of this user. This is a game changer: advertisers no longer face the problem of traditional advertising mediums. They can make sure their ads are run primarily to those who want to see them. This is the tremendous value Facebook offers to advertisers, and why this is one of the largest companies in the world (by market cap).
Tale of the tape
Facebook corrected significantly after its Cambridge Analytica scandal before recovering sharply after earnings: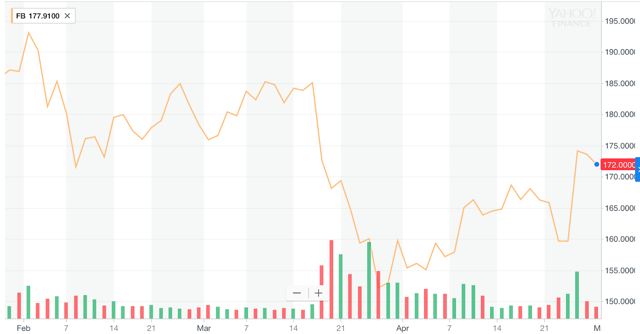 Is this a dead cat bounce? Or does this mark the bottom? Let's look at the actual quarterly results to find out.
Earnings came in very strong, as always
Daily and monthly active users continue to grow in spite of already being in the billions: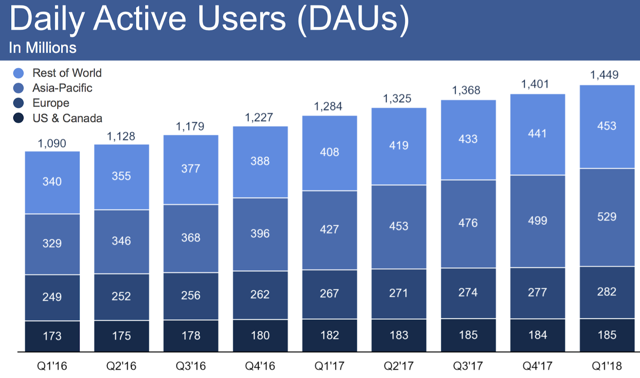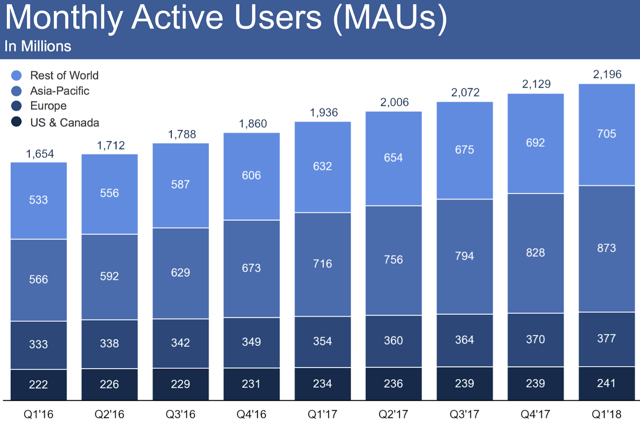 (2018 Q1 Presentation)
Weren't users supposed to be deleting their accounts due to the breach of trust? If they were, it isn't showing in the numbers.
Revenue grew 50% YOY, continuing the trend of strong revenue growth: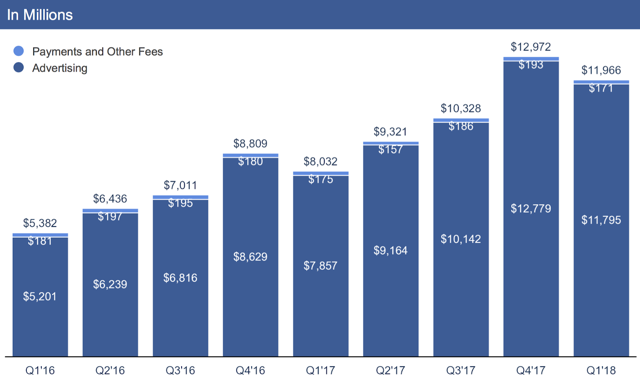 (2018 Q1 Presentation)
This is driven in part due to growing number of users, but also due to growing average revenue per user: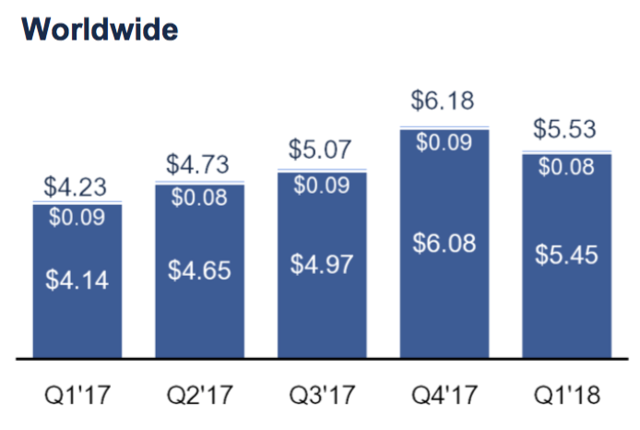 (2018 Q1 Presentation)
Facebook already had impressive operating margins (as do many mature software firms) but it continued to drive further margin growth anyway: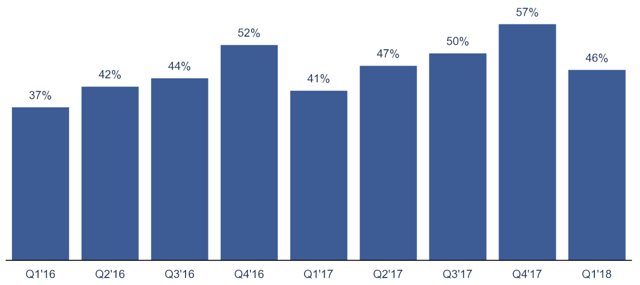 (2018 Q1 Presentation)
All of these culminated in continued strong earnings per share growth: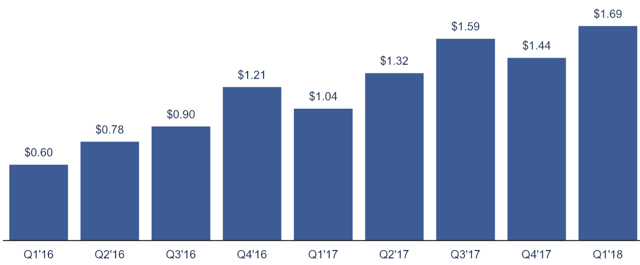 (2018 Q1 Presentation)
One potential negative is that capital investment spending continues to rise, jumping from $1.27 billion in 2017 Q1 to $2.81 billion. These investments were for the most part in data centers, servers, network infrastructure, and office facilities.
Readers who are concerned about this spend may ease their worries by examining the growth in free cash flow as this accounts for capital investments:

(2018 Q1 Presentation)
I should point out that net income has closely followed free cash flow anyways.
The impressive results should come as no surprise as they are being backed by one of the strongest moats in the world. The best news about having a strong moat? The results are likely to continue into the future.
Does Cambridge Analytica Matter?
Many skeptics believe that the company's Cambridge Analytica scandal will be its end. Regulation will be imposed on the company that will crush its business. Let's take a step back.
First, the very fact that regulators are getting involved does speak volumes about the strength of its business model. CEO Zuckerberg, in my opinion, has done an excellent job in his testimony to Congress. Those who have not watched the testimony are encouraged to do so.
I do not have any crystal ball that can tell me exactly how much impact regulations may have on future earnings. But I do know a great business model when I see one, and Facebook has undeniably one of the greatest moats in the history of business models. I am confident that any regulations in the future will not stop this growth story from continuing to fire on all cylinders.
Balance Sheet
Facebook in its earnings release reported $43.96 billion of cash and marketable securities. With no long-term debt on its books, it clearly has a very healthy balance sheet. I do not foresee it maintaining this forever as this cash is likely to be returned to shareholders through share buybacks. Further, I expect Facebook to eventually take on some debt (why not?) to further enhance shareholder returns.
In April 2018, management increased its share repurchase authorization from $6 billion to an additional $9 billion. In 2017, the company repurchased 13 million shares for $2.07 billion. I expect share repurchase activity to pick up significantly in the coming years.
Valuation and Price Target
Facebook is projected to earn around $8.60 per share in 2018 and $10.50 in 2019. With shares trading around $172, this implies a forward earnings multiple of 20, in spite of 20% earnings growth rates. Adjust for net cash and shares trade for just over 18 times this year's earnings. In my opinion, this is just way too cheap. And remember, the company has not even yet levered up its balance sheet. In only several years investors may see earnings yield on cost of 10%. And it may be still growing aggressively even then!
Due to the dramatic undervaluation and best of breed growth, I have a conviction buy rating. My conviction buy rating changes to a strong buy rating when shares trade at 25 times 2018 earnings or $215 per share. I believe fair value to be 30 times earnings or $258 per share. My rating changes to a sell when shares trade at 40 times earnings or $344 per share.
Conclusion
At first glance, Facebook looks to be in deep trouble due to growing concerns about increased regulations. However, when investors focus on the underlying business and its fundamentals, they will see a company which is firing on all cylinders and owns one of the greatest moats in the world. Shares, in my opinion, are tremendously undervalued and thus Facebook is my second-largest holding. Shares have 50% upside to my fair value estimate of 30 times earnings. What is my largest holding? I will be releasing an article revealing this pick soon - stay tuned.
If you liked this article, please scroll up and click "Follow" next to my name to not miss any of my future articles. If you didn't, then leave a comment below saying why not, and follow me anyways.
Disclosure: I am/we are long FB. I wrote this article myself, and it expresses my own opinions. I am not receiving compensation for it (other than from Seeking Alpha). I have no business relationship with any company whose stock is mentioned in this article.