4 Down, 8 To Go - Asset Class Returns In April And YTD
With 2018 already one-third complete, investors sure don't have much to show for it so far. Below we have updated our ETF Asset Class Performance Matrix summarizing the returns of ETFs representing various asset classes YTD, in the month of April, as well as the last seven days of the month. For the purposes of this post, we'll focus on returns in April. For the month, the S&P 500 broke a streak of two straight multi-percentage point declines as SPY gained a paltry 0.52%. That's hardly enough to put a dent in the 6%+ decline from the prior two months, but you have to start somewhere! Most other major US index ETFs also saw modest gains in April except for mid caps (IJH), which were down slightly. We would also point out that April would have been considerably better had it not been for a sell-off in the last week of the month, which erased most of the month's prior gains. Hmm. A sell-off that erased early gains. That's starting to sound like a familiar pattern, isn't it?
Within US sectors, returns were a lot more spread apart than the modest changes that the major indices saw. Energy (XLE) was the big winner in April, surging over 9%, while Consumer Staples (XLP) and Industrials (XLI) both fell more than 2.5%. Industrials were having a good April up until the month's final week. The negative reversal in Caterpillar (CAT) after its earnings report and weakness in the defense contractors contributed to a 4.4% decline for XLI in the last week of the month. In addition to Energy, both Consumer Discretionary (XLY) and Utilities (XLU) saw gains of more than 2% in April.
Like individual sectors, international indices also saw widely varied returns in April. While Russia (RSX) and Brazil (EWZ) both fell more than 5%, France (EWQ), Italy (EWI) and the UK (EWU) were all up over 4%. Keep in mind, too, when looking at these results that they are in dollar-adjusted terms. Therefore, in local currency terms, these indices were up even more. Take France for example. While EWQ was up 4.1% in dollar terms, in local currency, it rallied 5.7%.
In the commodity space, oil rallied 5.4% in April, which propelled the overall commodities ETF (DBC) higher by 3.42%. Gold (GLD) and silver (SLV) were both down marginally.
Finally, Treasury ETFs all fell in April, which means Treasury yields were higher across the board.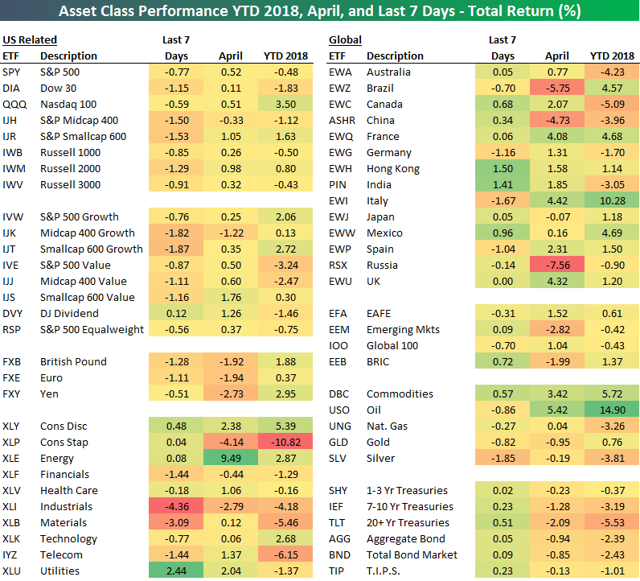 This article was written by
Bespoke Investment Group provides some of the most original content and intuitive thinking on the Street. Founded by Paul Hickey and Justin Walters, formerly of Birinyi Associates and creators of the acclaimed TickerSense blog, Bespoke offers multiple products that allow anyone, from institutions to the most modest investor, to gain the data and knowledge necessary to make intelligent and profitable investment decisions. Along with running their Think B.I.G. finance blog, Bespoke provides timely investment ideas through its Bespoke Premium (http://bespokepremium.com/) subscription service and also manages money (http://bespokepremium.com/mm) for high net worth individuals. Visit: Bespoke Investment Group (http://bespokeinvest.com/)