SendGrid (NYSE:SEND), the software company that specializes in providing APIs for a quick-fix email marketing solution, has just reported Q1 earnings, the company's second quarterly report since going public last fall. Unlike the company's blowout fourth quarter earnings (a great signal to the market, as its first-ever earnings release), the company has run into some hiccups in Q1.
A beat is still a beat - most importantly, SendGrid still beat analyst expectations on the top line by a half million. But seeing as SendGrid beat expectations by $2 million last quarter (a huge 10-point beat to consensus), this quarter's results are a bit underwhelming for a stock whose investors have learned to expect more.
Surprisingly, SendGrid's stock hasn't moved much yet on the earnings release. Shares are down by less than half a percent. Many more technology companies of late, such as Seagate Technologies (STX) and Western Digital (WDC) in the semiconductor front and Atlassian (TEAM) on the software side, have seen much more pronounced post-earnings selloffs even despite strong earnings beats. Investors' reaction to good earnings this quarter has been rather tepid - which makes me think that SendGrid, whose earnings are far from inspiring, is due for a much bigger pullback.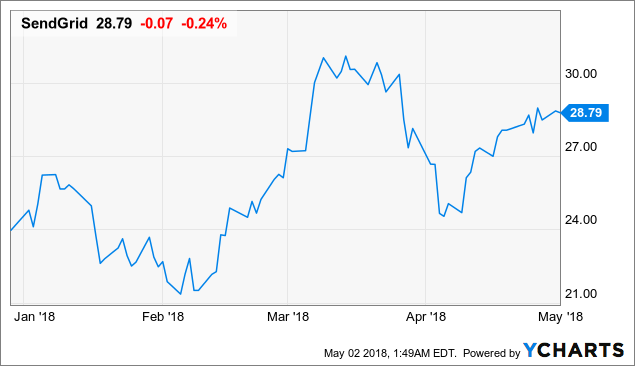 Year to date, the stock is already up 20% and its gains have eclipsed the better part of the tech sector and the broader market. Q1 has given us no additional reasons to keep buying shares. I'm inclined to stay on the sidelines and watch the pullback occur.
Valuation check: SendGrid's premium multiple no longer makes sense
Relative to the quality of SendGrid's most recent quarter, its shares are no doubt expensive. At SendGrid's current share price of $28.79, the company has a market cap of $1.17 billion (still putting the company squarely in "small-cap" territory). After netting out the $168.6 million of cash that SendGrid showed on its Q1 balance sheet, the company has an enterprise value of $1.00 billion.
Along with Q1 earnings, SendGrid also refreshed its FY18 guidance, though the numbers barely went up enough from Q4's guidance to truly call this quarter a "beat-and-raise". In any case, both the "beat" and "raise" aspects were truly marginal.
SendGrid is now expecting full-year FY18 revenues of $140.3-$142.3 million, with a midpoint of $141.3 million representing +26% y/y and up $1.3 million over the prior guidance midpoint of $140 million. That's not a substantial guidance raise - nor is a deceleration to 26% y/y growth that impressive for a company that managed 40% growth in FY17 and is trading at a premium multiple.
SendGrid's enterprise value represents an EV/FY18 revenue multiple of 7.11x. Other companies that are projecting a growth rate south of 30% typically tend to trade between 6-7x revenues, making SendGrid's valuation a bit steep.
Given the massive deceleration SendGrid is forecasting, as well as the deterioration in its cash flows (once one of SendGrid's primary distinguishing points), I believe the stock is worth no more than 6x EV/FY18 revenues, implying a price target of $25 and 13% downside from current levels.
If you're looking for exposure to small-cap technology stocks, there are plenty of better names to choose from that boast much better value - Instructure (INST), Yext (YEXT), and Zuora (ZUO) are all high-growth SaaS names that immediately come to mind that not only post better growth rates than SendGrid, but also trade at more favorable valuations.
Q1 download: seven-point deceleration to 31% y/y growth combined with FCF deterioration
Here's a look at SendGrid's first-quarter results:
Figure 1. SendGrid Q1 results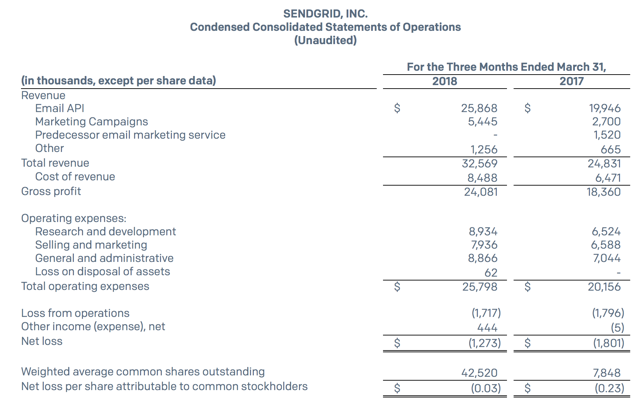 Source: SendGrid investor relations
Total revenues grew 31% y/y to $32.6 million, beating analyst consensus of $32.1 million (+29% y/y) by less than 2% - again, a far cry from the >10-point beat that SendGrid was able to manage in Q4. Of course, that was SendGrid's first earnings release and analysts still didn't know what to expect - but perhaps now Wall Street is expecting too much, and that's why SendGrid's valuation is slightly bloated.
SendGrid's flagship offering, Email API, saw 30% y/y growth to $25.9 million. Going forward, its managed Marketing Campaigns offering (which doubled in revenues) will become an even more critical component to SendGrid's growth, but given how nascent the business is, we can't be a hundred percent confident in its development. On the bright side, SendGrid ended Q1 with 69,000 customers, up 35% y/y.
SendGrid's customers, however, lean largely to the SMB side - and it will always likely be this way, as larger companies tend to build their own email marketing tools (though this isn't to say SendGrid doesn't have any enterprise clients, because it does). The company's heavy dependence on SMB revenues, however, has always been a risk - as SMBs are much more likely to churn, and the most successful enterprise software companies rely a lot on upsellling capabilities and renewal rates to maintain growth. SendGrid's deceleration in this quarter - from 38% growth in Q4 to just 31% growth this quarter - can be further exacerbated if the economy turns south and small businesses react by cutting their software or marketing spend. Among enterprise software companies, SendGrid is one of the riskiest due to its SMB-oriented nature.
On the bottom line, SendGrid was able to improve its operating margin to a GAAP loss of -$1.7 million, or -5% of revenues, slightly better than -7% in 1Q17. On the flipside, however, SendGrid's pro forma EPS of -$0.03 underwhelmed against analysts' expectations of -$0.06.
Note one other alarming fact on the profit side: SendGrid, which posted positive operating and free cash flow in FY17, has turned an OCF profit this quarter into a small loss, while FCF compressed to -$7.8 million - or a -30% FCF margin, much worse than 1Q17:
Figure 2. SendGrid FCF

Source: SendGrid investor relations
SendGrid's ability to generate positive cash flows was one of the distinguishing factors in its IPO against other small-cap tech stocks. Now that SendGrid is reverting to the mean of generating double-digit FCF loss margins, it calls into question yet again whether the stock should be trading at 7x forward revenues.
Final thoughts
Impressive growth and positive cash flows were among the key pillars supporting a bullish thesis for SendGrid. This quarter, it seems both advantages have crumbled, as growth decelerates 7 points quarter-over-quarter and free cash flow dips deeply into the red. SendGrid is no longer a stock that deserves to trade at an above-market valuation of 7x forward revenues; 6x forward revenues ($25) is a much more digestible valuation.
With this quarter, more of SendGrid's risks begin to appear through the cracks as well. Investors should turn particular attention to the possible churn that SendGrid's SMB-oriented business may attract, as that may cut even further into SendGrid's decelerating growth rates. All in all, at the stock's current price, the risk-reward profile is quite unfavorable to a long position. Stay on the sidelines until a better valuation is reached or until the company can show better execution to quarterly targets.