In my last article, I examined the struggling consumer staples space, concluding that while superficial value may be building, investors need to maintain circumspection. The reality is that some sort of broadscale, robust growth scenario is probably not in the cards. Still, for income capturers, the 4+% yields available today may be welcome news compared to the absolute payout dearth that has been seen over the past 5-7 years.
From a macro perspective, consumer staples companies are becoming a decreasingly important part of the overall domestic economic pie. Vanguard Index 500s (VOO) recently showed consumer staples exposure at less than 8% of assets.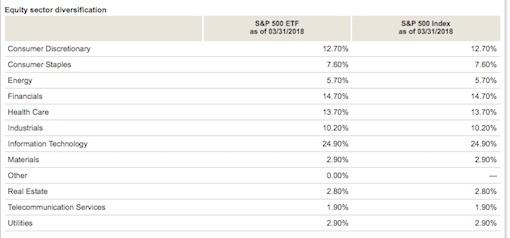 Source: Vanguard.com
The largest sector contributor to the S&P 500, by far, is technology. Earlier this year, for the first time since the tech/Internet bubble of the late 90s, technology eclipsed the 25% plateau in terms of index weighting. This is a whopping five-fold increase since the early 90s. For those that may recall, Microsoft's Windows 95 operating system ushered in a golden era of technological advancement and economic impact.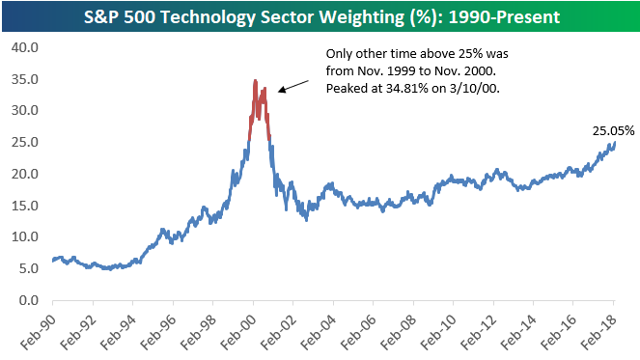 Source: Bespoke Investment Group
The tech sector's rise has not been without substantial bump in the road. Investors that became too enamored with anything "dot com" related around the turn of the century, exhibiting "irrational exuberance" (in Alan Greenspan's prescient words), paid a dear price as tech stocks were walloped into oblivion.
We've come a long way since then, however, as a resurgence of technological optimism has created pockets of rampant price appreciation over the past few years. The choppy trading we've seen at the onset of 2018 should really come as no surprise to those who have been watching both tech and broader market price multiples expand since the financial crisis playout of nearly a decade ago.
Further evidence of the market's sector-transitional nature through the years is seen in VOO's top holdings.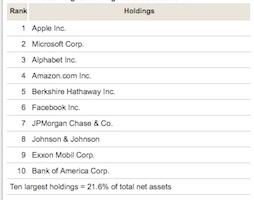 Source: Vanguard.com
Four of the top five and 5 of the top 10 holdings are tech stocks.
If we turn back the clock 25 years (right around the time I started investing), the character of its holdings was a bit different :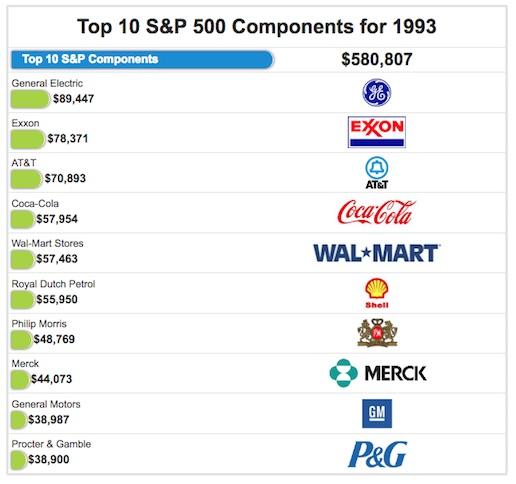 Source:etfdb.com
Indeed, at a time when the terms email and Internet were first being uttered, and Mark Zuckerberg was reportedly fiddling with Atari programming, we find a very esteemed list of companies, but nary a tech stock. Perhaps surprisingly, the only overlap we find today in the top 10 is Exxon (XOM), many years prior to its mega-merger with Mobil. Not surprisingly, we see the year 1993 as dominated by integrated oil companies, consumer giants, and then, the world's largest company, but now a very broken conglomerate, General Electric (GE).
The Next 25 Years
You or I trying to predict where the world will be in 2043 and what it experiences on the path to getting there would be akin to what George Orwell attempted when he wrote 1984. That's largely a fool's errand. However, the most successful of investors - whether growth or dividend oriented - are visionaries with the ability to transition along with economic evolution and exploit disruptive situations.
The least successful of investors will usually arrive late to a party and then overstay their welcome - akin to those that chased tech/Internet stocks at their highs in the late 90s and failed to understand the looming devastation at their doorstep.
Given the transitory "here today gone tomorrow," sometimes risky nature of technology, it can be an intimidating prospect for the more conservative dividend investor to make a huge commitment. And given the fact that several mega-cap tech "top 10" companies still don't pay dividends [Facebook (FB) and Amazon (AMZN) just to note two], the decision to steer largely clear may be an even easier one.
However, as the economy continues to transition from one in which we increasingly shop online, where we communicate with mobile smartphones instead of hard-wired telephones, and where we stream instead of watch traditional television programming, it's also important to not become stubborn. Whether you partake or not in the change, from an investment perspective, it is important that you understand the economic implications of change.
Okay, How Much?
How much of a dividend growth portfolio should be committed to technology is certainly a subjective matter. It's hard for me to envision the dividend growth'er without any exposure - but it's also really hard to envision something near or above the 25% index hugging threshold, either.
One of the main problems here is that not too many technology stocks fit into the consistency mold that the dividend purist may be looking for. On a recent search with my broker (TD Ameritrade), I came up with a fairly robust list of 186 dividend paying tech stocks. However, given recent broadscale gains in the space, about 3/4 of those companies trade with payouts beneath the current yield of the 10-year Treasury bill (~2.95%).
I then took a look at a combo list of David Fish's dividend contender/challenger/champions (minimum 5-year dividend growth streak), and found only about three dozen, or only about 20% of the original dividend payers list.
Of that three dozen, the majority would appear familiar to investors with even a modicum of tech sector knowledge. Although, I will admit there a few that I've never heard of. The number to the far right is the duration (in years) of the company's current dividend raise streak.
| | | | |
| --- | --- | --- | --- |
| Amphenol Corp. | | Telecomm Equipment | 6 |
| Cisco Systems Inc. | | Telecomm Equipment | 8 |
| Harris Corp. | | Telecomm Equipment | 16 |
| Motorola Solutions Inc. | | Telecomm Equipment | 8 |
| Qualcomm Inc. | | Telecomm Equipment | 16 |
| Activision Blizzard Inc. | | Technology-Software | 9 |
| Amdocs Limited | | Technology-Software | 7 |
| CSG Systems International Inc. | | Technology-Software | 6 |
| Intuit Inc. | | Technology-Software | 7 |
| Microsoft Corp. | | Technology-Software | 16 |
| Monotype Imaging Holdings Inc. | | Technology-Software | 7 |
| Morningstar Inc. | | Technology-Software | 8 |
| National Instruments Corp. | | Technology-Software | 5 |
| Nielsen Holdings plc | | Technology-Software | 5 |
| Open Text Corp. | | Technology-Software | 5 |
| Oracle Corp. | | Technology-Software | 9 |
| CDW Corp. | | Technology-Services | 5 |
| Computer Services Inc. | | Technology-Services | 46 |
| Analog Devices Inc. | | Technology-Hardware | 16 |
| Broadcom Limited | | Technology-Hardware | 8 |
| Corning Inc. | | Technology-Hardware | 8 |
| HP Inc. | | Technology-Hardware | 8 |
| International Business Machines | | Technology-Hardware | 22 |
| KLA-Tencor Corp. | | Technology-Hardware | 9 |
| Lam Research Corp. | | Technology-Hardware | 5 |
| Maxim Integrated Products | | Technology-Hardware | 17 |
| Microchip Technology Inc. | | Technology-Hardware | 17 |
| MKS Instruments Inc. | | Technology-Hardware | 7 |
| NetApp Inc. | | Technology-Hardware | 5 |
| Nvidia Corp. | | Technology-Hardware | 6 |
| Power Integrations Inc. | | Technology-Hardware | 6 |
| TE Connectivity Ltd. | | Technology-Hardware | 6 |
| Texas Instruments | | Technology-Hardware | 14 |
| Xerox Corp. | | Technology-Hardware | 5 |
| Xilinx Inc. | | Technology-Hardware | 15 |
Source: David Fish - dripinvesting.org
Whether the prospective dividend growth tech investor confines themselves to the above list or not is certainly personal choice. Apple (AAPL), which I consider a consummate DG stock, has yet to make it to Mr. Fish's list. Those with a somewhat more liberal personal investment charter may also consider tech stocks that don't pay a dividend.
At the end of the day, I'd probably opine that even the most conservative of DG'ers should try to maintain at least 5% of a stock portfolio in some sort of tech stock configuration. Those with a bit more confidence or risk tolerance might be inclined to allocate something more robust, perhaps to the order of 10-15 percent.
Strategy Session
Admittedly, with tech stocks currently trading about 6-fold higher (QQQ) than they did at the depths of the financial crisis, and with whiz-bang operating value seemingly absent, now may not be the best of times to be making gigantic commitments.
Still, from a macro-portfolio-positioning perspective, one should really consider long and hard how predominant tech may ultimately become - both generally - as part of our day-to-day lives, and - more specifically - as part of the overall investment economy. To totally dismiss the space, assume that valuations will necessarily plummet from here, or otherwise ignore the increasing role of technology in society, would be short-sighted in my view.
While it's certainly possible that a market selloff could find tech stocks as a lower percentage component of the near-term overall pie, where do you think we'll be 10 years from now? 15 years? 25 years?
One could certainly argue that paying up for something with a much more visible growth runway (technology) is a better long-term proposition than hoping that something that has fallen on harder times will necessarily recover (consumer stocks or REITs, for example). From my vantage there's validity to DG'ers future consideration of both schools of thought.
Meanwhile, even when we view tech in isolation, we can find a wide variety of stocks at different points in their life cycles, with different growth rates, yield points, and general corporate situations. To wit, we see both chip giant Nvidia as well as Xerox on the same dividend list above. Clearly, there's little in common with these two. Yet, depending on your strategic viewpoint, there may be merit to owning both.
On a clearly negative note, tech companies are likely to exhibit heightened cyclicality versus consumer necessities and other more economically established sectors. While tech stocks may expand at a comparatively voracious rate during expansionary periods, the durability/sustainability of dividend growth may be up for question (as compared to necessities) during slowdowns.
As to what to buy specifically today, again, valuations make the obvious pickins', at least amongst venerable dividend stocks, somewhat slim in my view. While Microsoft has become one of my largest positions over the past several years, I can't recommend it with both fists at current trades. Its sub 2% yield doesn't help the DG'er get excited either, especially when one sees Procter & Gamble (PG) and Kimberly-Clark (NYSE:KMB) near the 4% threshold. The low yield/high valuation is a general theme across the tech-dividend universe.
Looking at others with long streaks and higher yields that may be more buyable, I think Broadcom with a 3% yield and reasonable valuation is starting to look interesting here. Another chip giant, Texas Instruments, has also established itself as an impressive DG stock in its own right. I don't think I'd be averse to establishing a position at these levels.
Although I know it's not a popular view amongst the DG crowd, I continue to advise a pass on IBM. And despite the huge yield, I'm a passer on Qualcomm as well. For contrarians, investing alongside corporate raider Carl Icahn in Xerox might prove interesting over the next year. While Icahn recently declared that the company was worth double current trades, I'd see the odds as very low that investors will realize anywhere near that sum.
I'll finish up by noting that dividend growth investors need to find their own happy balance between ignorance and obsession when it comes to technology investing. And by all means, please do not invest in a company that you do not understand.


Disclosure: I am/we are long AAPL, MSFT, XOM. I wrote this article myself, and it expresses my own opinions. I am not receiving compensation for it (other than from Seeking Alpha). I have no business relationship with any company whose stock is mentioned in this article.