Investment Thesis
I first wrote about AT&T (T) on November 6th, 2017 in my article: AT&T: Speculation Has Created A Great Buying Opportunity when the stock hit support levels of $32.50/share as a result of speculation and an earnings miss. With the specifics of the Time Warner (TWX) acquisition still in question and reporting another earnings miss it is no wonder AT&T's stock price has languished.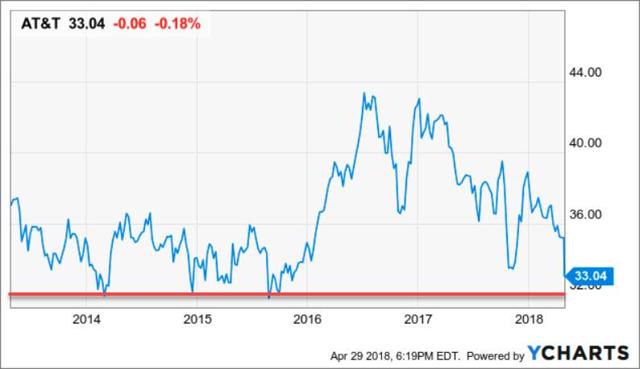 In previous years we have seen the $32/share price point act as a significant support level which I believe is largely driven by the 6%+ yield it represents. The five-year chart above shows that this has held true multiple times in 2014 and 2015. With the dividend having been increased since that time I believe that the new support level is likely to hold out closer to $33/share because this represents a 6%+ yield at $2.00/year annual payout.
Sifting Through The Noise (Again)
Yet again we are faced with another scenario of sifting through the noise as we look at an industry that is rapidly changing. The noise at this point doesn't even consider the newly proposed merger of T-Mobile (TMUS) and Sprint (S) which would create another telecom behemoth only slightly smaller than AT&T.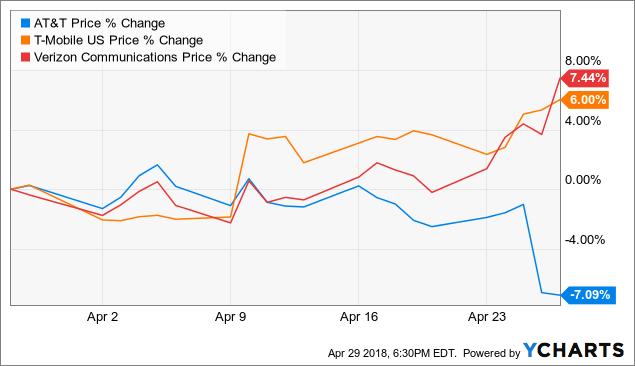 AT&T has experienced a major downturn since the release of its earnings report (more on this to follow) while Verizon's (VZ) earnings report beat analysts expectations on an adjusted EPS and revenue basis. The main thing we need to determine is whether or not investors are overreacting to this earnings miss by AT&T.
AT&T And TWX: The End Is In Sight
On April 30th the closing arguments are due in the acquisition of Time Warner by AT&T. While I personally believe that the acquisition will be approved (I base my rationale off of Comcast's (CMCSA) purchase of NBC Universal in 2011 that Judge Leon oversaw) the bigger news will be the resolution of a 19-month ordeal that has created a lot of additional noise for AT&T's stock.
Part of the reason why I am looking forward to the end of this debacle is that AT&T has spent a lot of money to finance debt and pay for additional fees related to the timeline/closure of the deal. Here is a rundown of the costs AT&T has incurred during the last 19-months:
$1.1 billion in debt interest and fees
$214 million in integration costs in 2017
$67 million in integration costs (so far) in 2018
$500 million owed to Time Warner for not closing the deal on or before April 22, 2018.
In addition to these costs, we have not even begun to quantify the amount of potential revenue and profit lost from synergies, etc.
AT&T Q1-2018 Earnings Review
Below is a year-over-year (YoY) comparison of what I believe are some of the most important figures from the earnings report (these figures were gathered from the Q1 8-K reports in 2017 and 2018):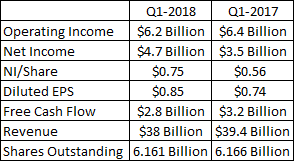 Here are some important things to consider (or at least think about) when viewing the figures above:
The YoY increase in diluted EPS can be attributed to tax reform which represented about $.15/EPS.
In the earnings call, management states that the first quarter normally has the lowest free cash flow of the year.
Mexico has demonstrated strong growth as AT&T added 500,000 new subscribers during Q1-2018 and more than 3 million subscribers over the course of the last rolling year. Mexico now represents 15.6 million customers in total.
In many of the comments on the earnings report slides, I noticed a lot of concern about the $900 million reduction in revenues for Q1-2018. Here is where this change was addressed in the Q1-2018 earnings call transcript:
"As we mentioned last quarter and noted it in 8-K filed last month, AT&T was required to adopt several new accounting standards this year. These new accounting standards deal with reporting issues around revenue recognition, pension costs, financial instruments, and cash receipts on installment receivables. These changes have some impact on our income statements and our cash flows.

And in connection with adopting the new standard on revenue recognition, the company will now record Universal Service and other regulatory fees on a net basis, consistent with how we have traditionally reported other pass-through items like sales taxes. This specific change will reduce both revenues and expenses by a little more than $900 million this quarter, but will not – they will not impact operating income or net income for the quarter."
Fortunately, management decided to make the impact of these new accounting standards pretty straight-forward by including what the figures would have been prior to this change. This change in account helps explain the year-over-year (YoY) drop in revenues from $39.4 billion to $38.0 billion as a chunk of this was related to the newly implemented accounting standards.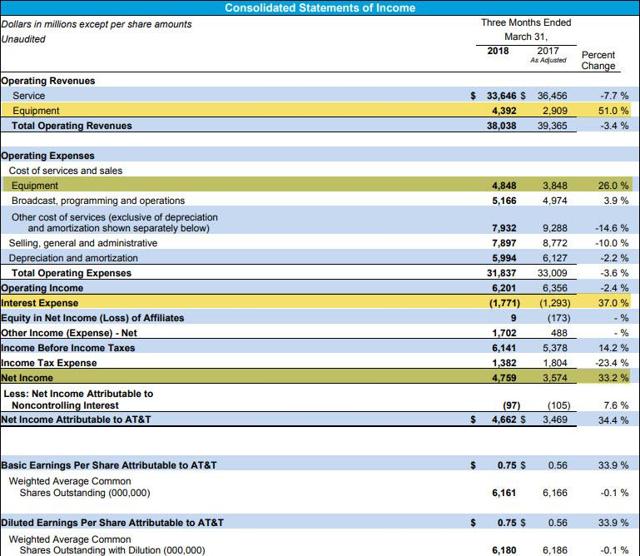 Source: Q1-2018 8-K
The Consolidated Statements of Income shows that YoY results largely benefitted from lower tax rates and a dramatic increase in revenue from equipment. Also, Equipment expenses increased dramatically but were offset by an operating revenue that grew at almost twice the rate.
I believe that increase in interest expense relates back to the Time Warner acquisition and therefore the true YoY increase (with this removed) is far less than the 37% increase the numbers suggest.
The Dividend And Free Cash Flow
One of the biggest concerns about the earnings report is that the dividend of $3.074 billion was not adequately covered by the FCF of $2.8 billion. SeekingAlpha author Quad 7 Capital points out in his article AT&T: Well, What Now? that the expected FCF for the year should exceed $18 billion with an expected total payout north of $12 billion.
I admit that it can be discomforting to see payout ratios continue to climb (as it has done in AT&T's case) but I agree with Quad 7 Capital that a FCF of $18 billion still represents a well-covered dividend. I personally also take comfort in the fact that AT&T operates in a highly predictable business that is resistant to economic downturns and changes. The nature of AT&T's business makes me feel more comfortable about their ability to generate consistently strong FCF.
Conclusion: Focus On The Long-Term Value Proposition
With AT&T it's important to remember that these types of situations are extremely advantageous to the long-term investor. AT&T is not a growth stock but it is a solid income play and is worth adding to whenever shares dip because of short-term/special situations and overall investor overreaction.
Don't let the short-term noise distract you from the long-term potential. With a yield north of 6%, a payout ratio under 70%, and a 34-year history of continuous dividend increases, AT&T is still an excellent play for those who can focus on its long-term potential. In addition to AT&T's core strength, there is the near-term catalyst of the Time Warner acquisition that could bolster the share price and provide fuel for outsized dividend increases.
Final Note: If you enjoy my articles, please take the time to follow me. While I enjoy performing analysis, following me is the best method for showing me that SA subscribers are finding my work useful. I welcome all meaningful feedback and I enjoy using the Seeking Alpha platform to enhance and improve my own knowledge as well. My promise to readers is to be as open and transparent as I can be. The numbers presented are accurate as of the time I wrote this article.
Disclosure: I am/we are long T. I wrote this article myself, and it expresses my own opinions. I am not receiving compensation for it (other than from Seeking Alpha). I have no business relationship with any company whose stock is mentioned in this article.
Additional disclosure: This article reflects my own personal views and is not meant to be taken as investment advice. It is recommended that you do your own research. This article was written on my own and does not reflect the views or opinions of my employer.

My clients are long the following stocks mentioned in this article: T, VZ