Is Frontier Communications Any Different This Time Around?
Summary
Frontier Communications beat the Street's revenue and EPS estimates after a long dry spell.
It also showed signs of improvements in subscriber trends.
Investors should keep an eye on the bigger picture and ignore the short-term noise.
Frontier Communications (FTR) announced its first quarter results after market close yesterday. The beleaguered telecom company beat the Street's revenue and EPS forecasts after a long dry spell, and so its shares surged in after-hours trading. The company showed signs of stabilization on several fronts. Only time will tell how long its recovery momentum will last for, but for now, let's dig deeper into its latest earnings report to have a better understanding of its financial and operating position.
Springing a surprise
I'd like to start by saying that Frontier Communications had pretty much developed a reputation of disappointing analysts and its shareholders. The analyst community would come out with conservative to pessimistic forecasts, only to see Frontier missing the projections time and again. If that wasn't enough, it's management would then lower their guidance for subsequent reporting periods just so that they could meet their guidance and temper the street's estimates going forward. But it seems like Frontier's management was able to break the vicious loop of disappointment this time around.
The telecom services provider reported yesterday that its revenue and EPS figures for Q1 stood at $2.19 billion and ($0.58) per share respectively. While the revenue figure still marked an almost 1.1% decline on a sequential basis and the company posted a negative EPS, the silver lining here was that its results were better than what the analysts were collectively forecasting.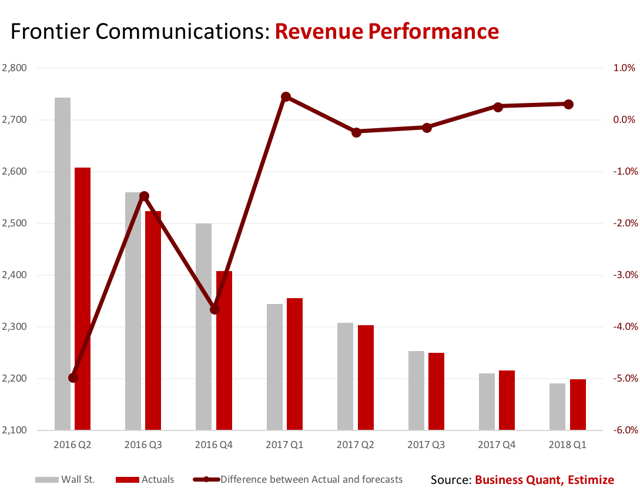 (Source: Business Quant, Estimize)
Besides, as the chart attached below would indicate, it's rate of revenue decline has noticeably slowed down. For a company that was considered to be in a state of terminal decline and a goner until recently, this is actually a positive sign.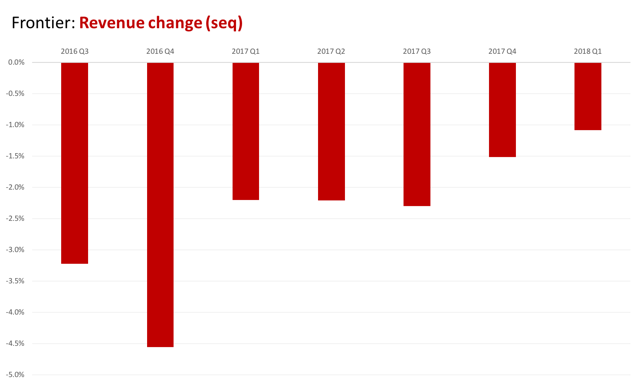 (Source: Business Quant, MarketXLS)
Fact of the matter is that management of Frontier Communications had proclaimed in its Q2 FY17 that it had reached an inflection point. But it seems like things didn't quite pan out as Frontier's top-brass was hoping. The telecom firm continued to post deteriorating financials, and its management kept lowering its guidance, in its subsequent quarters. Granted that a revenue and EPS beat this time around doesn't necessarily guarantee that a turnaround is here, but it at least goes to show that the company is in the process of stabilizing its operations or maybe that analysts got a little too bearish on the name.
Whatever the case maybe, I think Frontier's latest earnings and revenue beat should at least bring respite to long-time shareholders from all the incessant negative news flow that caused its shares to crash by as much as 70% over the past twelve months alone. Not to mention, income-seeking institutional investors had all the reasons in the world to shun and offload their holdings in Frontier Communications after the latter eliminated its dividend payouts earlier this year. But its latest earnings beat should at least encourage long-side retail and institutional investors to reconsider Frontier as a growth or a value play.
Interestingly, the highlights of Frontier's latest earnings report aren't limited to its revenue and EPS figures.
Cutting down on disconnections
One of the key issues that has really hurt Frontier's financials over the past year and a half is the fact that its subscribers have abandoned its service at an alarming rate for many quarters straight. User complaint forums are filled with horrifying stories regarding its service quality. So, while the company continued to add new subscribers, its high churn rate would offset those gains and result in a net subscriber base erosion. Fortunately, for long-side investors, this aspect of Frontier's business appears to be improving as well.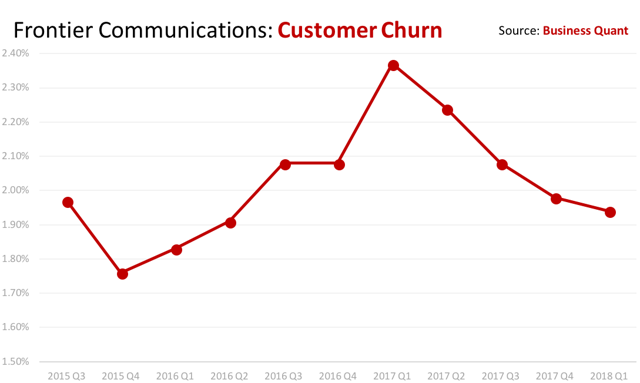 (Source: Business Quant)
The chart attached above would indicate that Frontier's churn rate has dipped consistently and considerably over the recent quarters. It's actually inching closer to the ideal range of 1.5% to 1.8%. This has allowed the telecom stalwart to slowdown the rate of its subscriber base erosion to a certain extent. The company isn't there yet and there's clearly more room for improvement, but continued recovery in its churn rate should come across as an encouraging sign for long-side investors.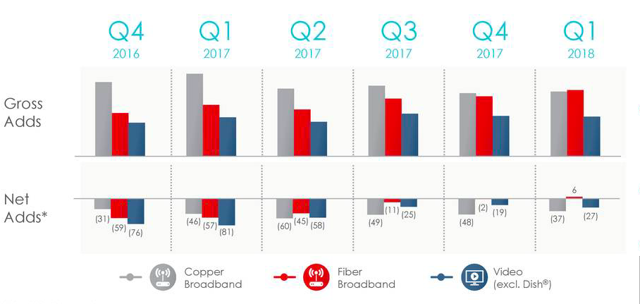 (Frontier's Consumer broadband and video services, Source: Company Slides)
But there's an interesting dynamic at play here. While the overall customer stickiness with the brand appears to be increasing, Frontier has actually been able to increase its average revenue per user (ARPU) along the way.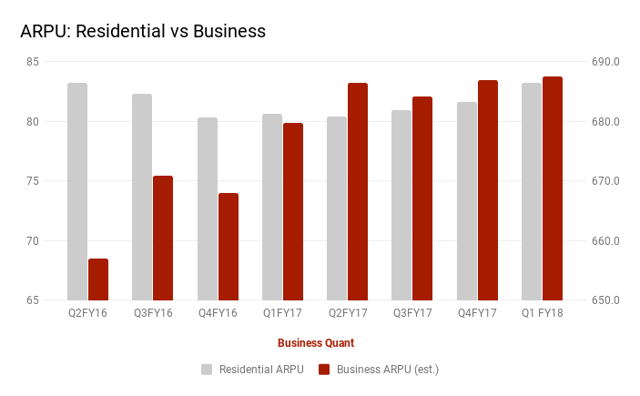 (Source: Business Quant)
One would normally expect churn rates to increase as the list price of a product or a service gets hiked. But it seems like Frontier has found a sweet spot. It's able to hike its ARPU without facing any material backlash from the broad swath of its subscribers. I believe this aspect of Frontier's turnaround story goes unnoticed in most bearish research reports.
Run rate
With that said, my readers would know that I've been a vocal critic of Frontier management's discipline when it comes to issuing guidance. I've extensively detailed in my past articles (like here) how Frontier's management kept lowering its guidance over the past year and a half and it still wouldn't be able to meet its lowered targets. But it seems like this issue doesn't persist in its latest earnings report at least.
Management of Frontier Communications had guided in Q4 FY17 that its adjusted EBITDA for FY18 would come in at $3.6 billion. Interestingly, when the company hosted its Q1 earnings call yesterday, its management didn't lower this guidance but actually reiterated it. Also, its Q1 FY18 adjusted EBITDA came in at $901 million which equates to an annualized run-rate of almost $3.6 billion.
The fact that the telecom stalwart didn't have to lower its guidance this time around, but was able to reiterate it, should come across as an encouraging sign for long-side investors at least. It doesn't guarantee that Frontier would maintain its course and go on to deliver on its guided adjusted EBITDA figure for FY18. But the fact that it was able to break the vicious cycle of lowering its guidance and then missing its targets, is a good first step in my opinion.
Your takeaway
Granted that Frontier Communications posted a sequential revenue decline of about 1.1% in its Q1 FY18 results. But that doesn't necessarily call for a bearish stance on the name. The telecom stalwart was able to slowdown the rate of decay in many of its financial metrics and key performance indicators. I suppose that's the silver lining that long-term investors should be focusing on. After all, turnarounds don't happen overnight and actually start with gradual recovery that extends over a period of time.
Author's note: I plan to write two more reports on Frontier Communications this month. Make sure to click the "Follow" button at the top of this page to get a notification as soon as the reports go live. Thanks!
This article was written by
Business Quant is a comprehensive investment research platform. It hosts KPI data, financial data and analytical tools to help you become a better investor. You don't have to go through boring SEC filings to keep a track of AT&T's subscriber count, Apple's revenue from iPhones or Disney's revenue by region. Our Granular KPI Data tool does that for you and it does so much more. Get an edge over the market, from day one. Watch Business Quant in action here.
Analyst's Disclosure: I/we have no positions in any stocks mentioned, and no plans to initiate any positions within the next 72 hours. I wrote this article myself, and it expresses my own opinions. I am not receiving compensation for it (other than from Seeking Alpha). I have no business relationship with any company whose stock is mentioned in this article.
Seeking Alpha's Disclosure: Past performance is no guarantee of future results. No recommendation or advice is being given as to whether any investment is suitable for a particular investor. Any views or opinions expressed above may not reflect those of Seeking Alpha as a whole. Seeking Alpha is not a licensed securities dealer, broker or US investment adviser or investment bank. Our analysts are third party authors that include both professional investors and individual investors who may not be licensed or certified by any institute or regulatory body.