For investors who own shares in Enterprise Products Partners (NYSE:EPD), the gifts never end. Management released some data recently that shows strong growth in the business, driven by higher fossil fuel volumes, that is delivering on the bottom line for the firm. Given the strong performance demonstrated by management, it's hard to see a scenario (absent fraud or something like a C-Corp conversion) where investors could lose out in the long run. If anything, with attractive growth prospects and robust cash flow, the upside potential for the firm should not be discounted.
Recent data supports the bulls
EPD is, so far, starting this year off on the right foot. According to management, financial performance has been great. In the image below, for instance, you can see some selected financial data provided by the business. In particular, I'd like to draw your attention to EPD's distributable cash flow and its operating cash flow. Distributable cash flow in the first quarter of this year came out to $1.39 billion. This represents a 23.2% increase over the $1.13 billion the business reported for the same quarter last year. Operating cash flow, meanwhile, was $1.23 billion, 40.9% above last year's $876 million.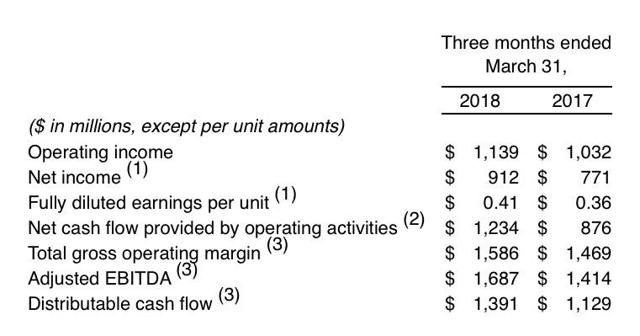 *Taken from Enterprise Products Partners
A big contributor to this improvement can be summarized in one word: volume. As you can see in the image below, EPD's volume of NGLs, crude, petrochemical, and refined products averaged around 6.2 million barrels per day during the quarter. This represents an increase of around 15% from the 5.4 million barrels per day experienced the same quarter last year. In fact, with the exception of fee-based natural gas processing, every category reported by EPD expanded year over year.

*Taken from Enterprise Products Partners
For 2018, EPD's management team expects capex to come out to between $3.2 billion and $3.4 billion. Given that $1.1 billion was spent in the first quarter, this may cause some investors to think what is the point in investing in a business that's allocating most of its capital toward capex. What's worth keeping in mind here is that the vast majority of this capex is actually dedicated toward growth, with only $315 million for 2018, and only $66 million in the first quarter, attributable to maintenance capex. Stripping this out, true free cash flow for the enterprise was just under $1.17 billion.
Looking back over the past 12 months, I noticed that EPD generated operating cash flow of $5.02 billion and Adjusted EBITDA of $5.89 billion. On an operating cash flow basis, this implies a multiple on shares of 11.6, while, from an Adjusted EBITDA perspective, the figure is just 9.9. Another way to value the business would be through the lens of the EV/EBITDA multiple. According to NYU Stern, the average multiple for profitable oil and gas distribution companies today stands at 14.6. With debt of $25.62 billion today, EPD's enterprise value stands at $83.86 billion. This implies an EV/Adjusted EBITDA multiple on the business of 14.2, meaning that shares are marginally cheaper than other peers in this space.
Growth prospects are strong
Historical performance is great, but what does the future look like? In my view, the answer is quite positive. According to management's latest investor presentation, the next few years should serve as an excellent catalyst for EPD. Take, for instance, the growth that will be experienced in US natural gas supply potential. Between now and 2022, growth should total 34.2%, with the Permian Basin leading the charge with a near-doubling in supply potential from 8 Bcf per day to 15 Bcf per day. More details can be seen in the map below.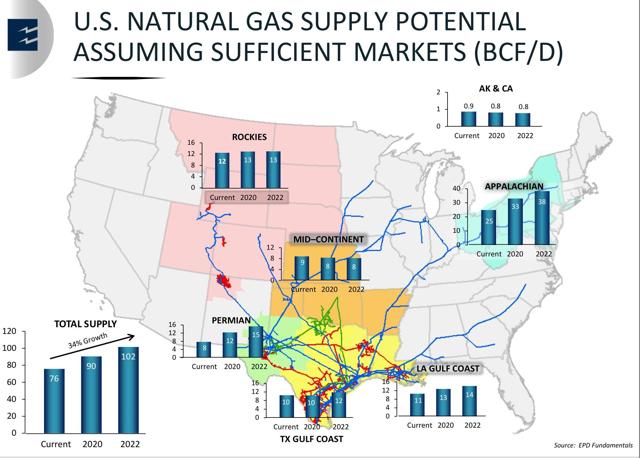 *Taken from Enterprise Products Partners
Of course, as the economy expands, as US production of fossil fuels grows, and as exports increase, natural gas won't be the only beneficiary. Current estimates call for oil and condensates supply to grow by 33.7% from 9.87 million barrels per day to 13.19 million barrels per day. What's more, over 80% of that increase will occur in the Eagle Ford, where output should expand 30.6%, and in the Permian, where it will grow 70.8%. NGLs should also see a nice uptick, growing by 51.3% and with around 70% of the increase stemming from the Permian and Eagle Ford.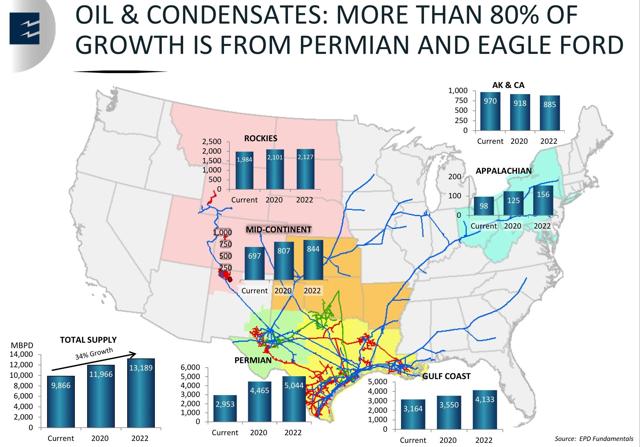 *Taken from Enterprise Products Partners
One big factor behind the attractiveness of the Permian and Eagle Ford is their proximity to the ocean and major population centers, but another is that favorable well economics makes them a prime target for E&P firms. According to EPD, over half of all active onshore rigs in the US and nearly 57% of DUCs are located between these two basins. As the aforementioned maps show, EPD has a significant concentration overlapping these locations, which means that it can serve as a go-to source for industry players.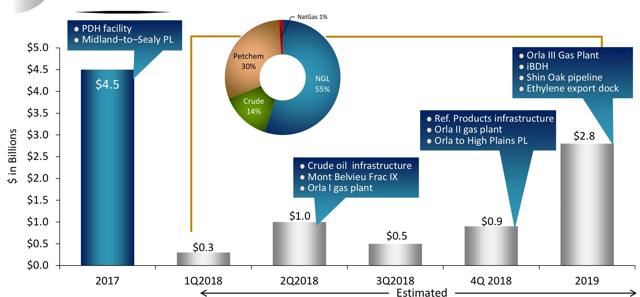 *Taken from Enterprise Products Partners
In preparation for future growth, management has said that it intends to allocate $5.5 billion between this year and next in the form of growth-oriented capex. Of this, 55% will be allocated toward NGL projects, followed by 30% petrochemical projects. Although only 14% of its spending will be placed toward crude projects, the petrochemical exposure is still a play, in part, on oil. The remaining capital will be allocated to natural gas plays. All of this is on top of the $4.5 billion management spent in 2017 on projects.
Takeaway
Right now, EPD is generating significant pure free cash flow, and what capital is being spent from it is a bet on the future of oil, natural gas, NGL, and petrochemical activity within the US. Add to cash flow and future growth prospects the fact that the company is trading at an attractive multiple right now, not only relative to peers on an EV/EBITDA basis but also on an absolute basis, compared to other investments in the broader market, and it's difficult to not consider adding some of the company's stock to my own portfolio.
Disclosure: I/we have no positions in any stocks mentioned, and no plans to initiate any positions within the next 72 hours. I wrote this article myself, and it expresses my own opinions. I am not receiving compensation for it (other than from Seeking Alpha). I have no business relationship with any company whose stock is mentioned in this article.