Quick Take
Pluralsight (NASDAQ:PS) intends to raise $100 million from an IPO of its Class A common stock, according to a registration statement.
The firm has developed an e-learning platform and resource center for continued technology skill assessment and development.
PS is efficiently adding revenue from existing customers, but gaining new customers is increasingly expensive.
I'll provide a final opinion when we learn further details about the IPO.
Company & Technology
Farmington, Utah-based Pluralsight was founded in 2004 to create a learning platform for businesses of all sizes to improve the knowledge and skills of their employee base and for individuals to pursue their educational goals.
Management is headed by co-founder and CEO Aaron Skonnard, who was previously a consultant and an associate professor at Neumont University.
Pluralsight has developed partnerships with major technology companies in a variety of industry sectors.
Investors include Insight Venture Partners (53% Class B shares pre-IPO), ICONIQ Strategic Partners (9.3%) and Keith Sparkjoy (7.4%). Co-founder and CEO Skonnard owns 13.4% of Class C shares
Below is a brief testimonial video of Nasdaq using Pluralsight:
(Source: Pluralsight)
Customer Acquisition
Pluralsight says its customer base includes "over 300 of the 2017 Fortune 500," from which it derived almost 22% of its top line revenues in 2017.
The firm employs both a direct sales force to focus on medium and large business prospects as well as a self-serve, direct-to-consumer e-commerce capability for individual users.
In Q1, 2018, PS obtained 64% of its revenue from customers in the U.S. and expects to increase its international expansion efforts to build on the user bases it has developed in over 150 countries.
PS follows a "land-and-expand" strategy to obtain corporate customers, "beginning with either small teams or departmental deployments." It then attempts to expand its customer base within each company by "targeting new users, departments and geographies" within those customers.
Pluralsight's technology cost of revenue for the past three calendar years has been uneven, averaging 29.2% of topline revenue:
2017: 29.5%
2016: 27.5%
2015: 30.5%
Sales and marketing costs as a percentage of total revenue jumped sharply in 2017:
2017: 62%
2016: 38.8%
2015: 41.4%
The firm appears to have spent heavily on sales and marketing in 2017 to show increasing revenue growth. This looks unsustainable to me and is a significant indicator of growing inefficiencies as the firm scales.
Market & Competition
According to a 2018 market research report by ResearchAndMarkets, the global e-learning market is expected to reach over $65 billion by 2023.
This represents a forecasted CAGR of 7.07% from 2017-2023.
The report cited the 'advent of cloud infrastructure, peer-to-peer problem solving, and open content creation' as factors increasing the supply of e-learning solutions.
On the demand side, an increased number of mobile users and social media oriented learning will increase the demand for convenience and bite-sized learning modules.
The corporate sector is projected to produce the greatest demand growth during the period, with North America accounting for the highest demand by geographic region.
Major competitive vendors that provide professional training services include:
Global Knowledge
General Assembly
New Horizons
Skillsoft
Cornerstone OnDemand
LinkedIn Learning
Udemy
Udacity
YouTube
Financial Performance
PS's recent financial results can be summarized as follows:
Growing topline revenue at an increasing rate
Increased gross profit
Stable gross margin
Sharp increase in cash used in operations
Below are the company's financial results for the past two and ¼ years (Audited GAAP for full years):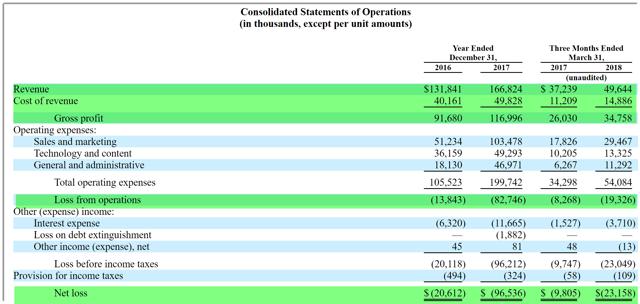 (Source: Pluralsight S-1)
Revenue ($)
Q1 2018: $49.6 million, 33% increase vs. prior
2017: $166.8 million, 26.6% increase vs. prior
2016: $131.8 million
Gross Profit ($)
Q1 2018: $34.8 million
2017: $117 million
2016: $91.7 million
Gross Margin (%)
Q1 2018: 70%
2017: 70%
2016: 70%
Cash Flow from Operations ($)
Q1 2018: ($10.4 million) cash used in operations
2017: ($12.1 million) cash used in operations
2016: $4.5 million cash flow from operations
As of March 31, 2018, the company had $32.4 million in cash and $175.2 million in total liabilities minus deferred revenue.
IPO Details
PS intends to sell shares of Class A stock to raise $100 million in gross proceeds from an IPO, although the final figure may be different.
The firm will offer Class A shares, which will be entitled to one vote per share. Class B holders will also be entitled to one vote per share. Class C holders will be entitled to ten votes per share.
Multiple share classes are a way for existing shareholders to retain voting control even if they lose economic control of the company in the future.
The S&P 500 Index no longer admits firms that have multiple share classes in its index.
Management says it will use the net proceeds from the IPO as follows:
We intend to cause Pluralsight Holdings to [i] repay [an as-yet undisclosed amount] of its outstanding indebtedness under its credit facility... which, as of March 31, 2018, had an outstanding balance of $137.4 million, and the related prepayment premium of 1.5%, which was $2.1 million as of March 31, 2018, plus any accrued interest, [ii] pay the unpaid expenses of this offering... and [iii] settle outstanding non-transferable equity appreciation rights, or EARs, issued by one of our subsidiaries which will vest and be settled in cash upon the completion of this offering.... We may also use a portion of the net proceeds from this offering to satisfy income tax withholding obligations associated with the initial settlement of certain RSUs.
Management's presentation of the company roadshow is not yet available.
Listed bookrunners of the IPO are Morgan Stanley, J.P. Morgan, Barclays, BofA Merrill Lynch, First Analysis Securities, Needham & Company, Raymond James and SunTrust Robinson Humphrey.
Expected IPO Pricing Date: Not on calendar.
An enhanced version of this article on my Seeking Alpha Marketplace research service IPO Edge includes my commentary on the firm's IPO prospects. Members of IPO Edge get the latest IPO research, news, market trends and industry analysis. Start with a Free Trial.
Disclosure: I/we have no positions in any stocks mentioned, and no plans to initiate any positions within the next 72 hours.
I wrote this article myself, and it expresses my own opinions. I am not receiving compensation for it (other than from Seeking Alpha). I have no business relationship with any company whose stock is mentioned in this article.