Apple (AAPL) is a widely discussed stock. However, investors many times miss the forest for the trees when evaluating the tech giant. It's easy to get lost in the details and overlook the big picture when everybody is focusing on estimating to the last detail how many iPhones the company sold in a particular quarter.
The following paragraphs will take a look at Apple's stock from a quantitative perspective, particularly focusing on four key return drivers: financial quality, valuation, earnings momentum, and relative strength.
The numbers alone don't tell the whole story behind a stock, but making investing decisions based on objectively quantified data is a much sounder approach than buying and selling stocks based solely on opinions and speculations.
Rock-Solid Financial Quality
When it comes to financial quality, Apple doesn't leave much to be desired. The company has delivered impressive performance in revenue, free cash flow, and earnings per share over the past decade.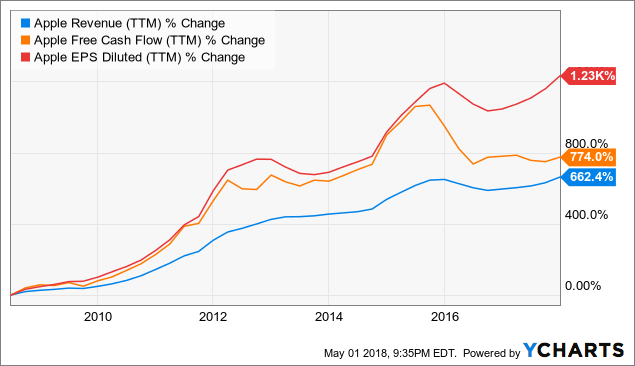 The recently released earnings data for the second quarter of fiscal 2018 confirms that the business keeps firing on all cylinders. The numbers came in ahead of expectations across the board, Apple did better than expected in earnings per share, revenue, iPhone and iPad shipments, and services revenue.
With a year-over-year increase of 16% in revenue, the most recent quarter was the sixth consecutive quarter with accelerating revenue growth from Apple, which is a major positive in terms of evaluating the underlying strength of the business.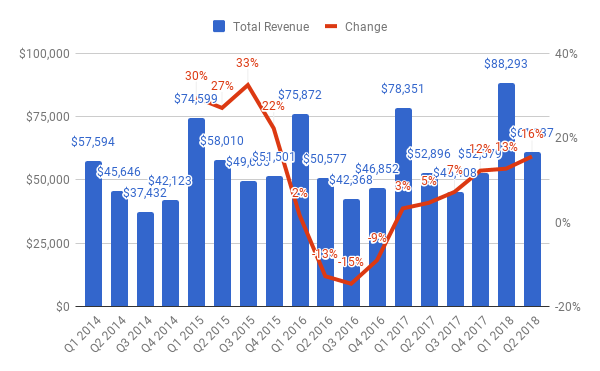 Data source: SEC filings.
Due to its brand power and loyal customer base, Apple enjoys superior pricing power, which is reflected on above-average profitability levels for the business. The company retained over 26% of revenue as operating profit last quarter, and the return on equity ratio is around 37%.
Attractive Valuation
Apple stock is priced at fairly attractive valuation levels. The stock carries a price to earnings ratio of nearly 17, while the average price to earnings ratio for companies in the S&P 500 stands at over 21. On a forward-looking basis, the stock is even cheaper, Apple trades at a forward price to earnings ratio of 13 times earnings estimates for 2019.
As of the end of March 2018, Apple has $267.2 billion in cash plus marketable securities on its balance sheet, versus $110 billion in term debt and $12 billion in commercial paper outstanding, for a net cash position of $145 billion. This means that nearly 17% of the company's market capitalization is justified by net cash reserves alone.
Management has also announced a 16% increase in dividends and a massive share buyback program for $100 billion. To put the numbers in perspective, Apple's share buyback program is bigger than the full market capitalization value of companies such as Morgan Stanley (MS), Caterpillar (CAT), and Costco (COST).
It's one thing to say that a stock is undervalued based on earnings or similar metrics, this can sound like a purely theoretical concept to many investors. On the other hand, when the stock is undervalued based on cold-hard cash payments through dividends and buybacks, then undervaluation becomes a far more tangible and attractive characteristic.
Is Momentum About To Accelerate?
Stock prices reflect not only current fundamentals, but expectations about those fundamentals in the future can be even more important. Over the middle term, stock prices and earnings expectations for a company tend to move in the same direction.
The chart below shows earnings expectations for Apple in the current quarter and next quarter. The main trend is not very encouraging at all, mostly because analysts have been concerned about demand levels for the iPhone.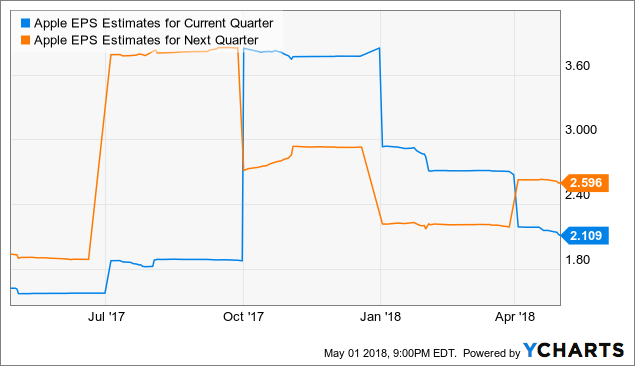 Now that the company has reported better than expected sales and earnings in addition to healthy guidance figures, chances are that the analysts following the stock will adjust their earnings estimates higher over the coming days. It's not much of a stretch to say that earnings momentum will probably accelerate.
Mediocre Relative Strength In the Short Term
In the stock market, as in life, strength begets strength and the winners tend to keep on winning. This means that stocks that are outperforming their benchmarks tend to keep doing so over time, and underperforming stocks continue underperforming more often than not.
Over the long term, Apple has broadly outperformed relevant benchmarks such as the SPDR S&P 500 Trust ETF (SPY) and the PowerShares QQQ Trust ETF (QQQ).
On a year-to-date basis, however, Apple is still beating the SPDR S&P 500 ETF, but the company is lagging behind the PowerShares QQQ Trust ETF.
This uninspiring relative strength from Apple over the short term is due to the fact that Wall Street analysts and investors have been concerned about iPhone sales leading to the company's earnings report. To the extent that the recently released earnings report is dissipating those concerns, it makes sense to expect Apple to regain its relative outperformance.
Putting It All Together
The PowerFactors system is a quantitative stock-picking system exclusively available to members in my research service, "The Data Driven Investor." This system basically ranks companies in a particular universe according to the factors analyzed in this article for Apple: quality, valuation, momentum, and relative strength.
The system has produced solid backtested performance over the long term. The chart below shows how the 50 stocks with the highest PowerFactors ranking in the S&P 500 performed in comparison to the SPDR S&P 500 Trust ETF since 1999. The backtesting assumes an equal-weighted portfolio, monthly rebalanced, and with an annual expense ratio of 1% to account for trading expenses.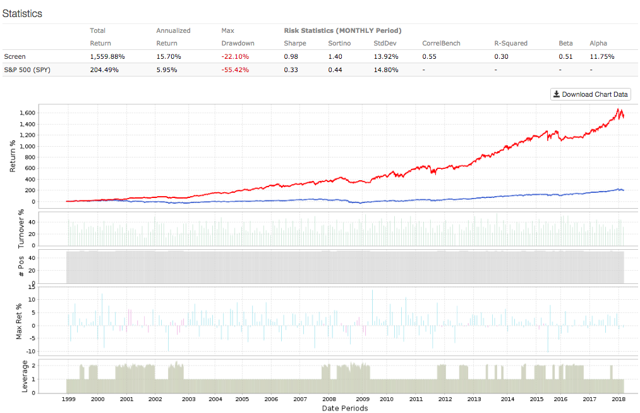 Data from S&P Global via Portfolio123
The system has materially outperformed the benchmark, with annual returns of 15.7% per year versus an annual return of 5.95% for the market-tracking ETF in the same period. In other words, a $100,000 investment in the portfolio recommended by the system in 1999 would currently be worth $1.6 million and the same amount of capital allocated to the benchmark would have a much smaller current value of $304,500.
Based on the PowerFactors ranking, Apple is currently ranked in the best 30% of stocks in the S&P 500 index. This is already quite a strong ranking, and it could improve considerably if the company benefits from accelerating earnings momentum and improving relative strength after the earnings report.
Apple gets remarkably high scores in financial quality and value. Moving forward, the recently published earnings data is dissipating concerns among analysts, and it will probably generate improvements in momentum and relative strength for the stock. Overall, Apple looks like a promising investment from a quantitative point of view.
Capitalize on the power of data and technology to take the guesswork out of your investment decisions. Statistical research has proven that stocks and ETFs showing certain quantitative attributes tend to outperform the market over the long term. A subscription to The Data Driven Investor provides you access to profitable screeners and live portfolios based on these effective and time-proven return drivers. Forget about opinions and speculation, investing decisions based on cold-hard quantitative data can provide you superior returns with lower risk. Click here to get your free trial now.
Disclosure: I am/we are long AAPL. I wrote this article myself, and it expresses my own opinions. I am not receiving compensation for it (other than from Seeking Alpha). I have no business relationship with any company whose stock is mentioned in this article.