Medley Capital Corp. Has Continually Underperformed Their Peers Over Time
Medley Capital Corp (NYSE:MCC) has failed to deliver positive shareholder returns since 2014. The company continues to display results each quarter that includes NAV loss and erosion of net investment income per share. This is one of the key metrics used to calculate dividend coverage.
The BDC universe targets payout ratios of 80-100% of taxable income derived from interest income and capital gains (if there are any). MCC had a dividend in the first quarter of 2014 of $0.37 per share. The company also reported, at that time, a NAV of $12.68 per share. The NAV was, as of 12/31/17, $7.71 per share. The quarterly dividend level has steadily declined from 0.37 to just 0.16 per share over that four-year time frame. MCC earned just 0.13 of NII (net investment income) in Q4 2017 and, therefore, it is very likely MCC will, once again, reset their dividend conservatively in an effort to be more consistent around the declaration of future dividends going forward. This means that MCC will likely cut to a coverage ratio of 80%. Given that MCC has over 20% of their investments underperforming or on non-accrual, it seems likely that even more NAV losses are in order. That would place more pressure on the company to keep their leverage in check or else face rating agency downgrades. The company could choose to retain their investment grade rating by deleveraging, which would result in the reduction of a quarterly NII closer to 0.11 from the current 0.13. This means that MCC might cut their dividend to just 0.09 per quarter going forward. This 0.09 per quarter run rate would represent an 80% payout ratio of their NII, which is a common payout level for BDCs that wish to reset their dividend.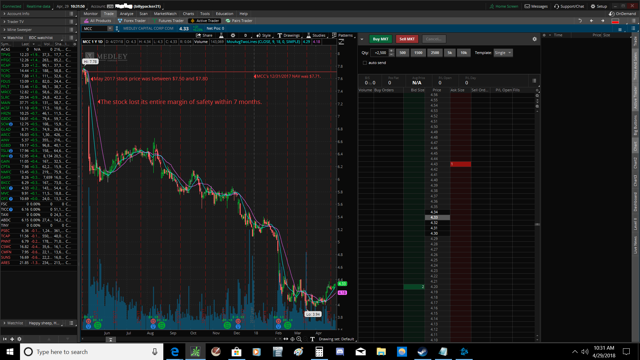 The trend is your friend and Medley Management (NYSE:MDLY) has shown us, based on their credit performance over a seven-year period, that they cannot be trusted with any of our hard-earned dollars, even at a near 44% discount to NAV. The above chart shows how massive the damage can be from investing in MCC in just a 12-month time frame. (One-year chart) Note how the stock was previously trading at a steep discount to NAV in May 2017, only to see that discount completely erode within seven months when NAV fell from $8.94 per share to $7.71 per share during that 7-month time frame. The stock price then fell even further, as investors realized they needed a larger margin of safety and rightfully so. Their performance is why the stock is not going to be trading back up to NAV anytime soon. I expect the discount will actually grow even further if MCC cuts their dividend yet again on May 9th, 2018. MCC has a history of cutting the dividend every three to six quarters since 2014. Each time MCC cuts their dividend it causes the stock price to crater. I see no reason for a different result this time.
If you look at the above chart, you will notice that MCC's stock has trended up since April 17, 2018. The news was,
"Roumell Asset Management, LLC (www.roumellasset.com) owns roughly 1.1 million shares of Medley Capital Corporation (MCC), or approximately 2.1% of MCC's outstanding shares as of February 5, 2018. We are writing to express concern about the significant shareholder value deterioration over the last several quarters and to make a specific recommendation that will enhance shareholder value and close the substantial discount between MCC's reported net asset value and stock price. MCC's near-50% discount to its NAV is the largest in the BDC space and underscores investor disillusionment with management. " - PR Newswire
On the surface, it would appear MCC has a new activist investor pushing for change. However, further inspection reveals that this activist investor typically holds position sizes that are about 5-10% of their investors capital if they feel very confident about the company. I am not saying that Roumell Asset Management would never go above that position size, but it would seem unlikely that they would take a position size that would be required to stake a fight for change at MCC. This assumes RAM (Roumell Asset Management) doesn't raise some large capital pool in the near future or suffer redemptions from poor performance.
It appears that RAM owns 2.1% of MCCs outstanding shares, based on a 5% position size in their fund, as shown on the RAM website here. Since MCCs manager, Medley Management, owns approximately 14.5% through their vehicle, Medley Seed Funding, it appears that Roumell is largely out-voted by the external manager.
In order for RAM to compete effectively, I believe they would need a position size larger than the external manager. Based on my assessment using the information provided, I conclude that RAM would need to grow the position size by approximately ten times what they currently have invested in MCC. This would not be easily accomplished since it would destroy the diversification provided within RAM's portfolio and put a lot of capital at risk in one investment. MDLY could try to counter this in a number of ways, including a rights offering below NAV to dilute the stock. BDCs do not need approval from shareholders to issue a rights offering below NAV.
For all of these reasons, I do not believe that Medley Management will change their stance on how they management MCC just because an investor writes them an email requesting them to do it. I feel that the letter to MCC's board of directors will fall on deaf ears and the stock will continue to do what it always does, which is decline. I view the $4.40 price level as a strong level of resistance for the stock. As such, I do not believe the stock will meaningfully break out above that level. If I am wrong, and it does break out above that level, I would then look for $4.60 to be the next strongest level of resistance.
Shareholder Activism In The Case of Externally-Managed BDCs Has Not Had a Lasting Effect In Staging a Turn Around
Look no further than the case of Fifth Street Asset Management (OTCPK:FSAM) who used green mail on a fellow BDC activist, RiverNorth Capital Management. That activist owned a near 15% stake in Fifth Street Finance (FSC), which was their externally-managed BDC. FSAM bought the activists shares in FSC at a premium to the, then, current market price. Fifth Street Asset Management also gave the activist warrants to purchase shares in FSAM.
After this deal occurred, it may have appeared to investors that management only wanted to acquire a larger ownership stake in their public BDC, MCC, in order to fend off any potential activists so that they could, in my opinion, control the BDC for the management fees without the risk of having an activist force change in the shareholders favor. Medley Management, perhaps, may not have wanted to spend a lot of their own money to control MCC.
Medley Management formed a Medley Seed Funding Company which was funded primarily from another investor, rather than Medley Management's own money. In exchange, MDLY offered this investor a percentage of fee revenue from one of their newly launched funds that was preparing to ticket for new investors, as well as a preferred rate of return on any capital used for investment activity of 8%. What a deal! This would have no negative effect whatsoever on MDLY's current earnings and would only slightly dilute future earnings potential on one of their soon-to-be-launched funds. This allowed MDLY to use the seed company to control MCC's vote, thus keeping them safe from activist investors.
In order to compete against MDLY's control, an activist would have to put up nearly twice as much capital as the external manager without a guarantee of success! That means that an activist would have to own 20% to 35% of the common stock, without having the same insights into the portfolio as the manager themselves. Any activism you see on MCC, today, below 10% of shares outstanding is just investors complaining about poor stock performance and results, which is the reason many of them got involved purchasing shares in this company in the first place. MCCs poor results have been known for a number of years now and investors buying the stock today think they are getting value. They cannot capture this value since the NAV continues to decline steadily over time due to credit losses that are inevitable with any credit-focused fund. Since management fees eat up the majority of revenues, investors are simply left with the loan losses.
BDC Leverage Laws Have Been Relaxed to Allow BDCs to Leverage from 1:1 Regulatory Debt-To-Equity to 2:1
A more recent change, within the last couple of months, took place to the laws that govern BDCs. BDCs are now allowed to leverage their equity capital more than they did in the past. Imagine having $100 loan out to ten people and each loan was expected to pay back in full after five years. Now, imagine being able to lend $300 out to 30 people with $200 of those dollars coming from borrowed funds from a bank. Let us say that $10 was loaned out to each of those 30 people. Now, let us assume that five people out of those 30 people do not pay us back by the end of year three. This would be a default rate of approximately 5.5% each year after three years into our five-year time horizon. Our equity started as $100 in a $300 total investment portfolio but, after accounting for defaults, our equity declined to just $50 from $100. This looks devastating, but it is not nearly as devastating as it would be if, in the above example, you had to not only pay interest back to the bank for those borrowed funds, but you also had to pay a 1.75% extra management cost associated with any borrowed funds. In my opinion, this is what it is like investing in MCC going forward.
Allow me to explain. See, MCC loans money out to companies that are not investment grade rated. These loans are part of a high yield, high-risk lending profile known as junk bond investing. However, MCC invests at interest rates that are even higher than what your typical junk bond fund might see. This bares incredible risk with what should be excellent potential rewards in a strong or improving economy.
However, management fees ate up over 30% of the revenue (after interest expense) in Q4 2017, leaving shareholders with a tiny fraction of the interest/dividend revenue provided by the investment portfolio. Net investment income was $7,179,000 in Q4 2017, while base management fees were $4,068,000. Just by looking at these two numbers, both the net investment income and the base management fee, we can conclude that management got paid nearly 57% of what shareholders were paid from just this base management fee alone. The total revenue before management fees and after other expenses was approximately $13,318,000. This resulted in just 0.13 of quarterly NII available after management fees and interest expense, which is well below their dividend rate of 0.16. If we assumed a weighted cost of capital of 4% and a weighted average lending rate of 8%, you would see that the BDC would earn a 4% spread on that investment before management fees. However, since MCC charges 1.75% on assets, not equity, you would have to reduce that spread by an additional 1.75%. This would result in a net interest spread of just 2.25% to shareholders of the MCC. So, for the added risk that comes with the extra turn of leverage, shareholders only see a 2.25% added return to their total investment revenues based on NAV. This does not even factor in loan losses, as you can see. This means that it is virtually impossible to generate positive shareholder returns unless credit performance is nearly perfect.
The better BDCs can cover up these losses by raising capital above NAV and putting that money to work into their existing portfolio investments keeping them afloat even if they have problems. However, since MCC's portfolio had even more severe loan losses than most BDCs, they could not raise enough money to add to their existing positions. The inability to raise money is due to the fact that BDCs cannot issue shares below NAV without shareholder approval and BDCs are limited to certain leverage restrictions. (BDC rules and limitations) MCC does not have the shareholder approval to issue shares below NAV. Therefore, MCC was unable to hide portfolio losses as well as their peers, who are much more able to inject new capital into their struggling portfolio companies due to their premium stock valuations. The longer a BDC trades at a significant discount to NAV, the more risk that they will not have the capital required to self-fund struggling portfolio companies while maintaining their investment profile.
Nearly all of MCC's peers have been able to select better loans than MCC, which has allowed those peers to get away with charging sizable management fees without eroding significant shareholder equity given today's economic conditions. We are currently enjoying a low default rate investing environment and MCC still continues to struggle throughout this time frame. I believe that once the cycle turns, more externally-managed BDCs will be exposed and be unable to hide portfolio losses by self-funding their portfolio companies. When a BDC makes an add-on loan to a company just so the company can pay the interest on the main loan that the company has with the same BDC, in my opinion, there has to be something wrong.
From 2011 to 2014, MCC had underwritten loans ranging from 12-16% interest rates, which was well above the average for junk bond investments at that time. This rate is higher than what MCC currently invests but only because the high yield bond markets have experienced unprecedented yield compression, due to too much money chasing too few deals. MCC's portfolio is relatively the same from a risk/reward perspective. MCC touts that they are invested in less second lien paper, however, they are now invested in more equity securities. Equity securities come with the highest risk level of a company's capital structure. MCCs equity investments are even more risky because they were once failing loans that were converted to equity. This is arguably a higher risk profile than what we saw in their 2011-2013 loan vintages since their failing investments, having been restructured into equity, do not make their investment fundamentals change.
An example of that can be found in one of their peers. Most of Fifth Street Finances old restructured loans, such as ADventure Corp and other major equity positions, showed signs of further deterioration after conversion. These equity positions were eventually written down significantly or even wrote off entirely. My point is that MCC's investments were doing poorly for a reason and they will likely continue to do poorly going forward. This will inevitably make the stock price and dividend go down even further, thus driving a wider discount to NAV.
Analysis of Medley Capitals Troubled Credits
I expect near-term additional mark downs from their portfolio investments in the following companies:
DHISCO Electronic Distribution, Inc, Merchant Cash and Capital, LLC, The Plastics Group, Inc., Velocity Pooling Vehicle, LLC, Access Media Holdings, LLC, Brantley Transportation LLC, Capstone Nutrition, OmniVere, LLC and Reddy Ice Corporation.
Most of these credits have been marked down to some degree already, but they may face continuing issues and credit concerns.
Reddy Ice Corporation has been a very stable portfolio investment on MCCs. However, I feel that based the cold weather in the first quarter of 2018, which helped drive retail sales in the US, that ice sales may have dropped across the board. Reddy Ice also faces strong competition. Natural Rocks Spring Water Ice (product info here) makes ice from a natural spring in Maine. Their product has experienced a huge popularity boost along with other natural and organic products on the market today. It is my assessment that Natural Rocks has quickly become a leader in the ice sales industry and that Reddy Ice may be losing significant market share. I would not be surprised to see Reddy Ice marked down significantly in the quarters to come. Reddy Ice is a $17,000,000 investment by MCC which was held on the books at $16,265,600 or a discount of approximately 4.32% as of December 31, 2017. The investment represents approximately 4% of shareholder net assets.
In addition, MCC has a fair amount of investments that are not collecting any cash payments. These investments appear to be on life support since they are not required to make payments. Despite that these investments are not making their payments in the form of cash but rather an IOU, much of this uncollected income is may be part of or adding to MCCs net investment income per share. If you exclude MCCs PIK investment income, last quarters NII was, likely, much lower than the posted 0.13 of NII. In my opinion, these are very high-risk investments that are extremely likely to face further write-downs over the coming quarters.
The struggling high-risk PIK investments include; Dynamic Energy Services International LLC, AR Intermediate Holdings, LLC, Brantley Transportation LLC, JFL-NGS Partners, LLC and URT Acquisition Holdings Corporation.
The "URT" in URT Acquisition Holdings Corporation stands for United Road Trucking company. The company has been struggling and was restructured on two separate occasions already by MCC. As of December 31, 2017, the investment was 8.1% of net assets. The total investment by MCC is $33,754,876, of which $5,850,795 was in the form of PIK and $12,937,518 was in the form of equity. $14,966,563 was outstanding as a second lien term loan to the company. It is my understanding that this company was sued in the past, repeatedly, for various different reasons. Therefore, it is my opinion that this company has proven it is not capable of operating responsibly and effectively for their customers or their stakeholders. More information here, here and here.
JFL-NGS Partners doesn't make a lot of sense to me. MCC has $38,824,018 invested in this company. $30,552,190 of that is invested in a PIK investment that yields 3%. MCC borrows money at much higher interest rates than that and MCC isn't even collecting any of the money right now. In my opinion, this investment does not even fit into MCC's investment strategy. The investment is huge and represents 9.2% of net assets. I do not know why an investment company like MCC would make such a huge investment at a 3% interest rate in the form of a payment-in-kind preferred stock.
Brantley Transportation is facing multiple headwinds that are really oil and gas trucking industry specific. I believe results in this industry are showing some signs of stabilizing, but I am skeptical that Brantley Transportation will survive based on where MCC is marking the investment and the fact that it is a 12.5% PIK loan. I think that this company is operating at a materially higher risk level than when MCC first made this investment. I believe Brantley Transportation continues to struggle significantly and that is probably why it is still on PIK. This investment represents 2.1% of net assets.
AR intermediate Holdings is a more diversified oil company. They have multiple revenue streams. This company has been struggling from the 2015 oil market meltdown. It could turn around. However, they still carry materially higher risk, in my opinion, than when MCC made this investment. It has been restructured at least once since they first made an investment in this company. AR Intermediate Holdings is 7% of net assets.
Dynamic Energy Services International LLC is 3.8% of net assets. This company is yet another one of those energy investments MCC made just before and as the oil markets really melted down. I do not have a lot of added insight about this investment. The loan bears an interest rate of 13.5% + LIBOR (PIK) and is marked at about 85% of par as of December 31, 2017. I would definitely put this investment in the high-risk category for further markdowns.
(Source: MCC press releases and Quarterly SEC filings, authors analysis and opinion, company websites for portfolio companies and employee/public forums)
Excellent Short Sale Candidate
After considering potential credit issues in the above-listed credits, the equity in MCC might be nearly worthless, given my overall assessment of the portfolio. I believe the bonds might also be subject to loss in the coming years. Luckily for MCC, they have no debt maturities in 2018 or 2019. However, significant risks remain and MCCs asset quality, despite being considered largely a first lien portfolio is not a "true first lien" portfolio. An example of a "true first lien" portfolio would be Golub Capital (NASDAQ:GBDC). In my opinion, it is a completely different standard of underwriting. Golub Capitals underwriting standards, for second lien assets, are most likely much safer than MCCs first lien assets.
As long as management fees continue to represent a majority of after interest expense revenues and based on MCCs poor investment results since IPO, I believe that MCC will continue to provide investors with an opportunity to short the company's shares. There is a high availability of MCC shares to short and thus the shares are easy to borrow. The cost to short MCC is relatively low since MCCs dividend continues to decline and net losses are in excess of distributions paid. In addition, NAV declines seem to be worsening. Last quarter, MCC's NAV declined by over 8.6% alone. NAV fell from $8.45 Q3 2017 to $7.71 as of Q4 2017. I expect another sizable NAV decline for Q1 2018 and dividend reduction. I expect NII to fall between 0.11 to 0.13 per share, which is below the current dividend rate of 0.16. When/if the dividend is cut on May 9th, I think the stock could drop initially to about $3.65 per share. This is based on prior price reactions to MCCs dividend cuts. I think the NAV as of 3/31/2018 will decline to $6.88 to $7.45 per share from the prior $7.71. I see no hope in sight to stop the fundamental trends in place at MCC and I plan to open a short position on the stock on May 8th to take advantage of a potential sell-off on May 9th.
Disclosure: I/we have no positions in any stocks mentioned, but may initiate a short position in MCC over the next 72 hours. I wrote this article myself, and it expresses my own opinions. I am not receiving compensation for it (other than from Seeking Alpha). I have no business relationship with any company whose stock is mentioned in this article.
Editor's Note: This article covers one or more microcap stocks. Please be aware of the risks associated with these stocks.