First and foremost, a quick hello to all of my regular firearms readers. I apologize it has been some time since I last wrote a regular firearms focused article as I focused on Income Idea updates after the plethora of Shot Show articles. I will be returning to our normal firearms coverage schedule soon.
On Tuesday, May 1st, Vista Outdoor (NYSE:VSTO) reported their Q4 and full year FY 2018 earnings. Along with those earnings the company announced some major, although expected business changes.
With the poor earnings results, the company's share price declined more than 13% and the national media had a field day with completely wrong conclusions. As such, let's take a look at the earnings results and what they mean for the company.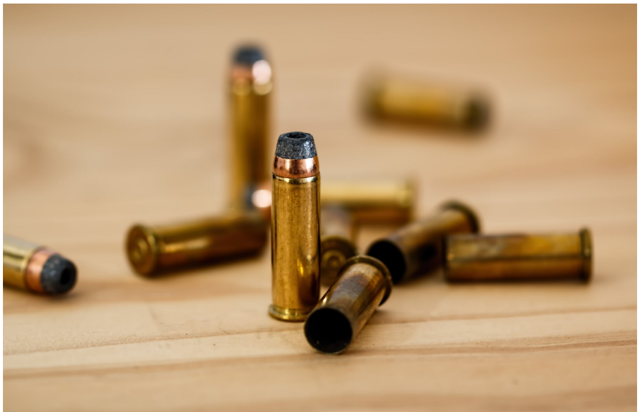 Earnings Results
For the 4th quarter 2018, the company reported net revenue of $571 million, down 1% versus prior-year quarter. On those sales, the company reported a GAAP net loss of $14.9 million or $.28 per share. This compares to a net income of $.02 per share last year.
Adjusted for certain one-time expenses the company reported a net loss of $12.343 million or $.22 per share. This compares to a net income of $.03 per share last year.
Worthy of note is that gross profit was down 24% GAAP/22% adjusted primarily caused by "unfavorable pricing in all ammunition categories, increased promotional activity, and rebates within the Shooting Sports segment." Source: Vista 8-K
Furthermore, even though the company paid down some debt, the interest expenses for the quarter increased to $12 million from $11 million a year ago.
Full Year FY2018
For the full fiscal year 2018, the company reported net sales of $2.3 billion. This was down 9% from the prior year. The primary causes were lower sales volume and prices. This was not limited to just ammunition and impacted outdoor products as well. "Organic sales were down 11 percent compared to the prior year."
For the year, the company generated a net loss of $60.232 million or $1.05 per share. This compares with a $4.66 per share loss a year ago largely driven by impairment charges.
Adjusted for certain expenses the company reported a full-year net income of $28.457 million or $.50 per share. This is down from $111 million or $1.90 per share a year ago.
Interest expenses for the year were $49 million, up from $44 million a year ago.
The full year 10-K filling was not yet released so many of the details are still unknown.
FY 2019 Guidance
The company also provided their financial guidance for the year.
Generally, I believe the guidance for the firearms industry is worthless as that is precisely how and why so many analysts and investors got it OH SO WRONG over the previous years. They looked at past sales as a sign of future projections and have disregarded the actual results and outlook shared by actual buyers of those products.
This is also why the stocks were decimated multiple times throughout the year after the companies were forced to severely cut "guidance" in the middle of the year, or in the case of American Outdoor Brands (AOBC) to miss the quarter based on "guidance" they provided TWO MONTHS INTO the quarter.
In either case, we do have some guidance to examine.

Source: Vista Outdoor 8-K
For the full year, the company expects sales of around $2.25 billion, this is down from the $2.3 billion reported for this last year.
On this $2.25 billion in sales, the company expects EPS of $.10 to $.30... which I would believe are once again "adjusted." This would once again be down from the $.50 just reported.
The company is also projecting further increases in their interest expenses up to $55 million from the $49 million just incurred.
The really scary part is the free cash flow projection. The company's cash projections for both "cash provided by operating activities" and "free cash flow" are down significantly from where they are even today.

Source: Vista Outdoor 8-K
Beyond The Numbers
About a year ago I started mentioning that Vista's biggest hurdle is the debt load.
A number of authors and a few readers then criticized my analysis stating that Vista was a free cash flow machine and debt WOULD NOT be an issue... well... it is now.
There are two major issues here.
First, the company has been paying more in interest payments than what was available to be paid out as earnings, even accounting for "adjusted" earnings. Based on the company's own guidance, this is going to continue for FY2019 as well.
Secondly, as we now know, the company is in breach of their debt covenants and had to get exemption from its lenders and will likely be working with them on refinancing the debt, likely at higher rates or into more secured notes, aka senior loans with floating rates rather than traditional fixed rate bonds.
This deterioration is also why Moody's has downgraded Vista Outdoor debt further down to B1 late last year.
Yes... Vista has done a good job of paying down some debt, but there is still over $800 million outstanding. (YCharts data below not yet updated).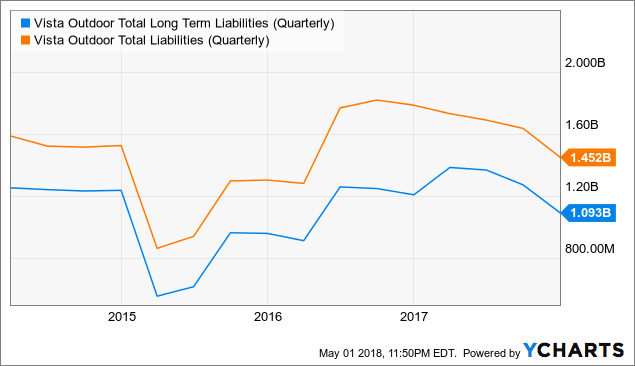 And even as that debt is decreasing, the debt costs are increasing.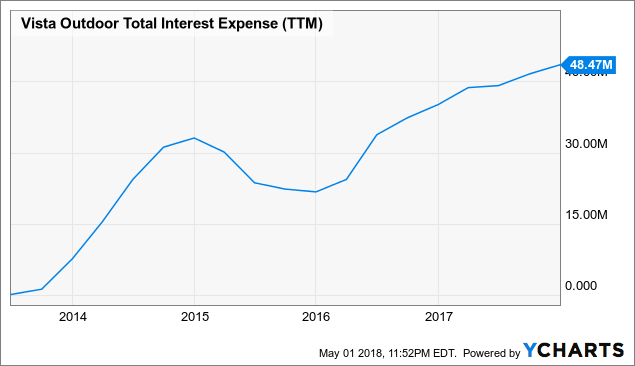 Pulling The Band-Aid?
One of my biggest criticisms of the company was that it seemed like it was a combination of some really great firearms brand and a bunch of other companies that simply did not fit.
Designer sunglasses, paddle boards a shooting range builder, a firearms manufacturer and a premier ammunition company? Yeah... okay. And arguably, many of those acquisitions were overpriced from the ATK days.
This diversification is also partly why Vista Outdoor was in trouble with consumers. The anti gun was surely disappointed that their favorite Bell bicycle helmet, Giro ski helmet, CamelBak water bottle and Bolle sunglasses are made by the same company which also manufactures guns and ammo.
Fortunately, confirming the impression that I got from my discussion with the company at Shot Show, and as stated on previous conference calls, Vista Outdoor is going to be focusing in on their strengths and will try to divest their non-core or less competitive brands.

Source: Vista 8-K
The company plans to explore strategic options for assets that fall outside of these product categories, including its remaining Sports Protection brands (e.g. Bell, Giro, and Blackburn), Jimmy Styks paddle boards, and Savage and Stevens firearms. Vista Outdoor expects that the execution of this process will significantly reduce the company's leverage, improve financial flexibility and the efficiency of its capital structure, and provide additional resources to reinvest in core product categories, both organically and through acquisition.
Source: Vista 8-K
While I am not at all surprised to see Bell and Giro go, I am a bit surprised to find Vista divesting Savage and Stevens firearms. We also do not know if Savage also includes the Savage Range Systems or it is just the firearms unit.
Bottom Line
These divestments will surely help focus the company towards the future, even if I believe there were other brands better suited to divest. As such, I am also left wondering... how much of these divestitures are "want to" versus the looming need to pay down debt in light of declining free cash flows?
Many companies in similar positions use more and more debt to grow their way out of trouble, i.e. Amazon (AMZN). In Vista's case, these divestments are not going to help generate more cash flow. As such, if the brand is profitable, why get rid of it unless you can make a premium over versus what you believe the brand is worth?
While I cannot speak for the Bell, Giro and Blackburn brands, I don't see who is able and willing to pay a premium for Savage and Stevens.
While those two brands would be a natural fit for Ruger (RGR) and/or American Outdoor Brands, I don't believe it is a good enough deal for Ruger or a prudent move for American Outdoor.
Here is the issue:
The company was trading at right around 3.2x Price to FCF.
If the company is now projecting just $55 to $85 million FCF, that implies a market cap of $176 to $277 million, quite a bit lower than today's $834 million market cap.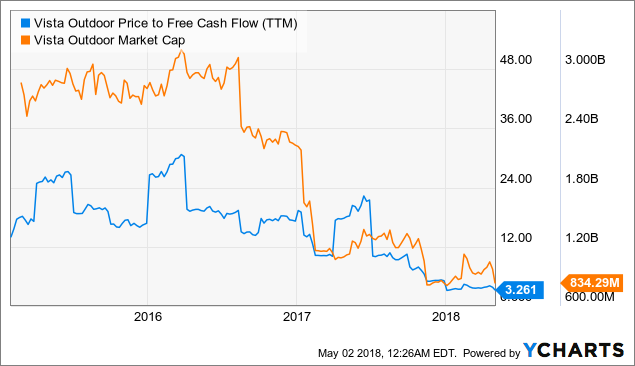 We can of course apply Ruger's 14x FCF multiple which would get us a range of $770 million to $1.19 billion.
Here is the question then... does Vista, a debt burdened unprofitable company, deserve Ruger's FCF multiple? I don't think so.
Does this mean I am bearish on Vista? Not quite.
I believe in the long term there is tremendous value here... LONG TERM.
Until then, the company has to continue ripping the band aid and see how bad the cut is and if there is any infection on the wound. As such, I believe the situation is going to get worse before it gets better and this assumes things stay as they are.
If commodity prices continue to increase and firearms sales continue to slide, the debt markets start pricing in reality to "high yield junk" or the economy enters into a recession, more serious issues will pop up.
Overall, I will be a long-term buyer, but not at these prices. Simply put, I don't believe there is any urgency to buy today when we may see single digits in the future.
I will, however, look at some income oriented options strategies on the company for Income Idea subscribers.
For a broader discussion of the firearms market, please take a look at my running series from Shot Show 2018.
If you liked this article, please follow me and click "Like This Article" below!
Income Idea subscribers do have full access to all of my previous work as part of their subscription along with the additional Distribution Quality and Implementation Ideas sections. Test Drive Income Idea for Free in a 14-Day Trial!