Tanger: The Bag Is Ripped
Summary
Tanger reported earnings yesterday and lowered guidance.
I found some key differences in the recent earnings presentation compared to past presentations.
I am maintaining my $15 price target.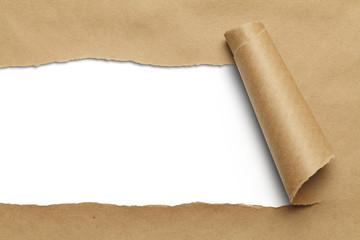 Image Source: Fotolia
Tanger Factory Outlet (NYSE:SKT) reported earnings yesterday and the headline results were a beat, with FFO coming in ahead of expectations. However, just like the multiple times I have covered Tanger before, once you look underneath those numbers, there is a lot to be worried about. At the time of writing this article, shares were down over 5% after-hours due to Tanger lowering full-year guidance and posting negative same-center NOI. In addition to those two items, I will be covering a multitude of other items that show Tanger has more downside.
Guidance + Same Center NOI
The main reason why the stock was down after-hours was because Tanger lowered their full-year FFO guidance from $2.43 to $2.49 per share to $2.40 to $2.46 per share. Same center NOI came in at -1.5%, which was lower than the guidance the company gave at the end of the year and significantly lower than the +1.0% same center NOI growth Tanger had last year in Q1.
It was not just the headline guidance that was lowered, if you look at the underlying components of that guidance, it is easy to see why shares are down and have further downside. When you combine all these: same center NOI guidance down, occupancy guidance down, and store closings up, the result is likely to be a lower share price.
Same center NOI guidance for the consolidated portfolio between -2.5% and -1.5% vs. guidance gave at the end of the year at -1% to 0%
Projected average occupancy between 95.0% and 95.5%, which is lower than the 96% guidance Tanger gave at the end of the year.
More store closings: Projected 2018 store closings totaling between 150,000 and 175,000 square feet for the consolidated portfolio compared to guidance at the end of the year at

100,000 square feet.
Dressing up the Dividend
It appears Tanger dressed up the dividend in their investor presentation to make sure it showed double-digit CAGR. If you look back through previous investor presentations dating back to Q1 2016 when Tanger started showing CAGR on its dividend chart, each one like the first image below showed the 3-year CAGR. However, the second image below from the earnings presentation for this quarter shows 5-year CAGR. Why change from a 3-year CAGR to 5-year CAGR all of a sudden... if they had left the CAGR at 3-year, the dividend total for 2018 would lead to a 3-year CAGR of 8%. This is obviously not in the double digits and much lower than the 13% 3-year CAGR shown just last quarter.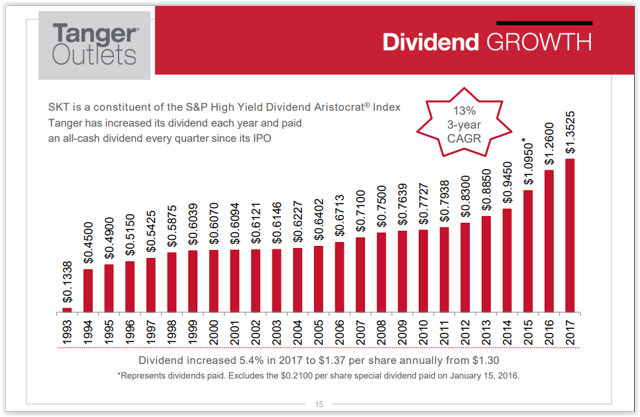 Tanger Q4 2017 earnings presentation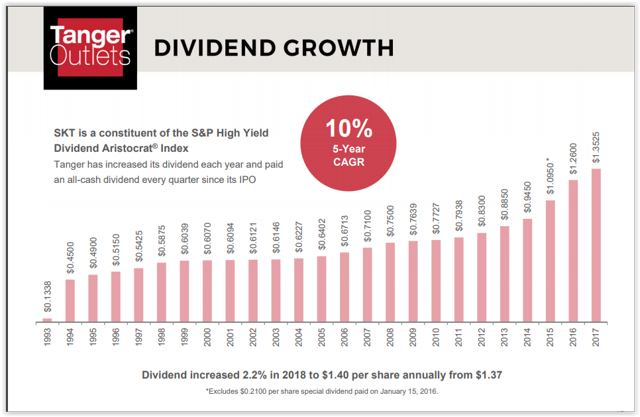 Tanger Q1 2018 earnings presentation
Location Occupancy
The next item I looked at was y/y occupancy trend for the top 10 properties, which accounts for just over 40% of the total GLA for the consolidated portfolio. As you can see the top four properties all posted lower occupancy y/y, and out of the top 10, six posted lower occupancy, three the same, and only one posted higher occupancy. Given these 10 properties make up just over 40% of GLA and the trend is lower, it is not surprising that Tanger lowered their full-year occupancy guidance.
| | | | | |
| --- | --- | --- | --- | --- |
| | Q1 2018 | Q1 2017 | Trend | GLA |
| Deer Park | 95% | 96% | Lower | 740,159 |
| Riverhead | 95% | 98% | Lower | 729,706 |
| Rehoboth Beach | 97% | 98% | Lower | 557,353 |
| Foley | 96% | 99% | Lower | 556,677 |
| Atlantic City | 89% | 89% | Same | 489,706 |
| San Marcos | 97% | 96% | Higher | 471,816 |
| Sevierville | 100% | 100% | Same | 448,150 |
| Savannah | 96% | 97% | Lower | 429,089 |
| Myrtle Beach Hwy 501 | 88% | 95% | Lower | 425,334 |
| Jeffersonville | 89% | 89% | Same | 411,793 |
| | | | | |
| | | | Top 10 GLA | 5,259,783 |
| | | | Total GLA | 12,920,467 |
| | | | | |
| | | | Top 10 GLA as % of Total | 40.71% |
Table data from Tanger supplemental presentation
Credit Rating Outlook
One thing that investors might overlook when looking through the Tanger investor presentation on the "Quality Ratios" slide is the actions by rating agencies. As of Q4 (first image below), you can see that the rating agencies have both had a stable outlook since 2013. With the investor presentation yesterday (second chart below), you can see that S&P has recently updated their outlook to negative, while Moody's maintained their stable outlook. This means that if things continue to deteriorate, Tanger runs the risk of its credit rating being downgraded.

Q4 2017 Investor Presentation

Q1 2018 Investor Presentation
Retail REIT Comparison
I compared shares of Tanger to the FTSE NAREIT Retail Capped Index, which tracks a basket of retail REITs. The following chart shows two items, the relative performance of Tanger compared to the retail REIT index and the 6-month rolling correlation to the retail REIT index. The first item to take note of is the blue line showing a comparison to other retail REITs. Tanger has been outperforming the index and is in a strong downtrend with no signs the trend will break. The second item to take note of it is the purple line, which shows the correlation of Tanger to the retail REIT index and not surprisingly the majority of the time it is over 90% correlated.
*Chart Scale is weekly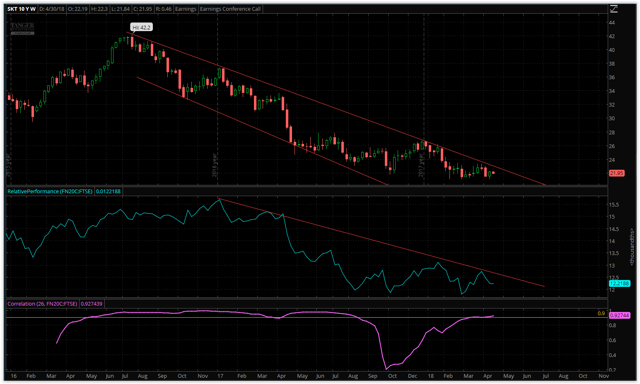 ThinkorSwim
10-year yield correlation
Second, I looked at the correlation of Tanger to the 10-year yield. As you can see, right now, Tanger is inversely correlated to the 10-year yield, which means as interest rates continue to rise, there will be headwind for shares of Tanger.
*Chart Scale is weekly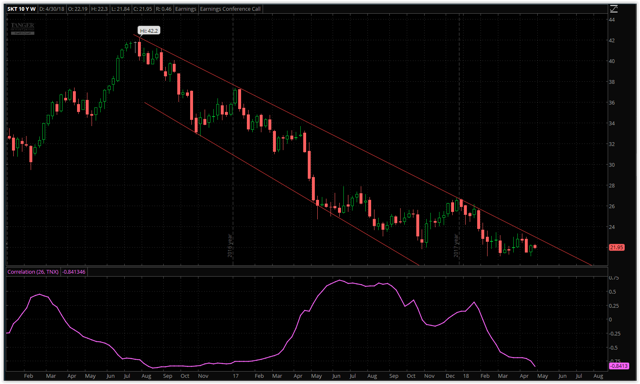 ThinkorSwim
Gas Prices
Gas prices are something that could have an impact on Tanger given their locations tend to be further away from population centers and are often described as "destination outlets." The following chart from GasBuddy.com shows the average price of gasoline in the United States is at its highest level in the last two years. With rising gas prices, it is a double hit for Tanger. Since their locations are further away from population centers, consumers have to spend more to get to the location and in turn, they then have less to spend once they are at the location. While the dollar amount in the increase in gas prices is not that significant, the larger impact is what higher gas prices mean for the psychology of consumers. When consumers see $3, $3.50, $4 gasoline prices, they tend to change their behavior, and I believe one of those key psychological points is approaching. If gasoline prices reach a national average of $3/gallon, it is likely that level will trigger news stories on the subject, which will, in turn, get consumers thinking about it.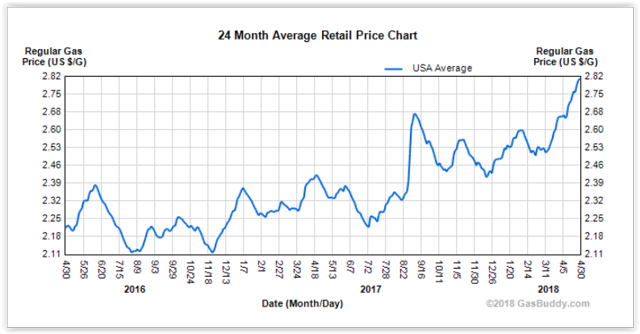 GasBuddy
What Tanger did right: Share Repurchases & Sales per Sq. Ft.
On the Q3 2017 earnings call, Tanger noted that they thought their shares were undervalued and strong. Tanger followed that with zero shares purchased in Q4 2017. Now, a couple of weeks ago when Tanger announced the dividend increase, they also announced that they had repurchased 444K shares during Q1. While this purchase was small, it was a step in the right direction for believers in Tanger.
Our conviction that our shares are undervalued and so strong that we basically employ two-year, $125 million share buyback plan in place. We repurchased 1.9 million of our common shares during the year at a weighted average price of $25.80 per share for total consideration of $49.3 million, most of which was funded by asset sales. This leaves $75.7 remaining under our $125 million of share repurchase authorization. ~Q3 2017 Earnings call

No shares were repurchased during the fourth quarter. ~Q4 2017 Earnings Release
Sales per Sq. Ft.
Surprisingly, sales per square foot increased from $380 to $384 y/y, which is something that investors who are bullish on Tanger can take note. The decline in sales per square feet trend has been lower over the last couple of years, so it will be interesting to see going forward if this was just a temporary blip or if the trend will reassert itself.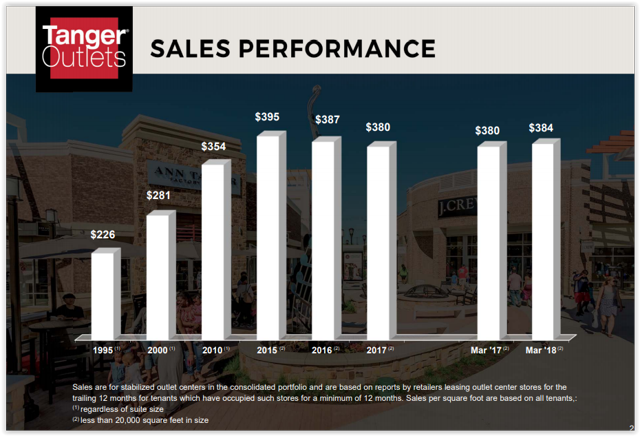 Tanger Q1 2018 Investor Presentation
Closing Thoughts
In closing, given the lower guidance, the continued pressure in retail REITs (which Tanger has a high correlation to), increasing interest rates (which Tanger has a strong inverse correlation to) along with the myriad of other data points I covered, I expect shares of Tanger to continue their downtrend. For all the reasons covered in this article, I am maintaining my $15 price target that I initially posted in my October 2017 article, when the price was $25.46.
This article was written by
-I have been investing since the fall of 2008 and invested through one of the most difficult investing periods in history and know the importance of dividend growth and stability during those times as well as during the good times. I started writing for Seeking Alpha at the end of 2011 and I have been successful with the companies I write about, which is shown by my high TipRanks success rate (Link Below). https://www.tipranks.com/bloggers/brad-kenagy
Analyst's Disclosure: I/we have no positions in any stocks mentioned, and no plans to initiate any positions within the next 72 hours. I wrote this article myself, and it expresses my own opinions. I am not receiving compensation for it (other than from Seeking Alpha). I have no business relationship with any company whose stock is mentioned in this article.
Seeking Alpha's Disclosure: Past performance is no guarantee of future results. No recommendation or advice is being given as to whether any investment is suitable for a particular investor. Any views or opinions expressed above may not reflect those of Seeking Alpha as a whole. Seeking Alpha is not a licensed securities dealer, broker or US investment adviser or investment bank. Our analysts are third party authors that include both professional investors and individual investors who may not be licensed or certified by any institute or regulatory body.