Welcome to the testing support edition of Natural Gas Daily!
We wanted to share with you our exclusive natural gas fundamental daily reports only available to subscribers here.
The below write-up was from May 1, and it talks about trader's commentary on how natural gas prices will need to test and retest the support level.
What are the traders saying?
Natural gas prices rallied earlier in the day only to start falling as of this writing.
June contracts reached an intraday high of $2.82/MMBtu.
During our conversation with traders, the survey results indicated that gross positioning moved back to 0% indicating no long or short exposures amongst the group.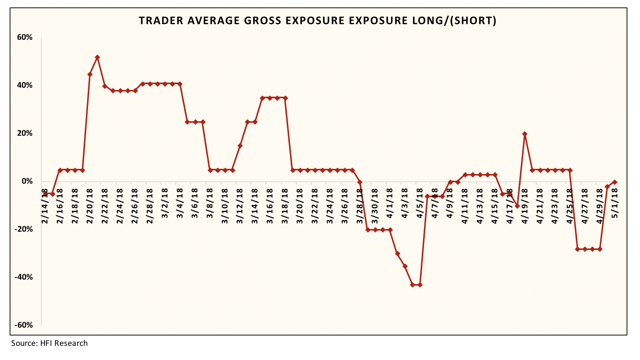 Following the timely short covering we did yesterday, natural gas prices rallied far quicker than the traders anticipated, prompting some to think that a short squeeze was in play.
The reversal is far too fast to be explained by fundamental forces. I think it was a short squeeze from traders who failed to get out of short positions on time.
As we wrote yesterday, if $2.75/MMBtu for June was proved to be the new floor, the market will want to see more than one retest of it for it to be sure. So even as prices gallop higher today, traders think prices will inevitably need to retest the level ($2.75 for June), hold, and then we can resume the range-bound price action.
In addition, fundamental forces are now starting to turn bearish with our storage revision moving up by 12 Bcf today. This increase in storage injection estimates along with lower than seasonal average total degree days will create a temporary headwind for prices.
Traders think the next move is to the downside with a pivotal retest of the support levels in play, and if it holds, then it will be time to go long.
For now, we are waiting on the sidelines for the next trade set-up.
What are the fundamentals saying?
STORAGE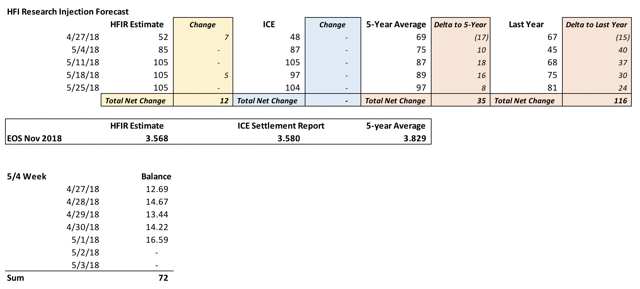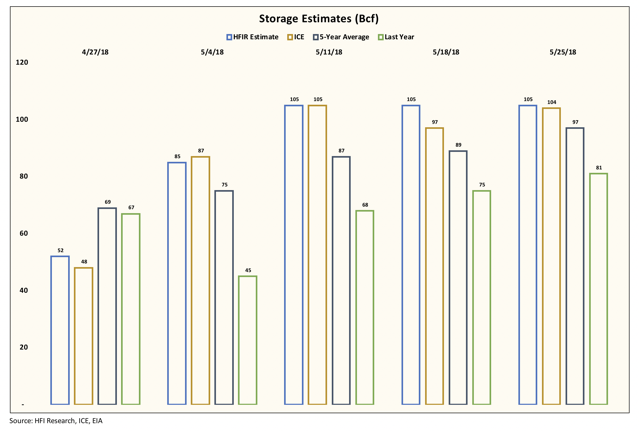 Storage injections were revised higher today. We saw 4/27 week come in higher following bearish fundamental revisions. We also revised higher 5/18 week following lower than expected demand.
EOS increased to 3.568 Tcf.
On the supply side, Lower 48 production averaged near the all-time high yesterday of ~80.8 Bcf/d. Today's reading of ~79.2 Bcf/d is impacted by month start nominations, which can create volatile changes in production reading. We think it's likely over 80 Bcf/d again today.
On the demand side, power burn increased to ~24.5 Bcf/d. LNG exports remain strong around ~3.7 Bcf/d. Over the coming weeks, there will be very little weather driven demand volatility, so expect tame fundamental data points.
DEMAND
SUPPLY
FUNDAMENTAL CONCLUSION
If you found this write-up to be insightful and helpful, please see here for more info about HFI Research natural gas premium! Thank you.
Disclosure: I/we have no positions in any stocks mentioned, and no plans to initiate any positions within the next 72 hours. I wrote this article myself, and it expresses my own opinions. I am not receiving compensation for it (other than from Seeking Alpha). I have no business relationship with any company whose stock is mentioned in this article.