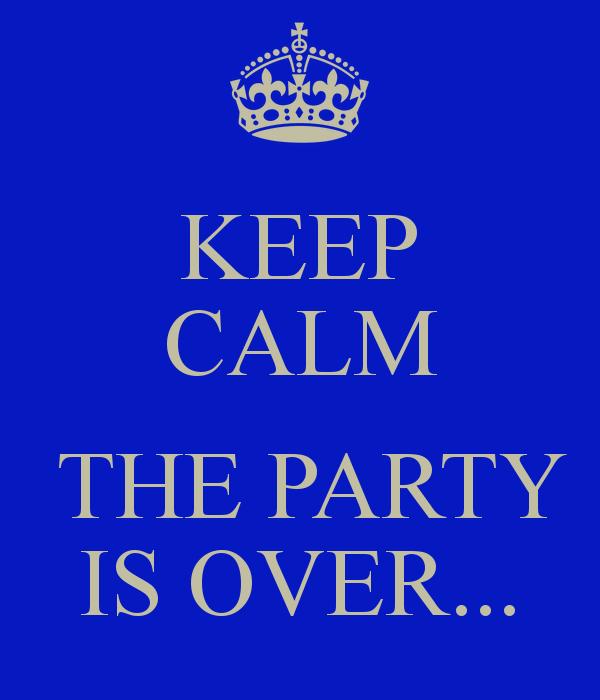 I am normally an optimist when it comes to the markets. Being a dividend growth investor I am usually cool with whatever gyrations the market is going through, but being retired has changed my perspective. Just glancing at this chart makes me believe that the party is over.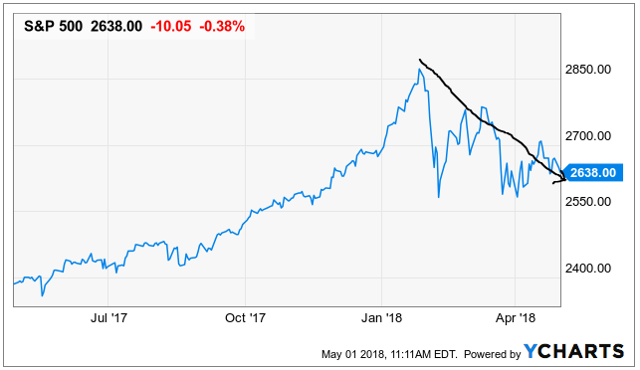 It was not long ago that the market seemed to defy gravity, but the cracks are finally showing quite clearly. I believe the downward trend is just getting started. As I have said over and over, if I wasn't already retired and had 10+ years to retire, I probably wouldn' give any of this much thought aside from continuing to build my income stream for retirement.
The fact is that I AM retired, and so are many of you. I truly believe that us older folks have to re-evaluate where we currently stand with our financial goals. I will try to explain my own current playbook so that folks who are in a similar position might contemplate what their next move might be for their own financial well-being.
Taking Stock Of Where I Am
Maybe I am one of the lucky ones who has already built an income producing portfolio to a level that fills my needs, and then some. If that sounds like you, why not consider doing what I am doing: Absolutely nothing but hoarding cash and enjoying my life. If you have NOT reached your income goal yet, try not to chase yield and stick with proven dividend king stocks that could mitigate some risk.
The model Dividend King Retirement Portfolio offers just a handful of stocks that fit into this elite category, and could cut your income risks.
The model DKRP currently consists of Coca-Cola (KO), Procter & Gamble (PG), Johnson & Johnson (JNJ), 3M (MMM), Emerson Electric (EMR), Cincinnati Financial (CINF), Lowe's (LOW), Hormel (HRL), Colgate-Palmolive (CL), Dover (DOV), and AT&T (T).
I have even identified some good values that might be considered even now for this type of portfolio, if you have the time horizon to let them compound: Procter & Gamble, Johnson & Johnson, 3M, Colgate-Palmolive, and even AT&T.
The One With The Most Money Still Dies
I think it was around the time I had major cancer surgery that my entire thinking about money changed. My wife was battling breast cancer at the same time and it dawned on me that just wanting more money on top of more money was ridiculous. I began to re-prioritize my life around living rather than building more wealth.
If you are 65, 70, 75 or older, what the heck are you waiting to live for. We are all going to die and while passing on a legacy to our heirs is great, why should we deny ourselves when we have worked so hard to build a secure financial future.
I often read that people are living longer and we already know that we do not want to run out of money before we leave this life. What many folks fail to also realize is that we will not live forever and at age 70, if we have 15-20 good years left, why not be good to ourselves as well?
Placing Money At Risk When We Don't Have To Is Just Plain Stupid
We have been sold a bill of goods by the financial markets over many decades. invest for the future and keep investing until we drop dead. Without placing the priority of our lives first, we place money and its accumulation as the single most important goal we can have. We take risks by investing so much money that we are left with 5-20% cash reserves and if something happens we might have to dump assets at the worst times.
Instead of buying stocks and more investments, I have decided to take more trips, give more to my kids and grand kids, as well as give more to charity. As long as I can afford to live my life without needs or ridiculous wants and desires, I find that my mind is opened to other interests aside from money.
Have you thought about this if you are in a similar position? According to some research, retirees are way too frugal when it comes to their own life!
While some people do run out of money, a person with less than $500,000 in savings, on average, spends just about a quarter of it during the first 20 years of retirement, according to a study by Sudipto Banerjee of the Employee Benefit Research Institute.

One-third actually end up with a nest egg larger than they had when they left their jobs, the study says. Even people who had only $32,000 shortly after leaving the workforce had about $24,000 left some two decades after retiring.
What are retired folks doing with their money if they are not spending it?? Perhaps they simply buy into the financial industry promoting buying stocks all the time and you might even live forever! It's hogwash for the most part!
Here is another revealing chart:
Only 15% of households at basically all levels of wealth are spending more than they have coming in. That isn't a bad thing, but it makes me wonder if folks are not being "generous" to themselves in their later years!
I also found the this chart about end of life medical expenses to be very interesting actually. It might just surprise you: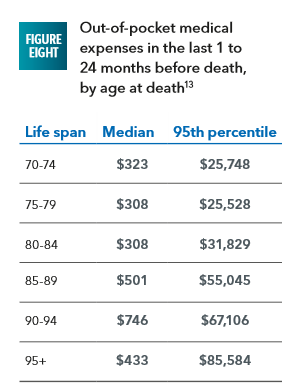 Not quite what I was expecting, and maybe I am leaving way too much money on the table for expenses that just might not be as high as what I am being "sold" by those wonderful insurance companies.

Concerns about end-of-life care expenditures:
One of the greatest financial fears for people in retirement can be the cost of long-term care associated with a major medical procedure, sharply declining health or treatment for cognitive disorders—particularly in the last year or two of life. Looking at Figure 8, our research suggests however, that out-of-pocket medical expenses were quite low for the vast majority of retirees during this period.
Many people fear that the cost of long-term health care will suck away a lifetime of savings. These people should consider using a portion of their wealth to purchase long-term-care insurance. This made me think, does it make YOU think?
My Portfolio Supplies Me Enough Income Right Now
While I am not buying anything right now just to have more money, I am also NOT selling anything that continues to pay me! Why "bite the hand that feeds me"? All too often I see folks beginning to panic and sell perfectly fine dividend income producing stocks while the price of the stock tanks. Three things happen:
A taxable event occurs and if I have held the stocks for a long period, Uncle Sam will take its share, big time.
If I sell while the share price is down, my portfolio value is lower and it could be very difficult to replace the income I am losing for the prices I have sold the stock! DUMB STUFF to me!
I will immediately reduce my cash flow, and income simply out of panic selling. If the stocks are still paying me and giving me raises every year, I would have to have my head examined to dump them!
Why not consider your own circumstance and unless you have a dire emergency or desperately need the money right now, WHY SELL your cash cows?
I Am Retired, Why Should I Be Afraid To Be Good To Myself?
This article says it better than I can, so let me pull a few gems from it:
A recently retired client, a woman with approximately $1 million in savings, was asked to join a group of friends on a girls' getaway vacation costing approximately $3,000. Even though she had plenty of money to take the trip, she felt uneasy because it meant breaking her lifetime habit of saving for the future. She's lived a financially disciplined life for so long that she didn't know how to handle this expense without any earnings to pay for it.
I personally know folks with way more than one million bucks and are 80 years old and they cant seem to let a few bucks go on a NYC show for great seats because they cannot break the frugal habit. That does not mean they are wrong, but why deny yourself for precisely what you have worked so hard to achieve?
Additionally, many retirees can seem paralyzed by what I call the "what if" syndrome. Some are uncomfortable spending money unless all of the possible calamitous outcomes, regardless of how remote, are considered. They live in a prison of fear of what might happen, building a wide moat of protection around themselves and their money. In all likelihood, they will come to the end of their days with an abundance of caution, wealth and unfulfilled dreams.
Does any of this sound familiar to you? It certainly does to me! What did I work so hard to achieve if I cannot enjoy it? What are you doing to "spoil" yourselves after years of hard work building financial security?
Just as dividend growth investing requires discipline and focus, so does retirement spending. What makes you happy? What inspires you? What do your closest relationships mean to you?
The Wealthiest Folks In The Cemetery Are Still Dead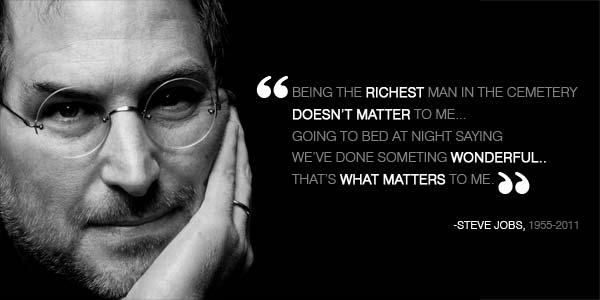 I hate to be morbid, but no matter how much money I have I will still die at some point. I have finally asked myself if I want to continue to chase money for whatever time I have left or do I want to live life to the fullest?
It is a personal decision, and as much as I suggest dividend growth investing for a more secure financial future, I also feel it is just as important to live our lives and strive to be a better person.
The Bottom Line
There is more to building wealth than just the money. I have thought about it and am making my new choices as clear as I can.
What are YOUR choices?
Author's note: If you like this article and hope to see more like it, check the little "thumbs up" at the end of the article.
A Special Note About My Free Articles:
Seeking Alpha is a business, and believe it or not, they do need to make a few bucks to keep bringing you all of its amazing content at virtually no charge! To that end, Seeking Alpha will be charging some fees to access older (and remarkable) content from its extraordinary library of information, not just from me, but from all authors.
All of my articles will remain free until they are placed behind the paywall after a minimum of 10 days. Only ticker-specific articles will be placed behind a paywall. If you are a real-time follower, you will be notified immediately of any of my new (and free) articles, just as you have received in the past!
The only favor I ask is that you click the "Follow" button, so I can grow my Seeking Alpha friendships. That is my personal blessing in doing this and how I can offer my experiences to as many regular folks as possible, who might not otherwise receive it.
Disclaimer: The opinions and the strategies of the author are not intended to ever be a recommendation to buy or sell a security. The strategy the author uses has worked for him, and it is for you to decide if it could benefit your financial future. Please remember to do your own research and know your risk tolerance. The long positions held are based upon what the model portfolio holds, and I personally could have held all of the stocks noted at one time or another.
Disclosure: I am/we are long cinf cl dov emr hrl jnj ko low mmm pg t. I wrote this article myself, and it expresses my own opinions. I am not receiving compensation for it (other than from Seeking Alpha). I have no business relationship with any company whose stock is mentioned in this article.
Additional disclosure: The portfolio is for educational purposes only and not an actual portfolio. The long positions are based on the model portfolios.