Namaste Technologies: Cannabis E-Commerce Pure-Play
Summary
Namaste is currently an online vaporizer seller with plans to also become a pure seller of cannabis relying on third-party products.
Lack of in-house production limits potential market to medical only, leaving the larger recreational market off the table.
Tough competition for CannMart from pharmacy chains entering the medical cannabis space and Shopify's appeal to producers.
We rate the shares speculative buy based on the stable and profitable vaporizer business and risky foray into cannabis e-commerce.

Welcome to our Discover Cannabis series, where we publish in-depth research reports to introduce new companies not covered by us before.
Overview
We have spent lots of time introducing cannabis companies most of which are licensed producers. Namaste Technologies (NXTTF) is a unique proposition in the cannabis space where the company is currently a global e-commerce player in the vaporizer business and is pivoting towards becoming a pure-play e-commerce merchant in the medical and recreational cannabis markets in Canada and globally.
Our view of the company is speculative buy because it has become somewhat clear to us that Namaste's only real operation at the moment is its vaporizers business. Its plans to break into the cannabis market are still under development but some progress has been made. Investors have cheered its unique angle in the cannabis sector and the enthusiasm has lifted the share price to a certain extent. We just think investors should recognize that the company has yet to demonstrate the success of its business model and products which makes this investment inherently risky and speculative.

Operations
Namaste has three business lines: vaporizer sales, NamasteMD, and CannMart. On a high level, the vaporizer business is a standalone business that operates e-commerce platform across dozens of global markets. The NamasteMD application is the customer acquisition portal for Namaste's cannabis e-commerce platform, CannMart, and with both together represent the medical and recreational cannabis business of Namaste.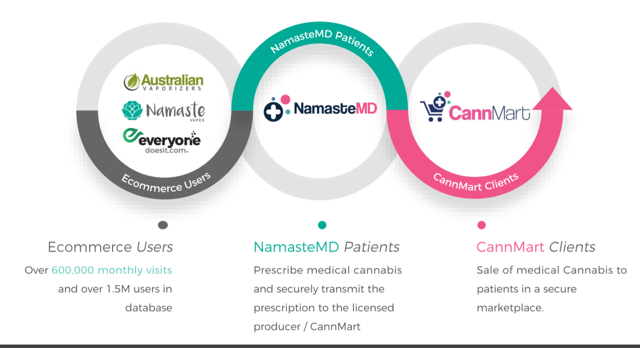 (Company Website)
Vaporizer: At its roots, Namaste is an online retailer of vaporizer equipment in several countries. How big is this business line? For the 2017 fiscal year that ended on August 31, 2017, the company sold $6.7 million of equipment excluding the acquisitions it made including Australian Vaporizers, EDIT, and VaporSeller. Including contributions of all the acquisitions, the company generated sales of $11 million. Sales grew a healthy 92% during the year excluding acquisitions. For the latest quarter, vaporizer business generated $5.5 million revenue, representing over 97% of the total revenue. Clearly, the company remains a vaporizer business at the moment.
NamasteMD: Is a cannabis telemedicine tool that aims to simplify the onboarding process for medical cannabis patients. The tool claims to be able to allow users obtain a medical cannabis prescription in just a few minutes and hopes to help streamline the process for both patients and doctors. In February 2018, the tool was launched "softly" on both Apple and Android app stores. During the month, NamasteMD generated 3,000 downloads and acquired 375 medical patients. As of April 30, NamasteMD has acquired 1,600 patients and these patients will now be able to purchase cannabis from CannMart under its selection of products from other LPs curated by Namaste.
CannMart: Has a goal of becoming the dominant online marketplace for medical cannabis users. The business will buy cannabis from other LPs through supply agreements and hopefully, build a customer base by offering a wide range of selection of products. However, we see a fundamental challenge to this business strategy. First of all, Namaste claims that it has first-mover advantage, which is mitigated by the fact that Canopy (TWMJF) has also launched its Tweed Main Street which essentially hopes to accomplish the same task as CannMart. More importantly, Canopy currently has almost 70,000 registered patients, almost one-third of the entire medical patient base in Canada. Other major players all have online platforms and the entire existing medical patient base are split by all the LPs (actually, all orders are shipped by secured mail currently and patients acquired either through cannabis clinics or directly through LP's websites). We think CannMart really needs to refine and crystallize its business strategy and define how it plans to position itself within the broader competitive landscape.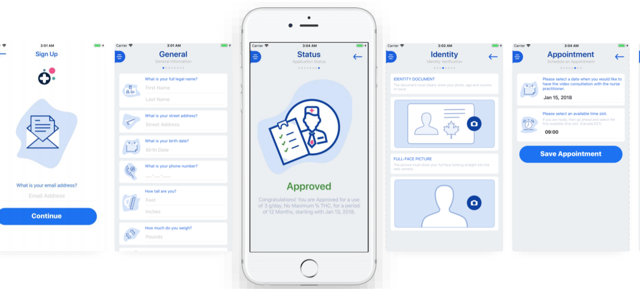 (Company Presentation)
Key Questions to Ask
We think there are a few questions that need to be answered on the fundamental business proposition of CannMart. We think the success of Namaste and its share price hinges on the success of its cannabis e-commerce business, as the vaporizer business is a more mature segment and much lower growth potential. We see very high levels of competition for CannMart ahead which led to our concern around the whole Namaste story.
First of all, CannMart's business strategy already limited its and potential market size and pool of suppliers. The lack of in-house production at CannMart means that the company is completely shut out of the recreational market where government-run channels are used. For example, CannMart will not be participating in the Ontario recreational market at all, similar to Quebec. That means the potential market for CannMart is way smaller than people had thought. The focus of CannMart will be on the medical cannabis market.
Turning to the medical cannabis market, the current market is completely occupied by incumbents that have direct customer relationships and in-house productions. We see zero probability of the likes of Canopy or Aurora (ACBFF) cooperating with CannMart because the value proposition is more suited for smaller players that lack existing customer base or existing online platforms. Canopy's Tweed Main Street will be competing directly with CannMart as it also has a program that sources products from smaller producers. An example of the deals of CannMart included a supply agreement with Supreme (SPRWF) to purchase 1,000 kg in 2018 for a total price of $6.0 million. However, Supreme does not have any of its own patients! Supreme, just like CannMart, is pursuing a wholesale strategy! Isn't it funny that two wholesale companies are selling to each other with each claiming that they had secured a supply agreement? The strategy of CannMart is, however, consistent with the business model of Namaste's existing vaporizer business which only handles marketing and distribution for other manufacturers.
Lastly, CannMart will face a significant barrier to its entry into the medical cannabis market given its lack of operating history and customer base. NamasteMD is an interesting platform to help drive customer acquisition, but the result has been lackluster with only 1,600 customers so far. We think it represented a good start but more needs to be done. Larger competitors such as Canopy has close to 70,000 of registered patients and we will be closely watching the progress and customer acquisitions going forward.
Competitors
There are two other major competitors for CannMart including national pharmacy chains and Shopify (SHOP). A number of pharmacy chains are applying for sales license such as Shoppers. Shoppers has way more existing customers and data, and their e-commerce platform is also developed and running, which puts Namaste in a clear disadvantageous position while competing for suppliers and customers. Shopify is another competitive threat we have identified, mainly through the adoption of its highly popular e-commerce platform amongst provinces and LPs. We see the adoption of Shopify platform as an alternative to LPs using CannMart for their e-commerce sales. We note that Emerald (OTC:EMHTF) has signed an LOI with Namaste to form a strategic partnership which includes using CannMart for Emerald's e-commerce business. We think it is a good start, but Shopify has so far secured a much larger share of the market including Ontario and Hydropothecary (HYYDF). Overall, we are worried that CannMart's proposition is inferior to both pharmacy chains and Shopify, leading to a much smaller potential market in the medical cannabis space.
Financials and Valuation
One thing to recognize is that Namaste, unlike most other LPs, already has a fairly sizeable and profitable business around its vaporizer online platform. Through organic growth and M&A, revenue has grown to $5.6 million in the latest quarter. Gross margin was strong at 35%. However, share counts have also ballooned, resulting in per share growth staying stagnant as management issued way too much equity that caused major dilution. The last equity raise was a $40.3 million bought-deal equity raise in February 2018 at $2.55 per share, resulting in a significant loss for those investors.

(Company Filings)
The stock has come down from its high of $4.40 in January to $1.60 as of Tuesday. The current market capitalization is $435 million. For Namaste, we think it is prudent to value the vaporizer business and the other two segments separately. The vaporizer business is a more refined and mature business that has a profitable business of selling vaporizers globally. We think a retail e-commerce business like this could attract multiples in the range of 8.0-10.0x given the companies do not manufacture its own products but instead carry brands from various vendors. The multiples will depend on the growth outlook, and we tend to look at the high end of the range due to the large TAM and positive growth momentum across many international markets.
Our concern for the cannabis business is more pronounced due to the early-stage nature of both offerings and tough competition as described above. Much of the market value depends on the success of its cannabis e-commerce business, as we do not see a scenario where the $20 million vaporizer business could support its $435 million in market value.
Putting Everything Together
We commend the company for building a sizeable and fast-growing vaporizer business on the global scale and think the move into cannabis is a natural one with material upside. We have detailed our concerns about the competitive landscape of the medical cannabis market, with both pharmacies and existing LPs looking to offer similar value to CannMart. Namaste has a track record of building successful retail and distribution businesses for vaporizers and we think it has the potential to succeed in its CannMart venture, but risks remain high due to execution uncertainty. We rate the shares as speculative buy as the success of CannMart will dictate whether Namaste will become a relevant player in the cannabis space and any failure would result in substantial downside even to today's share price.
Additional Resources
"Follow us" to receive our latest articles and investment ideas in the sector. We also publish a widely read Weekly Cannabis Report which is your best way to stay informed on the cannabis sector.
Here you can find our recent Discover Cannabis articles:
Editor's Note: This article covers one or more microcap stocks. Please be aware of the risks associated with these stocks.
This article was written by
We are your best guide to cannabis investing. Read our 2021 Cannabis Sector Outlook here. We also provide in-depth industry analysis and coverage of 70+ cannabis stocks to help you get started.
Analyst's Disclosure: I/we have no positions in any stocks mentioned, and no plans to initiate any positions within the next 72 hours. I wrote this article myself, and it expresses my own opinions. I am not receiving compensation for it (other than from Seeking Alpha). I have no business relationship with any company whose stock is mentioned in this article.
Seeking Alpha's Disclosure: Past performance is no guarantee of future results. No recommendation or advice is being given as to whether any investment is suitable for a particular investor. Any views or opinions expressed above may not reflect those of Seeking Alpha as a whole. Seeking Alpha is not a licensed securities dealer, broker or US investment adviser or investment bank. Our analysts are third party authors that include both professional investors and individual investors who may not be licensed or certified by any institute or regulatory body.