Last Week and This Week
U.S. Energy Information Administration should report a larger change in natural gas storage this week compared to the week prior. We anticipate seeing an injection of 57 bcf (2 bcf larger than the comparable figure in ICE's latest report for the EII-U.S. EIA Financial Weekly Index, but 11 bcf smaller than a year ago and 12 bcf smaller vs. 5-year average for this time of the year).
Last week, the number of total degree days (TDDs) dropped as much as 40% w-o-w, as heating degree days (HDDs) continued to decline due to seasonal factors, while the number of cooling degree days (CDDs) jumped by 50%, but from a very low base. Total energy demand (for heating and cooling combined) was some 5% below last year's level, but did not depart much from the long-term norm. Heating demand was still present in the Midwest and Northeast parts of the country, but Southwest and Southeast witnessed more cooling demand.
This week, cold weather continued to retreat, and, at the same time, warmer conditions began to impact energy demand. We estimate that, while the number of TDDs dropped by another 8% w-o-w, the number of CDDs more than doubled. It is important to remember that, from now on, CDDs will be driving consumption patterns, and changes in cooling demand will have a disproportionately stronger impact on storage forecast than changes in heating demand.
Next Week
The chart below (showing the projected number of degree-days over the next 15 days) most vividly illustrates the weather environment that we are currently facing: HDDs are falling, while CDDs are rising, but cannot yet fully compensate for the loss in heating demand. That is why, consumption-wise, mid-range weather models look bearish day after day. However, the bottom in terms of projected number of total degree days has probably already been reached.

Source: Bluegold Research hybrid model comprised of GFS, NAM, Canadian GGEM, and ECMWF.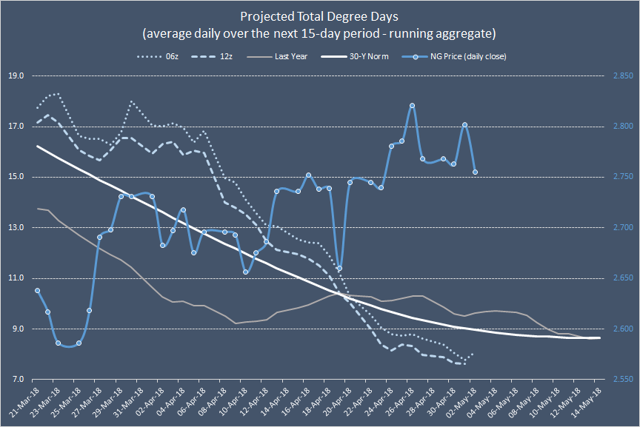 Source: Bluegold Research
Note that projected TDDs are below the norm (at least in the latest 06z model), but natural gas price has not really dropped that much yet. That is because weather is just one out of many factors that traders need to consider. At Bluegold Research, we provide a daily update on the weather forecast, as well as an update on 8-week storage outlook and end-of-season storage estimates + a weekly update on the latest trends in the Electric Power sector. Consider signing up, if interested (see the link below).
The latest numerical weather prediction models are returning some bullish results.
ECMWF extended-range model (issued on April 30) projected above normal CDDs in all five forecast weeks (May 11 – June 8);
CFSv2 long-range model is projecting normal CDDs in May and above normal CDDs in June.
The latest ECMWF 00z Ensemble and GFS 12z Ensemble mid-range models are both projecting above normal CDDs over the next 15 days (May 2 – May 17).
Overall, our analysis shows that next week, the number of TDDs should decline by another 14% (see the chart below), but cooling demand will rise significantly and should be as much as 50% higher than last year.
Please note that the standard mid-term numerical weather prediction systems are already covering the period up to May 17. One should expect heating demand to subside and cooling demand to increase purely on seasonal grounds.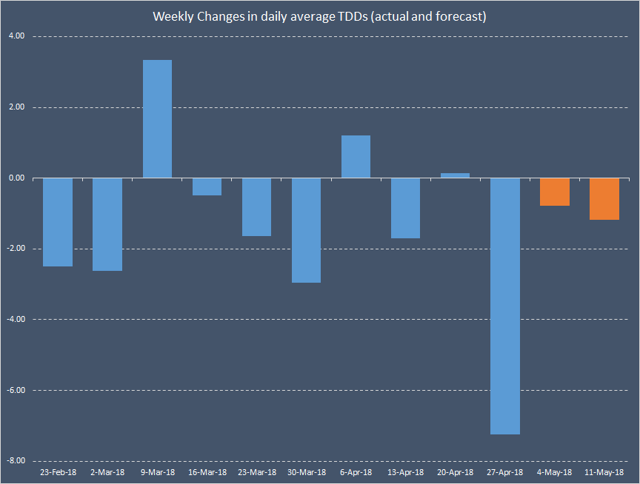 Source: Bluegold Research
Storage
There is currently a double deficit in natural gas inventories – i.e., the amount of natural gas in the underground storage is smaller compared to previous year and also compared to 5-year average. Next two EIA reports are expected to confirm the contraction of 5-year average deficit in storage by a total of 3 bcf and the contraction of annual deficit by a total of 30 bcf.
At this moment in time, we expect annual deficit in storage to shrink for the rest of May, but we do not currently anticipate to see big changes in the 5-year average deficit for another 5-6 weeks (at least). Currently, we project that, by June 1, annual deficit will shrink by 109 bcf, while 5-year average deficit will contract by only 26 bcf over the same period.
Disclosure: I/we have no positions in any stocks mentioned, and no plans to initiate any positions within the next 72 hours. I wrote this article myself, and it expresses my own opinions. I am not receiving compensation for it (other than from Seeking Alpha). I have no business relationship with any company whose stock is mentioned in this article.