Taseko Mines' Q1 2018 Financial Results: The Wildfires Cause Trouble Even After 9 Months
Summary
Taseko's Q1 2018 results are poor, due to the impacts of last summer's wildfires.
The Gibraltar mine had to process some oxidized stockpiled material, which led not only to lower head grades but also recoveries.
Over the remainder of this year, the production should grow back to the normal levels.
The construction of the Florence project test production facility is on time and on budget, with first copper production expected in December.
An updated technical report with improved economics for the Aley Niobium project should be released soon.
Taseko Mines (NYSE:TGB) released its Q1 2018 financial results. The majority of the investors are probably not too happy about the reported numbers. Taseko generated revenues of only $64 million, which is almost 40% less compared to Q1 2017. Also, the earnings from mining operations recorded a significant decline, from $43.85 million to -$1.24 million. The adjusted EBITDA declined from $47.93 million to $7.54 million and net income from $16.48 million to -$18.48 million. As stated in the news release, the poor results are a consequence of the wildfires that impacted operations at Taseko's 75%-owned Gibraltar mine last summer. According to Russell Hallbauer, Taseko's CEO:
As disclosed in our year-end report, production in early 2018 continued to be impacted by waste stripping shortfalls from 2017, where we effectively lost two months of waste stripping. With our stripping schedule compromised, our new pushback was delayed and only lower grade ore was available to process.
In Q1, the head grade was only 0.2%. It is significantly less compared to Q1 2017, when the copper grade stood at 0.33%. According to the company, although lower grades were projected also in the mine plan, the wildfires caused that Taseko had to process also some lower grade material from its stockpiles. Processing of the oxidized ore from stockpiles had a negative impact also on the recoveries, that declined to 75.7%. It is a notable decline when compared to Q1 2017 and the 85.9% recoveries. However, it is expected that the copper grade should climb back up to the 0.26% level for the remainder of this year. Also, the recoveries are expected to return to normal levels.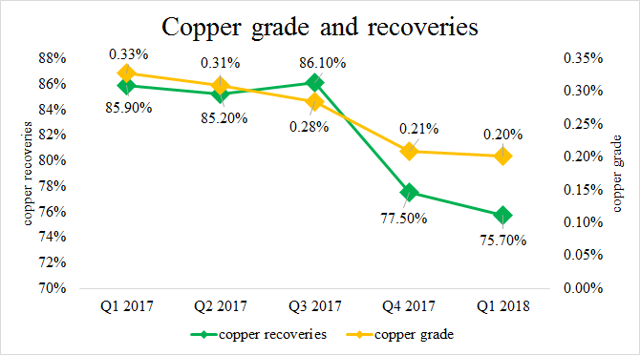 Source: own processing, using data of Taseko Mines
The steep decline in grades and recoveries had a strong impact on the production volumes. Only 22.9 million lb copper and 443,000 lb molybdenum were produced in Q1 2018. As can be seen in the chart below, the numbers are well below the Q1 2017 levels. The copper production declined by 45% and molybdenum production declined by 49%. If the copper grade grows back to 0.26% and the recoveries return to the 85% level, it is reasonable to expect the Gibraltar mine to produce around 35 million lb copper in Q2.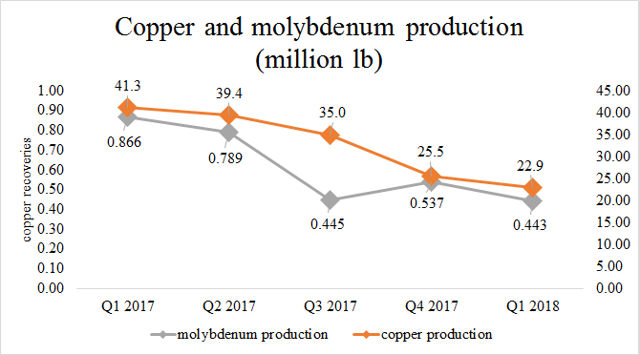 Source: own processing, using data of Taseko Mines
The lower production volumes had a very negative impact on operating costs. The site operating costs climbed to $2.25/lb copper and the total operating costs climbed even to $2.33/lb copper. It means a notable deterioration compared to the total operating costs of $1.33 recorded in Q1 2017. However, as the production should normalize in the coming months, the costs are expected to decrease.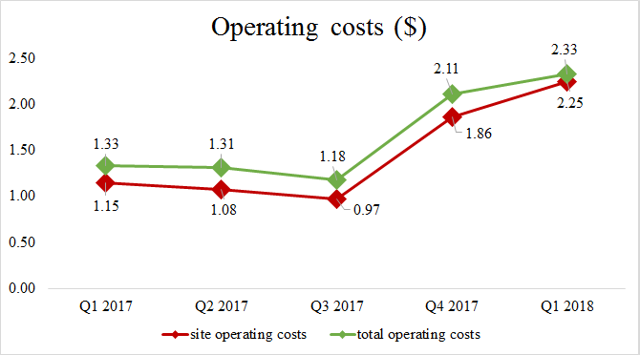 Source: own processing, using data of Taseko Mines
Although the Gibraltar mine hasn't done too good over the recent quarters, due to the high copper prices, it is still able to generate some positive cash flow. In Q1 2018, Taseko recorded cash flow from mining operations of $11.56 million. However, due to the expenditures related to the Florence project test facility construction, Taseko's cash position has worsened from $80 million as of the end of Q4 2017 to $64 million as of the end of Q1 2018.
Although the Gibraltar mine related news is not too positive, Taseko experienced also some positive developments in recent months. The construction of the Florence project production test facility is well underway:
The project is on time and on budget with expenditures in the first quarter being approximately $14.3 million or US$10.8 million. The entire facility, plant and wells are expected to be fully operational by the end of the third quarter of 2018.
Moreover, according to the CEO, the recent changes in the U.S. tax legislation boosted the after-tax NPV of the Florence project by $80 million, from $680 million to $760 million. Just to remind, the proposed mine should produce 85 million lb copper per year, over its 21-year mine life. The operating costs are estimated at $1.1/lb copper and the initial CAPEX is estimated at $204 million. The sustaining CAPEX is estimated at $713 million which equals approximately to $0.4/lb. As a result, the AISC should be around $1.5/lb copper. The after-tax NPV (7.5%) of the Florence project is $760 million, at a copper price of $3/lb. In 2017, Taseko received the final permits for construction of a production test facility that will include 4 injection wells, 9 recovery wells, and 11 groundwater monitoring wells. If everything goes well, the commercial scale mine should start production in 2021.
Another positive news is related to Taseko's Aley Niobium project. Aley Niobium is the third-biggest niobium deposit in the world. According to the September 2014 technical report, the mine should be able to produce 9 million kg niobium per year. The OPEX was projected at $1/kg and the CAPEX at $777 million. But the numbers seem to be primed for a major improvement. According to the CEO:
After three years of additional engineering work, we are in the final stages of completing an updated technical report. This report will demonstrate both lower capital costs and improved mine economics at a lower long-term niobium price. We look forward to publicly releasing that report in the near future.
Conclusion
As a consequence of last year's wildfires, Taseko recorded a poor Q1. The production was low and the costs were high. However, thanks to the high copper prices, the Gibraltar mine was still able to generate some cash. The situation should improve notably in the coming quarters, as the head grades, as well as recoveries, are expected to return to the normal levels. What is positive, the construction of the Florence project test production facility is on time and on budget. Moreover, Taseko experiences some progress also at the Aley Niobium project. The results of an optimization study should be released soon and according to Taseko's CEO, they should present lower CAPEX and improved economics. It is hard to believe that the market capitalization of Taseko Mines is only slightly more than $250 million. Although the company has to deal with some problems at Gibraltar, it is also pushing its Florence project forward and some progress is made also at Aley. At the current prices, Taseko's shares offer a very attractive risk-reward ratio.
This article was written by
I am an associate professor at the University of Economics in Bratislava, Department of Banking and International Finance. My dissertation was focused on commodity markets and my habilitation was focused on the calendar anomalies. I have more than 15 years of investing experience. My investments mostly focus on small- and mid-cap companies in the resource sector. Since May 2019, I have been preparing regular monthly reports focused on the precious metals royalty & streaming industry. Based on positive feedbacks and numerous inquiries, I decided to launch a Marketplace Service named "Royalty & Streaming Corner", which provides an in-depth analysis of this exciting market segment, as well as investment ideas from the mining industry.
Analyst's Disclosure: I am/we are long TGB. I wrote this article myself, and it expresses my own opinions. I am not receiving compensation for it (other than from Seeking Alpha). I have no business relationship with any company whose stock is mentioned in this article.
Seeking Alpha's Disclosure: Past performance is no guarantee of future results. No recommendation or advice is being given as to whether any investment is suitable for a particular investor. Any views or opinions expressed above may not reflect those of Seeking Alpha as a whole. Seeking Alpha is not a licensed securities dealer, broker or US investment adviser or investment bank. Our analysts are third party authors that include both professional investors and individual investors who may not be licensed or certified by any institute or regulatory body.