After a long hiatus on the outs with Wall Street and suffering from pariah status in the software sector, it seems Tableau Software (NYSE:DATA) has become fashionable again. It's been two years since Tableau fell from grace as Wall Street's favorite stock in the hot BI/Analytics sector - the company reported sales execution issues in February 2016, and the shares still haven't fully recovered from one of the largest one-day drops in the stock market since 2008.
Strong Q1 earnings have buoyed Tableau back above $90, after trading flat for the majority of this year. This quarter marks a salient turning point for the company - with good results on the top and bottom line combined with a shift in Tableau's bullish narrative, which we'll discuss next. While shares are no longer cheap as they were in 2016, Tableau still has plenty of room to ride up to $100 in the near term, a stock price that would imply 7.2x forward revenues. Given the strength of Tableau's quarter in a long string of earnings beats since its 2016 stumble, Tableau shares look back on track to outperform.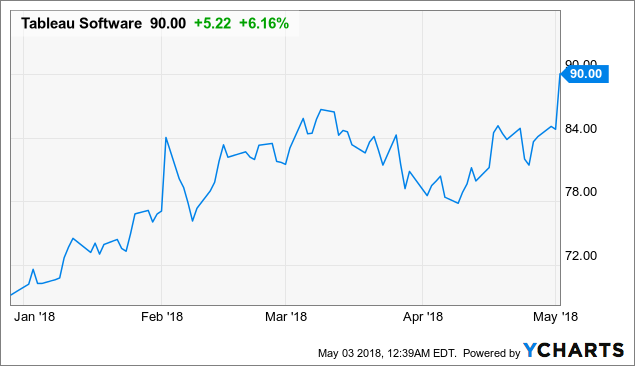 Shift into ratable subscriptions picks up at an accelerated pace
Back in the company's heyday, Tableau's bullish narrative was focused on its visionary product in a software category that VCs were throwing heaps of money at, translating well into a rich public-stock valuation multiple for Tableau. That narrative somewhat crumbled after Tableau reported poor sales execution and nimble, cheaper competitors like Microsoft Power BI (MSFT) joined the fray.
Now, however, I believe Tableau's narrative has undergone a radical transformation that could leave the shares ready for a fresh rally. No longer are investors bidding this stock up due to hype over the "buzzword" of BI (after being overused in 2016 and 2017, it's hardly a buzzword any longer). Now, investors are focused squarely on Tableau's transition to a subscription business model (aka, SaaS), whereas before it had sold ultra-expensive perpetual licenses (that could total tens of thousands per user as a one-time upfront fee) that likely acted as an inhibitor for new business. Ratable revenues as a percentage of the total (that is, revenues that are recognized over longer periods of time, such as over the duration of a subscription contract) has hit all-time highs.
A couple metrics on recurring revenue: total annual recurring revenues grew 46% y/y to $641.9 million in the quarter, while subscription annual recurring revenues grew 230% y/y to $237.5 million.That's not a typo - Tableau's subscription revenue base has indeed more than tripled over the past year. This means that in any given year, Tableau already has ~$650 million of revenues locked in, with about a third of that coming from SaaS subscriptions. That's more than two-thirds of the company's guidance this year, revenue that Tableau doesn't have to chase. All the incremental business Tableau signs, including expensive on-prem license deals, are purely additive on top of the existing recurring revenue base.
Owing to the strength in recurring revenues seen this quarter, Tableau's CFO updated the company's guidance on the earnings call to include an expectation of 64-69% ratable mix of revenues in FY18 - that is, two-thirds of the revenue will be derived from recurring sources. That's up from just 41% in FY17, a near 180-degree turn from Tableau's old business model of selling big licenses upfront, then chasing new customers later after the first sale is done.
Plenty of legacy technology companies have embarked on a similar transition to ratable revenues, and most have seen tremendous success and have been rewarded by market-topping valuation multiples as a result. Recurring revenues, after all, are far more stable and more profitable that one-time deals. Adobe (ADBE), which now trades at 11x forward revenues (far above the 6.4x revenues Tableau trades at now), is one of the clearest examples of a success story. While Tableau's low double-digit growth probably precludes it from the double-digit revenue valuations it used to trade at, the shift to recurring revenues will definitely have an impact on investors' re-evaluation of Tableau's valuation metrics. Recurring revenue streams are simply worth much more than non-recurring revenues.
Q1 download
Here's a look at Tableau's full results for the quarter:
Figure 1. Tableau Q1 earnings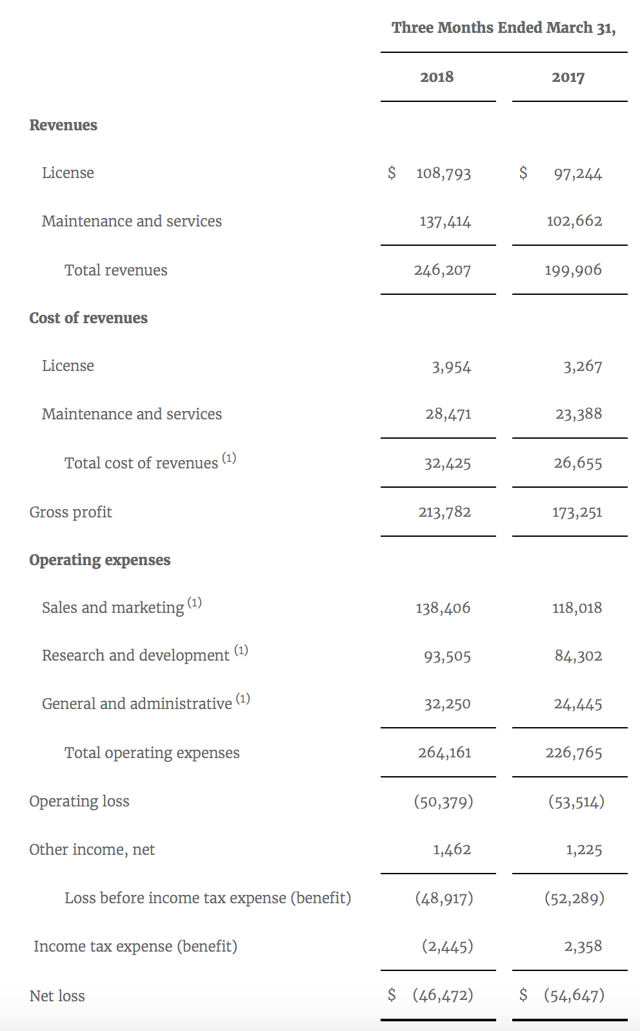 Source: Tableau investor relations
A note here: Tableau reported two sets of books in Q1, owing to its adoption of ASC 606 in January. ASC 606 has affected the entire software industry this year, affecting the treatment of ratable/subscription revenues (which is appropriate, given Tableau's increased focus on its subscription business), and without getting too deep into the weeds, it's important to note that 1Q18 results on an ASC 606 basis carry $22.1 million in "extra" revenues versus 1Q17 results, which are presented using the old standard of ASC 206.
As such, Tableau's revenues of $246.2 million in the quarter was still an impressive figure, but to compare apples-to-apples, we have to consider Tableau's ASC 605 revenues of $224.0 million in the quarter, up 12% y/y. That's a huge beat over analyst's expectations of $217.9 million (+9% y/y), a three-point beat that already considers the disconnect between accounting treatments. In any case, the fact that Tableau's revenues now include the higher ASC 606 figure will be a tailwind to its valuation multiples.
The company added 3,900 new customers in the quarter and ended at a customer base of 74,000 - an impressive figure for a software company that caters primarily to enterprise clients. As previously mentioned, the subscription transition was ahead of plan this quarter, with ratable revenues representing 59% of total license bookings in the quarter, ahead of Tableau's previous view. On the product side, Tableau also announced the launch of Tableau Prep in the quarter, which will give Tableau an entirely new avenue for growth and pit it into competition against the fast-growing Alteryx (AYX). Popularity and strong demand for rare data-prep tools have sent Alteryx flying to all-time highs, and now Tableau has a chance to pick up on some of this growth as well.
On the profit side, however, Tableau did leave a a bit to be desired. Pro forma gross margins fell by 1% in the quarter, impacted by the transition to subscription revenues. GAAP operating margin also slipped to -34% in the quarter under the old ASC 605 accounting system, down from -27% in 1Q17, though the impact of increased revenue recognition against little-changed expenses under the new ASC 606 pushes 606-based operating margin up to -20%, and on a pro forma basis that strips out stock comp, operating margin actually turned positive to +2% of revenues. Tableau's pro forma EPS of -$0.19 was essentially in-line with analyst expectations of -$0.18.
How should investors react?
Tableau has already kicked off the beginnings of a recovery, but it's still a ways off from its all-time high of $127 reached in mid-2015. This time, Tableau's ride up is backed by fundamentals and not just sector hype. Pivots to the subscription model have been proven (through predecessors like Adobe, Autodesk (ADSK) and others) to have a huge positive impact on software businesses, and with only ~60% of its bookings in recurring revenues this quarter, Tableau still has plenty of benefits left to capture.
As seen in this quarter's results, Tableau's bottom line underwhelmed a bit, and free cash flow compressed somewhat. In the near-term, the SaaS transition might cause some profitability wobbles as Tableau is weaned off large upfront license deals, but in the long run, Tableau is looking at a business model with tremendous FCF potential - FCF is already positive, after all, and the ability of SaaS revenues to drive the top line without incurring too much incremental sales expense is a huge boon to free cash flow generation.
Stay long on Tableau as the company continues to re-invent itself as a SaaS play. Its suite of products is highly complementary, with its flagship Tableau Server BI tool forming natural synergies alongside Tableau Prep. Tableau is re-asserting itself as one of the most dominant data-focused vendors in the cloud, and investors have much to gain by getting in on Tableau's recovery while it's still in its nascent phases.