Preferred Stocks And Baby Bonds Complete Review - May 2018
Summary
All the preferred stocks sorted in categories.
How does the yield curve look?
What has changed over the last month?
Which are the dangerous preferred stocks?
How much are you really earning on your holdings?
Perhaps the most important thing in the past month for the fixed income investors was that the $TNX passed 3.00% for the first time since 2014. Adding the constant uptrend in the 3-month LIBOR rate, the pressure over the preferred stocks and baby bonds started to rise. Still, we do not observe any severe sell-off but the whole segment is experiencing some weakness.
TNX - CBOE 10 Year Treasury Note Yield Index ($TNX)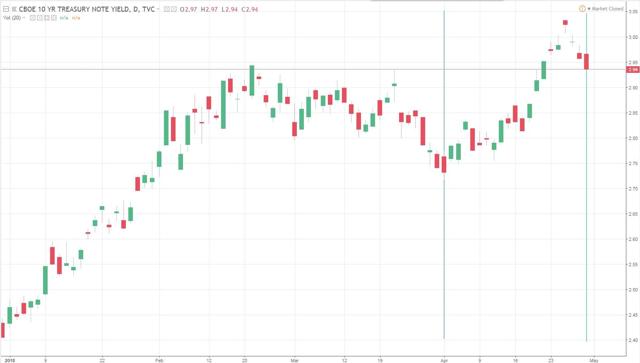 Source: Tradingview.com
iShares U.S. Preferred Stock ETF (PFF)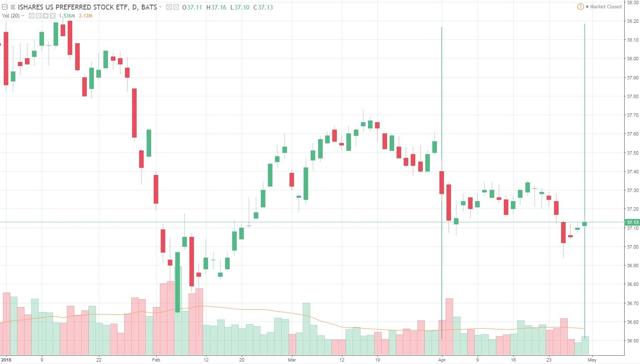 Source: Tradingview.com
As far as the common stock markets, despite the start of the earnings season, April was a much less volatile month, compared to the turbulent start of the year.
SPDR S&P 500 ETF (SPY)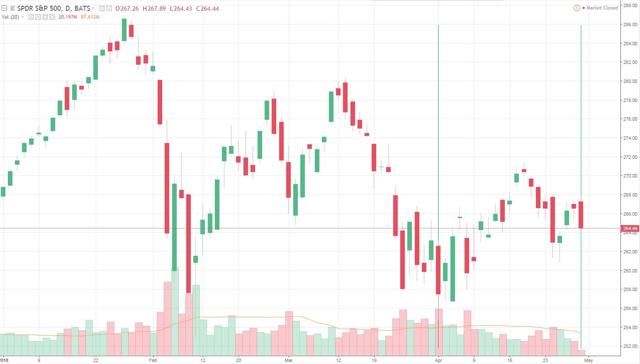 Source: Tradingview.com
In the following charts, we will examine where our fixed income products of interest stand currently. There are 676 issues in our database that trade on primary exchanges, excluding the convertible preferred stocks. By stock type, they are divided as follows:
Preferred stock - fixed rate: 368
Baby bond - fixed rate: 150
Preferred stock - fixed-to-floating: 56
Preferred stock - floating: 18
Trust preferred - fixed rate: 14
Preferred units - fixed rate: 14
Preferred units - fixed-to-floating: 11
Others: 45
1. Fixed Rate Preferred Stocks
1.1 Redemption Risk by Years-to-Call and Yield-to-Call:

Source: Author's database
The lower the stock, the bigger the call risk. Be careful with these.
1.2 Stocks that are below Par (stripped price) and have a Current Yield of between 5% and 8%:

Source: Author's database
It should be noted that PG&E (NYSE: PCG) suspended the dividend on its preferred stocks beginning Jan. 31, 2018. Yet their dividends are cumulative, and the reason for their suspension at this time is not the solvency of the company. At the end of the day, a suspended dividend means that we are not getting our money on time, and the time value of money does matter to us.

Source: Author's database
1.3 Current Yield < 5% (Try to Avoid These):
1.4. Current Yield Between 8% and 10%:
These have to bring extra risk because there is no free lunch.
1.5 Current Yield > 10%:
The most important change here is that GST restores its preferred stocks distribution on April 06, 2018. As for the others, their picture remains the same, HOV, NM, and RHE have suspended the payment of dividends on their outstanding preferred stocks.
1.6 Price > Par, Sorted by Yield-to-Worst and Years-to-Call:
1.7 The yield curve for rated ones:

Source: Author's database
This is the hypothetical five-year yield curve of fixed rate preferred stocks. For a better view, I have excluded MAA-I and SPG-J.
1.8 The yield curve investment grade:
1.9 Term preferred stocks by YTC and YTM:
The full list:
1.10. Let's try to find a qualified "BBB" rated preferred stock with a Current Yield > 5.5% and YTC > 4%:
If we take a closer look at the main group:
1.11 Ex-Dividend dates for May 2018 (including baby bonds):
1.12 Our favorite group for IRA accounts mREIT Fixed Rate:
1.13 A look at recent redemptions:

Source: Author's database
MER-P, CFC-B, and AEK are a typical example of what call risk means.
1.14 A look at recent IPOs:
The full list:
The one place where you do not worry about call risk.
1.15 Top Movers
2. Fixed-to-Floating Preferred Stocks
2.1 Qualified Yield curve by Yield-to-Worst and Years-to-Call:
The same picture as in our previous monthly review.
2.2 Not Qualified:
2.3 Top Movers
A bad month for the CODI preferred shareholders.
3. Baby Bonds
3.1 Call risk baby bonds YTC < 0
3.2 Baby bonds below PAR, YTM < 10% yield curve:
3.3 Baby bonds YTM > 10%. Be careful with these babies:

Source: Author's database
The situation in RAS doesn't seem to change any time soon.
3.4 Baby bonds > Par, Yield curve by Yield-to-Worst and Years-to-Call:

Source: Author's database
Take a closer look at the main group:
3.5 Fixed-to-Floatings:
3.6 Top Movers:
Our pair trade MHLD bonds vs. preferred stocks worked very well. You might be interested in our article posted in April - Maiden Holdings: An Opportunity In The Baby Bond.
4. Preferred Stocks Floating Rate (or "Floored" in most cases):
How they have moved:
5. Third Parties
5.1 Floating:
Here is the full list:

Source: Author's database
5.2 Fixed:
5.3 One-month change:
6. Your Favorite K-1
6.1 Fixed rate, Yield-to-Call and Current Yield:

Source: Author's database
For a better view, SPLP-A is excluded from this chart. It has a 325% yield-to-Call.
The list:
6.2 Fixed-to-Floating:

Source: Author's database
The preferred units issued by LGCY are excluded from this chart, as they don't pay dividends at present.
The full list:
6.3 One-month change:
7. Trust Preferred Securities
7.1 Call risk, YTC < 0:
7.2 No call risk:

Source: Author's database
The full list:

Source: Author's database
7.3 One-month change:
Conclusion
The main question this month will be whether TNX will continue to rise and whether this drive the fixed income securities to a more tangible sell-off. Because volatility is good. It really gives us a chance to understand that this game is not risk-free. There is pain associated with making money and one should never forget that it is always easier to lose. As with any sell-off in the past, we have to concentrate on relative value and find decent picks that have a hedging reaction. This is how alpha is generated. The point of the article is to bring the big picture in the small world of preferred stocks to the readers and to show what are the most likely yields you will get for being invested in the average preferred stock.
Author's Note: I'll present these reviews at the start of every month. Furthermore, by clicking the links below, you can view our last months' reviews:
All of these layouts are also available in our database. We are trying to improve our review of the stocks we trade on every new article we publish. Feel free to comment, and if you have any suggestions, they are welcome!
Editor's Note: This article covers one or more microcap stocks. Please be aware of the risks associated with these stocks.
Trade With Beta
The "Trade With Beta" team has been submerged in the universe of preferred stocks and baby bonds for almost a decade, and we decided to share our knowledge and expertise through the inception of this service. We attempt to cover all aspects of these products, from IPOs to pair trades and portfolio picks and, last but not least, called issues. Additionally, once a month we go through all different groups of fixed income instruments to make sure that nothing has gone unnoticed.
This article was written by
Income arbitrage ideas along with managed portfolios and pair trades
Day trader whose strategy is based on arbitrages in preferred stocks and closed-end funds. I have been trading the markets since I started my education in Finance. My professional trading career started right before the big financial crisis of 2008-2009 and I clearly understand what are the risks the average investor faces. Being a very competitive trader I have always worked hard on improving my research and knowledge. All my bets are heavily leveraged(up to 25 times) so there is very little room for mistakes. Through the years my approach has been constantly changing. I started as a pure day trader. Later I added pair trades. At the moment most of my profits come from leveraging my fixed income picks. I find myself somewhere in between a trader and an investor. I am always invested in the markets but constantly replace my normally valued constituents with undervalued ones. This approach is similar to rebalancing your portfolio and I just do this any time there is some better value in the markets. I separate my trading results from my trading/investment results. I target 40% ROE on my investment account and since inception in 2015, I am very close to this target.
My main activity is running a group of traders. Currently, I have around 40 traders on my team. We share our research and make sure not to miss anything. If there is something going on in the markets it is impossible not to participate somehow. Some of my traders are involved in writing the articles in SA. As such Ilia Iliev is writing all fixed-income IPO articles. This is part of their development as successful traders.
My thoughts about the market in general:
*If it is on the exchange it is overvalued and our job is to find the least overvalued.
*Never trust gurus - they are clueless.
*Work hard - this is the only way to convince yourself you deserve success.
*If you take the risk it is you who has to do the research.
*High yield is always too expensive.
We are running a service here on SA. It is a great community with very knowledgable people inside. Even though we are not in the spotlight as often as we would like to our articles' results are among the strongest on SA. You can always contact me to share some of our articles and best picks so far.

Analyst's Disclosure: I/we have no positions in any stocks mentioned, and no plans to initiate any positions within the next 72 hours. I wrote this article myself, and it expresses my own opinions. I am not receiving compensation for it (other than from Seeking Alpha). I have no business relationship with any company whose stock is mentioned in this article.
Seeking Alpha's Disclosure: Past performance is no guarantee of future results. No recommendation or advice is being given as to whether any investment is suitable for a particular investor. Any views or opinions expressed above may not reflect those of Seeking Alpha as a whole. Seeking Alpha is not a licensed securities dealer, broker or US investment adviser or investment bank. Our analysts are third party authors that include both professional investors and individual investors who may not be licensed or certified by any institute or regulatory body.