In the past--before December 2017--gold correlated strongly with four big markets: the dollar, Treasury yields, the USD/JPY FOREX pair, and inflation expectations as measured by TIPS. After December 2017, gold lost its correlation with all of them, except the dollar and the USD/JPY pair; gold continued to correlate negatively with both as the dollar dropped relentlessly. In other words, gold had been a currency trade since the beginning of the year. In this piece, we show that while currency correlations continue to be intact, the correlations of Treasury yields and inflation expectations are returning to normal.
Four-months later, as the dollar finally starts to rally, gold is starting to get its old correlations back. The charts below show how the breakout in the dollar has made gold drop down to test support and, at the same time, caused the Treasury rates and gold correlation to turn negative once again (chart below).





Thanks to the dollar rally, the USD/JPY is rising and putting pressure on gold (chart below).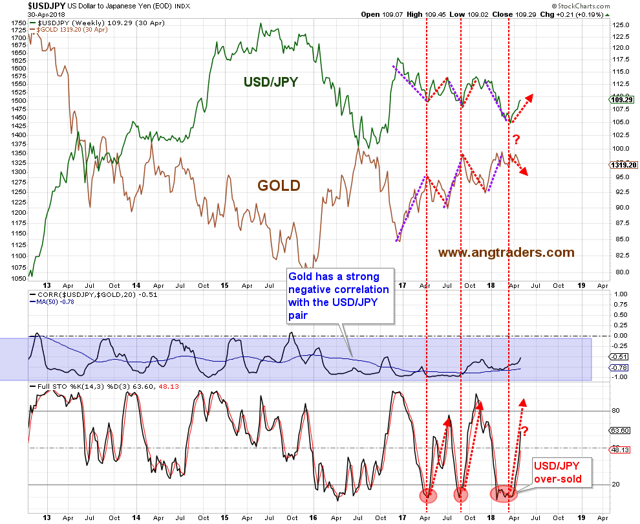 Gold has recovered its normal positive correlation with inflation expectations (as measured by TIP). The last time that the gold-inflation correlation went negative was in August of 2016, after which gold suffered a $200 drop. There is a good chance that this pattern is about to be replicated. If gold closes below $1300, there is little support until $1250-$1240 (chart below).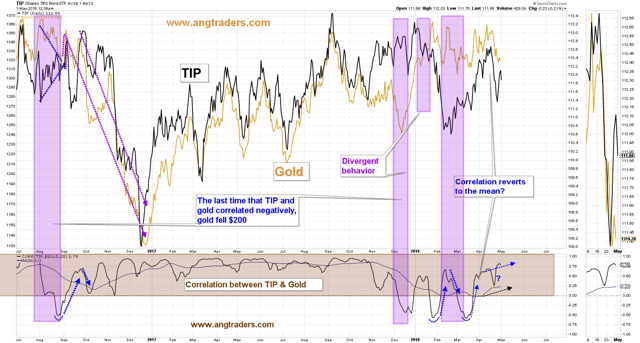 The chart below shows a possible scenario for the dollar as it comes off of, what could be the "head" of a bullish reverse "head-and-shoulders" pattern (chart below). If the dollar breaks out above 94, gold will come under sustained pressure.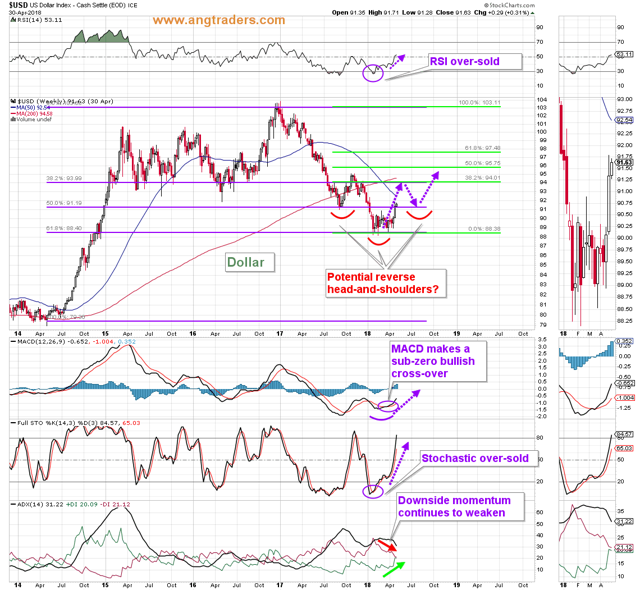 In conclusion, gold continues to correlate inversely to the dollar and the USD/JPY pair, and has returned to its normal correlations with Treasury yields and inflation expectations. The upward pressure on T-rates and the dollar, and the contained nature of inflation, makes it probable that gold will drop below $1300 and suffer a decent correction.
Disclosure: I/we have no positions in any stocks mentioned, and no plans to initiate any positions within the next 72 hours. I wrote this article myself, and it expresses my own opinions. I am not receiving compensation for it. I have no business relationship with any company whose stock is mentioned in this article.